Sun, 2 May 2021
Blade Historian is Just Incredible
How can Blade Historian from Strixhaven glue together a number of existing red and white cards to produce an exciting new take on aggro?
---
Sun, 25 April 2021
Lots of ways to be a Prismari Command guy...
Prismari Command is one of the most flexible cards in Strixhaven. It's found many homes already, playing many roles.
---
Mon, 22 March 2021
Patrick's Sweet Mono-Blue Snow Deck!
Mono-Blue Snow is one of the exciting new archetypes enabled by Kaldheim. Patrick's build starts off at one and tops up on... Twelve?
---
Sun, 7 March 2021
Pick a Side on Reidane, God of the Worthy
What about Reidane, God of the Worthy makes it so powerful? Is it its opposite side? The slowdown of your fellow Snow Decks? Or ruining Ramp?
---
Sun, 7 February 2021
Goldspan Dragon is Showing Up Everywhere
Goldspan Dragon is performing in almost every Standard color combination! Plus more Valki, the emergence of Snow, and Showdown of the Skalds
---
Sun, 29 November 2020
Feasting Troll King Snacks on Standard
Americans are not the only ones feasting this week! Check out a new Mono-Green deck packing Feasting Troll King (devouring all of three eggs)
---
Mon, 2 November 2020
We Have Reached the Main Deck Ox of Agonas Stage
It might just say something about the metagame if Mono-Red Beatdown is playing main deck Ox of Agonas. We tell you what!
---
Mon, 26 October 2020
The World According to Ruin Crab
All about the newfound rise of Ruin Crab offense in Dimir Rogues and the competing Yorion strategies in post-bans Standard
---
Mon, 19 October 2020
What Do We Do Now that Escape to the Wilds is Banned?
Escape to the Wilds is banned in Standard alongside Omnath and Lucky Clover. Patrick and Michael speculate on the next big things
---
Fri, 14 August 2020
Let's Talk About Uro, Titan of Nature's Wrath
Uro, Titan of Nature's Wrath might be the best card left in Standard; check out its performance in a near-consensus best deck... AND a brand-new challenger!
---
Fri, 7 August 2020
Teferi, Time Raveler BANNED
Teferi, Time Raveler and Wilderness Reclamation are [FINALLY] banned in Standard (and elsewhere). Why did so many cards get cut... And what's next?
---
Thu, 30 July 2020
Let's Talk About the Players Tour Finals
The Top 8 is set for the Players Tour Finals! The talk of the tournament was Growth Spiral, but enterprising rogues were also able to succeed. Learn how...
---
Sun, 12 July 2020
Everything Old is New Again in Standard!
Rotting Regisaur is once again the biggest bad on the block, the meanest monster in the metagame! Old is new! But new is also new in Standard. Find out why:
---
Sun, 5 July 2020
First Looks at Core Set 2021 Standard
Michael Flores and Pro Tour Champion Patrick Chapin take their first look at the new Standard decks powered by Core Set 2021!
---
Fri, 8 May 2020
The Many Faces of Yorion, Sky Nomad
Yorion, Sky Nomad is up! The Legendary Bird Serpant (and its 80 best friends) have taken over Standard with tons more card advantage than everyone else!
---
Fri, 24 April 2020
The First Week of Standard with Ikoria: Lair of Behemoths
Companions from Ikoria: Lair of Behemoths are already dominating every format, even Vintage! This week we examine some specific Companion-cases for Standard
---
Fri, 3 April 2020
How Cavalier of Thorns Makes Sultai Escape
Cavalier of Thorns really does help Sultai Escape rocket to the next level, doesn't it? Learn how this card helped this archetype to its most recent big win
---
Fri, 27 March 2020
Hottest Standard Tech from #mtgtogether
The #mtgtogether qualifief events have already started to spawn some amazing innovations and powerful solutions in Standard. We've got them all right here!
---
Thu, 19 March 2020
Let's Talk About Phoenix of Ash in Mono-Red
Mono-Red wins the Grand Prix and Mike likes... Bant? Find out why, and also why we like the Phoenix of Ash so much in Red Decks anyway ;)
---
Thu, 20 February 2020
The Most Exciting Decks from Worlds 2020
Worlds 2020 is in the books and PV adds "World Champion" to his impressive resume. But for the rest of us? What are the most exciting decks to play?
---
Thu, 23 January 2020
The Return of Mono-Black Devotion
Theros Beyond Death has powered up Mono-Black Devotion! Learn the ins and outs, tips and tricks, for navigating this rediscovered cornerstone of Standard
---
Fri, 13 December 2019
"Quasiduplicate my Risen Reef" and other key plays from Mythic Championship VII
When you Quasiduplicate your Risen Reef, you get two triggers. Than when you Jump-Start it, you get three! Listen for key play patters of the new top decks!
---
Fri, 29 November 2019
Casualties of War is Where You Want to Be
With its ability to destroy key permanents (and lots of them), Casualties of War may be Standard's apex. In particular: Bye bye "enchantment" :)
---
Fri, 22 November 2019
Oko, Thief of Crowns is Finally Banned in Standard
Oko, Thief of Crowns was banned in Standard this week, alongside Once Upon a Time and Veil of Summer. You know this. But where to next? Find out here!
---
Thu, 14 November 2019
Wow these Mythic Championship VI Decks
The best Mythic Championship VI decks... Plus the best of "the rest" from the most lopsided, the most homogeneous, Pro Tour ever! Then, what happens next?
---
Thu, 10 October 2019
The Evolution of Fires of Invention
Fires of Invention is a rule-breaking card. It seems to be breaking its own rules ALREADY! Find out how this card fits into Ramp + all about the other decks in Standard
---
Fri, 4 October 2019
In for Doom Foretold Esper
Doom Foretold! Centerpiece of the new Esper and bane to opposing Planeswalkers. Learn what makes this card go, and how it converts into a late game killer
---
Thu, 22 August 2019
Combo off with Kethis, the Hidden Hand
Kethis, the Hidden Hand from Core Set 2020 headlines the most exciting deck in Standard. Learn its ins and outs in this week's podcast!
---
Thu, 25 July 2019
All the Ways to Play (and beat) Field of the Dead
Scapeshift and Field of the Dead make for the runaway best deck in Standard! Learn how to play (and beat) this winning combination in this week's podcast
---
Fri, 19 July 2019
Chandra's Spitfire and Key Changes to Mono-Red
Chandra's Spitfire gives the tried and true Mono-Red Standard deck a "Pyromancer's Ascension"-like end game. IN ADDITION to it's established aggro...
---
Fri, 12 July 2019
We are ALL ABOUT this New Nightpack Ambusher Deck
This podcast features a TON of new Core Set 2020 deck lists... But Simic Flash with Nightpack Ambusher might be our favorite. Learn why right now!
---
Fri, 7 June 2019
Is Command the Dreadhorde the Biggest Big Spell in Standard?
Welcome to a Standard of big and powerful spells! Is Command the Dreadhorde the biggest thing people will play? Unbelievably, no.
---
Fri, 10 May 2019
Is Narset, Parter of Veils the Best Card in Standard?
How good is Narset, Parter of Veils in Standard? Where this War of the Spark Planeswalker kicks butt and takes names might just surprise you!
---
Fri, 29 March 2019
The Rise of Gruul Aggro
Gruul Aggro raised some eyebrows -- and a lot of different heads -- last week. Learn how it clears the skies... And often rules them!
---
Fri, 1 March 2019
Top Decks from Mythic Championship Cleveland
Mythic Championship Cleveland is in the books! The top deck in the tournament wasn't too surprising, but the Standard format still has some spice!
---
Fri, 22 February 2019
Kraul Harpooner - Evolutions and Synergies
Kraul Harpooner is one of the most underrated cards in the current Standard. It can be a tempo-swinging game-winner on turn two; or steal the initiative against combo. Learn its secrets here!
---
Fri, 15 February 2019
Play More Thief of Sanity
Whether a powerhouse sideboard card for Wilderness Reclamation or coming down on turn two with Llanowar Elves, now is the time to play Thief of Sanity!
---
Fri, 8 February 2019
So Much Ravnica Allegiance Standard
Ravnica Allegiane Standard is in full swing! Check out the emerging adventures of Pteramander, Light Up the Stage, a resurgent Hostage Taker, and more!
---
Thu, 31 January 2019
Breaking Hydroid Krasis
Hydroid Krasis is the top Mythic Rare from Ravnica Allegiance so far. Learn where -- and more importantly how -- to play this mighty Jellyfish Hydra Beast.
---
Fri, 7 December 2018
Detection Tower Makes the Difference
Detection Tower made quite a splash in Golgari this past weekend! Learn why this land is such a solid add for the Standard midrange deck... and beyond!
---
Fri, 30 November 2018
How to Kill a Carnage Tyrant
Carnage Tyrant may be the most important large threat in Standard. Learn how it's gone from a mirror-breaker to a insurance against Jeskai right here!
---
Fri, 23 November 2018
Niv-Mizzet, Parun in Jeskai Control
Adrian Sullivan played four copies of Niv-Mizzet, Parun in his Grand Prix-winning Jeskai deck. Learn how that transforms the archetype in this week's cast!
---
Fri, 16 November 2018
The Three Styles of Boros Aggro
Boros Aggro took a whopping 6 of the Top 8 slots at PT Guilds of Ravnica. Is this deck just a flash in the pan, or will it be a pillar of the metagame?
---
Fri, 2 November 2018
Watch Out for Tocatli Honor Guard
Tocatli Honor Guard just got a promotion. This 1/3 will be industry standard for Standard this weekend; if you're relying on Jadelight Ranger... watch out!
---
Fri, 19 October 2018
Golgari Runs the Tables
Golgari is the early king of the Guilds of Ravnica Standard format. Find out what makes the b-g deck so good in this new podcast!
---
Fri, 24 August 2018
Rekindling Phoenix and a Red Potpourri
From Rekindling Phoenix finding a new home in Grixis to Viashino Pyromancer in Wizards beatdown, Standard continues to evolve... and surprise us!
---
Fri, 17 August 2018
Wild About Wildgrowth Walker
Wildgrowth Walker contributed to one of our favorite decks of the week! Check out our take on Sultai Midrange + all the innovations of an evolving Standard!
---
Fri, 3 August 2018
Everything You Can Do With a Graveyard Marshal
Graveyard Marshal headlines an all-new Zombies deck. Will mono-black aggression be the dark horse at the upcoming Pro Tour? Standard continues to evolve...
---
Fri, 20 July 2018
Nicol Bolas, the Ravager Rules the Skies
Nicol Bolas, the Ravager rocked the Week 1 Classic! With 3 copies played in 3 different decks, Magic's biggest bad guy repped in multiple archetypes, too.
---
Fri, 8 June 2018
Should You Play Bomat Courier?
"Don't let the Top 8 fool you... [Pro Tour Dominaria] was actually far more dominated by R/B and Mono-Red than it looks."
-Patrick Chapin
There Were "Only" 23 Bomat Couriers in the Top 8
So the big story of Pro Tour Dominaria was the insane red-ness of the Top 8. With seven of the decks in the Top 8 being black-red or mono-red, the unambiguous card of the tournament was:
The Top 8 of Pro Tour Dominaria featured Twenty-eight Goblin Chainwhirlers
According to this article by Mike, the record for creatures (or for that matter enchantments) in a Top 8 is 28. So Goblin Chainwhirler ties the ceiling held by Sylvan Caryatid and Courser of Kruphix.
BTW - Patrick won that Pro Tour ;)
So here's the thing... Goblin Chainwhirler is often accompanied by Bomat Courier. In this Top 8 five of the seven Red Decks played both 1:1. The winning Red Aggro, though, ran only three copies of Bomat Courier. Finally, one more mid-range black-red take played zero.
The question remains: Do you side it out? For that matter, is it 100% correct to play Bomat Courier at all?
The Problem: Bomat Courier is No Good in the Mirror
Bomat Courier is a good card... It just has one toughness. In past red mirror matches, the little Construct represented an important source of long-term card advantage. However in a world ruled by Goblin Chainwhirler, it is just a one toughness creature that is out-classed by every other playable card in black-red or mono-red.
Typically, that means you should side out Bomat Courier in the mirror (provided you play it).
Llanowar Elves versus Bomat Courier
Wait a minute! If I should be siding out Bomat Courier, does that mean I should be siding out cards like Llanowar Elves?
No.
What's the difference?
Bomat Courier, as we said, is out-classed by every other card in an opposing Red Deck. Every card the opponent plays might be better, so it is pure liability. On balance basically nothing is better than Llanowar Elves.
Let me see if I've got this right: It's not just that Bomat Courier is one toughness... It's that it's one toughness and generally weak. While Llanowar Elves is also one toughness (ergo Goblin chow) gambling with it might pay off because it's so gosh darn powerful.
You've got it! Fast Llanowar Elves draws can lead to your best stuff, like a turn-two Dinosaur to hold the fort, or the jump to a Ravenous Chupacabra or Hour of Promise to put you ahead of the Red Deck.
Here's a different question... If so many people are going to be Red Decks, and I should side out Bomat Courier... Should I play it at all?
So... Should You Play Bomat Courier?
"It depends."
In a format like Unified Standard, where you will play against a maximum of 33% Red Aggro decks, Bomat Courier is probably a good inclusion.
In regular Standard... The clay isn't dry yet. Will more than 50% of your opponents be Red Aggro? Will 7/8? Or even more lopsided, as Patrick described? If you face an overwhelming number of Red Aggro opponents, it might make sense to eschew the card, or play it in the sideboard, as was done in a recent Grand Prix Top 4.
"Teferi Jokers" don't Play Bomat Courier
While Red Aggro variants are undoubtedly best, it's hard to deny the allure of Teferi, Hero of Dominaria. After all, he is in fact a hero. Here are some things you might want to consider if you're for some reason straying from Bomat Courier beatdown:
The top performing (Top 8) Teferi, Hero of Dominaria deck played only two copies. Neither Mike nor Patrick like that; it was essentially a Torrential Gearhulk / The Scarab God deck splashing white.
Speaking of splashing for Teferi, Yellow Hat did it with a blue-red control shell.
In the realm of "straight" U/W, Brad Nelson dialed it back to win with two copies of Approach of the Second Sun!
Conclusion: A lot of the top performers or top players angled their Control decks differently from the core, threat-light, versions from prior to the Pro Tour.
We go over LOTS of lists this week, some of which didn't even play Goblin Chainwhirler, let along Bomat Courier. Absorb it all here:
---
Thu, 31 May 2018
Standard Before Pro Tour Dominaria
With Pro Tour Dominaria coming up this weekend, find out where battle lines are drawn, what old tech might be back + a brand new archetype for Standard!
---
Fri, 25 May 2018
Focus on Teferi, Hero of Dominaria
Teferi, Hero of Dominaria has fast become a four-of Staple & preferred way to win for U/W decks in Standard. Learn the ins and outs of this planeswalker now
---
Fri, 18 May 2018
Goblin Chainwhirler Against the World!
Goblin Chainwhirler is the kind of card that can get Patrick Chapin to play Unlicensed Disintegration! Learn all about what makes Chainwhirler so good here.
---
Thu, 3 May 2018
Lyra Dawnbringer Debuts!

Lyra Dawnbringer was at least the second most successful Dominaria card of the set's first sanctioned weekend.
Lyra Dawnbringer and Llanowar Elves
The Legendary Angel wasn't the most successful Dominaria card to debut this past week. That honor would belong to Llanowar Elves... But in at least one MTGO 5-0 deck, Angel and Elf Druid worked hand in hand.
Lyra represents a powerful top end. Not only does this card pay you off for your commitment to cards like Merfolk Branchwalker (that can help dig you to five or more lands), but Llanowar Elves can get you to your powerful 5/5 ahead of schedule.
And what is better than Shalai, Voice of Penty followed by the Dawnbringer? In times past, tapping out for an awesome 5/5 creature might be good defense... But it can stink when the opponent removes it and crushes you with an attack. If you lead off with Shalai, Lyra will have hexproof. So not only will she not be going anywhere (unless the opponent removes your other Angel), but Shalai will crush in with lifelink. Par-tay.
Lyra Dawnbringer and Raff Capashen, Ship's Mage
Raff Capashen, Ship's Mage changes everything!
Leading off with this creature on turn four (presumably at the end of the opponent's turn, ideally when the coast is clear), you will be able to play cards like Lyra at instant speed!
Instant speed Walking Ballista?
Instant speed Teferi, Hero of Dominaria? It may seem counterintuitive to play a planeswalker on the opponent's turn, but the ability to guarantee it resolves may be worth one lost activation. If there is a card that will have zero trouble recouping the lost utility, it is the card-advantageous Teferi.
How about instant speed History of Benalia? How top notch is this potential move? You can make a token at instant speed (potentially blocking with it) and then still get the next 2/2 on your own next turn! This will feel very much like getting both Chapter One and Chapter Two immediately (though only one will be allowed to attack).
Lyra Dawnbringer, Sideboard Superstar
One of the cool things about Lyra is that she isn't even played main deck all the time! U/W decks in the market for creatures might play it main (or they might play only Torrential Gearhulk). But Approach of the Second Sun decks probably wouldn't. Neither would Orzhov Tokens or white Swarm decks.
You know what they all have in common?
2-3 copies of Lyra Dawnbringer coming in after sideboards.
Here.
To.
Stay.
Check out 106:49 on Lyra Dawnbringer now!
---
Fri, 13 April 2018
Warkite Marauder Breaks Out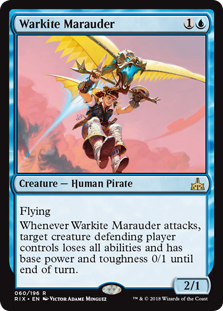 Warkite Marauder is a heck of a Magic Card
Playing Fair with Warkite Marauder
Let's start with the basics: Warkite Marauder is a pretty cool Magic: The Gathering Card. We've seen people play cards on the order of Welkin Tern -- a blue 2/1 flyer for two mana with a disadvantage -- in Standard Pro Tours.
Warkite Marauder is loads better than the best Vaporkin! It simply doesn't have the disadvantage. Meaning, Warkite Marauder can block whomever it wants.
But that's not all! As a 2/1 creature with flying, Warkite Marauder is not particularly resilient. It's cheap -- evasive maybe -- but also small. Basically anything will kill a Warkite Marauder in combat.
So, the ability to remove flying from a potential blocker is very useful. Get in there for two!
Who Plays Fair? God-Pharaoh's Gift
Here's the thing: A fair Warkite Marauder is pretty good. Better, in fact, than cards good players have played in recent years.
But no one is saying you should "play fair" with it. No sir!
The new style of U/R God-Pharaoh's Gift is basically a Red Aggro deck... But with a graveyard-combo twist. God-Pharaoh's Gift can correct the solo toughness of this Human Pirate, and haste enhances its combat trigger.
The U/R deck can act like Red Aggro (starting with Bomat Courier on turn one, but just happens to have a more explosive relentless end game.
The Real Value of Warkite Marauder
Good by itself.
Good with God-Pharaoh's Gift.
But the real value of this Human Pirate?
Teaming up with Walking Ballista and Fanatical Firebrand, Warkite Marauder can "build a Terminate" ... But it's better than that! This is a "Terminate" that can take care of The Scarab God!
Not only will Warkite Marauder pull The Scarab God's toughness down to one (where it will be easy prey for one direct damage)... But because The Scarab God will lose all abilities, it won't come back.
Boom!
Warkite Marauder is just one of dozens of cards discussed in this episode! Most of the time is actually devoted to Dominaria. Check it out!
---
Thu, 1 March 2018
Breaking Branchwalker: New Technology in Standard!
Merfolk Branchwalker is great on two
Think you know what's going on in Standard? Mono-Red Beatdown, some vanilla Sultai with The Scarab God, maybe some B/U Control?
Have we got a GP for you...
Merfolk Branchwalker, Ajani Unyeilding, and Carnage Tyrant?
PT Champion Ari Lax just missed the Top 8 with his Naya Monsters deck. A surprising take on a relatively intuitive build, Ari opted to play Ajani Unyeilding, Cast Out, and Thopter Arrest as white splashes.
Merfolk Branchwalker teams up with multiple 2/x buddies to build towards ambitious mana.
Servant of the Conduit at the two - One taps for mana, one digs towards it
Jadelight Ranger - co-explore creatures as an explore creature to help build towards ambitious mana.
Lax's take played tons of cards that cost four mana or more between deck and sideboard, topping up with some powerful, game-winning, six drops.
I mean come on. Carnage Tyrant! Rawr.
The Khenra Technology: Merfolk Branchwalker in G/R Monsters
Tyler Schroeder won Grand Prix Memphis with a brand new take on Gruul creatures.
We've seen similar shells before. After all Merfolk Branchwalker and Jadelight Ranger make a lot of sense together. Twos and threes, these creatures attack, block, fix the top of your library, and generate card advantage.
By the same token, Rekindling Phoenix and Glorybringer represent a similar thematic duo. Great red flyers with built-in card advantage capabilities, these 4/x creatures represent the kind of high end payoff that you really want to get to with your green explorers.
So where is the innovation?
Adding Earthshaker Khenra and Resilient Khenra as a third pair creates a whole new dimension to the deck. Because "explore" creatures like Jadelight Ranger and Merfolk Branchwalker can put cards into the graveyard, they can imply future card advantage because you can play the respective Khenra cards out of the graveyard.
This is new technology!
Often when Merfolk Branchwalker flips a land, we call that card advantage; now if it flips a Khenra -- and puts it into the graveyard -- it is stockpiling future card advantage!
Will this become an industry standard way to play Standard?
Maybe?
Find out more in this week's podcast!
---
Fri, 23 February 2018
Half Hazoret the Fervent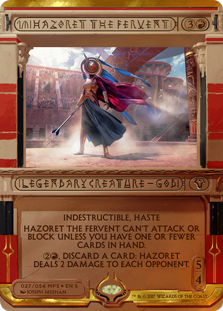 The Hazoret the Fervent Invocation
Hazoret the Fervent in Modern?
Tell ya what, Top Level Podcast fans: We're skipping Modern for the week. Patrick intends to "activate the [0] ability" ... Starting next week.
Were there multiple Modern events last weekend? Yes.
But the world is about to change, officially, and soon.
That Gruul Eldrazi deck? How do you think that is going to run once Bloodbraid Elf starts pumping out Eldrazi Obligator? Exactly.
So for now: Innovations in Standard!
Half Hazoret the Fervent Decks
The SCG win by Todd Stevens with Dimir Control may throw you off. And Ali Aintrazi's Four-color Mastermind's Acquisition in third place is certainly exciting. But make no mistake: Hazoret the Fervent is a fixture of something like half of the top performing players, whether Mardu Vehicles or Red Decks (including, I guess, Boros Path of Mettle decks).
Fear not! The control decks are aware, playing cards like Moment of Craving, Vraska's Contempt, or even Gift of Paradise to defend their life totals.
The Price of Hazoret the Fervent
Hazoret is a powerful threat. And not just in the mirror! (But particularly in the mirror.)
Generally, we think four Hazorets is mandatory. There are other powerful four drops in red, but Hazoret is often completely unstoppable. Further, redundant copies can always be tossed for two damage.
Hazoret doesn't come cheap, though: This God demands sacrifice! In deck building an otherwise ("take two"). Not only is it an expensive card (in more ways than one) but Hazoret generally implies playing with cheap set up cards. Bomat Courier is almost always on board. There are a smattering of other one drops, removal cards, and so on in every successful Hazoret deck... You need to drop your hand in order to get this card online.
Mardu has its own concerns. In a sense Mardu is "an homage" to Toolcraft Exemplar + Unlicensed Disintegration. Don't shave either down to three copies (ew). In fact some builds push redundancy with Inventor's Apprentice.
None of this makes the Mana any easier BTW.
More in the cast!
---
Fri, 2 February 2018
Gambling on Path of Mettle
Let's get something out of the way:
Path of Mettle is actually awesome!
Path of Mettle is almost effortless to play
When Path of Mettle enters the battlefield, it triggers a Simoon-like effect, dealing a point of damage to every creature that lacks first strike, double strike, vigilance, and / or haste.
The solution is simple: Just play creatures with one or more of these abilities, and the "Simoon" trigger will be one-sided; largely a Simoon for the same amount of mana.
We can consider the deck played by US National Champion Craig Krempels to the Top 8 of last week's Team Open as a model for this strategy, but many Red Deck creature shells can suffice.
All of Bomat Courier, Earthshaker Khenra, Ahn-Crop Crasher, Hazoret the Fervent, and Glorybringer (you know, just the creatures the old Ramunap Ruins deck played) start out with haste. This makes the first line on today's enchantment "free".
But flipping it is nearly free, also!
So long as you are playing such creatures, turning your Legendary Enchantment into a Legendary Land shouldn't be too tough.
When you flip Path of Mettle, you're doing it. You're really DOING IT
When the Path becomes Metzali, Tower of Triumph, "Triumph" may be closer than it initially seems. This land is super disruptive to many different kinds of opponents.
The "red" ability largely serves as a stand-in for the now-banned Ramunap Ruins.
The "white" ability has a broad range of applications, including (but not limited to) cutting of the ability for many control decks to win. Attacking with one creature? How about "randomly" putting that creature into the graveyard? The "white" ability can also ignore hexproof, so it is potentially a problem for the Hydras out of Energy variants.
Okay, sold! Um... So what's the gamble around Path of Mettle?
Why? The mana base of course!
Craig played a couple of Plains in his twenty-two land aggro deck. It was vital for him to play enough red (especially untapped) to be able to field some sixteen one drop creatures.
Will WotC print another Boros dual land? Will they just reprint one we already love?
---
Fri, 26 January 2018
No Room for Longtusk Cub
Longtusk Cub, unlike Attune with Aether and Rogue Refiner, was NOT banned last week. So why is it missing from Energy deck after Energy deck?
---
Thu, 18 January 2018
Rampaging, Ramunap, Rivals, and Rants
Lots of bans in Standard this week. But Rampaging Ferocidon?
Rampaging Ferocidon Banned in Standard
Of the four most recent bans, three are relatively understandable.
Attune with Aether - Perhaps the most obvious of the Standard bans, Attune with Aether is the quintessential one mana manipulation spell that is a little too good. There is ample precedent for cards like Ponder and Preordain being banned at the one. Why not Attune with Aether? Attune with Aether is essentially a Lay of the Land (a "good enough" card) with an Energy add-on.
Rogue Refiner - Rogue Refiner is just a cantrip. It's a 3/2 creature for only three mana that does two things. Unfortunately one of which is "draw a card". Rogue Refiner is probably a little too good, but it isn't clear it would or should have been banned if not for all the other Energy cards.
Ramunap Ruins - So it turns out that Temur Energy wasn't even the highest performing deck in Standard. Ramunap Red was! While Ramunap Red might have been challenged by Temur Energy, it was absolutely great at killing everyone who didn't buy into the "there are only two decks" Standard paradigm. Ramunap Ruins is the card that sets this deck apart. Getting rid of Ramunap Ruins makes room for other decks post-ban.
So these three make sense.
You might not have bet on Ramunap Ruins... But it makes sense.
Rampaging Ferocidon wasn't the best, or the second-best, or the eighth-best card in Mono-Red. In fact, many Mono-Red decks didn't even play four copies main deck!
The Brilliance of Banning Rampaging Ferocidon
While counter-intuitive, the Rampaging Ferocidon ban is wonderful in a certain light.
Forget for a moment about the Randy Buehler-era paradigm of banning only the broken cards. What about banning cards that make the format less fun?
The problem with Rampaging Ferocidon is that it makes it very -- very -- difficult to sideboard against Red Decks. It's nice to be able to side in life gain cards and have them work, right? But even cards like Regal Caracal become liabilities... It stinks to trigger Rampaging Ferocidon but not be able to cash in on lifelink.
And Rivals of Ixalan, Too!
While most of this podcast is a discussion of the recent bans (plus a master class in game design by Patrick), we would be remiss to leave out some of the new cards that, you know, came out last week.
What red creature might make a massive impact coming up?
A flyer that pre-empts Glorybringer and might even compete with Hazoret, the Fervent?
Check out "RRRR" to find out!
This episode is sponsored by ZipRecruiter. Top Level Podcast listeners can post jobs to ZipRecruiter for FREE at Ziprecruiter.com/TopLevel
---
Thu, 16 November 2017
Masterfully Metagaming Sand Strangler
Sand Strangler Graduates to Main Deck!
Stephen King said it.
William Faulkner said it first.
Kill. Your. Darlings.
Which darlings, you ask.
How about the automatic three-of (if not four-of) at the Ramunap Red four? Hazoret the Fervent.
Cut Hazoret? Are you crazy?
Hazoret the Fervent versus Whirler Virtuoso
As a red mage, have you ever faced off against Whirler Virtuoso? If you haven't, it sucks. It's just really hard to bust through, even though you have one of the best offensive threats in the format.
Now imagine -- assuming sufficient Desert power -- Sand Strangler against Whirler Virtuoso.
Smoosh, right? Smoosh.
When essentially half of the format is Energy decks, Sand Strangler over Hazoret main deck starts to make more sense.
Pro Tour Hall of Famer Ben Stark executed on exactly this plan, finishing in the finals of Grand Prix Atlanta with a new look at Ramunap Ruins.

For reference: Desert Red, by Ben Stark
Wait a minute! Don't I just suck in the mirror now?
While cutting Hazoret -- one of the most important cards in the mirror match -- certainly costs you percentage in the mirror, Ben counterbalanced with the duo of Sand Strangler and Glorybringer.
Remember: Sand Strangler and Glorybringer are two of the most frequently sided in cards in Red Deck mirrors.
So while you lose some Hazoret points, you get back some "free" sideboard creature points.
... And it's not like Ben's deck can't side in a bunch of Hazorets after boards.
But mathematically? There is more Energy than Red right now. Ben's metagaming was simply masterful.
New Decks Aplenty
Desert Red was cool, but it wasn't alone.
This week Patrick and Mike tackle such instant classics as:
Esper Approach of the Second Sun
U/G Electrostatic Pummeler (with four copies of Bristling Hydra, for Mike)
Grixis builds aplenty
Check out "Masterfully Metagaming Sand Strangler" and you too may just become a metagame master!
---
Fri, 10 November 2017
Energizing River's Rebuke
Meet River's Rebuke: Mirror-Breaker
Have you ever played the Temur Energy mirror match? And by "Temur" Energy we would include Four-color Energy and its cousins. The archetype is so good at brick walling itself.
Everyone has plenty of material. Attune with Aether, Rogue Refiner, and Planeswalkers can help develop resources. The Scarab God gives you something to do with your long-term land. It can bust through opposing defenses over time, and from multiple directions. Glorybringer -- especially in multiples -- combines evasion with card advantage. And Planeswalker-slaying!
But yet, Whirler Virtuoso is so good at keeping damage at bay!
How are you supposed to bust through?
May we suggest River's Rebuke?
River's Rebuke: Next Level Sideboarding
Here's the thing about River's Rebuke.
It's a sorcery.
Who sides in Negate against Temur Energy? You know, the deck with 21-25 creatures? Would you side in Negate? What do you plan to Negate? A giant Vehicle? You've already got Abrade for that.
Whatever Negate!
It sits in your sideboard.
Meanwhile, you and your opponent accumulate more and more material, brick walling one another until...
Somebody Casts River's Rebuke
Here's the other thing about River's Rebuke. It's one-sided. Many times when you cast it, the game will be over that turn. You know all that Whirler Virtuoso brick walling? Ain't no one home to defend. Even The Scarab God is going to fail in the face of River's Rebuke.
Two members of the Pro Tour Ixalan Top 8 -- Christian Hauk and Piotr Glogowski -- ran it last weekend.
Temur Wasn't Even the "Good" Energy Deck
Sultai Energy in the hands of former World Champion Seth Manfield reigned supreme. The trickiest of the Energy decks, Sultai has a two-card combo of Hostage Taker and Blossoming Defense that few decks want to tussle with.
Learn more about Temur, Sultai, and the entire PT Ixalan Top 8 in "Energizing River's Rebuke" now!
---
Fri, 3 November 2017
Approach of the Second Sun at Pro Tour Ixalan
Approach of the Second Sun
Patrick is coming to us straight from Pro Tour Ixalan this week! He played a new take on R/W Approach of the Second Sun with Sunbird's Invocation, but more mana and fewer expensive spells.
The Pro Tour is lousy with Temur Energy (and Four-color Energy, and Sultai Energy)... But that just gives it structure to attack! Patrick's approach to Approach seems thought-provoking now, and sounds like it will be influential moving forward. Most opponents have many "dead" cards in Game One. Imagine the B/U Control opponent who cycles through his entire deck with Search for Azcanta only to find... There is nothing to find.
Or the Energy deck (or any deck, really) that doesn't kill you fast enough... Can they stop you from playing your Approaches?
Well... Sometimes :)
---
Fri, 20 October 2017
How to Approach Sunbird's Invocation
Sunbird's Invocation was a "Perfect 10" at US Nationals
The Sunbird's Invocation Combo
Adam Bialkowski busted open Standard with a 10th-place finish at US Nationals last weekend. He used a R/W Board Control-slash-Combo deck utilizing this big red six and a certain favorite white seven...
Here's the simple explanation of this combination:
You play Sunbird's Invocation on six.
You untap and play Approach of the Second Sun on seven.
When you cast Approach of the Second Sun, the Invocation digs through the top of your library to check if there is an Approach of the Second Sun there; if there is, it will cast it for you.
Your first Approach of the Second Sun (which you cast from your hand, remember) checks to see if you cast another Approach this game... You did!
Ding!
This together, these two cards represent a turn seven insta-win combo.
Sunbird's Invocation Fail State
So you've invested six mana in a big red enchantment.
Miraculously, you've untapped, still alive.
However you don't have an Approach of the Second Sun...
What's a girl to do?
Chin up, Planeswalker! So you don't have a turn seven insta-win! That doesn't mean you don't have game...
Your Invocation plays a pretty good "personal Howling Mine" once you've untapped. Basically, your spells can potentially snowball into more and more spells. In the 10th place version, there are a ton of expensive cards -- tons of fives sixes and of course sevens -- that make its centerpiece enchantment really look good.
What's Wrong with Sunbird's Invocation?
If there is anything "wrong" with the Perfect 10, it might be all those expensive cards!
Adam certainly benefited from a (current?) (short-term?) gap in Mono-Red popularity. The archetype version only has one Magma Spray in the main deck, and no real way to develop its game plan against B/U Control in the early game. Further, it has a lot of expensive cards but no great way to ensure it hits all its land drops.
That isn't taking anything away from the innovation; just to say that there is still a lot of room for optimization.
A flaming owl wasn't the only hot Hot HOT deck to stand out at US Nationals. Check out "" now to learn more about Abzan Tokens, Mardu Vehicles, and more on the B/U Control v. U/W Control matchup in Standard!
---
Fri, 13 October 2017
The Best Decks in the Worlds
Longtusk Cub headlined one of the best decks in the Worlds
Worlds was awesome!
We saw an amazing overlap of one of the best players of all time wielding those top skills at exactly the right time, combined with great preparation and and even better 60/75.
But we get it.
You have questions...
Top Level Podcast is here to answer those questions this week! Questions like...
If The Scarab God is so good, why didn't Huey play it in his Temur Energy deck?
Is Commit // Memory an ace-level replacement for The Scarab God... Or basically just a boring old Utter End?
Is Longtusk Cub secretly just the best card in Standard?
Why should you play "Treasure Red" instead of regular old Ramunap Red?
When should you play any of the following, and in which order? Opt, Hieroglyphic Illumination, Glimmer of Genius
Will Huey be the first person to win Worlds, and then win Nationals the very next week?
Don't you fret, beloved listeners! The answers to these and other burning questions await in...
The Best Decks in the Worlds
---
Fri, 6 October 2017
The Deadliest Uses for Hostage Taker
Some cards are just better than the others. Hostage Taker is already one of the best.
Actually... Make that Better than the Best
Brainstorm. Fact or Fiction. Oath of Druids.
Vampiric Tutor. Hermit Druid. Upheaval.
The Top 8 of Pro Tour Houston 2003 sounds like the love child of the Banned and Restricted List and a general rundown of the best spells from almost any format. But the best card of the era? Believe it or not?
Faceless Butcher.
Faceless Butcher!
Weird, right?
A four-of in Mono-Black Reanimator and a key bullet in The Rock's sideboard, Faceless Butcher was a cast-able answer to everything from a mid-range All-Star like Spiritmonger to a combo-riffic 20/20 Cognivore.
Hostage Taker is like Faceless Butcher... But way, way, better. It has the same basic ability, but offers the opportunity for a three-for-one upgrade (rather than just two-for-one).
Five Mana: The New "Splinter Twin" Combo
How are you supposed to deal with The Scarab God? A Fatal Push? Ask it to Walk the Plank? Stockpile a bunch of energy and hit it with Harnessed Lightning?
None of those seem like very good solutions to The Scarab God.
What about removing it from game?
Hostage Taker seems like a great way to deal with The Scarab God... Only that 2/3 body isn't exactly durable. Every Abrade and Lightning Strike (plus like half the Fatal Pushes) will kill it.
... Unless you make it hexproof or something. So that's why, Sultai!
Hostage Taker + Blossoming Defense is like peanut butter and chocolate.
When you put Hostage Taker and Blossoming Defense together, you can -- for sake of argument -- exile the opponent's The Scarab God (which you would probably have to do to win, anyway)... And catch your breath for one mana. All you need to do is get the untap and that The Scarab God can be yours! You will be the unbeatable mage!
A great solution to a certain supposedly "indestructible" red God, Hostage Taker is nevertheless quite vulnerable to a Red Deck's many point removal spells. Blossoming Defense is equally useful here while you bide your time for the untap.
Hostage Taker: Taking Hostages Here, There, Everywhere
Sultai ruled the day at the first Standard Open of the season... But who knows just how far the long shadow of Hostage Taker may loom? God Pharaoh's Gift decks seem to be leaning towards the black and blue of Esper. There might be an honest to god Pirates deck hiding in the metagame. Poor dinosaurs! It's gotta suck to have such great creatures... Only to have to deal with them yourself when The Scarab God and Hostage Taker are across the table.
More on Hostage Taker's meteoric rise (and the rest of the opening weekend of Ixalan Standard) right here:
---
Fri, 25 August 2017
The Scarab God Appreciation Week
The Scarab God ends games quickly
Pro Tour Champion Patrick Chapin and Resident Genius Michael J. Flores begin their discussion of The Scarab God in an odd context... Splashed in a version of Michael Jacob's Temur Emerge!
Even here, The Scarab God is just a remarkable threat. After all, it is a 5/5 creature for five mana to start. Killing The Scarab God is a challenge, to say the least. The other two lines of text are as good as they are anywhere.
The Scarab God against Gate to the Afterlife
One of the big incentives to The Scarab God right now is its ability to interact with God-Pharaoh's Gift type decks.
Whether on its own or in concert with Kalitas, The Scarab God puts tremendous pressure on the opponent's graveyard. Consequently, the opponent might never have six creatures in his graveyard, say.
What should you steal? And when?
Angel of Invention is one of the best cards you can reanimate.
Patrick likens this combination to Donate / Illusions of Grandeur! The increased size of Angel of Invention (4/4 to start, when a zombie instead of just an angel) combined with the creature's natural lifelink protects your own life total while smashing for a ton in the air.
Depending on your archetype, The Scarab God might want to reanimate Trophy Mage. Trophy Mage in the current Standard only has the purpose of finding Gate to the Afterlife (which, in turn, only has the job of setting up God-Pharaoh's Gift)... This not only gives you potential redundancy but can keep your deck strong through the mid-game, even through multiple copies of Abrade.
The Scarab God needs no help
Mike speculates you might want to play Strategic Planning to help fill your graveyard.
Patrick cautions that the god needs little help in filling your own graveyard. The creature, remember, is huge and next to impossible to kill! The Scarab God will typically do fine just reanimating whatever the opponent gives you for targets (though he concedes that getting the big five itself into the graveyard for purposes of Liliana reanimation might be nice).
The two riff on a potential new B/U deck, based on Patrick's GP Denver Grixis build.
This podcast covers many additional topics... Everything from Brad Nelson's continued dominance of Standard (this time with Temur Emerge) to the U/R Advanced Stitchwing deck, to speculation about post-rotation deck archetypes. Check it out now!
---
Fri, 11 August 2017
Everybody Hates Earthshaker Khenra

Sorry, Earthshaker Khenra. Your window may have already closed :(
Well... Maybe
Sylvan Advocate Hates Earthshaker Khenra
On the way to yet another Grand Prix Top 8, Standard superstar Brad Nelson time traveled and re-innovated the B/G Winding Constrictor deck last weekend, bringing back Sylvan Advocate over Grim Flayer or Longtusk Cub at the two.
Sylvan Advocate? What is this? 2016?
Grim Flayer is great. Longtusk Cub is great. Even Glint-Sleeve Siphoner can be pretty effective. You know what's even better? Three toughness.
Sylvan Advocate comes down as a 2/3 (forget about its size in the future)... Meaning that it can withstand a Shock on turn two, unlike the other B/G two drop options. As a 2/3, it also pwns tiny 2/1 Earthshaker Khenra.
And at 4/5? It chomp Chomp CHOMPS even a 4/4 Earthshaker Khenra later in the game!
Approach of the Second Sun Hates Earthshaker Khenra
Mike's sidekick over at the Ancestral Recall Podcast, Roman Fusco made another Star City Games Classic Top 8 last weekend... This time with an innovative U/W Approach of the Second Sun deck designed by Roman's frequent collaborator (and Regional Finals victim) Dan Ward.
This U/W deck is truly creature-less (and for purposes of Torrential Gearhulk, artifact-less). That completely blanks Earthshaker Khenra teammate Abrade. While haste is helpful across many of the Mono-Red deck's creatures, the ability to prevent blocking also takes up relevant space on the text box. Against no creatures? No additional value.
But the thing that really, really hates the Red Deck?

Unsummon!
The old school instant has an amazing superpower against Mono-Red. If the opponent has one card in hand only, you can Unsummon another creature (putting a second card in the opponent's hand) to blank an attack by Hazoret the Fervent. And of course, if you Unsummon the 4/4 backside on an Earthshaker Khenra, that will be that.
This should surprise no one, though: Approach of the Second Suns decks hate Earthshaker Khenra.
Grasp of Darkness Hates Earthshaker Khenra
Grasp of Darkness really, really hates Hazoret the Fervent... But will settle for murdering a hasty Jackal Warrior, let's be honest.
Grasp's new teammate Gifted Aetherborn, though... 2/3 over 2/1 again, etc. etc. And if the Red Deck needs to spend its second turn pointing an Abrade at Gifted Aetherborn? It won't even have time to drop Earthshaker Khenra on curve.
To find out what other cards and decks are creating a hostile Standard environment for our poor Jackal Warrior, check out this week's episode!
---
Fri, 4 August 2017
How 'bout Them Ramunap Ruins?
Ramunap Ruins may be the most important new card from Hour of Devastation.
Earthsaker Khenra? Yeah! That's a great creature, we'll grant you... But it's still just a creature. Ramunap Ruins can't be countered and gives players a resource to lean against instead of flooding out.
This land enters the battlefield untapped. It essentially has the superpoower of tapping for both red and colorless; it can support Eldrazi Obligator (or Reality Smasher), not just a purely red creature rush.
Ramunap Ruins finishes off control players. The idea of locking down Standard with counterspell control decks will be a thing of the past. Eight life? Ten life? What life do you think it is safe to stabilize? As long as it has enough Deserts, Ramunap Ruins will work to close out games. This will make for a really tough metagame for U/R Control.
Ramunap Ruins can enjoy a critical mass of haste. This is the true golden age of Red Decks. This might be the most important card on the list, but being able to tap it on turn one for a Bomat Courier; then turn two for an Earthshaker Khenra; then maybe dip into a Lathnu Hellion on turn three is an embarassment of (hasty) riches.
It is not good enough, however to drive Arborback Stomper to playability.
Give this week's episode a listen now:
---
Fri, 21 July 2017
Nicol Bolas, God-Pharaoh is Already Getting Around
Nicol Bolas, God-Pharaoh is already exceeding expectations
So how are we going to play Nicol Bolas, God-Pharaoh? There are so So SO many ways!
Nicol Bolas, God-Pharaoh in a Planeswalker Control Deck
Michael Hamilton opened up the new season with a win. Nicol Bolas, God-Pharaoh made a one-of appearance in his [otherwise] Jeskai Control deck.
A dedicated Planeswalker control deck with lots of cards that can interact with the opponent's threats is a great home for Nicol Bolas. It's a redundancy on your other permanents, can borrow against the architecture of the rest of your deck, and ultimately just presents an even more powerful threat than the rest of your deck.
Bolas Beatdown
You can play an Energy Aggro deck, complete with Longtusk Cub and Bristling Hydra... And just finish with Bolas.
This use of the card just requires you to deal thirteen damage in the first seven turns. Pretty trivial, right? You can just play the big Planeswalker for seven, to deal seven. Not only is Nicol Bolas the best "Demonfire" we've had in years (especially given the seven-for-seven mana cost)... If for some reason something went wrong, you would still have a Planeswalker to help over the next few turns.
An Energy deck is actually particularly great for this... Because Energy is somewhat spotty to come by, you might find yourself stranded with Nicol Bolas in hand, but not the mana to cast it. The Aether Hubs of the Energy strategy go a long way in ensuring the solo black (or whatever is needed) is available, versus being stranded as a colorless.
Meanwhile...
With Bolas at both extremes of the metagame, there remains a wide number of decks, from Mono-Red StOmPy to U/R Prowess Burn. This podcast covers them all most:
---
Fri, 26 May 2017
How Many Copies of Pull from Tomorrow?
With the rise of U/R Control in Standard, Pull from Tomorrow reaches center stage...
or does it?
U/R Control (generally with Pull from Tomorrow) really took off last weekend!
U/R Control made Top 8 of both Grand Prix Montreal and Grand Prix Santiago. This was a big pickup, post-Pro Tour, for an archetype that did not crack Top 8 at PT Amonkhet.
In Montreal, Maxime Aubin played only a single Pull from Tomorrow.
But in Santiago, Niels Noorlander made numerous departures in his Top 8 deck...
Only 24 land! For contrast, Aubin played 26 and (at Pro Tour Amonkhet Patrick played 27)
3 copies of Sweltering Suns (instead of just one or two)
Just 3 copies of Censor (which seems odd given only 24 lands)...
But 4 Hieroglyphic Illumination! (maybe this helps out his low land total)
Hieroglyphic Illumination versus Pull from Tomorrow
Pull from Tomorrow is the more powerful card, sure; comparable (and maybe even better than) Sphinx's Revelation. The problem? It's basically always expensive. So expensive, that in a pressure filled format this ace has been reduced to as few as one copy main deck.
Can you realistically slot in Hieroglyphic Illumination?
Hieroglyphic Illumination is almost always going to be worse that Glimmer of Genius... Provided you plan on casting it. (Scry being as valuable as it is)
On the other hand, Hieroglyphic Illumination has another mode!
If you are going to cycle it, U is a great (and cheap) way to go
Putting an instant in your graveyard is great when you are a deck with four copies of Torrential Gearhulk
Upping your one mana cycliers so much may justify lowering your land counts
U/R Control in Context
Tons of removal, one-for ones, and card advantage make for a great lineup against Zombies.
Permission, consistent ability to hit land drops, and card drawing make U/R a contender against Aetherworks Marvel.
Put it all together? You might have a real option against the most popular decks from Pro Tour Amonkhet.
Check out "How Many Copies of Pull from Tomorrow?" for more discussion on these cards, plus G/R Energy, Bant Marvel, and more!
---
Fri, 19 May 2017
Mastering Liliana's Mastery
Liliana's Mastery was center stage for the Top 8 of Pro Tour Amonkhet
How many copies of Liliana's Mastery are you supposed to play?
This is an interesting question to be sure!
Pro Tour Amonkhet winner Gerry Thompson (shout out to @g3rryt) played three copies in his mono-black Zombies deck.
You can certainly defend the Mastery as a three-of ("If Gerry did it, it was right." -Patrick), but there are some pros and cons to this decision. The Zombies archetype would certainly play fewer than twenty-four lands if it didn't have a five drop at the top of the curve... Does it make sense, ultimately, to cut a copy?
How about two?
First-time Top 8 competitor (and onetime Top 8 Magic Mockvitational winner) Christian Calcano (shout out to @CCalcano) cut another! Christian's deck was very similar to Gerry's, just trading one Liliana's Mastery for an additional fast removal spell.
On the other hand, the black-white version played all four copies (at the cost of a couple of two drops).
So what is the right number?
If you think Zombies is the ascendent archetype (it did just win the PT) you may want to play all four copies. To be fair, even two-of Calcano ran the other two Liliana's Masteries in his sideboard.
Liliana's Mastery is an Asymmetrical Crusade
It's not just a Crusade, it's a Grizzly Fate. It's a giant, spread across multiple bodies.
For five mana, you get two 2/2 Zombies... But they are automatically 3/3 by default due to the enchantment itself. It's cool, especially in a mirror, to make all your Zombies bigger, but that's not all.
At the point that you are hitting five drops, you really just want to draw more and more of this thing. You get card advantage two-for-one and all your Zombies get bigger and bigger, snowballing the advantage.
Liliana's Mastery Killed Verdurous Gearhulk
Poor Verdurus Gearhulk.
Not long ago it was the huge five-drop of choice, kicking Ishkanah out of B/G top ends. It could be a big body itself, or it could spread value across multiple bodies. Especially with Winding Constrictor, Verdurous Gearhulk could create an immediate and compelling swing.
Liliana's Mastery just does the same thing, better.
Same cost, similar impact.
Except when it isn't.
The Gearhulk is 8/8 on the low end whereas the Mastery is "only" 6/6... But the Mastery is across two different bodies. It can also potentially spread even more damage, depending on how many Zombies you already have.
And if you are B/W?
It is great with both Binding Mummy and Wayward Servant, creating multiple triggers even as it buffs the two-drop.
Check out mad strategies for both Zombies and Marvel in "Mastering Liliana's Mastery"
---
Fri, 12 May 2017
Getting Familiar with Kefnet the Mindful
Kefnet the Mindful rewards familiarity with common play patterns
Amonkhet Gods versus Theros Gods
WotC R&D did a great job of echoing the aesthetics of the Theros gods with cards like Kefnet the Mindful. For example, Kefnet shares a casting cost with Thassa, God of the Sea. Both creatures are indestructible. Both require special conditions before they can attack or block.
Unlike their Theros cousins, Amonkhet Gods start off as creatures. Even if Kefnet the Mindful can't attack or block, it can, say, crew a Heart of Kiran. While that is pretty good (Thassa is just an enchantment before you have sufficient devotion to blue), it also exposes Kefnet to interaction.
"Indestructible" isn't as Indestructible as it Used to be
Amonkhet provides all kinds of ways to interact with an indestructible creature like Kefnet the Mindful. Even the new cycling islands like Irrigated Farmland and Fetid Pools have reawakened the incentive to play Engulf the Shores. So while vanilla damage might not be able to kill Kefnet, your opponents may well have tools. For example:
Cast Out - Cast Out can handle any type of permanent. Being indestructible doesn't protect Kefnet from being exiled.
Commit // Memory - Bounce-type spells are great against Kefnet. Not that they are so much better against Kefnet than other creatures, but a card like Commit // Memory ignores one of the main features of the card that you are paying for.
Oath of Liliana - Perhaps most depressing, the opponent can just lay an Oath of Liliana, killing a Kefnet that is theoretically indestructible, even if it isn't primed to attack or block yet.
Kefnet the Mindful's Mental Shortcuts
The rules of engagement have changed dramatically with the introduction of Amonkhet to Standard. For example having one mana open means something very different than it did a few months back. You can cycle a Censor... or pay for a Censor. Or (especially in sideboard games) you can cast a Dispel.
Kefnet the Mindful by itself implies a surprising number of tactical play patterns. Check out these...
If you have only four cards in hand at the end of the opponent's turn, you can attack even if you are tapped out.
When you untap, you go from four cards to five. Activate Kefnet once, return a land to your hand, and you are already at seven. Get in there!
If the opponent has exactly seven cards in hand, cast your test spell before he attacks
If he counters it, he will go below seven cards in hand, and will be unable to attack.
You don't have to choose whether you want to pick up a land until after the card draw resolves
This is a generally good thing to know, but is particularly awesome if you have six mana and want to be able to cast a three mana Counterspell. Tap four mana to draw a card; if it is a land that comes into play untapped, play it and you will be able to Cancel. If you don't draw one, though, you can pick up and re-play one of your other lands to get there!
Sound interesting? This episode also features more Mardu Vehicles, Zombies, and all manner of control decks. Give "Getting Familiar with Kefnet the Mindful" a listen now!
---
Fri, 5 May 2017
Breaking Glory-Bound Initiate
Glory-Bound Initiate is a fast and flexible human warrior. Its exert opens the door to building with Always Watching. Its humanity: Thalia's Lieutenant. Go!
---
Fri, 24 March 2017
Mastering Dynavolt Tower
Pro Tour Champion Patrick Chapin and Michael J Flores discuss not just Dynavolt Tower but all the key moves and trends to keep you up to date on Standard.
---
Fri, 17 March 2017
Leaning on a Basic Mountain
PSulli joins Patrick Chapin & MichaelJ in a discussion of how to find one basic Mountain, and whether 21 or 26 lands is right for Torrential Gearhulk decks.
---
Fri, 10 March 2017
Unlicensed Disintegration & U/R Improvise
Take a [playable] Murder. Make it easier to cast (for a least some decks). Add a "cantrip Lava Spike" for zero additional mana. Unlicensed Disintegration
---
Fri, 10 February 2017
Should We Ban Scrapheap Scrounger?
Should wotc ban Scrapheap Scrounger? This unassuming two-drop has more going on than its stats. Scrapheap Scrounger may be a key to solving the metagame.
---
Fri, 3 February 2017
One of These Decks Will Be the Most-Played at PT Dublin…
Which deck will be the most popular at PT Dublin? Green-Black Delirium? Black-Green Energy? Find out what Nahiri is doing in Copy Cat and more!
---
Thu, 26 January 2017
Walking Ballista: The Best Card in Aether Revolt?
Walking Ballista combines flexibility, combo defense, and raw power. Possibly the strongest card in Aether Revolt, Walking Ballista is the true inheritor to Hangarback Walker.
---
Thu, 3 November 2016
Gearhulk or Grafwidow?
Verdurous Gearhulk and Ishkanah, Grafwidow are both formidable five drops. With multiple successful versions of Delirium, which should prove the Staple?
---
Fri, 28 October 2016
How NOT to Deal with a Prized Amalgam
Here's the thing -- Prized Amalgam costs 1UB. One BLUE Black. The deck doesn't even have blue mana! It can't cast Prized Amalgam, only kill you with it.
---
Thu, 20 October 2016
Torrential Gearhulk Masterpieces
Sorry beatdown boys... It looks like this is /actually/ a Torrential Gearhulk format! Find out about the Pro Tour's hot Torrential Gearhulk decks here.
---
Thu, 25 August 2016
Crush of Tentacles - Beyond the Top 8
Patrick Chapin and Michael J Flores explore exciting and powerful decks that DIDN'T make the Top 8 of the Star City Invitational in New Jersey. In particular the U/G Crush of Tentacles archetype had two players with 7-1 records or better... And of course there was Shaheen Soorani with an undefeated Esper Control...
---
Thu, 18 August 2016
Distended Mindbender Takes Center Stage
Distended Mindbender fills in for Elder Deep-Fiend this week in Jund Delirium, a good stuff -- even "great" stuff -- deck that combines Emerge, B/G Delirirum, and Kozilek's Return into one of the most high quality (and anti-Bant Company) decks in the format.
---
Thu, 11 August 2016
Elder Deep-Fiend into Elder Deep-Fiend (into Elder Deep-Fiend)
Mike and Patrick explore the top decks from Pro Tour Eldritch Moon, including a couple with Elder Deep-Fiend as their centerpieces.
---
Thu, 4 August 2016
The Tragic Arrogance of Osyp Lebedowicz
Pro Tour Champion.
Grand Prix Champion.
Now... SCG Open Champion!
Osyp Lebedowicz took down the Baltimore Open with a G/W Tokens deck that used no new Eldritch Moon cards... But his utilization of Tragic Arrogance as a three-of main deck might have been even more innovative.
Patrick Chapin and Michael J Flores discuss.
---
Fri, 29 July 2016
Spell Queller. Just... Spell Queller
A discussion of the immediate format-warping effects of Eldritch Moon's Spell Queller!
---
Thu, 16 June 2016
Mike's Mini-Deck Doctor!
---
Thu, 2 June 2016
Izzet Time to Go Rogue?
---
Thu, 12 May 2016
Eldrazi Displacer is the Boom Boom
---
Thu, 5 May 2016
Poor, Unappreciated, Kalitas, Traitor of Ghet
Kalitas, Traitor of Ghet is one of the best, most important creatures in Standard...
So why are we calling Kalitas poor and unappreciated?
---
Thu, 28 April 2016
Drownyard Temple is Too Insane
Drownyard Temple. T: Add to your mana pool. 3: Return Drownyard Temple from your graveyard to the battlefield tapped.
---
Thu, 21 April 2016
What We Learn from Thraben Inspector
---
Thu, 14 April 2016
Are You Always Watching?
Always Watching. 1WW. Enchantment. Nontoken creatures you control get +1/+1 and have vigilance.

MichaelJ and Patrick go over a ton of new decks featuring this card as well as Jim Davis's Bant Collected Company deck, all from last weekend's Open.
---
Thu, 3 March 2016
Hardened Scales is Deceptively Explosive
Hardened Scales came seemingly out of nowhere to place multiple finishers in the Top 8 of Grand Prix Houston. Find out what finally made Hardened Scales.
---
Thu, 25 February 2016
Pulse of Murasa is Still Misunderstood
Pulse of Murasa is a cheap and easy splash for a surprising number of decks. It can help break rules and help fight beatdown decks... Surprise!
---
Thu, 18 February 2016
MOCS to the Max!
Pro Tour Champion and Pro Tour Hall of Famer Patrick Chapin joins MichaelJ in a discussion of the Magic Online Championship Series (MOCS) Standard decks.
---
Thu, 4 February 2016
Thopter Engineer Secrets
Mike and Patrick talk tons and tons about Thopter Engineeer, but also Rally the Ancestors, Reflector Mage, and Collected Company decks and more in this cast
---
Thu, 28 January 2016
Reckless Bushwhacker - Immediate Impact
Reckless Bushwhacker is a new Goblin Warrior Ally from Oath of the Gatewatch that helped win the very first StarCityGames.com Standard Open, once made legal
---