Fri, 29 June 2018
Sarkhan, Fireblood Spits Flame!
Sarkhan, Fireblood is an exciting new Planeswalker from M19. Check out its new Dragon-centric synergies and card advantage options in this week's cast!
---
Fri, 22 June 2018
Is Resplendent Angel the Real Deal?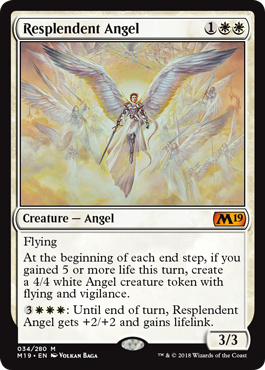 Resplendent Angel is just one of several strong flyers from Core Set 2019, revealed earlier this week.
Resplendent Angel
Effect of card: Flying. At the beginning of each end step, if you gained 5 or more life this turn, create a 4/4 white Angel creature token with flying and vigilance. 3WWW: Until end of turn, Resplendent Angel gets +2/+2 and gains lifelink.
Converted mana cost: 3
Type: Angel
Sets: M19
Game: Magic: The Gathering
Colors: White mana
Illustrators: Volkan Baga
Doesn't Resplendent Angel Just Get Killed by Abrade?
That's the problem, right?
As a 3/3 flyer for three mana, Resplendent Angel is a nice package for its cost. Its many other abilities imply that it should be able to take over the game by itself.
But with only three toughness, it is vulnerable to multiple cards in the most popular current Strategy... Not just Abrade but Lightning Strike will eliminate this creature.
While the Angel has the ability to buff itself offensively and gain lifelink... That doesn't cure three toughness versus instant speed removal. The same Abrades, the same Lightning Strikes, will be able to shoot it out of the sky in response.
They can't always get her, can they? And anyway, when she's good, she's got to be really good.
The Resplendent Angel Payoff
Bash!
Hit you for five!
Gain five!
High five!
Extra Serra Angel, yadda yadda yadda.
Is that the payoff?
It is certainly a payoff... But there is no reason to think so narrowly.
Resplendent Angel is pretty efficient: A 3/3 flying creature for three mana is a heck of a Gnarled Mass! But this is a card that can get better in the right context.
What about playing it with Shalai, Voice of Plenty and Lyra Dawnbringer? Giving this creature +1/+1 and lifelink off the bat puts it a long way towards the Serra Angel trigger.
But that's not all!
There are just a critical mass of life gain cantrips. You can cast Renewed Faith, gain six life, and get a 4/4. But M19 brings with it Revitalize. This card can combines both halves of Renewed Faith, but with a little less flexibility.
What we mean to say here is that at some point Crested Sunmare has got to good enough at some point, right? #horsetribal
Tons more M19 in this podcast, including scads more flyers; from Nicol Bolas to his fellow Elder Dragon Legends. Many of them look equally fantastic. Learn more in the cast.
---
Wed, 20 June 2018
Liliana's Contract is Our M19 Preview
Wizards sent us Liliana's Contract to reveal to you!
Liliana's Contract
Effect of card: When Liliana's Contract enters the battlefield, you draw four cards and you lose 4 life. At the beginning of your upkeep, if you control four or more Demons with different names, you win the game.
Converted mana cost: 5
Type: Enchantment
Sets: M19
Game: Magic: The Gathering
Colors: Black mana
Illustrators: Bastien L. Deharme
... you draw four cards...
So... Who's in it for drawing four cards?
At five mana for four cards, Liliana's Contract is priced similarly to Tidings. In its day, Tidings was a Standard Staple in Vore decks to a variety of control decks.
While the four life is potentially prohibitive (versus, you know, losing zero life) it's important to note people are paying four mana and two life to draw cards in black right this format.
For one more mana, Lilian's Contract represents a powerful upside.
Its being an enchantment is quite interesting; you can draw four into your Demons, it can sit around waiting for a win, or you can play it after you've already got your Demons.
This implies, of course, people will want to play for the Demons. Some might just want to draw four cards.
... four or more Demons...
Lilian's Contract is powerful and flexible. It can probably fuel a black control deck that happens to play Demons... Or you can play a dedicated Demon-combo deck.
There are multiple playable Demons in Standard. Ammit Eternal has already proved Top 8-capable; while Demonlord Belzenlok is the "big bad" of Dominaria. Lilian's Contract might be great randomly alongside a handful of already-good-enough Demons.
But you can also try a dedicated strategy!
With Arcane Adaptation, you can turn any creature into a Demon
With Arcane Adaptation in play, it will be much easier to produce four differently-named Demons. Every token, every random body, will get you that much closer to winning immediately with Liliana's Contract.
Thanks again to Wizards! See you back here tomorrow for our regularly scheduled episode.
---
Fri, 15 June 2018
Militia Bugler and Vivien Reid
We're already seeing new cards from Core Set 2019! Two of the most promising are the Militia Bugler and Planeswalker Vivien Reid.
Where Would You Put Militia Bugler?
Militia Bugler is a source of card advantage that is somewhat restrictive on your deck design.
Mike puts Militia Bugler on "Gonti for yourself" ... He's not wrong. Not that wrong anyway.
Like Gonti, Lord of Luxury, Militia Bugler is a 2/3 creature with an ability once it hits the battlefield. In Gonti's case it is Deathtouch and in the Bugler's case Vigilance. Both of them generate card advantage by looking at the top of someone's library; theirs in Gonti's case, your own in the Bugler's.
Militia Bugler has the benefit of costing three mana rather than four; but comes with a meaningful deck design price: If you're going to get paid off by Militia Bugler, you will have to have a certain number of [other] creatures with a maximum of two printed power.
If you've built your deck appropriately, Militia Bugler plays in the range of Sea Gate Oracle or Court Hussar -- both contributing creatures in their respective Standard formats.
Perhaps most importantly for Standard, Militia Bugler can grab you the zero-printed-power powerhouse, Walking Ballista!
Is Vivien Reid "the green Teferi"?

Vivien Reid will be a key Role Player in Standard, if not quite "the Green Teferi".
"I'm not in it for the emblem."
-Mike
Like Teferi, Hero of Dominaria, Vivien Reid is a five mana planeswalker.
Both draw extra cards with their first abilities; both blow up things (with some measure of limitation) with their second abilities. Your mileage will vary substantially with their respective limit breaks, though.
"Even when it lines up right, it's worse than Teferi every step of the way."
-Patrick
Mike's initial love for this card comes from its very obvious superiority over the already-played Crushing Canopy. Sure, Vivien Reid costs two more mana than Crushing Canopy, but the [-3] ability is wildly better! Not only can you potentially keep a draw-engine planeswalker, you gain the ability to destroy artifacts.
This thing is a fantastic answer to Lyra Dawnbringer, right?
Coming back to the card advantage ability, Patrick points out the [+1] is quite a bit better than just drawing a card. You can Impulse for a land if you need it, and otherwise, you're probably digging for Brontodon, Chupacabra, or The Scarab God.
Basically, Patrick likes Bugler best among the new cards; and Mike likes Vivien Reid best. But there are lots of great cards revealed from Core Set 2019. We go over lots more of them.
---
Fri, 8 June 2018
Should You Play Bomat Courier?
"Don't let the Top 8 fool you... [Pro Tour Dominaria] was actually far more dominated by R/B and Mono-Red than it looks."
-Patrick Chapin
There Were "Only" 23 Bomat Couriers in the Top 8
So the big story of Pro Tour Dominaria was the insane red-ness of the Top 8. With seven of the decks in the Top 8 being black-red or mono-red, the unambiguous card of the tournament was:
The Top 8 of Pro Tour Dominaria featured Twenty-eight Goblin Chainwhirlers
According to this article by Mike, the record for creatures (or for that matter enchantments) in a Top 8 is 28. So Goblin Chainwhirler ties the ceiling held by Sylvan Caryatid and Courser of Kruphix.
BTW - Patrick won that Pro Tour ;)
So here's the thing... Goblin Chainwhirler is often accompanied by Bomat Courier. In this Top 8 five of the seven Red Decks played both 1:1. The winning Red Aggro, though, ran only three copies of Bomat Courier. Finally, one more mid-range black-red take played zero.
The question remains: Do you side it out? For that matter, is it 100% correct to play Bomat Courier at all?
The Problem: Bomat Courier is No Good in the Mirror
Bomat Courier is a good card... It just has one toughness. In past red mirror matches, the little Construct represented an important source of long-term card advantage. However in a world ruled by Goblin Chainwhirler, it is just a one toughness creature that is out-classed by every other playable card in black-red or mono-red.
Typically, that means you should side out Bomat Courier in the mirror (provided you play it).
Llanowar Elves versus Bomat Courier
Wait a minute! If I should be siding out Bomat Courier, does that mean I should be siding out cards like Llanowar Elves?
No.
What's the difference?
Bomat Courier, as we said, is out-classed by every other card in an opposing Red Deck. Every card the opponent plays might be better, so it is pure liability. On balance basically nothing is better than Llanowar Elves.
Let me see if I've got this right: It's not just that Bomat Courier is one toughness... It's that it's one toughness and generally weak. While Llanowar Elves is also one toughness (ergo Goblin chow) gambling with it might pay off because it's so gosh darn powerful.
You've got it! Fast Llanowar Elves draws can lead to your best stuff, like a turn-two Dinosaur to hold the fort, or the jump to a Ravenous Chupacabra or Hour of Promise to put you ahead of the Red Deck.
Here's a different question... If so many people are going to be Red Decks, and I should side out Bomat Courier... Should I play it at all?
So... Should You Play Bomat Courier?
"It depends."
In a format like Unified Standard, where you will play against a maximum of 33% Red Aggro decks, Bomat Courier is probably a good inclusion.
In regular Standard... The clay isn't dry yet. Will more than 50% of your opponents be Red Aggro? Will 7/8? Or even more lopsided, as Patrick described? If you face an overwhelming number of Red Aggro opponents, it might make sense to eschew the card, or play it in the sideboard, as was done in a recent Grand Prix Top 4.
"Teferi Jokers" don't Play Bomat Courier
While Red Aggro variants are undoubtedly best, it's hard to deny the allure of Teferi, Hero of Dominaria. After all, he is in fact a hero. Here are some things you might want to consider if you're for some reason straying from Bomat Courier beatdown:
The top performing (Top 8) Teferi, Hero of Dominaria deck played only two copies. Neither Mike nor Patrick like that; it was essentially a Torrential Gearhulk / The Scarab God deck splashing white.
Speaking of splashing for Teferi, Yellow Hat did it with a blue-red control shell.
In the realm of "straight" U/W, Brad Nelson dialed it back to win with two copies of Approach of the Second Sun!
Conclusion: A lot of the top performers or top players angled their Control decks differently from the core, threat-light, versions from prior to the Pro Tour.
We go over LOTS of lists this week, some of which didn't even play Goblin Chainwhirler, let along Bomat Courier. Absorb it all here:
---