Fri, 29 December 2017
Top Legacy Podcast
Brainstorm is the most popular spell in Legacy
Legacy will return to the Pro Tour in 2018
For the first time in a decade, Legacy will return, as a format, to the Pro Tour.
This time, it will represent 1/3 of the formats in the upcoming Team events (alongside Standard and Modern). With 2017 winding down, Patrick and Michael thought it a great time to showcase the most popular cards and strategies of the Legacy format.
Legacy and "the Brainstorm Experience"
As stated above, Brainstorm is the most popular spell in Legacy. Part of that is that, unlike some other formats, you can actually play four copies of Brainstorm!
If you are in the market for a Brainstorm, there are many similar options. Ponder is the second most popular spell, for instance. Unlike Brainstorm, Ponder allows you to shuffle your library without an additional card.
That said, Brainstorm has a couple of things going for it beyond some of the competition. Most importantly is Brainstorm's synergy with fetchlands. Instead of just fixing your next draw, Brainstorm can actually correct your draw! Rip a creature removal spell against a combo deck? Brainstorm can potentially fix your hand by shuffling away the errant removal spell.
If you're super into Brainstorm, beyond even the first four copies, you can select from Preordain, Serum Visions, Thought Scour, and many more.
Legacy is the Home to Very -- Very -- Cheap Spells
Brainstorm - Brainstorm, the most popular spell in Legacy, not only costs a single blue mana, it potentially digs you to additional lands.
Ponder - Whatever we just said about Brainstorm's casting cost goes for Ponder early game as well.
Force of Will - While Force of Will claims to be five mana, it is in fact played for zero mana more than half the time.
Deathrite Shaman - The most popular creature in Legacy costs only one mana (whether it is black or green); further, Deathrite Shaman is itself a mana source.
Surgical Extraction -
Swords to Plowshares - Swords to Plowshares has not ceased costing a single white mana since Alpha.
Flusterstorm - Flusterstorm is a powerful, largely Legacy-centric permission spell. Part Force Spike, generally much better than a Spell Pierce, Flusterstorm boasts the best of both cards... The single blue mana in their collective top-right corners.
Gitaxian Probe - <
Similar to Surgical Extraction, Gitaxian Probe is super cheap at only one Phyrexian blue mana... And like Surgical Extraction, Gitaxian Probe will be played for even less than one mana -- zero -- a high percentage of the time. This will especially be true in combo decks looking to drive through their libraries and / or play multiple spells in a single turn.
Snapcaster Mage - The second-most popular creature in Legacy is a bit of an oddball. The only two casting cost card in the Legacy Top 10, Snapcaster Mage nonetheless lets you re-cast one of the other super cheap / hyper efficient spells on this list.
Daze - Like Snapcaster Mage, Daze has 1U in its upper right; unlike Snapcaster Mage, you will very rarely pay any actual mana to play it. Not only that, playing Daze on your own turn will sometimes set you up to re-play the same land, untapped.
The extraordinarily low casting costs of this format's spells depict many fast, hyper-efficient early game, decks; some of which play fewer than 20 lands due to their low curves and ability to see more than one card per turn.
Where will Patrick and Michael Start in Legacy?
You can probably guess.
But they still tell you.
To find out, check out this week's podcast right here!
---
Fri, 22 December 2017
Satisfying Vona's Hunger
Vona's Hunger continues the proud tradition of "Diabolic Edict with upside" for three mana
Vona's Hunger as Instant Edict
Diabolic Edict was the first.
It was like a Cruel Edict but better.
Over time we got a variety of three casting cost versions... Foul-Tongue Invocation, Tribute to Hunger, and Oath of Liliana are all three casting cost upgrades to the Edict model (whether instant or sorcery speed). All of them offered a little something extra -- whether life gain or more card advantage -- in exchange for a third mana.
Vona's Hunger can line up almost unprecedented card advantage provided you have the city's blessing.
And the rest of the time? More Edict action for group games ;)
New Keyword: "Ascend" on Vona's Hunger
This instant has a cool new keyword. If you control ten or more permanents, you get something called "the city's blessing" for the rest of the game. Presumably, you can have ten permanents the first time... But if you go below ten permanents upon casting a second Vona's Hunger, you'll still have the city's blessing.
Presumably there will be more cards featuring these new terms; whether you ascend the same way (having ten or more permanents) on all of them is still a mystery.
When would Vona's Hunger like the city's blessing?
It isn't difficult to imagine a time you might want Vona's Hunger on three. For example, any time the opponent is trucking in with a lone Bristling Hydra, you might want a removal card that can kill it no matter how big, no matter how hexproof.
Any time the opponent is protecting a key threat -- say an Electrostatic Pummeler - with Blossoming Defense backup, Vona's Hunger might be the card you want.
But what about the big version? Who can take advantage of it, and when might they want to?
We haven't seen tokens in a while, but the Anointed Procession decks are probably the most consistent at producing 10+ permanents. It's difficult to evaluate the "big" version of this card. It's kind of half a Wrath of God, but also asymmetrical (meaning it does not kill any of your creatures... Just half of the other guy's).
You know when tokens might really, really want Vona's Hunger?
The mirror.
More info here:
---
Fri, 15 December 2017
The NEW Modern Rundown
There are no Thundermaw Hellkites in this Modern episode. Even fewer Stormbreath Dragons.
... But there could have been.
It's Modern! Don't Blink
Modern is a great format! It's waaaaay different from other formats, though. One way we know that is that we have such a hard time predicting what will be good from one week to the next.
What decks do you prepare for?
Affinity?
Humans?
Storm?
Jeskai?
... and when you say "Jeskai" what exactly do you mean? Is it Geist of Saint Traft, Spell Queller decks, the new Search for Azcanta stuff... Or are you talking about warping in an Emrakul, the Aeons Torn?
Yet another look at Jeskai: Jeskai Breach, by Patrick Tierney
Who is to say?
Who is to say you're not up against Thundermaw Hellkite this week?
I mean, it just so happens that this week the right answer was "giant green things" (whether Primeval Titan or Tron-based colorless bombs), but we think you take our meaning.
Don't Forget the Graveyard! Black Resurgence in Modern
Patrick recently commented that the graveyard may be a place to angle for an advantage in this wide and wonderful format.
Was he predicting the future?
Despite weeks and weeks of Humans and Storm, the graveyard came back in a big way at Grand Prix Oklahoma City. Dredge and Living End almost can't be more different (despite being two different graveyard-centric creature decks). These two very different decks both kicked butt, took names, and claimed Pro Tour invitations last weekend:
Don't Blink! Dredge, and Living End from OKC
What Week is it Again? Modern Cuteness Hotness
A few weeks ago we started talking about the new / now-seminal Humans deck based on a critical mass of Unclaimed Territories. But what if, rather than pushing "Human" with our Cavern of Souls, we just play four copies of Sliver Hive?
Instead of the bobbing and weaving of Meddling Mage and Kitesail Freebooter, we may just see mono-offense.
To Wit: Slivers, by Chris Warren
These decks barely scratch the surface of this week's Modern Rundown. Get ready for multiple Tron styles, double-combo Collected Company decks, and our intrepid duo completely ruining a perfectly wonderful Orzhov Zombies deck.
---
Thu, 7 December 2017
Meet the Rivals of Ixalan
Rivals of Ixalan Brings a New Vraska
Vraska, Scheming Gorgon
A new Vraska? Yes.
A very good Vraska? The Scheming Gorgon is going to have a tough time competing with the Relic Seeker in Standard.
Seemingly the only advantage Vraska, Scheming Gorgon has over Vraska, Relic Seeker is in being mono-black. Vraska Scheming Gorgon's best ability is her [-3] to destroy target creature…
This ability is woefully weaker than Vraska, Relic Seeker's more flexible equivalent… That also produces Treasure.
Vraska, Scheming Gorgon has a potentially powerful [-10] ultimate ability… At least until you think about it for a minute. While this ability can theoretically win the game, practically speaking, you already have to have a substantial advantage to cash in.
You need to have gained loyalty for several turns without losing all your creatures.
You need to have more creatures than the opponent has creatures AND creature removal.
But if you can fulfill these conditions? Sure. Win the game.
Vraska and Angrath: Are They Rivals of Ixalan?
Angrath, Minotaur Pirate

In opposition to Vraska is Angrath, a Minotaur Pirate.
While Angrath may not be the strongest Planeswalker in Standard, Mike thinks it is a straight-up upgrade relative to Vraska, Scheming Gorgon.
For one, Mike could at least imagine using the [+2] ability, and can imagine wanting to play this card to do so!
Say you are up against Mono-White Vampires or B/W Tokens. Wouldn't you appreciate a recurring way to deal one damage to everything and everyone on the other side of the table? While gaining loyalty?
Mike is pretty "sign me up" for this as a sideboard card, but Patrick not only reserves ultimate judgment for now… He says that if Mike likes this card, he'll probably LOVE the main set equivalent its existence implies.
Nitpick point: Angrath claims to be a Minotaur PIRATE (even says so in the name) but could not theoretically target itself with that [-3].
The Primal Command of Rivals of Ixalan?
One of the cool features of the beginner Planeswalker decks is the existence of a Tutor to go find a deck's centerpiece character.
Mike doesn't hate this one:

Angrath's Fury
Mike compares it to Primal Command.
Is hie crazy?
Both cards cost five. Both cards affect life total and do multiple things; Primal Command often attacked a land; Angrath's Fury basically always kills a creature.
Okay, okay: Crazy
Patrick and Mike also chat decks past and present, and visit a successful Standard deck… That eschews Longtusk Cub despite running Attune with Aether.
---
Thu, 30 November 2017
Cryptic Command is Good in All of the Spots
Every card in your deck has purpose some of the time; Cryptic Command is the card that is the best, the most.
Welcome Back to Modern, Cryptic Command!
One of the most successful [new-ish] decks in Modern is Jeskai Control.
This archetype, featuring Search for Azcanta from Ixalan has reinvigorated pure control in the format.
Seminal to this strategy is the power of Search for Azcanta to flip into Azcanta, the Sunken Ruin. In its mana-mode, this card implies the availability of four mana. You can leave up four, and threaten Cryptic Command. If you don't have to use the Cryptic Command, you have four lands to go find it.
Former US National Champion Ali Aintrazi played a version at a recent StarCityGames event, moving up to Nahiri, the Harbinger and Torrential Gearhulk as his late game heavy-handed threats.
Nahiri is particularly exciting in this archetype. She can discard cards to help flip Search for Azcanta, and will dig you to a big Torrential Gearhulk.
Also decks WITHOUT Cryptic Command
In the spirit of gearing Mike up for the upcoming #SCGInvi in Roanoke, Virigina, our intrepid duo goes over all kinds of decks beyond the soaring Jeskai Control...
Storm Combo - ever thought about playing Runed Halo on "Gifts Ungiven"?
Humans - now featuring "colorless" spells like Dismember!
Grixis Death's Shadow - including all the one-ofs, spice, and strategies
Jund - with Hazoret the Fervent!
(and lots more)
When do you play FOUR copies of Cryptic Command?
Whenever it's right!
... and half the time, when it's not ;)
Check out this meditation on Modern now!
---
Fri, 24 November 2017
Tetzimoc, Primal Death and the Rivals of Ixalan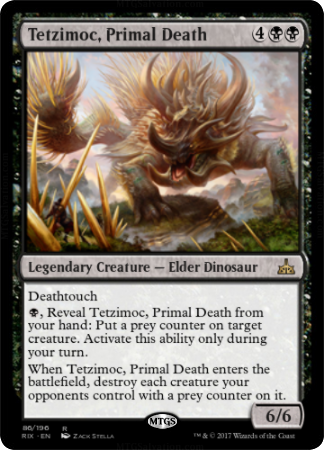 Tetzimoc, Primal Death is a Legendary Creature - Elder Dinosaur
"God I hope this isn't a Standard format where this isn't good."
-Patrick
Tetzimoc, Primal Death Invalidates "real" cards
This Legendary Creature - Elder Dinosaur almost doesn't seem real.
Will there be efficient ways to get rid of prey counters? If not, Tetzimoc is going to act as a Plague Wind -- a one-way Wrath of God -- quite often.
What is the low end of Tetzimoc's performance? Double Nekrataal? Just a couple of life points off of Noxious Gearhulk? It seems really powerful either way.
In any case, Tetzimoc leaves a large body with deathtouch on the battlefield. It provides not just a high potential for card advantage, but advances your board at the same time.
It is conceivable, unfortunately, that Tetzimoc will not be good. How could that be?
This creature is great against regular creatures, if even very good, efficient, or huge versions. It would be much less effective in a format based on Energy 187 creatures like Rogue Refiner, nothing but haste, or combo decks.
Tetzimoc is not the only Elder Dinosaur...
If you are unsure of the most broken thing you can possibly do with Ghalta, Primal Hunger, what about just starting on a Regisaur Alpha? That costs five mana and puts seven power in play. Seven down leaves Ghalta eminently cast-able.
Imagine this with haste!
On the one hand, Ghalta, Primal Hunger is an exceptional reason for Dinosaurs to finally graduate to Tier One in Standard.
But not for nothing... Decks based around the Primal Hunger are going to get their lunch eaten by decks based on the Primal Death, if you grok.
But Wait, There's More!
This week we hit all five currently spoiled Rivals of Ixalan cards, not just the Dinosaurs.
Ever wanted to learn about the nuances between personal Mana Flare and personal Howling Mine? Check out "Tetzimoc, Primal Death and the Rivals of Ixalan" right now!
---
Thu, 16 November 2017
Very Cryptic Command
Did you see this earlier this week?
If you did -- this podcast will be the realization of all you've been waiting for!
If you didn't... Why aren't you following the Top Level Podcast Instagram yet? Go ahead. We'll wait up.
Back?
It's time for our...
Exclusive Preview: Very Cryptic Command!
It's Kind of Like a Cryptic Command
The "Very" variety is reminiscent of the classic in many ways.
It is a Command (and in fact, a "Cryptic" one).
As such, it has several modes, and asks you to choose two of them.
And of course, there is the UUU1 in the top-right corner
But in terms of game play? This is a whole other instant!
Well that's one way to do it...
Isn't it weird that an Un-set card -- ostensibly built for fun rather than Spikes -- is primarily geared towards making:
Infinite mana, and
Infinite storm count
Isn't it?
Right?
If you have two copies of Gilded Lotus and two copies of this instant you can tap for UUUUUU, cast Very Cryptic Command to untap the artifacts and re-buy your other Very Cryptic Command.
Then you can do this all you want, over and over again.
Welcome to having as much mana as you want! Eventually, you can use one of the other modes to do anything else, move ahead (and presumably take advantage of your limitless mana and storm count).
Fun... For you, at least!
Our thoughts on this most Unstable of Unstable cards in "Very Cryptic Command"
---
Thu, 16 November 2017
Masterfully Metagaming Sand Strangler
Sand Strangler Graduates to Main Deck!
Stephen King said it.
William Faulkner said it first.
Kill. Your. Darlings.
Which darlings, you ask.
How about the automatic three-of (if not four-of) at the Ramunap Red four? Hazoret the Fervent.
Cut Hazoret? Are you crazy?
Hazoret the Fervent versus Whirler Virtuoso
As a red mage, have you ever faced off against Whirler Virtuoso? If you haven't, it sucks. It's just really hard to bust through, even though you have one of the best offensive threats in the format.
Now imagine -- assuming sufficient Desert power -- Sand Strangler against Whirler Virtuoso.
Smoosh, right? Smoosh.
When essentially half of the format is Energy decks, Sand Strangler over Hazoret main deck starts to make more sense.
Pro Tour Hall of Famer Ben Stark executed on exactly this plan, finishing in the finals of Grand Prix Atlanta with a new look at Ramunap Ruins.

For reference: Desert Red, by Ben Stark
Wait a minute! Don't I just suck in the mirror now?
While cutting Hazoret -- one of the most important cards in the mirror match -- certainly costs you percentage in the mirror, Ben counterbalanced with the duo of Sand Strangler and Glorybringer.
Remember: Sand Strangler and Glorybringer are two of the most frequently sided in cards in Red Deck mirrors.
So while you lose some Hazoret points, you get back some "free" sideboard creature points.
... And it's not like Ben's deck can't side in a bunch of Hazorets after boards.
But mathematically? There is more Energy than Red right now. Ben's metagaming was simply masterful.
New Decks Aplenty
Desert Red was cool, but it wasn't alone.
This week Patrick and Mike tackle such instant classics as:
Esper Approach of the Second Sun
U/G Electrostatic Pummeler (with four copies of Bristling Hydra, for Mike)
Grixis builds aplenty
Check out "Masterfully Metagaming Sand Strangler" and you too may just become a metagame master!
---
Fri, 10 November 2017
Energizing River's Rebuke
Meet River's Rebuke: Mirror-Breaker
Have you ever played the Temur Energy mirror match? And by "Temur" Energy we would include Four-color Energy and its cousins. The archetype is so good at brick walling itself.
Everyone has plenty of material. Attune with Aether, Rogue Refiner, and Planeswalkers can help develop resources. The Scarab God gives you something to do with your long-term land. It can bust through opposing defenses over time, and from multiple directions. Glorybringer -- especially in multiples -- combines evasion with card advantage. And Planeswalker-slaying!
But yet, Whirler Virtuoso is so good at keeping damage at bay!
How are you supposed to bust through?
May we suggest River's Rebuke?
River's Rebuke: Next Level Sideboarding
Here's the thing about River's Rebuke.
It's a sorcery.
Who sides in Negate against Temur Energy? You know, the deck with 21-25 creatures? Would you side in Negate? What do you plan to Negate? A giant Vehicle? You've already got Abrade for that.
Whatever Negate!
It sits in your sideboard.
Meanwhile, you and your opponent accumulate more and more material, brick walling one another until...
Somebody Casts River's Rebuke
Here's the other thing about River's Rebuke. It's one-sided. Many times when you cast it, the game will be over that turn. You know all that Whirler Virtuoso brick walling? Ain't no one home to defend. Even The Scarab God is going to fail in the face of River's Rebuke.
Two members of the Pro Tour Ixalan Top 8 -- Christian Hauk and Piotr Glogowski -- ran it last weekend.
Temur Wasn't Even the "Good" Energy Deck
Sultai Energy in the hands of former World Champion Seth Manfield reigned supreme. The trickiest of the Energy decks, Sultai has a two-card combo of Hostage Taker and Blossoming Defense that few decks want to tussle with.
Learn more about Temur, Sultai, and the entire PT Ixalan Top 8 in "Energizing River's Rebuke" now!
---
Fri, 3 November 2017
Approach of the Second Sun at Pro Tour Ixalan
Approach of the Second Sun
Patrick is coming to us straight from Pro Tour Ixalan this week! He played a new take on R/W Approach of the Second Sun with Sunbird's Invocation, but more mana and fewer expensive spells.
The Pro Tour is lousy with Temur Energy (and Four-color Energy, and Sultai Energy)... But that just gives it structure to attack! Patrick's approach to Approach seems thought-provoking now, and sounds like it will be influential moving forward. Most opponents have many "dead" cards in Game One. Imagine the B/U Control opponent who cycles through his entire deck with Search for Azcanta only to find... There is nothing to find.
Or the Energy deck (or any deck, really) that doesn't kill you fast enough... Can they stop you from playing your Approaches?
Well... Sometimes :)
---
Fri, 27 October 2017
The Rise of Ixalan in Modern
Modern remains one of the freshest, most dynamic, Magic formats. One of the big reasons? Ixalan in Modern is driving new combinations, and even new archetypes!
Modern Manipulation: Opt
The funny thing about Opt is that it is barely playable at all in Standard... But it is awesome in Modern!
The secret is that the efficacy of cards -- in particular library manipulation cards -- is inversely proportional to their casting costs in larger formats. Opt helps make combo decks like Storm more consistent. It also helps keep them going once they start to go off...
And of course? Being a one mana instant is one of the best things you can be.
And Opt is.
For reference: U/R Gifts Storm, by Scott Simmons
Modern Mana: Unclaimed Territory
It's not that Unclaimed Territory is so great (though it's pretty good)... It's the critical mass this land represents when combined with Ancient Ziggurat and Cavern of Souls.
Collins Mullin absolutely destroyed last weekend's Open with a Humans deck with only 4 Aether Vials -- deck or sideboard -- as his only non-creature spells.
Mullen could cast any Human he wanted. All these lands that can tap for any color, put together, let him consistently play Noble Hierarch at the one, [fellow Ixalan Staple] Kitesail Freebooter come two, and Mantis Rider on three mana. Mantis Rider!
That's G, B1, and URW!
For reference: Humans, by Collins Mullen
Modern Merfolk: Deeproot Waters
Ixalan gives Merfolk players some actual new Merfok. However their sideboard enchantment may be more interesting, and seems much, much more powerful.
Deeproot Waters is quite like an Oketra's Monument... With tons of upside.
It's not just that you can make a 1/1 like the white artifact; because Merfolk is full of Lords -- Lord of Atlantis, Master of the Pearl Trident, and Merrow Reejerey -- so it is probably a safe bet your enchantment will spit out 2/2 or 3/3 Merfolk.
For reference: U/G Merfolk, by Jeremy Bertarioni
These ideas are just scratching the surface of Ixalan in Modern. Settle the Wreckage, Field of Ruin, and Merfolk Branchwalker all performed last week, and in different decks!
Learn more about Ixalan in Modern here!
---
Fri, 20 October 2017
How to Approach Sunbird's Invocation
Sunbird's Invocation was a "Perfect 10" at US Nationals
The Sunbird's Invocation Combo
Adam Bialkowski busted open Standard with a 10th-place finish at US Nationals last weekend. He used a R/W Board Control-slash-Combo deck utilizing this big red six and a certain favorite white seven...
Here's the simple explanation of this combination:
You play Sunbird's Invocation on six.
You untap and play Approach of the Second Sun on seven.
When you cast Approach of the Second Sun, the Invocation digs through the top of your library to check if there is an Approach of the Second Sun there; if there is, it will cast it for you.
Your first Approach of the Second Sun (which you cast from your hand, remember) checks to see if you cast another Approach this game... You did!
Ding!
This together, these two cards represent a turn seven insta-win combo.
Sunbird's Invocation Fail State
So you've invested six mana in a big red enchantment.
Miraculously, you've untapped, still alive.
However you don't have an Approach of the Second Sun...
What's a girl to do?
Chin up, Planeswalker! So you don't have a turn seven insta-win! That doesn't mean you don't have game...
Your Invocation plays a pretty good "personal Howling Mine" once you've untapped. Basically, your spells can potentially snowball into more and more spells. In the 10th place version, there are a ton of expensive cards -- tons of fives sixes and of course sevens -- that make its centerpiece enchantment really look good.
What's Wrong with Sunbird's Invocation?
If there is anything "wrong" with the Perfect 10, it might be all those expensive cards!
Adam certainly benefited from a (current?) (short-term?) gap in Mono-Red popularity. The archetype version only has one Magma Spray in the main deck, and no real way to develop its game plan against B/U Control in the early game. Further, it has a lot of expensive cards but no great way to ensure it hits all its land drops.
That isn't taking anything away from the innovation; just to say that there is still a lot of room for optimization.
A flaming owl wasn't the only hot Hot HOT deck to stand out at US Nationals. Check out "" now to learn more about Abzan Tokens, Mardu Vehicles, and more on the B/U Control v. U/W Control matchup in Standard!
---
Fri, 13 October 2017
The Best Decks in the Worlds
Longtusk Cub headlined one of the best decks in the Worlds
Worlds was awesome!
We saw an amazing overlap of one of the best players of all time wielding those top skills at exactly the right time, combined with great preparation and and even better 60/75.
But we get it.
You have questions...
Top Level Podcast is here to answer those questions this week! Questions like...
If The Scarab God is so good, why didn't Huey play it in his Temur Energy deck?
Is Commit // Memory an ace-level replacement for The Scarab God... Or basically just a boring old Utter End?
Is Longtusk Cub secretly just the best card in Standard?
Why should you play "Treasure Red" instead of regular old Ramunap Red?
When should you play any of the following, and in which order? Opt, Hieroglyphic Illumination, Glimmer of Genius
Will Huey be the first person to win Worlds, and then win Nationals the very next week?
Don't you fret, beloved listeners! The answers to these and other burning questions await in...
The Best Decks in the Worlds
---
Fri, 6 October 2017
The Deadliest Uses for Hostage Taker
Some cards are just better than the others. Hostage Taker is already one of the best.
Actually... Make that Better than the Best
Brainstorm. Fact or Fiction. Oath of Druids.
Vampiric Tutor. Hermit Druid. Upheaval.
The Top 8 of Pro Tour Houston 2003 sounds like the love child of the Banned and Restricted List and a general rundown of the best spells from almost any format. But the best card of the era? Believe it or not?
Faceless Butcher.
Faceless Butcher!
Weird, right?
A four-of in Mono-Black Reanimator and a key bullet in The Rock's sideboard, Faceless Butcher was a cast-able answer to everything from a mid-range All-Star like Spiritmonger to a combo-riffic 20/20 Cognivore.
Hostage Taker is like Faceless Butcher... But way, way, better. It has the same basic ability, but offers the opportunity for a three-for-one upgrade (rather than just two-for-one).
Five Mana: The New "Splinter Twin" Combo
How are you supposed to deal with The Scarab God? A Fatal Push? Ask it to Walk the Plank? Stockpile a bunch of energy and hit it with Harnessed Lightning?
None of those seem like very good solutions to The Scarab God.
What about removing it from game?
Hostage Taker seems like a great way to deal with The Scarab God... Only that 2/3 body isn't exactly durable. Every Abrade and Lightning Strike (plus like half the Fatal Pushes) will kill it.
... Unless you make it hexproof or something. So that's why, Sultai!
Hostage Taker + Blossoming Defense is like peanut butter and chocolate.
When you put Hostage Taker and Blossoming Defense together, you can -- for sake of argument -- exile the opponent's The Scarab God (which you would probably have to do to win, anyway)... And catch your breath for one mana. All you need to do is get the untap and that The Scarab God can be yours! You will be the unbeatable mage!
A great solution to a certain supposedly "indestructible" red God, Hostage Taker is nevertheless quite vulnerable to a Red Deck's many point removal spells. Blossoming Defense is equally useful here while you bide your time for the untap.
Hostage Taker: Taking Hostages Here, There, Everywhere
Sultai ruled the day at the first Standard Open of the season... But who knows just how far the long shadow of Hostage Taker may loom? God Pharaoh's Gift decks seem to be leaning towards the black and blue of Esper. There might be an honest to god Pirates deck hiding in the metagame. Poor dinosaurs! It's gotta suck to have such great creatures... Only to have to deal with them yourself when The Scarab God and Hostage Taker are across the table.
More on Hostage Taker's meteoric rise (and the rest of the opening weekend of Ixalan Standard) right here:
---
Thu, 28 September 2017
Lessons from Pious Interdiction
What Can We Learn from Pious Interdiction?
Often competitive players will look at a card like Pious Interdiction -- which has what might be a desirable effect if at a hefty cost -- and discard it out of hand.
But when was the last time you asked yourself what drove that kind of thinking? Are there contexts where you would want a card like this? If so, when?
Mike -- winner of his Midnight Prerelease -- can certainly point to a time!
Pious Interdiction can be a heck of a Limited card
That's right! Pious Interdiction can certainly get it done in forty card decks!
... That's actually how Patrick and Mike got into the discussion this week! Mike was lucky enough to open four copies of Pious Interdiction, and they did such a great job of nullifying his opponents' key flyers or fat green creatures he was almost ready to sign up for Pious Interdiction in Constructed.
Almost.
The problem -- part of the problem anyway -- with Pious Interdiction is just the cost.
The cost is both the "right answer" and too simple of an answer, though. While this aura is great at interacting with threats like Sealed Deck where so many of an opponent's cards will be more expensive than in Standard, four mana can be a big ask in sixty card decks.
Patrick is quick to caution that general rules about how much things "should" cost for certain effects can be foolhardy. We must always be mindful of context.
Pious Interdiction v. the World
For the current Standard, at least, Pious Interdiction has plenty of context around it, helping to define is viability (or non-viability).
Cast Out also costs four mana, but has so much flexibility around Flash, Cycling, and the option to exile non-creature permanents. For that matter, Cast Out does a much better job, generally, of interacting with creatures! Cast Out isn't always better for four mana, as there are times you will want to gain two life... But it's usually better.
If you're really in the market for an overcosted Pacifism that gains life, might we suggest a Desert's Hold?
Desert's Hold doesn't let you get away with deck building free or anything... You have to build your deck with Deserts -- and you have to have Deserts either in play or in the graveyard to get the bonus -- but it both costs less mana and gains more life than Pious Interdiction. Yet Desert's Hold is far from a popular Constructed card.
Join Pro Tour Hall of Famer Patrick Chapin and Michael J Flores in this eye-opening theoretical discussion, plus more -- much more -- actual Constructed quality cards from Ixalan in this week's episode!
---
Fri, 22 September 2017
Just How Good are the Blasting Cannons?
Vance's Blasting Cannons: The Final Flip
Last week, when gushing over flip cards like Search for Azcanta, we hadn't yet had the opportunity to see the red member of the cycle.
Unlike a certain blue transformer for two, this card is a bit controversial. Where, if anywhere, would you want to play it? Would a red aggressive deck ever want to run it over either an indestructible god or a Rowdy Crew?
"Well," Mike points out, "at least the flip condition is a 'may'" ...
Outpost Siege v. Vance's Blasting Cannons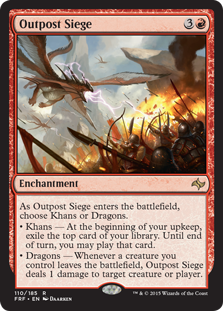 Is Outpost Siege where we set the bar?
The most obvious point of comparison for this new card is Outpost Siege.
For its part, Outpost Siege served every role from "main-deck four-of in R/W aggro" to "sideboard role player competing with its day's Chandra at the four". Regardless of how you want to slice it, Outpost Siege was a stronger card than Vance's Blasting Cannons (at least the front side).
To wit:
Outpost Siege had two different modes: Not only was it a potential source of incremental card advantage over time, the "Dragons" setting was a way to win.
Outpost Siege was not a Legendary permanent. You could have multiple copies in play! Mike probably still has nightmares about facing Sam Black with two Khans and a Dragons on camera
Outpost Siege allowed you to play both spells and lands as extra resources. Vance's Blasting Cannons is kinda sorta only 60% of an Outpost Siege (again, with half the options). So 30-33% on its face? How annoying would it be to reveal a land (that you can't play) and then not draw a land (when you need one)? Gross, right?
But the bar isn't whether this is better or worse than Outpost Siege in the abstract; the front-side is pretty much worse. The question is if it is good enough to play anyway.
And we can't answer that question without addressing...
Vance's Blasting Cannons // Spitfire Bastion
Is the payoff on Spitfire Bastion worth the work?
"Would you play a card that read "RR4. Enchantment. 2R, Tap: Deal three damage to target creature or player?"
-Patrick
Probably not?
While Mike wouldn't play such a conjectural card (probably), it is useful to think of the final flip as potentially three different cards:
The aforementioned 30-33% of an Outpost Siege: This card is a source of incremental card advantage that pays off only after you've untapped successfully with it in play. More than that, it really only pays off after multiple turns.
The conjectural six mana enchantment. This version flips immediately, gives you a potential mana boost (you can still, say, cast a Shock or Magma Spray), but will only offer the full value at very high mana / late in the game
Spitfire Bastion
Spitfire Bastion is a source of inevitability, not unlike fellow land Ramanup Ruins. Decks like U/R Control, for example, can't allow this to flip, because no matter how well they close out on creatures, they will likely lose the game three life points at a time.
Mike -- ever fearful of Kor Firewalker -- points out that as a colorless source of damage, Spitfire Bastion can kill the hell out of Protection from Red creatures.
So what do you think about this last transformer? The Top Level Podcast boys revisit some of the others and a whole mess of Ixalan cards in this week's episode.
This week's episode of the Top Level Podcast is brought to you by Mack Weldon. For 20% off your order, visit http://www.mackweldon.com and use the promo code toplevel
---
Fri, 15 September 2017
Flipping Out Over Search for Azcanta
This week MichaelJ is flipping out over flip cards! First among them? The Search for Azcanta!
Check Out Search for Azcanta:
"Oh hell yeah!"
-Patrick
We'll come out and say it to begin with: Search for Azcanta is probably undercosted. There have been effects like this in the past, but they didn't cost two mana.
The front side of this card offers powerful library manipulation. Sure. It sets up the top of your deck. But that's not all! Search for Azcanta not only pushes aside clunky or expensive spells, it sets up graveyard synergies!
This card is great with flashback, eternalize, or Renegade Rallier.
Subtly, the "flip" ability is a may, not a must. While you will usually want to be flipping it, there are times that Search for Azcanta will be better for you than Azcanta, the Sunken Ruin. Don't worry: You get to pick.
Search for Azcanta Becomes Azcanta, the Sunken Ruin
"... more powerful in play than Library of Alexandria..."
-Patrick
Two things on this one:
First of all, it's a kind of weird Rampant Growth. If you have Search for Azcanta on the battlefield and say four lands... When it flips, you will have five or six mana (depending on land drop). That, in and of itself, is a pretty big get for blue.
Of course, Azcanta, the Sunken Ruin is actually just awesome once you get it online. Getting a de facto Impulse every turn will put you way ahead in grinding matchups, and will threaten to bury the opponent in card advantage.
Further, this card is just begging for you to cheat! No, not "cheat" in the sense of getting banned from DCI sanctioned tournaments... Cheating the flip condition. While the front-side enchantment will get you to the point where it will flip eventually, there is no reason to wait around. Cards like Strategic Planning are screaming to help you flip to the legendary land.
Both sides of this card seem like they will be awesome in Approach of the Second Sun decks. Either side will help dig you to your second Approach.
But Wait! There's More!
While Search for Azcanta has our boys the most excited, there are tons of other flip cards worth talking about. We love Legions Landing, generally dislike Arguel's Blood Fast. But where and when will even that be played?
Gotta check out the podcast, to find out!
---
Thu, 7 September 2017
Exclusive Ixalan Preview: Lookout's Dispersal
In a special exclusive bonus podcast, Patrick and Michael go over their first impressions on Lookout's Dispersal, a new Pirates-themed instant from Ixalan:
---
Thu, 7 September 2017
It's All About the Dinosaurs
Regisaur Alpha is one of the premier Ixalan dinosaurs
What is up with this card anyway? Regisaur Alpha offers seven power over two bodies -- three of which have haste -- all for five mana!
How fast can we sign up?
Regisaur Alpha looks great! One of the few poor things about the dinosaur is that it makes Huatli, Warrior Poet look so bad.
Huatli, Warrior Poet spits out Dinosaurs
Regisaur Alpha and Huatli cost the same [total] amount of mana. Assume you're spitting out a 3/3 the first turn you control Huatli. Now, which would you rather have?
A 4/4 dinosaur lord who is making all of your other dinosaurs faster, or
A 3 loyalty Planeswalker who could easily die
Regisaur Alpha's 3/3 token is better than Huatli's 3/3 token, too... Just on basis of haste.
That said, Huatli, Warrior Poet is probably meant to be one of the centerpiece cards of the set. Not only is he a Planeswalker (and therefore theoretically automatically cool), they made not only another Planeswalker version of him, but a badass dinosaur tutor that can go find it.
Huatli might be meant for play in a dedicated Planeswalker deck. Think:
Three: Gideon of the Trials
Four: Chandra, Torch of Defiance
Five: Huatli, Warrior Poet
All three Planeswalkers protect themselves well. All three will contribute to expanding control of the battlefield itself. Gideon can both attack and defend. Chandra kills creatues outright. Huatli can make blocker after blocker or gain life turn after turn.
Gishath, Sun's Avatar is one busty dinosaur
Instead of looking at Gishath as a clunky eight mana creature, why not look at it as an eight mana Fireball?
Huh?
That's right! How much would you pay for a Fireball where x=7? You'd pay eight mana, right? Well Gishath costs eight, and does seven damage with haste... He's kind of an eight mana Fireball, therefore.
Everything else is gravy. The vigilence is going to be awesome... But it's awesome gravy. Next turn's attack? Gravy. This is not to say you should actually pay to get Gishath onto the battlefield... Just if you had to, it wouldn't be that bad of a deal.
There are even more dinosaurs discussed in this week's episode, which takes Ixalan from one green mana to the aforementioned eight drop... and more!
---
Fri, 1 September 2017
Ixalan!
Kick back, pop in your earbuds, and give a listen to our first look at Ixalan:
Ixalan Changes Planeswalker Rules
Jace, Cunning Castaway: Ixalan Planeswalker
Michael notes that Jace seems to have gotten ripped in the Gatewatch.
Patrick notes that Jace, Cunning Castaway boasts one of the fastest Planeswalker Ultimates ever. You might as well Ultimate when Jace's loyalty hits 5 BTW; while the token copies are not Legendary, Jace, Cunning Castaway itself is.
The new Planeswalker Uniqueness v. Legendary rule will change how Planeswalkers get played. Having more Jaces in play is cool and all (and this one actually does that for you) but the big winner has to be Gideon of the Trials.
People just didn't play Gideon of the Trials because they were already playing Gideon, Ally of Zendikar; now there is no disincentive. More importantly, having more than one kind of Gideon in play will give players greater protection for their Platinum Angel-like Ultimate.
Ixalan and the Treasure Theme
Captain Lannery Storm
Layered and flexible, the Captain is probably Mike's favorite card in Ixalan.
Use her treasure now! She is basically a 3/2 haste creature.
Use her treasure later! You can stockpile for a large attack, or save the mana to bust out Glorybringer on the quick!
Use her treasure for mana! What about not pumping the Captain, but just sacrificing her treasure to cast a Shock, Magma Spray... Or even a Fatal Push?
Exploring Ixalan
Tishana's Wayfinder
It's all the things Mike never should have loved...
Sometimes it's Borderland Ranger
Sometimes it's Gnarled Mass
Generally it's inconsistent and unpredictable
Sold!
Pro Tour Champion Patrick Chapin and Resident Genius Michael J. Flores talk all the Ixalan that's fit to discuss; spoiled cards, flavor and aesthetics; and of course brewing! Check out Top Level Podcast's first take on Ixalan right here, right now!
---
Fri, 25 August 2017
The Scarab God Appreciation Week
The Scarab God ends games quickly
Pro Tour Champion Patrick Chapin and Resident Genius Michael J. Flores begin their discussion of The Scarab God in an odd context... Splashed in a version of Michael Jacob's Temur Emerge!
Even here, The Scarab God is just a remarkable threat. After all, it is a 5/5 creature for five mana to start. Killing The Scarab God is a challenge, to say the least. The other two lines of text are as good as they are anywhere.
The Scarab God against Gate to the Afterlife
One of the big incentives to The Scarab God right now is its ability to interact with God-Pharaoh's Gift type decks.
Whether on its own or in concert with Kalitas, The Scarab God puts tremendous pressure on the opponent's graveyard. Consequently, the opponent might never have six creatures in his graveyard, say.
What should you steal? And when?
Angel of Invention is one of the best cards you can reanimate.
Patrick likens this combination to Donate / Illusions of Grandeur! The increased size of Angel of Invention (4/4 to start, when a zombie instead of just an angel) combined with the creature's natural lifelink protects your own life total while smashing for a ton in the air.
Depending on your archetype, The Scarab God might want to reanimate Trophy Mage. Trophy Mage in the current Standard only has the purpose of finding Gate to the Afterlife (which, in turn, only has the job of setting up God-Pharaoh's Gift)... This not only gives you potential redundancy but can keep your deck strong through the mid-game, even through multiple copies of Abrade.
The Scarab God needs no help
Mike speculates you might want to play Strategic Planning to help fill your graveyard.
Patrick cautions that the god needs little help in filling your own graveyard. The creature, remember, is huge and next to impossible to kill! The Scarab God will typically do fine just reanimating whatever the opponent gives you for targets (though he concedes that getting the big five itself into the graveyard for purposes of Liliana reanimation might be nice).
The two riff on a potential new B/U deck, based on Patrick's GP Denver Grixis build.
This podcast covers many additional topics... Everything from Brad Nelson's continued dominance of Standard (this time with Temur Emerge) to the U/R Advanced Stitchwing deck, to speculation about post-rotation deck archetypes. Check it out now!
---
Thu, 17 August 2017
Hunka Hunka Burning Rage
Mike can't stand Shrine of Burning Rage in Modern :(
You'd think Mike would be happy about a Burn deck winning Grand Prix Birmingham... But he just can't wrap his head around Shrine of Burning Rage replacing Eidolon of the Great Revel at the two. To Mike, Eidolon of the Great Revel is simply one of the strongest cards in Modern; by contrast...
Shrine of Burning Rage is a poor mid-game topdeck.
The New Phyrexia artifact is only good against "fair" decks... Many of which play Kolaghan's Command
A five-mana commitment that does nothing in and of itself is a recipe for getting run over by Tarmogoyfs.
Patrick does little to turn his opinion around.
Burn deck aside: Scalding Tarn
Mike hates Arid Mesa in Modern Burn decks. While many lands are functionally identical for mono-Mountains fetching (Bloodstained Mire and Wooded Foothills have essentially the same text here), Arid Mesa is most likely to tip the opponent off.
It doesn't come up super often, but if you pass your first turn with the fetch in play, you tend to want the opponent to fetch for an untapped shock land; they are least likely to do this against Arid Mesa.
Mike therefore likes Scalding Tarn in a 4/4/4 split.
Patrick points out a four-fetch distribution has some merit.
The two wax on the difference between the two of them playing a first-turn Scalding Tarn. It doesn't matter which red fetch Michael plays... The jig is up before he ever breaks it. Patrick, though, is a longtime Grixis mage. He would get even more value from turn one Scalding Tarn when playing Burn than most!
Poor Mike :(
More and More Modern
With three big Modern tournaments across three continents to work from, Pro Tour Hall of Famer Patrick Chapin and Resident Genius Michael J. Flores have much to discuss. Everything from Storm to TitanShift is up for discussion. Check it out now!
---
Fri, 11 August 2017
Everybody Hates Earthshaker Khenra

Sorry, Earthshaker Khenra. Your window may have already closed :(
Well... Maybe
Sylvan Advocate Hates Earthshaker Khenra
On the way to yet another Grand Prix Top 8, Standard superstar Brad Nelson time traveled and re-innovated the B/G Winding Constrictor deck last weekend, bringing back Sylvan Advocate over Grim Flayer or Longtusk Cub at the two.
Sylvan Advocate? What is this? 2016?
Grim Flayer is great. Longtusk Cub is great. Even Glint-Sleeve Siphoner can be pretty effective. You know what's even better? Three toughness.
Sylvan Advocate comes down as a 2/3 (forget about its size in the future)... Meaning that it can withstand a Shock on turn two, unlike the other B/G two drop options. As a 2/3, it also pwns tiny 2/1 Earthshaker Khenra.
And at 4/5? It chomp Chomp CHOMPS even a 4/4 Earthshaker Khenra later in the game!
Approach of the Second Sun Hates Earthshaker Khenra
Mike's sidekick over at the Ancestral Recall Podcast, Roman Fusco made another Star City Games Classic Top 8 last weekend... This time with an innovative U/W Approach of the Second Sun deck designed by Roman's frequent collaborator (and Regional Finals victim) Dan Ward.
This U/W deck is truly creature-less (and for purposes of Torrential Gearhulk, artifact-less). That completely blanks Earthshaker Khenra teammate Abrade. While haste is helpful across many of the Mono-Red deck's creatures, the ability to prevent blocking also takes up relevant space on the text box. Against no creatures? No additional value.
But the thing that really, really hates the Red Deck?

Unsummon!
The old school instant has an amazing superpower against Mono-Red. If the opponent has one card in hand only, you can Unsummon another creature (putting a second card in the opponent's hand) to blank an attack by Hazoret the Fervent. And of course, if you Unsummon the 4/4 backside on an Earthshaker Khenra, that will be that.
This should surprise no one, though: Approach of the Second Suns decks hate Earthshaker Khenra.
Grasp of Darkness Hates Earthshaker Khenra
Grasp of Darkness really, really hates Hazoret the Fervent... But will settle for murdering a hasty Jackal Warrior, let's be honest.
Grasp's new teammate Gifted Aetherborn, though... 2/3 over 2/1 again, etc. etc. And if the Red Deck needs to spend its second turn pointing an Abrade at Gifted Aetherborn? It won't even have time to drop Earthshaker Khenra on curve.
To find out what other cards and decks are creating a hostile Standard environment for our poor Jackal Warrior, check out this week's episode!
---
Fri, 4 August 2017
How 'bout Them Ramunap Ruins?
Ramunap Ruins may be the most important new card from Hour of Devastation.
Earthsaker Khenra? Yeah! That's a great creature, we'll grant you... But it's still just a creature. Ramunap Ruins can't be countered and gives players a resource to lean against instead of flooding out.
This land enters the battlefield untapped. It essentially has the superpoower of tapping for both red and colorless; it can support Eldrazi Obligator (or Reality Smasher), not just a purely red creature rush.
Ramunap Ruins finishes off control players. The idea of locking down Standard with counterspell control decks will be a thing of the past. Eight life? Ten life? What life do you think it is safe to stabilize? As long as it has enough Deserts, Ramunap Ruins will work to close out games. This will make for a really tough metagame for U/R Control.
Ramunap Ruins can enjoy a critical mass of haste. This is the true golden age of Red Decks. This might be the most important card on the list, but being able to tap it on turn one for a Bomat Courier; then turn two for an Earthshaker Khenra; then maybe dip into a Lathnu Hellion on turn three is an embarassment of (hasty) riches.
It is not good enough, however to drive Arborback Stomper to playability.
Give this week's episode a listen now:
---
Fri, 28 July 2017
Getting to Know God-Pharaoh's Gift
God-Pharaoh's Gift is The Postmodern Debtors' Knell...
Compare God-Pharaoh's Gift to Debtors' Knell. Remember: Debtors' Knell was a breaker in both Ravnica Block Constructed and in the Standard of its era!
Both cards cost seven mana. However, the new version is a colorless artifact; consequently, it is an easier seven than Debtors' Knell to get into play.
Above and beyond Debtors' Knell, though, God-Pharaoh's Gift grants haste! Take that, opponent!
Another Home for Champion of Wits
Champion of Wits has been making and breaking all kinds of decks in its short -- yet already storied -- career. Champion of Wits is a key enabler of this artifact.
God-Pharaoh's Gift wants you to put creatures into your graveyard. After all, it is from the graveyard that the dead will rise (and hastily attack). Champion of Wits specializes in putting cards -- creatures or otherwise -- into the graveyard. It helps dig to your God-Pharaoh's Gift (or proxy for). A creature itself, when you return a Champion of Wits, it comes back as a 4/4 creature so you draw even more cards!
The synergies do not end with just fueling creatures.
You can discard God-Pharaoh's Gift itself to the graveyard. Why would you want to do that?
Champion of Wits costs three mana. The very next turn you can Refurbish the God-Pharaoh's Gift directly onto the battlefield! The card is the easiest possible seven mana. But how sweet is it when you play it for just four?
Redundancy, Incorporated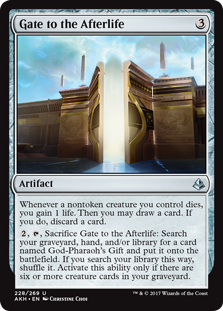 Another three mana facilitator to God-Pharaoh's Gift is Gate to the Afterlife.
I'd say drawing and discarding cards helps you dig to your key spell... But that's not even necessary here. Once you have six creatures in the graveyard (whether from looting, or discarding to Champion of Wits, chump blocking) you can just switch one artifact for the other.
Gross.
For more on this great strategy, more Champion of Wits, and lots and lots more Mono-Red in Standard, check out this week's podcast now!
---
Fri, 21 July 2017
Nicol Bolas, God-Pharaoh is Already Getting Around
Nicol Bolas, God-Pharaoh is already exceeding expectations
So how are we going to play Nicol Bolas, God-Pharaoh? There are so So SO many ways!
Nicol Bolas, God-Pharaoh in a Planeswalker Control Deck
Michael Hamilton opened up the new season with a win. Nicol Bolas, God-Pharaoh made a one-of appearance in his [otherwise] Jeskai Control deck.
A dedicated Planeswalker control deck with lots of cards that can interact with the opponent's threats is a great home for Nicol Bolas. It's a redundancy on your other permanents, can borrow against the architecture of the rest of your deck, and ultimately just presents an even more powerful threat than the rest of your deck.
Bolas Beatdown
You can play an Energy Aggro deck, complete with Longtusk Cub and Bristling Hydra... And just finish with Bolas.
This use of the card just requires you to deal thirteen damage in the first seven turns. Pretty trivial, right? You can just play the big Planeswalker for seven, to deal seven. Not only is Nicol Bolas the best "Demonfire" we've had in years (especially given the seven-for-seven mana cost)... If for some reason something went wrong, you would still have a Planeswalker to help over the next few turns.
An Energy deck is actually particularly great for this... Because Energy is somewhat spotty to come by, you might find yourself stranded with Nicol Bolas in hand, but not the mana to cast it. The Aether Hubs of the Energy strategy go a long way in ensuring the solo black (or whatever is needed) is available, versus being stranded as a colorless.
Meanwhile...
With Bolas at both extremes of the metagame, there remains a wide number of decks, from Mono-Red StOmPy to U/R Prowess Burn. This podcast covers them all most:
---
Fri, 14 July 2017
Resilient Khenra: Bring on the Beatdown!
Resilient Khenra is one of several aggressive cards covered in this beatdown-oriented episode.
Hour of Devastation brings several aggressive options to Standard. We've mostly talked about powerhouse cards like Hour of Devastation [the card], or big ramp spells like Hour of Promise so far... But the new set can also turn a mean Jackal sideways!
Resilient Khenra: Greater than Grizzly Bears
To start, this card is a 2/2 creature for 1G... Any text on it is going to put it past the classic Grizzly Bears.
As it is, giving a creature +2/+2 one time is comparable to a 2/2 haste creature, according to Patrick.
The question is whether you can afford to play Resilient Khenra in a world that has optimized out Duskwatch Recruiter and Sylvan Advocate. We think... Maybe.
For one thing, Sylvan Advocate has largely lost on the presence of Fatal Push. Later in the game, when Sylvan Advocate is meant to get big, it still has a tiny two in the top-right... Making it a great target for Fatal Push.
Resilient Khenra doesn't have the same problem. It leaves a body, yes, but pushing the tempo with its 187 buff effect is the main reason you choose this card.
Resilient Khenra post-Adorned Pouncer
One of the things that makes this creature so attractive is its ability to synergize with Adorned Pouncer.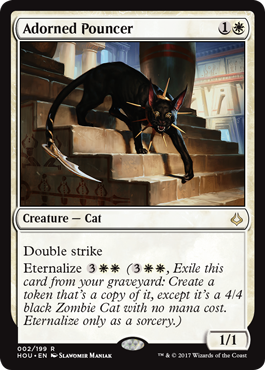 If you start on an Adorned Pouncer, and follow up with Resilient Khenra, you don't merely get +2/+2... You get to exploit the double strike on Adorned Pouncer. So for only two mana, you get four extra damage (and keep the Jackal Wizard body).
Later in the game, the two creatures' Eternalize abilities curve one into the next. Adorned Pouncer costs five to Eternalize, and Resilient Khenra costs six. In the late-game case, Resilient Khenra provides +4/+4 due to the token's superior size, so the multiplier is that much more dangerous.
Appeal // Authority in Tokens, or Anywhere
The G/W color combination isn't limited to Eternalize guys in Hour of Devastation. What about Appeal // Authority?
In a tokens deck specifically, Appeal can deal a huge amount of extra damage for only one mana, while Authority hearkens back to Alexander Hayne's Block Constructed PT win from a few years back.
Together, they may make a splash. Luckily, they're always together.
Give it all a listen:
---
Fri, 7 July 2017
Hour of Devastation is the Best of the Bunch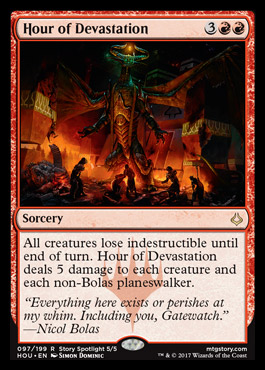 Hour of Devastation is the card red control decks have always wanted.
Hour of Devastation deals 5 damage to each creature...
Red has long had the ability to deal two to three points of damage to multiple creatures for about three mana. Examples include Standard Staples like Kozilek's Return, Radiant Flames, or Sweltering Suns.
But five damage?
Historically, red mages would have had to pay seven or more mana for a big sweep like this. Worse yet, in earlier eras, they would have to take five damage themselves! Earthquake, for example, only hit non-flying creatures.
From these perspectives, Hour of Devastation is really something special.
Blah blah blah... Each non-Bolas Planeswalker
One of the fantastic aspects of Hour of Devastation is how it can deal with Planeswalkers.
Forget about the fact that it can deal with Planeswalkers directly at all, the fail state of this card falls into a convenient place. What is the kind of deck where you would want Hour of Devastation? Something like Zombies, right? A deck where the opponent plays multiple creatures, that sometimes get big... The ability to deal five to all of them is quite attractive against Zombies.
But what about when you don't want a big creature sweeper? Oftentimes, the opposite number to Zombies will be a Control deck. Those decks will very often give you one or more Planeswalkers to kill, especially board control decks.
Hour of Devastation works great in Grixis
This set is very Grixis-oriented. There is a Grixis themed cycle of Gods, and of course the God Pharaoh is in Grixis colors.
Hour of Devastation (red) is highly complimentary to other key Grixis cards. For example, this card does five... And Torrential Gearhulk has six toughness. It's one thing for Torrential Gearhulk to live through the Hour... But what about being able to swing directly?
Consider:
Turn 6 - Flash out Torrential Gearhulk (to stabilize, stay alive, just get an advantage)
Turn 7 - Play a land; cast it leaving up UU. Get in there for five!
And more! Much more! in "Hour of Devastation is the Best of the Bunch":
---
Fri, 30 June 2017
Hour of Promise is Quite Promising
The Locst God may be on the art, but our bet is that Hour of Promise will be ushering in Ulamog, the Ceaseless Hunger.
Hour of Promise is no Explosive Vegetation
Mike initially misreads Hour of Devastation as an overcosted Explosive Vegetation. It's not a surprising mistake. Explosive Vegetation costs four, but Hour of Promise costs five. They both go and get two lands; Hour of Promise sometimes makes two zombies.
Oh wait... basic.
Sorry: basic
That is, unlike Explosive Vegetation, Hour of Promise can search up any lands, not just more Forests or whatever!
Example: Go and get two copies of Shrine of the Forsaken Gods
If you can cast Hour of Promise, the implication is that you have five lands in play. If you get two copies of Shrine of the Forsaken Gods, you'll then have seven lands in play, meaning you can tap for nine.
All you have to do is hit your land drop next turn to have ten mana for Ulamog, the Ceaseless Hunger!
Hour of Promise is More a Thalia's Lancers than an Explosive Vegetation
Mike loves to mark for 4/4 creatures for five mana that have a cool or card advantageous abilities.
Examples:
Indrik Stomphowler
Thalia's Lancers
Hour of Promise is like one of those, but possibly better. Why? Instead of one 4/4 creature, your payoff is two 2/2 creatures. Two 2/2s are sometimes more useful than just one 4/4, but Hour of Promise generates about the same amount of power and toughness.
The "Desert" Clause isn't that big a deal
All you need is one Desert in your first five lands and you'll be dripping in Zombie tokens!
Why? You can just go and get two other Deserts and put them on the battlefield. Now, armed with three Deserts in play, you will soon the be the owner of a pair of Zombie tokens.
The deck design implications are open to explore. Do you want to play lots of Deserts? That would increase your chances of having a Desert in play on turn five. Or, you might only play three total Deserts. Card selection aside, you will have a lot of specialty lands fighting for space in your mana base... You might not have room for too many Deserts.
Pro Tour Champion Patrick Chapin and Resident Genius Michael J. Flores cover many more Hour of Devastation cards in this great podcast. Two words: "horse tribal" ... Check it out now!
---
Fri, 23 June 2017
Doomfall is the Definition of Flexibility
Doomfall is an extremely flexible, potentially main-deck, card.
Meet the Cruel Edict
Doomfall costs one more mana than Cruel Edict, but even beyond its ability to act as a discard spell, there may be good reason to pay three instead of two.
Rather than merely destroying a creature (as Cruel Edict did), Doomfall exiles it. That is bad news for Scrapheap Scrounger decks! Any creatures that rely on durability or coming back from the dead might have problems with it (e.g. The Scorpion God)
Playing as Transgress the Mind
Again, we see a card that, at 2b, costs a little more than Transgress the Mind. Part of that is just a tax levied against the creature removal side of the spell (you can't very well have a functional reprint of Staple Transgress the Mind that also kills creatures).
But the reality is, Doomfall is not "just" a reprint of Transgress the Mind. It costs one additional mana, but on the other hand you can take anything, rather than only cards that conform to a particular mana profile. That might not feel like it's worth three mana in isolation... But you've always got the Edict opion!
Ultimately, it Can Get Everybody
This card lets you beat a combo deck with creature removal, or kill an attacker with your extra Duress.
---
Thu, 22 June 2017
The Scorpion God is Just the Beginning
To be honest The Scorpion God is actually near the end of the episode... Still great.
Buckle up for a full-on Hour of Devastation episode! Patrick and Michael hit on tons and tons of cards (and will be back with their own Hour of Devastation preview tomorrow).
The Defeat Cycle
The Defeat Cycle (Jace's Defeat, Gideon's Defeat, etc.) is a quintet of fast color hosers. Most will be Staple in Standard, with a couple of them likely growing up to be cross-format All-Stars (Liliana's Defeat especially).
Jace's Defeat - This card is basically Gainsay. You're unlikely to get the Scry 2 very often, but that's not a big deal... Gainsay has been Staple every time it has been available in Standard. Consequently, Jace's Defeat is going to be a great way to compress sideboard slots; it'll be nice having one card that can answer Torrential Gearhulk or Glimmer of Genius.
Gideon's Defeat - Mike loves this one, largely because he's been beaten up by Gideon, Ally of Zendikar so much the past year. This card will be great at slowing down everything from Toolcraft Exemplar to the newcomer Adorned Pouncer to Mike's hated Gideon.
Liliana's Defeat - Wow, what an All-Star (to be). Super mana efficient; more importantly, in Modern, this will be a Bump in the Night / Lava Spike that also kills Liliana of the Veil at the same time.
Chandra's Defeat - Will be bananas in largely the same way as Liliana's Defeat. Will be best buddies with Snapcaster Mage.
Nissa's Defeat - While this will be the "clear fifth place" Defeat, it will create a position of privilege for green creatures. Every other color's creatures are poised to be Defeat-ed. Not so green.
Nissa's Defeat creates a privileged position for green creatures and adds a three-mana Stone Rain back into Standard.
Adorned Pouncer and Eternalize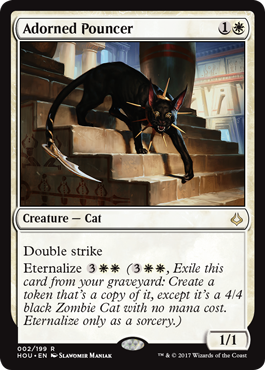 Adorned Pouncer is strictly superior to Fencing Ace
Fencing Ace was a good card. It was played as Staple in Jeskai buff decks, and at least a Role Player in Bant Hexproof.
Adorned Pouncer is everything Fencing Ace was... and Also a Cat. And also has Eternalize.
Would you pay five mana for just the 4/4 double striker? Patrick wouldn't. Mike would at least look at it. That the boys are even having this discussion should tell you how good Adorned Pouncer will be.
Thank goodness for Gideon's Defeat's exile clause! Magma Spray will continue to do work.
The Scorpion God
The Scorpion God is like three different engines.
"This God doesn't require worshippers."
-Patrick
If you just start with 6/5 for five mana... But with this level of resilience... It's at least worth a conversation. A 6/5 body for five mana isn't too bad; and if you can't kill it?
There are two other abilities, still.
The Scorpion God can mow down a ton of small creatures (and probably draw cards at the same time). It can also shoot at big creatures to get them small enough to tussle with and draw).
This summary doesn't do justice to "The Scorpion God is Just the Beginning" ... The only way to hear everything we're thinking about Hour of Devastation right now, you best give a listen!
---
Fri, 9 June 2017
The Real Cost of Bontu's Last Reckoning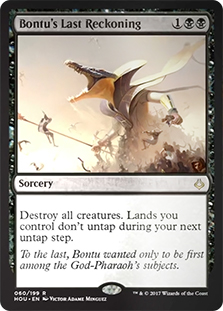 Bontu's Last Reckoning costs three mana. That's great! Isn't it?
What a difference a week makes!
... Depending on what continent you are on.
The Return of Spell Queller in Manila
The biggest disconnect with recent history IN THE WORLD took place at Grand Prix Manila. We saw the return of the U/W Flash deck... Now featuring Glory-Bound Initiate.
The U/W Flash archetype (and friends like Esper Vehicles) benefit somewhat by a decline in popularity of Mardu Vehicles... Our assessment is that the Heart of Kiran in Mardu Vehicles would run over the comparatively clunky U/W.
But U/W Flash is not about fighting Mardu. Aetherworks Marvel, on the other hand, is a perfect victim of Spell Queller. Basically, Dispel and Negate are the most common "cover" spells for Aetherworks Marvel at five and six mana, respectively... You can neither Negate nor Dispel a Spell Queller. On the other hand, Spell Queller's 2/3 body is perfect for putting Marvel on a clock.
Ulvenwald Hydra and Shrine of the Forsaken Gods
No surprise that Aetherworks Marvel took down a US Grand Prix this weekend past.
No surprise that Standard master Brad Nelson was at the winning deck's helm.
What's cool? What's different?
Brad used Ulvenwald Hydra to great effect in his build's sideboard... Kind of "the difference that makes the difference."
Basically, Ulvenwald Hydra was Brad's "Nissa's Renewwal" ... An expensive green creature, but not nearly as expensive as Ulmamog. Brad could use the Hydra to make a huge threat on its own, but also as an accelerator. If he got Shrine of the Forsaken Gods he would be one two mana closer to hard casting any Ulamogs stuck in his hand.
Dissenter's Deliverance is the Choice of Champions
'nuff said.
Bontu's Last Reckoning and Our First Look at Hour of Devastation
In addition to lots of decks from three Grand Prix across three continents we hit on the three now-known cards from Hour of Devastation. The most interesting topic for this section is probably around the cost of Bontu's Last Reckoning.
Ostensibly, this card costs three mana. That means that it has some synergy with Goblin Dark-Dwellers or certain Expertise cards. It would be a mistake to say that it is just a cheaper Damnation; the fact that it costs three is less of an advantage in most games (how big or dangerous are the creatures coming at you on turn three versus turn four). If you cast it later in the game, the mana restriction is actually pretty disadvantageous.
Net-net, though, we think it will be heavily played.
---
Fri, 2 June 2017
Amonkhet in Modern
New Set on the Block Amonkhet had a pretty good weekend in Modern, across three continents, last week. Amonkhet cards contributed to all of the main macro archetypes: Control, Combo, and Beatdown!
Amonkhet Control: Glory-Bound Initiate in Esper
At Grand Prix Kobe, Akio Chiba slotted Glory-Bound Initiate into his creature-poor Esper Control deck, Stonefore Mystic style.
"Glory-Bound Initiate is legal in the format."
-Patrick
Can't disagree with you there!
Chiba played a four Painful Truths deck, where the life gain from Glory-Bound Initiate could be really effective in fueling his main card advantage engine. Glory-Bound Initiate is just that good in Modern!
Subtly, exerting Glory-Bound Initiate may not have that much of a downside, as opponents may actively try to trade with it.
Amonkhet Combo: Vizier of Remedies in Collected Company decks
Vizier of Remedies + Devoted Druid is an infinite mana engine.
Devoted Druid says "Put a -1/-1 counter on me and I'll untap."
Vizier of Remedies says "Go ahead and untap. But Don't worry about the -1/-1 counter, no problem."
Once you've got infinite green mana access, the world (or at least your deck) is your oyster. Here are some of the things players did last weekend:
Draw every creature in my deck with Duskwatch Recruiter. One of those creatures is Walking Ballista. Pay however much. Get you for however much.
Combine with Knight of the Reliquary and Kessig Wolf-Run for infinite power (and trample).
Overrun all with Ezuri, Renegade Leader. The coolest thing about this version is that even if you have to tap all your guys to set up / make the infinite mana, you can still untap Devoted Druid to be your lone attacker... With infinite power!
Amonkhet Aggro: Harsh Mentor in Burn
Meanwhile back in Baltimore, MD -- USA -- Pro Tour Top 8 competitor Stephen Neal added a Harsh Mentor as his "fifth copy" of Eidolon of the Great Revels.
Neal's version was super atypical for Burn (at least since the release of Inspiring Vantage), going up to some fifteen creatures... But still finding room for some unique spell choices.
Shard Volley, anyone?
What is important for Amonkhet fans is that Harsh Mentor might be Burn's best friend in certain matchups. Of course it makes life harder on the fetchland player, but think about Affinity: Harsh Mentor makes doing stuff like activating an Arcbound Ravager downright dangerous.
TLDR: Amonkhet hit Modern hard last weekend; and it hit from Control, Combo, and Beatdown. Obviously more on this story as the format continues to develop.
Listen to "Amonkhet in Modern" now for even more decks and details!
---
Fri, 26 May 2017
How Many Copies of Pull from Tomorrow?
With the rise of U/R Control in Standard, Pull from Tomorrow reaches center stage...
or does it?
U/R Control (generally with Pull from Tomorrow) really took off last weekend!
U/R Control made Top 8 of both Grand Prix Montreal and Grand Prix Santiago. This was a big pickup, post-Pro Tour, for an archetype that did not crack Top 8 at PT Amonkhet.
In Montreal, Maxime Aubin played only a single Pull from Tomorrow.
But in Santiago, Niels Noorlander made numerous departures in his Top 8 deck...
Only 24 land! For contrast, Aubin played 26 and (at Pro Tour Amonkhet Patrick played 27)
3 copies of Sweltering Suns (instead of just one or two)
Just 3 copies of Censor (which seems odd given only 24 lands)...
But 4 Hieroglyphic Illumination! (maybe this helps out his low land total)
Hieroglyphic Illumination versus Pull from Tomorrow
Pull from Tomorrow is the more powerful card, sure; comparable (and maybe even better than) Sphinx's Revelation. The problem? It's basically always expensive. So expensive, that in a pressure filled format this ace has been reduced to as few as one copy main deck.
Can you realistically slot in Hieroglyphic Illumination?
Hieroglyphic Illumination is almost always going to be worse that Glimmer of Genius... Provided you plan on casting it. (Scry being as valuable as it is)
On the other hand, Hieroglyphic Illumination has another mode!
If you are going to cycle it, U is a great (and cheap) way to go
Putting an instant in your graveyard is great when you are a deck with four copies of Torrential Gearhulk
Upping your one mana cycliers so much may justify lowering your land counts
U/R Control in Context
Tons of removal, one-for ones, and card advantage make for a great lineup against Zombies.
Permission, consistent ability to hit land drops, and card drawing make U/R a contender against Aetherworks Marvel.
Put it all together? You might have a real option against the most popular decks from Pro Tour Amonkhet.
Check out "How Many Copies of Pull from Tomorrow?" for more discussion on these cards, plus G/R Energy, Bant Marvel, and more!
---
Fri, 19 May 2017
Mastering Liliana's Mastery
Liliana's Mastery was center stage for the Top 8 of Pro Tour Amonkhet
How many copies of Liliana's Mastery are you supposed to play?
This is an interesting question to be sure!
Pro Tour Amonkhet winner Gerry Thompson (shout out to @g3rryt) played three copies in his mono-black Zombies deck.
You can certainly defend the Mastery as a three-of ("If Gerry did it, it was right." -Patrick), but there are some pros and cons to this decision. The Zombies archetype would certainly play fewer than twenty-four lands if it didn't have a five drop at the top of the curve... Does it make sense, ultimately, to cut a copy?
How about two?
First-time Top 8 competitor (and onetime Top 8 Magic Mockvitational winner) Christian Calcano (shout out to @CCalcano) cut another! Christian's deck was very similar to Gerry's, just trading one Liliana's Mastery for an additional fast removal spell.
On the other hand, the black-white version played all four copies (at the cost of a couple of two drops).
So what is the right number?
If you think Zombies is the ascendent archetype (it did just win the PT) you may want to play all four copies. To be fair, even two-of Calcano ran the other two Liliana's Masteries in his sideboard.
Liliana's Mastery is an Asymmetrical Crusade
It's not just a Crusade, it's a Grizzly Fate. It's a giant, spread across multiple bodies.
For five mana, you get two 2/2 Zombies... But they are automatically 3/3 by default due to the enchantment itself. It's cool, especially in a mirror, to make all your Zombies bigger, but that's not all.
At the point that you are hitting five drops, you really just want to draw more and more of this thing. You get card advantage two-for-one and all your Zombies get bigger and bigger, snowballing the advantage.
Liliana's Mastery Killed Verdurous Gearhulk
Poor Verdurus Gearhulk.
Not long ago it was the huge five-drop of choice, kicking Ishkanah out of B/G top ends. It could be a big body itself, or it could spread value across multiple bodies. Especially with Winding Constrictor, Verdurous Gearhulk could create an immediate and compelling swing.
Liliana's Mastery just does the same thing, better.
Same cost, similar impact.
Except when it isn't.
The Gearhulk is 8/8 on the low end whereas the Mastery is "only" 6/6... But the Mastery is across two different bodies. It can also potentially spread even more damage, depending on how many Zombies you already have.
And if you are B/W?
It is great with both Binding Mummy and Wayward Servant, creating multiple triggers even as it buffs the two-drop.
Check out mad strategies for both Zombies and Marvel in "Mastering Liliana's Mastery"
---
Fri, 12 May 2017
Getting Familiar with Kefnet the Mindful
Kefnet the Mindful rewards familiarity with common play patterns
Amonkhet Gods versus Theros Gods
WotC R&D did a great job of echoing the aesthetics of the Theros gods with cards like Kefnet the Mindful. For example, Kefnet shares a casting cost with Thassa, God of the Sea. Both creatures are indestructible. Both require special conditions before they can attack or block.
Unlike their Theros cousins, Amonkhet Gods start off as creatures. Even if Kefnet the Mindful can't attack or block, it can, say, crew a Heart of Kiran. While that is pretty good (Thassa is just an enchantment before you have sufficient devotion to blue), it also exposes Kefnet to interaction.
"Indestructible" isn't as Indestructible as it Used to be
Amonkhet provides all kinds of ways to interact with an indestructible creature like Kefnet the Mindful. Even the new cycling islands like Irrigated Farmland and Fetid Pools have reawakened the incentive to play Engulf the Shores. So while vanilla damage might not be able to kill Kefnet, your opponents may well have tools. For example:
Cast Out - Cast Out can handle any type of permanent. Being indestructible doesn't protect Kefnet from being exiled.
Commit // Memory - Bounce-type spells are great against Kefnet. Not that they are so much better against Kefnet than other creatures, but a card like Commit // Memory ignores one of the main features of the card that you are paying for.
Oath of Liliana - Perhaps most depressing, the opponent can just lay an Oath of Liliana, killing a Kefnet that is theoretically indestructible, even if it isn't primed to attack or block yet.
Kefnet the Mindful's Mental Shortcuts
The rules of engagement have changed dramatically with the introduction of Amonkhet to Standard. For example having one mana open means something very different than it did a few months back. You can cycle a Censor... or pay for a Censor. Or (especially in sideboard games) you can cast a Dispel.
Kefnet the Mindful by itself implies a surprising number of tactical play patterns. Check out these...
If you have only four cards in hand at the end of the opponent's turn, you can attack even if you are tapped out.
When you untap, you go from four cards to five. Activate Kefnet once, return a land to your hand, and you are already at seven. Get in there!
If the opponent has exactly seven cards in hand, cast your test spell before he attacks
If he counters it, he will go below seven cards in hand, and will be unable to attack.
You don't have to choose whether you want to pick up a land until after the card draw resolves
This is a generally good thing to know, but is particularly awesome if you have six mana and want to be able to cast a three mana Counterspell. Tap four mana to draw a card; if it is a land that comes into play untapped, play it and you will be able to Cancel. If you don't draw one, though, you can pick up and re-play one of your other lands to get there!
Sound interesting? This episode also features more Mardu Vehicles, Zombies, and all manner of control decks. Give "Getting Familiar with Kefnet the Mindful" a listen now!
---
Fri, 5 May 2017
Breaking Glory-Bound Initiate
Glory-Bound Initiate is a fast and flexible human warrior. Its exert opens the door to building with Always Watching. Its humanity: Thalia's Lieutenant. Go!
---
Fri, 28 April 2017
Anointed Procession Makes the Next Infinite Combo
It might not look it at first glance, but Anointed Procession is going to enable infinite everything.
Sensei's Diving Top - Banned in Legacy!
"Sensei's Divining Top gets no hat tip from me. There are very few cards -- probably zero in the history of Magic -- that have cost as many human lifetimes as Sensei's Divining Top."
-Patrick Chapin
Patrick and MichaelJ open on a tearful* goodbye to Sensei's Divining Top. While the Top has drawn some bad press due to eating up the clock in recent years, there is no denying its contribution to a number of impossibly inventive decks. Cards from Kodama's Reach to Shrapnel Blast to Counterbalance have all reached the top of the metagame.
Speaking of Banned Cards...
What will be obvious to you listening to this podcast is that the boys recorded "Anointed Procession Makes the Next Infinite Combo" before this week's last minute addendum to the Banned and Restricted list.
So yes, Patrick does a little Felidar Guardian + Liliana brewing... But there are still lots of other great nuggets in this episode (we think).
For instance:
Going Infinite with Anointed Procession
Anointed Procession + Eldrazi Displacer + Drowner of Hope is an infinite combo.
How does this work?
With Anointed Procession on the battlefield, Drowner of Hope will make four 1/1 tokens rather than just two.
It costs three total mana to activate Eldrazi Displacer; three mana will blink Drowner of Hope, putting the aforementioned four tokens into play. That means that you can net one token per cycle (again assuming Anointed Procession is there).
This combination gives you as many Icy Manipulators as you would like... Except they can also attack for infinite damage.
The advantage of this combination is that Eldrazi Displacer and Drowner of Hope are actually "good cards" rather than just combination pieces. After all, even if Anointed Procession is not part of your equation, Drowner of Hope is seven power across three bodies for "just" six mana.
Even without the Eldrazi, Anointed Procession is a surprisingly effective card.
How interested would you be in Nissa, Voice of Zendikar into this enchantment? Making two 0/1 Plant tokens per activation seems like a heck of a defense. How about good old Gideon, Ally of Zendikar and Anointed Procession at the same time? Did the best card of the previous format get even better?
We shall see!
Put another way, if your deck is full of token makers, Anointed Procession will increase the impact of one and all.
No, this podcast is not mostly about this cool new combo. There is also Patrick's argument that Zombies will be Tier One, Mike's continued love of cycling, and of course some misplaced metagaming around Felidar Guardian.
Give "Anointed Procession Makes the Next Infinite Combo" a listen now!
* Okay maybe not that tearful in Patrick's case.
---
Fri, 21 April 2017
If They Tap Out for Drake Haven… Kill 'em!
Drake Haven will be a defining card from Amonkhet
Drake Haven might be Mike's favorite card from Amonkhet...
.. Whatever that means.
Sure, it's Lightning Rift-like (or Astral Slide-like, if you prefer). It screams to collaborate with tons and tons of cyclers printed in the vary same set. Untap with Drake Haven in play, and you have a ready-made source of defense, card advantage, and damage all at once. Mike thinks that Drake Haven could be a centerpiece of the new Standard... After all, it can counter and overwhelm Gideon, is highly synergistic with your own sweepers, and can chase down many Planeswalkers in the air, (at least when you have a turn).
But almost by definition, many playing this card will give you a window to attack.
Turn Three Kills
Flameblade Adept + Noose Constrictor + Shadow of the Grave
There are multiple variations on this kill, and some variability based on play or draw. The simple scenario works like this:
Game Trail + Flameblade Adept
Attack for 1 (19), Swamp + Noose Constrictor
On your draw you have five cards in hand [on the play]. If you discard all of them but one, Noose Constrictor becomes six power, and your Flameblade Adept goes to five power; now use your last card (Shadow of the Grave) to re-buy the four cards you discarded. Discard them again and Noose Contrictor becomes 10 and Flameblade Adept goes to nine. Good thing you pinged for one last turn!
Build Your Own Baneslayer Angel
While maybe not the best against Drake Haven decks directly, White Weenie decks seems to be getting a boost from Amonkhet. Always Watching was always a powerful card to play with the little white men, but combined with the new exert mechanic? Nothing but undercosted, potentially advantageous, attackers!
Glory-Bound Initiate is a perfect option. It comes down on turn two (a turn before Always Watching) and can help you build your own Baneslayer Angel.
Glory-Bound Initiate can become 4/4 on its own, but may have to slow down. Enter Always Watching
Dozens of cards are explored in this podcast. Mike and Patrick can't wait to play Amonkhet!
---
Wed, 12 April 2017
Nissa, Steward of Elements will Get You for 10
Nissa, Steward of Elements is a rule breaking (or at least bending) new Planeswalker. Plus "Manglehorn is proof Lauer exists and he wants us to be happy"
---
Fri, 7 April 2017
Amonkhet Brings NEW PERSPECTIVES
New Perspectives, from Amhonkhet
MichaelJ and Patrick return for a special bonus episode! Top Level Podcast has an exclusive preview from Amonkhet.
When New Perspectives enters the battlefield, draw three cards.
New Perspectives starts more-or-less the best way a card can: By helping you draw three cards! In.
(Or, at least, we are interested in further exploration.)
Six mana is a bit steep for the ability to draw three cards, but Patrick claims that this card is actually a "draw four" ... One of the cards is just a zero mana Fluctuator.
Because New Perspectives is a permanent rather than a sorcery (compare to Tidings), you can pick it up or blink it (perhaps with Felidar Guardian) to draw more and more.
As long as you have seven or more cards in hand, you may pay 0 rather than pay cycling costs.
This second line is what puts the "new" in the name. We aren't just talking about a Fluctuator... This card is expensive but far more powerful.
For one, New Perspectives will handle colored mana in a cycling cost, not just discount a 2 to 0. It opens the door to some big opportunities. For instance, why not start with Archfiend of Ifnir on five, untap with the Demon still in play, and then run out New Perspectives? Having (or drawing into) just one or two cycling cards -- TAPPED OUT -- can totally swing the board.
This card represents -- we think -- a whole new way to play.
Check it out!
---
Thu, 6 April 2017
Gideon of the Trials and More Amonkhet
Gideon of the Trials from Amonkhet
Gideon of the Trials is a splashy new Planeswalker from Amonkhet. There are lots of things going on with this card that are interesting.
First of all, it is only three mana. Like Jace Beleren and Liliana of the Last Hope before it, Gideon is likely going to find a way into appropriately-colored decks, just because it is so cheap. Conveniently, all three of Gideon's abilities are meaningful and worthy of discussion.
[+1]: Until your next turn, prevent all damage target permanent would deal.
This is Mike's favorite ability on the card.
Gideon of the Trials can completely shut off threat-poor decks; it is in fact outstanding against one threat at a time.
In addition, the [+1] is, in a roundabout way, a source of card advantage. You can force the opponent to play multiple threats by neutralizing the first one. He can be stuck losing an extra card to Fumigate, only to be stuck again a threat-and-a-half later.
This ability is also great against Heart of Kiran. Not only can you shut it off damage-wise (no matter what mode it is in), the fact that Heart of Kiran is Legendary means that you effectively shut off all the copies that are stuck in the opponent's hand.
[0]: Until end of turn, Gideon of the Trials becomes a 4/4 Human Soldier creature with indestructible that's still a planeswalker. Prevent all damage that would be dealt to him this turn.
If Gideon of the Trials only featured the middle ability, it would be comparable to True-Name Nemesis... a 4/4 "basically unstoppable" 4/4 for only three mana (but doesn't play defense)? Pretty solid!
This is the most straightforward of Gideon's three abilities. It's basically always good any time you don't want to be using the [+1].
[0]: You get an emblem with "As long as you control a Gideon planeswalker, you can't lose the game and your opponents can't win the game."
Gideon's emblem is a little tricky. It basically is an emblem that makes present or future Gideons into Platinum Angels. This can be powerful -- For example you can lock out (or at least buy a turn from) certain combo decks. But most conventional decks that attack to beat you can attack Gideon instead. Not awful by any means, but not decisive generally, at least not in Standard.
All-in-all, Gideon of the Trials looks like the most powerful white card we've seen so far from Amonkhet.
There are lots of other cards discussed, as well, in this week's episode! Give it a listen:
//
Oh... And bonus episode tomorrow!
---
Fri, 31 March 2017
Glorybringer, the Gideon-Killer
Glorybringer is one of the flashy cards from the Amonkhet. The is a dragon perfectly poised answer to Gideon, Ally of Zendikar but has other applications.
---
Tue, 28 March 2017
The Aven Mindcensor Masterpiece
Check out the Aven Mindcensor Masterpiece! Team Top Level's Craig Wescoe joins Mike and Patrick to show off the latest Amonkhet Masterpiece spoiler.
---
Fri, 24 March 2017
Mastering Dynavolt Tower
Pro Tour Champion Patrick Chapin and Michael J Flores discuss not just Dynavolt Tower but all the key moves and trends to keep you up to date on Standard.
---
Fri, 17 March 2017
Leaning on a Basic Mountain
PSulli joins Patrick Chapin & MichaelJ in a discussion of how to find one basic Mountain, and whether 21 or 26 lands is right for Torrential Gearhulk decks.
---
Fri, 10 March 2017
Unlicensed Disintegration & U/R Improvise
Take a [playable] Murder. Make it easier to cast (for a least some decks). Add a "cantrip Lava Spike" for zero additional mana. Unlicensed Disintegration
---
Fri, 3 March 2017
What Makes Ad Nauseam a Fantastic Choice
Nicholas Byrd won the most recent Modern Open with a wonderfully positioned Ad Nauseam deck. This style of deck combines the mana acceleration of Simian Spirit Guide, Pentad Prism, and Desperate Ritual with a number of esoteric and specialized cards to kill with a solo Lightning Storm.
---
Thu, 2 March 2017
Previews for Modern Masters 2017 Edition
Somebody must like them:
MichaelJ and Patrick sure got some sweet preview cards from Modern Masters 2017 Edition!
Mike's Modern Masters Spoiler:
Compulsive Research
Compulsive Research is near and dear to Mike's heart. He has both filled his own graveyard with Firemane Angels and forced opposing Firemane Angel decks to draw a lethal number of cards. This is a card that allows you to access every part of the veritable buffalo.
What Patrick Wants to Find in a Modern Masters Pack
Cruel Ultimatum
We all know what a soft spot Patrick has for Grixis. There is no more "Grixis" card than Cruel Ultimatum.
Top Level Podcast shares some war stories, and tells you why Compulsive Research and Cruel Ultimatum are some of the most exciting cards in Modern Masters 2017 Edition:
Back to our regularly-scheduled podcast tomorrow.
---
Fri, 24 February 2017
Reimagining Death's Shadow
Death's Shadow produced a clean break -- including both Grand Prix and team event wins -- and is probably the best deck in Modern.
Weren't Bannings Supposed to Nerf Death's Shadow?
Just a few weeks ago there were bannings.
Golgari Grave-Troll was there for Dredge. Yes, Dredge would still be viable, but its biggest, burliest, enabler disappeared.
Gitaxian Probe is kinda sorta not a real Magic: The Gathering card. Why does Gitaxian Probe even exist? The banning of this card pushed a pin into the collective bubbles of decks like Infect, Storm, and... Death's Shadow.
Gitaxian Probe had a special place in the old Death's Shadow deck. Sure, the new version still has cards like Mishra's Bauble, but Gitaxian Probe also cost the Death's Shadow deck life (in most cases), (oddly) helping to grow the centerpiece threat.
A More Interactive Death's Shadow Deck
The previous version was mostly an offensive deck. Wild Nacatl or Monastery Swiftspear got the ball rolling; the creatures were much more plentiful... but the interaction was deemphasized.
The current version is almost a Jund deck. This deck has only a few creatures (even if they are doozies)... It has a ton of midrange interaction instead. Fatal Push, a ton of direct hand destruction including the maximum numbers of both Thoughtseize and Inquisition of Kozilek, and even Tarfire have repositioned the archetype.
Tarfire?
In addition to having the superpower of being one mana, Tarfire is a Tribal Instant. As such, it's really useful for 1) buffing Tarmogoyf, and 2) getting Traverse the Ulvenwald online super quickly. Some versions even have Seal of Fire to make Tarmogoyf that much bigger!
Survival
Most of the offense in this strategy is accomplished by only two creatures: Death's Shadow and Tarmogoyf. Unfortunately -- and especially given the printing of Fatal Push -- neither of those guys is hard to kill. The deck can weather opposing removal in a number of ways...
Liliana, the Last Hope - Played in some versions (over Liliana of the Veil), Liliana can put a creature from your graveyard back in your hand.
Renegade Rallier - Played in some versions (over Ghor-Clan Rampager), this creature can recycle cheap creatures
Kolaghan's Command - Played in essentially every version, Kolaghan's Command is a multi-pronged tool. It can lock opponents out, it can do the last two points, and of course it can raise the dead.
Thirteen creatures have never stretched so far.
---
Fri, 17 February 2017
Breaking Kari Zev's Expertise
Kari Zev's Expertise is already format-warping.
Years from now, when we look back on Aether Revolt, it will likely be the case that what we remember most about the set is how badly it helped players to cheat.
Cheat on costs, that is.
Kari Zev's Expertise is at this point the most prominent example of how Aether Revolt can break -- really break -- the rules of Magic to gain a massive advantage. Dan Ward was the first person to innovate Kari Zev's Expertise in Modern (though he lost in the finals of his Regional Chapionship, to Mike's apprentice Roman Fusco playing the Inspiring Vantage Burn deck).
How Does the Kari Zev's Expertise Combo Work?
Dan played Simian Spirit Guide, so he could pop off the Expertise against a second turn beatdown card (say a Grim Flayer). Threatens can be good cards in and of themselves, but this one also gives you the opportunity to play a two mana card for free.
The most important two mana card you can play is Breaking // Entering:
Note two things about these cards:
Kari Zev's Expertise specifically says the word "card" (as opposed to "spell").
The "Breaking" half of Breaking // Entering costs two. Bingo! You can play the card Breaking // Entering for free even though if you had flipped this over with a Dark Confidant, you'd be eating eight.
When you are casting Breaking // Entering this way, you never give the opponent a chance to use Relic of Progenitus or Extirpate. If you separately cast Breaking and then Entering, the opponent would have a chance to respond, but entwined this way, it is just one giant beating.
Ward's deck still had Goryo's Vengeance, Cathartic Reuinion, and other traditional enablers.
All That and Fatal Push!
Fatal Push is going to continue to be highly effective in Modern... A card (for once not Rare or worse) on the order of Path to Exile. One of the reasons that Ward's deck seemed so reliable is that he lacked the small creatures that make Fatal Push such an effective defensive card.
Pro Tour Journey Into Nyx Champion Patrick Chapin and Resident Genius Michael J. Flores go over not just a number of ways to cheat costs in Modern, but run down ideas for other archetypes like Burn, Grixis Control, or Abzan Company. Check it all out in this week's episode!
---
Fri, 10 February 2017
Should We Ban Scrapheap Scrounger?
Should wotc ban Scrapheap Scrounger? This unassuming two-drop has more going on than its stats. Scrapheap Scrounger may be a key to solving the metagame.
---
Fri, 3 February 2017
One of These Decks Will Be the Most-Played at PT Dublin…
Which deck will be the most popular at PT Dublin? Green-Black Delirium? Black-Green Energy? Find out what Nahiri is doing in Copy Cat and more!
---
Thu, 26 January 2017
Walking Ballista: The Best Card in Aether Revolt?
Walking Ballista combines flexibility, combo defense, and raw power. Possibly the strongest card in Aether Revolt, Walking Ballista is the true inheritor to Hangarback Walker.
---
Fri, 20 January 2017
All the Ways to Play Saheeli Rai
Saheeli Rai (with Felidar Guardian) threatens to become the dominating strategy in Standard. Learn about some different ways to play Saheeli Rai.
---
Fri, 13 January 2017
Gifted Aetherborn and the "Fair" Side of Aether Revolt
Aether Revolt is more than just broken combos and mana engines! Learn about the "fair" side, headlined by Gifted Aetherborn, here.
---
Tue, 10 January 2017
Out with the Old, in with Felidar Guardian
Half on the surprising new bans to Modern and Standard; half on the crazy combos and engines from Aether Revolt (especially Felidar Guardian &co.)
---
Fri, 6 January 2017
Winding Constrictor is Great with Energy
Winding Constrictor is just one of several cards that Pro Tour Champion Patrick Chapin and Resident Genius Michael J Flores discuss in this week's podcast:
---
Mon, 2 January 2017
Revealing Rishkar, Peema Renegade
Rishkar, Peema Renegade is our exclusive preview from Aether Revolt! Check out what Patrick and Michael have to say about this powerful new Legendary Elf.
---