Sun, 6 June 2021
The Most Powerful Cards in Modern Horizons 2
Modern Horizons 2 has a TON of powerful cards. Witness the rebirth of a Legacy Staple AND a brand-new two card infinite combo right here!
---
Mon, 31 May 2021
Ragavan, Nimble Pilferer Seems Amazing
Ragavan, Nimble Pilferer is spectacular! Is it the best red one drop of all time? Might not be tops in the SET. Still... Looks to be great
---
Mon, 24 May 2021
Tainted Pact and More (and More!) This Week
Tainted Pact spawned not one but two new decks, then got an established card banned all last week! Which is not even most of the story this week
---
Sun, 9 May 2021
Portable Hole, Prosperous Innkeeper & Modern Horizons II!
Just how great is Prosperous Innkeeper? This Halfling is a Wily Goblin with a Soul Warden tacked on! Lots of D&D. All the Modern Horizons II!
---
Mon, 19 April 2021
Gnarled Professor, learns, Lessons, and more Strixhaven
Class is in session at Strixhaven! What are the best Lessons? How do you want to learn? Like, can I interest you in a Gnarled Professor?
---
Sun, 11 April 2021
Expressive Iteration Will be Good in VINTAGE
Expressive Iteration is going to be good in Vintage. It'll be absolutely fantastic in Standard for that matter! Plus, tons more Strixhaven
---
Mon, 5 April 2021
Going Deep into the Strixhaven Previews
Here come some of the most exciting cards from the Strixhaven Previews! A peek into the future of Boros - sorry Lorehold - and more
---
Thu, 25 March 2021
Village Rites is Our Official Strixhaven Preview
Village Rites is back in Strixhaven! And with sweet new art! Our heroes chat Strixhaven, including Professor Onyx and Kasmina, Enigma Sage
---
Sun, 28 February 2021
Witherbloom Command is Overrated for Standard
Don't blink! WotC is already showcasing Strixhaven previews! Witherbloom Command and four others give us a glimpse into the new set...
---
Tue, 16 February 2021
Tibalt, Cosmic Imposter... We Hardly Knew Ya
Tibalt, Cosmic Imposter was not banned... Technically. We talk about everyone else who WAS banned, and how you will see less Tibalt anyway.
---
Sun, 31 January 2021
I've Become a Runeforge Champion Guy
Featuring Runeforge Champion and Runes-driven applications from Kaldheim! Grind after sideboarding! Hand your pinger a silver bullet.
---
Mon, 25 January 2021
Kaldheim Serra Angel Variants
Kaldheim hasn't been shy about tugging our heartstrings: There are at least four different cards evoking the classic Serra Angel alone!
---
Mon, 18 January 2021
Let's Take a Ride on The Omenkeel!
Cosima, God of the Voyage is sometimes known as The Omenkeel! Learn about maybe Kaldheim's most exciting one-card duo right now!
---
Mon, 11 January 2021
Valki, God of Lies (and tons more Kaldheim)
Valki, God of Lies is a Modal Double-Faced Card from Kaldheim. Rock and Roll with Valki and tons of additional spoilers this week!
---
Sun, 3 January 2021
It's Kaldheim Spoiler Season!
We explore the coolest Kaldheim Spoiler Season interactions, from Angel synergies to Giant sized card draw to backwards compatible Demons!
---
Mon, 28 December 2020
It's Beginning to Look a Lot Like Kaldheim
So what DOES Kaldheim look like? Snow? Check. Dwarves? Check. Cool artifact engines? Check and double check. Phyrexian Praetors though? ...
---
Mon, 28 September 2020
Is Omnath, Locus of Creation Next on the Chopping Block?
Omnath, Locus of Creation from Zendikar Rising is ALREADY dominating Standard! Will it be banned almost before the card sees print in paper?
---
Sun, 20 September 2020
The Modal Double-Faced Episode!
In this "modal double-faced" ep, we check out the 2020 Mythic Invitational, then more Zendikar Risking cards, some or which are actually modal double-faced!
---
Fri, 11 September 2020
Taking a Look at the Full Zendikar Rising Spoiler
Patrick and MichaelJ take a deep look at upcoming formats, armed with the full Zendikar Rising Spoiler. What's good? What's completely unplayable?
---
Fri, 4 September 2020
Zendikar Rising Exclusive Preview - Murasa Brute!
The introduction of Murasa Brute from Zendikar Rising, plus discussion of many new cards and mechanics from the exciting upcoming set!
---
Sun, 28 June 2020
Is Alpine Houndmaster the Best Card in M21?
Is Alpine Houndmaster the Squadron Hawk of Core Set 2021? What's required to make this the set's best card and are we willing to pay the deck building cost?
---
Fri, 19 June 2020
Terror of the Peaks - Fair... and Not!
Terror of the Peaks is an awesome Dragon when you're playing fair... But did you know the M21 monster also enables an infinite combo?
---
Fri, 12 June 2020
Llanowar Visionary is a Titan
Llanowar Visionary is kinda sorta an upgraded Borderland Ranger. Except instead of no one wanting to trade with it, many a mage will! Find out why here.
---
Fri, 22 May 2020
Zirda, the Dawnwaker is Banned in Legacy!
Zirda, the Dawnwaker and Lurrus of the Dream-Den are the first Companions to feel the ban hammer! Where do we go from here?
---
Fri, 1 May 2020
Keruga, the Macrosage is Defining and Dominating Standard!
Keruga, the Macrosage is just one of the awesome Companions we highlight in this week's episode... But it's not the coolest. Think Yorion + Demonic Pact :)
---
Fri, 17 April 2020
We're Bananas for Kogla, the Titan Ape
Kogla, the Titan Ape from Ikoria: Lair of Behemoths is just one of the exciting cards we discuss in this week's podcast. Check it out!
---
Thu, 9 April 2020
Lurrus of the Dream-Den Sure is Good with Black Lotus
Lurrus of the Dream-Den is one of the most exciting Companions from Ikoria: Lair of Behemoths. You already know why in Modern... But Vintage? TELL ME MORE
---
Fri, 17 January 2020
The Masterful Design of Dream Trawler
What makes Dream Trawler "everything to everyone"? Come find out as we discuss cards from the full Theros Beyond Death spoiler!
---
Fri, 10 January 2020
There's Lots to Love with Thassa, Deep-Dwelling
Thassa, Deep-Dwelling is a neat centerpiece from Theros Beyond Death. What are some of the great combos and synergies you an exploit alongside this God?
---
Thu, 2 January 2020
All the Ways to Play (and break!) Heliod, Sun-Crowned
Heliod, Sun-Crowned is getting our creative juices flowing! Find out all the ways he can deal infinite damage, gain infinite life, or just beat down!
---
Fri, 27 December 2019
How to Think About Klothys, God of Destiny
Find out why Magic: The Gathering Hall of Famer Patrick Chapin says Klothys, God of Destiny from Theros Beyond Death is a five-star card!
---
Thu, 19 December 2019
First Look at Theros Beyond Death
Theros Beyond Death previews are upon us! How great is Escape? When will you want to play a certain indestructible God? Plus, great news from Mike!
---
Thu, 26 September 2019
The Great Henge and Other Great Cards from Throne of Eldraine
How cheap does The Great Henge have to be before you are into it?
---
Thu, 19 September 2019
So Much Brewing With Throne of Eldraine
Throne of Eldraine is almost upon us! The brewing potential is seemingly limitless with this powerful new set. We discuss the Castle cycle and lots more!
---
Thu, 19 September 2019
Rosethorn Halberd from Throne of Eldraine
Rosethorn Halberd is our exclusive preview card from Throne of Eldraine! Check out this bonus podcast to learn all about this sweet preview card, care of Wizards of the Coast.
---
Fri, 13 September 2019
Wildborn Preserver in Simic Flash
Wildborn Preserver is going to be an instant Staple in Standard! Learn about this and more powerful new green creatures from Throne of Eldraine here!
---
Sat, 7 September 2019
Garruk, Cursed Huntsman and Our First Looks at Throne of Eldraine
Elspeth is back! ... Only in the body of Garruk, Cursed Huntsman from Throne of Eldraine. Learn all about the massive new Planeswalker here!
---
Thu, 27 June 2019
Marauding Raptor is Probably the Best Card in Your Deck
This episode reveals so many ways to follow up Marauding Raptor! Draw a card, make tons of power while defending yourself. More! Plus tons of additional M20
---
Fri, 21 June 2019
Cards We'd Actually Want to Play from Core Set 2020
Check out some cards we'd actually like to play from Core Set 2020! Get ready for some great creatures, amazing enablers, and even a combo or two!
---
Fri, 24 May 2019
Ice-Fang Coatl and More Modern Horizons
Check out the new toys from Modern Horizons! We talk about lots, but Ice-Fang Coatl, a cantrip Terminate crossed with Baleful Strix is one of our favorites.
---
Fri, 3 May 2019
God-Eternal Kefnet is the Most Underrated Card in War of the Spark
God-Eternal Kefnet is the most underrated card in the set! Find out why Patrick thinks this card is a "10/10" and learn the secrets of its play pattern now!
---
Fri, 26 April 2019
Your Top 8 War of the Spark Questions… Answered!
*Update 7:37pm April 26, 2019*
*This file fills in a few missing minutes from the previous upload.*
Every card in War of the Spark has been revealed! Patrick and Michael brew and riff on many of YOUR burning questions around this powerful new set.
---
Fri, 26 April 2019
Your Top 8 War of the Spark Questions… Answered!
Every card in War of the Spark has been revealed! Patrick and Michael brew and riff on many of YOUR burning questions around this powerful new set.
---
Thu, 18 April 2019
Oath of Kaya is Pretty Horrible
Oath of Kaya is pretty horrible... For anyone who wants to play fair Magic! Plus more new cards that will define the revolutionize the upcoming formats!
---
Fri, 12 April 2019
The Most Exciting Feather, the Redeemed Combos
Don't sleep on Feather, the Redeemed. It is not only an efficient flyer, but with a little work Feather is an exceptional engine. Let's break it!
---
Fri, 5 April 2019
Chandra, Fire Artisan has a Hell of a Static Ability
Chandra, Fire Artisan is one of the best cards from War of the Spark! Her static ability is synergistic with her Ultimate; and she's a great Howling Mine!
---
Tue, 2 April 2019
Storrev, Devkarin Lich is our Exclusive War of the Spark Preview
Storrev, Devkarin Lich from War of the Spark is our exclusive preview! Find out what kind of Zombie Elf Wizard is half Juzam Djinn, and half Ophidian...
---
Fri, 25 January 2019
Skewer the Critics (and other spectacular Spectacles)
Skewer the Critics & Light Up the Stage are making waves in both Standard and Modern decks... And the new set hasn't even been released yet! Find out why.
---
Fri, 18 January 2019
Wild About Wilderness Reclamation
Wilderness Reclamation is the scariest card in Ravnica Allegiance. It's better than a ton of historical Staples + great with... Just listen to the podcast!
---
Fri, 11 January 2019
The Beginning and End of Angel of Grace
Angel of Grace is the first card from Ravnica Allegiance by number. Find out why, ironically, the beginning will handily END so many games!
---
Fri, 4 January 2019
Exclusive Preview: Zhur-Taa Goblin
Zhur-Taa Goblin is our official Ravnica Allegiance Preview from WotC! Check out our take on this flexible new threat. Attack you for two (or three)!
---
Thu, 3 January 2019
Dovin, Grand Arbiter Headlines More Ravnica Allegiance
Dovin, Grand Arbiter leads off another look at Ravnica Allegiance. Get ready for Planeswalkers, Anthems, and enablers aplenty this week!
---
Fri, 28 December 2018
The Most Exciting Spoilers from Ravnica Allegiance
We discuss some of the most exciting spoilers from Ravnica Allegiance, including Bedevil, Absorb, the all-new mechanics, and more!
---
Fri, 21 December 2018
Growth Spiral and Our First Look at Ravnica Allegiance
Lots of Ravnica Allegiance spoilers this week! We go over "everything" (that was spoiled so far) but Growth Spiral is our fave. Find out why.
---
Tue, 20 November 2018
Exclusive UMA Preview: Sovereigns of Lost Alara
WotC gave us a free preview from Ultimate Masters! Patrick and Michael reminisce about the classic Spirit, Sovereigns of Lost Alara in this bonus episode!
---
Fri, 12 October 2018
Is Experimental Frenzy the New Necropotence?
Learn what makes Experimental Frenzy one of the most exciting new cards from Guilds of Ravnica!
---
Fri, 28 September 2018
Doom Whisperer: The Critics Agree!
Patrick and Michael agree in their enthusiasm about Doom Whisperer from Guilds of Ravnica. Great finisher here! Surrounded by many other great cards.
---
Fri, 21 September 2018
Some of Our Favorites from Guilds of Ravnica
Guilds of Ravnica continues to wow us! Patrick and Michael continue their takes on Guilds of Ravnica and its many new cards.
---
Fri, 14 September 2018
Crackling Drake is Our Official Guilds of Ravnica Preview
Wizards of the Coast gave us a cool new card from Guilds of Ravnica: Crackling Drake! Patrick Chapin & MIke Flores discuss the new set with Izzet flavor.
---
Thu, 13 September 2018
Get Ready for Assassin's Trophy
Assassin's Trophy is a flexible new tool from Guilds of Ravnica. It's undercosted, powerful, and will see play in all the main formats for years to come!
---
Fri, 7 September 2018
Ral, Izzet Viceroy (and lots more Izzet)
Ral, Izzet Viceroy headlines an Izzet-tacular first look at Guilds of Ravnica! What makes Sinister Sabotage great? Why might you play Firemind's Research?
---
Thu, 12 July 2018
Giganotosaurus or Not to Giganotosaurus
Your puny little red men are no match for Giganotosaurus. It's a tough cast, though. Is there a legitimate reason to go GGGGG over Verdurous Gearhulk?
---
Thu, 5 July 2018
Gloreclaw, Terror of Qal Sisma v. Runic Armasaur
Goreclaw, Terror of Qal Sisma
When might you play Goreclaw, Terror of Qal Sisma?
Goreclaw, Terror of Qal Sisma is the king queen of Bears!
I know, I know... Goreclaw is not a 2/2 for 1G; but Bear it claims to be.
Okay, okay... Let's get past the Vorthos on this card. What might make you want to play it... Or not?
Three toughness.
In a world of where Lightning Strike and Abrade are played in the most popular deck, three toughness is a bit of a liability on a four casting cost creature; at least one that isn't doing something absolutely card advantageous on the way in.
Patrick speculates that the three toughness is a deliberate structural weakness in the card against red -- a weakness green doesn't usually have -- for other reasons.
"Have a little empathy."
Other reasons? Well we'd have to have a doozy of one to accept such a limitation. Maybe a better driving question would be...
WHY Would You play Goreclaw, Terror of Qal Sisma?
Easy: You want to get the drop on a seven-drop.
Goreclaw costs four. Presumably you hit your land drop the following turn. That's five. Alongside Goreclaw's two mana-breaking ability, you can hit something like the new Darigaaz the next turn!
Bam!
Seven!
Kind of need your three toughness four-drop to live for that to work out.
Michael is not necessarily convinced. Among other issues, the best five-power [green] creature in the format [by his estimation], Steel Leaf Champion, not only comes down before Goreclaw most of the time... Even when you draw your creatures in the right order, Goreclaw won't help you cast it.
Another new green monster maybe?
Fine, Fine... How About Runic Armasaur Then?
Runic Armasaur
Runic Armasaur has a lot of awesome things going for it.
Size-wise, this card is comparable to the ubiquitous Thrashing Brontodon. That's not a bad place to start. Runic Armasaur isn't quite big enough to stop Hazoret the Fervent, but five toughness is a big brick wall.
Runic Armasaur is punishing to fetchlands, so may have more impact in larger formats. In Standard, it will prove quite effective against Evolving Wilds.
But where Runic Armasaur will really shine? Walking Ballista! Bam! The best card in Aether Revolt is going to have a really tough time generating card advantage against this particular dinosaur.
Speaking of dinosaurs, If Runic Armosaur is good enough, it may just make Thunderherd Migration good enough. Thrashing Brontodon, Ghalta, Gigantosaurus... There may be just enough dinosaurs to hit critical mass of thunder lizards.
We shall quickly see.
To see more; or hear more, rather, including innovations in Senor StOmPy and Dimir Midrange, click the little play button:
---
Fri, 29 June 2018
Sarkhan, Fireblood Spits Flame!
Sarkhan, Fireblood is an exciting new Planeswalker from M19. Check out its new Dragon-centric synergies and card advantage options in this week's cast!
---
Fri, 22 June 2018
Is Resplendent Angel the Real Deal?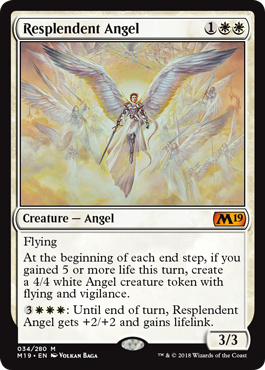 Resplendent Angel is just one of several strong flyers from Core Set 2019, revealed earlier this week.
Resplendent Angel
Effect of card: Flying. At the beginning of each end step, if you gained 5 or more life this turn, create a 4/4 white Angel creature token with flying and vigilance. 3WWW: Until end of turn, Resplendent Angel gets +2/+2 and gains lifelink.
Converted mana cost: 3
Type: Angel
Sets: M19
Game: Magic: The Gathering
Colors: White mana
Illustrators: Volkan Baga
Doesn't Resplendent Angel Just Get Killed by Abrade?
That's the problem, right?
As a 3/3 flyer for three mana, Resplendent Angel is a nice package for its cost. Its many other abilities imply that it should be able to take over the game by itself.
But with only three toughness, it is vulnerable to multiple cards in the most popular current Strategy... Not just Abrade but Lightning Strike will eliminate this creature.
While the Angel has the ability to buff itself offensively and gain lifelink... That doesn't cure three toughness versus instant speed removal. The same Abrades, the same Lightning Strikes, will be able to shoot it out of the sky in response.
They can't always get her, can they? And anyway, when she's good, she's got to be really good.
The Resplendent Angel Payoff
Bash!
Hit you for five!
Gain five!
High five!
Extra Serra Angel, yadda yadda yadda.
Is that the payoff?
It is certainly a payoff... But there is no reason to think so narrowly.
Resplendent Angel is pretty efficient: A 3/3 flying creature for three mana is a heck of a Gnarled Mass! But this is a card that can get better in the right context.
What about playing it with Shalai, Voice of Plenty and Lyra Dawnbringer? Giving this creature +1/+1 and lifelink off the bat puts it a long way towards the Serra Angel trigger.
But that's not all!
There are just a critical mass of life gain cantrips. You can cast Renewed Faith, gain six life, and get a 4/4. But M19 brings with it Revitalize. This card can combines both halves of Renewed Faith, but with a little less flexibility.
What we mean to say here is that at some point Crested Sunmare has got to good enough at some point, right? #horsetribal
Tons more M19 in this podcast, including scads more flyers; from Nicol Bolas to his fellow Elder Dragon Legends. Many of them look equally fantastic. Learn more in the cast.
---
Wed, 20 June 2018
Liliana's Contract is Our M19 Preview
Wizards sent us Liliana's Contract to reveal to you!
Liliana's Contract
Effect of card: When Liliana's Contract enters the battlefield, you draw four cards and you lose 4 life. At the beginning of your upkeep, if you control four or more Demons with different names, you win the game.
Converted mana cost: 5
Type: Enchantment
Sets: M19
Game: Magic: The Gathering
Colors: Black mana
Illustrators: Bastien L. Deharme
... you draw four cards...
So... Who's in it for drawing four cards?
At five mana for four cards, Liliana's Contract is priced similarly to Tidings. In its day, Tidings was a Standard Staple in Vore decks to a variety of control decks.
While the four life is potentially prohibitive (versus, you know, losing zero life) it's important to note people are paying four mana and two life to draw cards in black right this format.
For one more mana, Lilian's Contract represents a powerful upside.
Its being an enchantment is quite interesting; you can draw four into your Demons, it can sit around waiting for a win, or you can play it after you've already got your Demons.
This implies, of course, people will want to play for the Demons. Some might just want to draw four cards.
... four or more Demons...
Lilian's Contract is powerful and flexible. It can probably fuel a black control deck that happens to play Demons... Or you can play a dedicated Demon-combo deck.
There are multiple playable Demons in Standard. Ammit Eternal has already proved Top 8-capable; while Demonlord Belzenlok is the "big bad" of Dominaria. Lilian's Contract might be great randomly alongside a handful of already-good-enough Demons.
But you can also try a dedicated strategy!
With Arcane Adaptation, you can turn any creature into a Demon
With Arcane Adaptation in play, it will be much easier to produce four differently-named Demons. Every token, every random body, will get you that much closer to winning immediately with Liliana's Contract.
Thanks again to Wizards! See you back here tomorrow for our regularly scheduled episode.
---
Fri, 15 June 2018
Militia Bugler and Vivien Reid
We're already seeing new cards from Core Set 2019! Two of the most promising are the Militia Bugler and Planeswalker Vivien Reid.
Where Would You Put Militia Bugler?
Militia Bugler is a source of card advantage that is somewhat restrictive on your deck design.
Mike puts Militia Bugler on "Gonti for yourself" ... He's not wrong. Not that wrong anyway.
Like Gonti, Lord of Luxury, Militia Bugler is a 2/3 creature with an ability once it hits the battlefield. In Gonti's case it is Deathtouch and in the Bugler's case Vigilance. Both of them generate card advantage by looking at the top of someone's library; theirs in Gonti's case, your own in the Bugler's.
Militia Bugler has the benefit of costing three mana rather than four; but comes with a meaningful deck design price: If you're going to get paid off by Militia Bugler, you will have to have a certain number of [other] creatures with a maximum of two printed power.
If you've built your deck appropriately, Militia Bugler plays in the range of Sea Gate Oracle or Court Hussar -- both contributing creatures in their respective Standard formats.
Perhaps most importantly for Standard, Militia Bugler can grab you the zero-printed-power powerhouse, Walking Ballista!
Is Vivien Reid "the green Teferi"?

Vivien Reid will be a key Role Player in Standard, if not quite "the Green Teferi".
"I'm not in it for the emblem."
-Mike
Like Teferi, Hero of Dominaria, Vivien Reid is a five mana planeswalker.
Both draw extra cards with their first abilities; both blow up things (with some measure of limitation) with their second abilities. Your mileage will vary substantially with their respective limit breaks, though.
"Even when it lines up right, it's worse than Teferi every step of the way."
-Patrick
Mike's initial love for this card comes from its very obvious superiority over the already-played Crushing Canopy. Sure, Vivien Reid costs two more mana than Crushing Canopy, but the [-3] ability is wildly better! Not only can you potentially keep a draw-engine planeswalker, you gain the ability to destroy artifacts.
This thing is a fantastic answer to Lyra Dawnbringer, right?
Coming back to the card advantage ability, Patrick points out the [+1] is quite a bit better than just drawing a card. You can Impulse for a land if you need it, and otherwise, you're probably digging for Brontodon, Chupacabra, or The Scarab God.
Basically, Patrick likes Bugler best among the new cards; and Mike likes Vivien Reid best. But there are lots of great cards revealed from Core Set 2019. We go over lots more of them.
---
Thu, 10 May 2018
How History of Benalia is Lingering Souls
This is History of Benalia:
History of Benalia
History of Benalia is a three mana Saga.
A Saga is a sorcery-speed enchantment.
It produces two power on the first turn you play it. Then, when you reach Chapter II of the Saga, it produces an additional two power. Consequently -- and not to be too obvious -- but that is four power across multiple bodies for three total mana.
Thanks to Chapter III's "Knights you control get +2/+1 until end of turn[,]" with only the two Knights, you can attack for eight on the card's third turn in play! Because of this, History of Benalia can both burst forward offensively and slow the opponent down with multiple blockers defensively.
This is Lingering Souls:
Lingering Souls
Lingering Souls is a card of extraordinary power. It was banned in its original Block Constructed format, and has contributed to any number of decks across multiple formats. Not Block of course, but other formats. Jon Finkel played it to his umpteenth Pro Tour Top 8 in an Esper Delver deck. It has contributed to everything from a white splash in Jund to a colorful wink in Eldrazi Modern decks.
Like History of Benalia, Lingering Souls produces two power for your initial three mana investment. To get the next two power, you need to invest an additional two mana (and in another color).
Certainly, Lingering Souls has some considerable upside relative to History of Benalia. You get more bodies. Those bodies in fact fly. You can get all four on on turn if you have five mana available... But that's the crux of it; with History of Benalia, you never need to pay the additional two mana!
This is Raff Capashen, Ship's Mage:
Raff Capashen, Ship's Mage
Raff Capashen, Ship's Mage really likes Historic cards.
"Saga" is a Historic type; consequently, Raff likes History of Benalia.
One of the many synergies that you can exploit thanks to Dominaria's heavily Historic themes is to play History of Benalia during times that you couldn't normally play an enchantment or other sorcery-speed card (e.g. Lingering Souls).
History of Benalia has already started showing up in a variety of decks. It is going to be a great card in Historic-themed decks, white swarm decks (or B/W Tokens decks), and will be a consideration for everything from G/W Aggro to U/W Control.
Someone should write a song about how good this card is.
But for now, please settle for this podcast.
---
Thu, 26 April 2018
Mastering Lich's Mastery
Will Lich's Mastery be THE ONLY viable strategy in Standard?
This card is poised to completely warp Standard! It is a draw engine of unprecedented power. Imagine for a moment you were playing a big format and ran Lich's Mastery alongside Nourishing Shoal... The ability to draw cards with little to no incremental mana investment (after the initial six mana investment, of course) is unprecedented!
Yawgmoth's Will limits access to your graveyard.
Yawgmoth's Agenda locks you down to one spell per turn
This Legendary Enchantment has no such limitations.
Lich's Mastery + Gideon of the Trials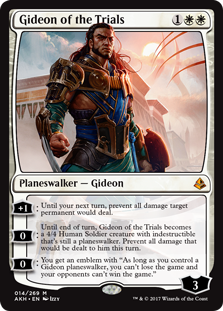 White is a natural pair to Lich's Mastery in Standard. Renewed Faith is one of the most obvious best buddies. It cycles to help you hit land drops early. Later on, you can draw six -- count 'em six -- extra cards for just one card!
Fumigate is also an awesome addition. The ability to gain one life per creature killed takes on new meaning when each of those creatures represents even more card advantage.
But what about Gideon of the Trials?
Is there a particular synergy with this Planeswalker that can also prevent you from losing the game? Yes!
Not only does Gideon rumble (giving your combo-control deck a way to win) but it can protect you from losing the game by losing your Lich's Mastery. Further, it gives you a redundant synergy with Glorious End.
Any two of the three -- Lich's Mastery, Gideon of the Trials, and Glorious End -- are great together!
Lich's Mastery + Glorious End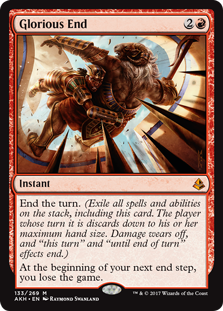 Glorious End + Gideon of the Trials was a combo that never quite hit in Standard. Is it awesome? Probably... But it never quite hit.
What happens when you add a third leg to the stool?
What happens when that third leg has hexproof?
Glorious End is just awesome with Lich's Mastery. Can you just Time Walk your opponent with Lich's Mastery in play? Sure. You can also Fog them, Counterspell them, and generally laugh at them from behind your Legendary Enchantment while they expend resources.
But did you ever think about this?
Cast Glorious End on their Turn Five. Maybe on their upkeep?
Untap and play the Lich's Mastery in your hand!
Cool, right?
What if you don't have a Lich's Mastery in your hand... yet? The planned End-Mastery play is a big game, but what might be even more fun is the desperate Glorious End-into-praying-to-draw-Lich's-Mastery. All part of the range.
All Kinds of Lich's Mastery Decks
In this episode of Top Level Podcast, Pro Tour Champion Patrick Chapin and Resident Genius Michael J. Flores discuss all manner of builds around and including this seductive six drop.
Black-White, Mardu, and even straight black takes are on the table.
Gifted Aetherborn? Creatureless? A couple of big guys? A ton of lifelinking Knights? Give this one a listen and figure out how you want your BBB3 to go in the coming months.
---
Fri, 20 April 2018
Racing with Tempest Djinn
Tempest Djinn is one of blue's signature cards from Dominaria
Tempest Djinn is Much Stronger Than Serendib Efreet (in the right deck)

Despite its initial appearance, Serendib Efreet was a blue card.
A good place to think about this most respected of Djinn is the Revised misprint, Serendib Efreet. Serendib Efreet was a 3/4 flying creature for U2 (blue, despite the card frame)... With a drawback!
Serendib Efreet saw play in a variety of decks, and fast multicolored aggressive mages would often dip into blue to play it. Again, despite the self-inflicted damage.
Dominaria's Djinn is much harder to cast, sure. That is a lot of blue pips in the top-right!
But, the payoff is also much greater. In a deck with, say, twenty-five Islands, Tempest Djinn's floor is a Serendib Efreet with no drawback. Each and every incremental Island will make it a faster and faster racer.
Tempest Djinn is Like the World's Greatest Rishadan Airship (in the right deck)
Unlike Rishadan Airship, Tempest Djinn can block
In its era, Rishadan Airship was one of the most important creatures played in the Blue Skies archetype.
Rishadan Airship was not great in very many other decks; it could not block consistently, and even when it could block, it would probably die. But offense-wise? Blue Skies was one of the best decks in Masques Block Constructed + was a favorite of some of the best Hall of Famers in Standard.
Tempest Djinn is like a more flexible Rishadan Airship. Again assuming an Islands-heavy (if not Islands-only) mana base, Tempest Djinn presents the same offense as Rishadan Airship -- at least -- but can also block. Not only that: It can block and often survive!
This flexibility is one of the most important aspects of Tempest Djinn. You can tap out for it on turn three, Skies-style to race... Or you can tap out for it on turn three to block a Red Deck's 3/2 attackers.
Or -- get this -- you can tap out for Tempest Djinn, block... And then back over itself (and generally for four damage).
Tempest Djinn will Redefine Blue in Standard
Patrick made a deck.
Mike is wild about it.
Check out how our intrepid duo thinks Tempest Djinn will be played in Standard right here!
---
Thu, 5 April 2018
Leading off with Shalai, Voice of Plenty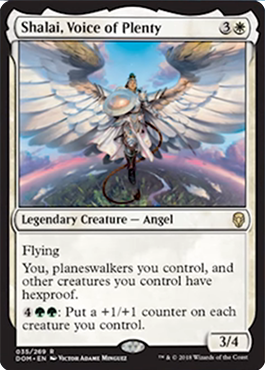 Shalai, Voice of Plenty is a 3/4 Flyer
A 3/4 flyer for four mana is probably not good enough on its own.
That said, there have been highly successful 3/4 flyers -- Angels even -- in the not-so-distant past. All it takes is one good ability and that 3/4 flyer can jump all the way to Staple.
To wit, Restoration Angel:
Restoration Angel
Like Shalai, Restoration Angel was a 3/4 flying Angel for only four mana. It ended up dominating Standard thanks to synergy with Thragtusk. Restoration Angel was also great at sliding into the Red Zone thanks to end of turn Flash, after a control deck had tapped for main-phase sweepers.
While Restoration Angel was mostly a Standard card (again due to its extraordinary synergy with Thragtusk), it has seen play in larger formats like Modern, often playing with Kitchen Finks or Flickerwisp.
Shalai, Voice of Plenty Turns off Shock
"You, planeswalkers you control, and other creatures you control have hexproof."
Remember what we said a second ago about just one good ability?
Well Shalai, Voice of Plenty has more than one! Mike focuses on this ability (while Patrick largely focuses on the other). There are many implications to giving not only you but basically everything else on your side of the table hexproof, but one of the coolest is that it turns off Shock.
Or in Modern, it turns off Lightning Bolt.
You can't be the target of the Shock. None of your other creatures can be the target of the Shock. In fact, the Shock can basically only target Shalai. That means, until the bad guys have a second Shock, that first Shock isn't going to be very shocking at all.
What's more, given Shalai's second ability, you can pull it out of even double Shock range with one green activation.
Shalai, Voice of Plenty in Modern
Shalai's "Hexproof" ability is powerful in Modern.
Because Modern has cards like Aether Vial and especially Chord of Calling, the ability to drop Shalai at instant speed adds a powerful dimension.
Current G/W decks, for instance, can slot in [at least one copy of] Shalai as a silver bullet. You can respond to, say, twenty copies of Grapeshot, spoiling the opponent's combo finish.
Even more interestingly, though, Shalai can fill the role of Ezuri, Renegade Leader or Walking Ballista. Shalai is much, much, better than Walking Ballista as a Chord of Calling target, as the latter is generally an inappropriate target.
Walking Ballista
G/W decks that can generate "infinite" mana will often use Walking Ballista as an endgame finisher. They make a ton of mana, and can kill however. Shuri might be an alternative. Infinite power from multiple creatures, rather than infinite one-point pings, might be slightly inferior (you need some attackers, you need them to be able to get through, you need a combat phase)... But if you are already playing 1-4 copies of Shuri for the hexproof ability, gaining Chord of Calling efficiency while saving a card slot or two might make sense.
Shalai, Voice of Plenty in Standard
Without a doubt, Shalai, Voice of Plenty is going to shine in Standard.
The one-two (rather four-five) punch with Lyra Dawnbringer is just too sweet.
If you untap with Shalai, you can follow up with Lyra and swing for four. Four lifelink (not just three damage) while leaving a plausible defender.
In some cases just tapping out for an awesome Angel might make sense... But it can still die. In this case, Lyra Dawnbringer will gain hexproof. So good luck getting through a flying, first strike, lifelink, and hexproof defender. Lyra will gobble up Glorybringer without even a scratch. It's not like you can kill it with conventional removal.
"4GG: Put a +1/+1 counter on each creature you control."
It is at least arguable that Shalai's third ability will be even more potent in Standard than Modern (infinite possibilities notwithstanding). This ability is highly comparable to Gavony Township.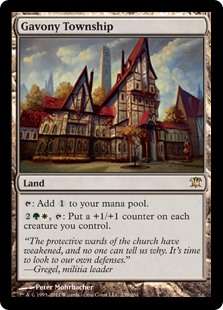 Gavony Township
The deck where you play Shalai is likely going to be G/W. You might have some late-game Llanowar Elves. This ability turns Elves into killers.
But it also turns killers into more vicious killers. Just pulling Shalai and Lyra into the 6+ toughness range is going to be yuge. (They themselves will be yuge.) Shalai might not give itself hexproof, but massive toughness simply means it's tough to kill.
This week's podcast clocks in at nearly an hour and a half.
Shalai, Voice of Plenty is just the first Dominaria card we discuss.
Check it:
---
Thu, 29 March 2018
Dominaria's Danitha Capashen, Paragon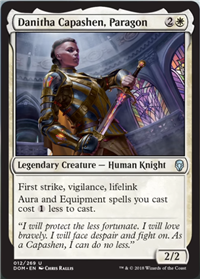 I think you'd be surprised by how much is going on with Danitha Capashen, Paragon.
Danitha Capashen, Pearled Unicorn

Pearled Unicorn? Creatures have gotten better in the last twenty-five years, it seems.
So... a 2/2 creature for three mana? Pearled Unicorn much?
Why would we even want to talk about Danitha? Isn't she just a 2/2 for three mana?
While few players are excited by the prospect of a 2/2 creature for three mana, there is some precedent. Mike, for example, really loves a Borderland Ranger!
But let's assume you're not searching your library for a basic land... Is it possible that you can stick enough additional abilities onto a 2/2 creature for three mana that someone would want to play it?
That is the challenge of Danitha Capashen.
First Strike is only okay, but first strike and lifelink make Danitha a surprisingly potent combat creature. Vigilence and lifelink together make her defensively solid.
But wait! There's more...
Danitha Capashen, Paragon is surprisingly resilient
How is a 2/2 creature resilient?
Is there a hexproof line we somehow missed?
Danitha Capashen, Paragon is contextually resilient. We've already seen Seal Away, a white enchantment that hits tapped creatures. Well due to vigilance, Danitha doesn't tap.
But what about this?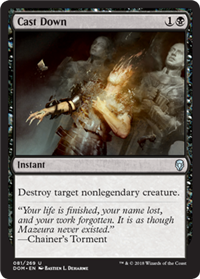 Cast Down destroys nonlegendary creatures.
Danitha is Legendary!
Basically, we have a situation where two of the most popular point removal cards in Standard will simply not be able to target Danitha Capashen, Paragon. Is she invincible? No. But you don't pay a single mana for this additional ability of resilience.
Danitha Capashen, Engine
We have no idea what "Aura and Equipment spells you cast cost 1 less to cast" will actually mean.
But we've seen the card Goblin Warchief.
Cost reduction abilities like this can be format-defining.
Topics Other than Danitha Capashen, Paragon
There are many. Many!
But the most important is probably the sick new Legacy deck that Patrick brews, live. Will it be the hot new strategy? Sure sounds like a consistent turn-three kill to us.
Check it out!
---
Fri, 23 March 2018
Knight of Grace and more Dominating Dominaria
Knight of Grace is a great example of Dominaria's "Time Spiral" Theme
Dominaria: It's Like Time Spiral Junior
One of the things Patrick and Michael like about Dominaria so far is how it pleasantly references what we love about Magic's past. Cards like Llanowar Elves and Gaea's Blessing aside, Dominaria calls up our favorite worlds, from Benalia to Phyrexia, to tell the set's story.
It's not just reprints. It's not just references. Dominaria also updates some favorites! There may be no better example than Knight of Grace.
Knight of Grace: White Knight 2018
White Knight and Black Knight were two of the most iconic creatures in early Magic.
Not only were they each hyper-efficient, they were each "first" ... Each Block would add a variation. Order of the Ebon Hand; Order of Leitbur. Order of the White Shield... All the way, eventually, to Knight of Meadowgrain and even more recent updates.
The most recent? Knight of Grace and its opposite number, Knight of Malice.
What's going on with Knight of Grace?
First Strike - Beacuse these guys typically have first strike
Hexproof from Black - Was Protection from Black too powerful?
The Buff - This ability has some good texture!
The buff ability here works a couple of ways. If this were way back in 1996, enough players might have black creatures that the +1/+0 might be meaningful.
But you can cheat this ability on yourself, if you're a little mindful.
A B/W creature deck can already enjoy the buff.
But what about off-color cards that you can play without increasing the number of colors...
Orzhov Guildmage - This creature can be cast with only white mana, but counts as a black permanent.
Batterskull - The token is black.
Zombies, various - Both black zombie tokens and white zombie tokens (for Knight of Malice) are readily available in Standard. Again, you might not have to add another color (but get the benefit of another color)
There are more, of course.
To find out more, and which, download the podcast!
---
Thu, 15 March 2018
Dropping by on Dominaria
In Dominaria, Wizards Matter
Here are the first ten Modern Staples -- of the top of our heads -- that happen to be Wizards:
Burrenton Forge-Tender
Cursecatcher
Delver of Secrets
Grim Lavamancer
Baral, Chief of Compliance
Jace, Vryn's Prodigy
Meddling Mage
Snapcaster Mage
Magus of the Moon
Master of Etherium
There are more! Tons more! Those are just the first few we thought of.
Why does this matter? The Dominaria set has a number of cards whose performance improves if you have a wizard on the battlefield. Examples: Wizard's Retort and Wizard's Lightning
Wizard's Retort
1UU
Instant
This spell costs 1 less to cast if you control a Wizard.
Counter target spell.
Put another way, Wizard's Retort is a Cancel… But a Counterspell if you have a wizard on the battlefield.
Longtime listeners probably remember that Mike had some success with another card that was Counterspell if he had a particular creature type: Silumgar's Scorn. With creatures as good as Grim Lavamancer and Snapcaster Mage being wizards, there may just be ample opportunity to cash in on Wizard's Lightning
in Modern.
Wizard's Lightning
2R
Instant
This spell costs 2 less to cast if you control a Wizard.
Wizard's Lightning deals 3 damage to any target.
There is already precedent to playing three damage burn spells that sometimes cost one and sometimes cost three in both Modern and Legacy. Rift Bolt much?
Being three converted mana cost is actually an advantage sometimes; Chalice of the Void anyone? Grim Lavamancer is already a wizard you might play in either format's Burn deck!
Mike, at the least, would much rather run one or two copies of this card than, say, Shard Volley.
Dominaria brings us a new Baneslayer Angel
Lyra Dawnbringer
3WW
Legendary Creature - Angel
Flying, first strike, lifelink
Other Angels you control get +1/+1 and have lifelink.
Is this card better than the [multiple] Pro Tour-winning Baneslayer Angel?
Patrick points out that giving other Angels +1/+1 -- and lifelink -- is way better, generally speaking, than protection from demons and dragons. Having a Lyra Dawnbringer in play with a Baneslayer Angel is much better than having two Baneslayer Angels, at least.
Further...
"Lyra Dawnbringer was born to kick it with Mutavault."
-Patrick Chapin
In Dominaria, It's Actually Pretty Easy to be Green
"You know me so well."
-Mike
What was Mike talking about? Oldies -- and goodies -- Gaea's Blessing and Llanowar Elves are two of the reprints that the Resident Genius has his eyes on. To wit:
Gaea's Blessing - According to onetime Lead Developer Brian Schneider, "There's no reason you should need any other way to win."
Llanowar Elves - Patrick thinks this will bring Brian Kibler -- finally -- back onto the Pro Tour. Mike imagines it will be the best card in Standard!
… And that's just the first third of this podcast!
Sagas, Legendary Sorceries, and rules changes await! Check it out now:
---
Thu, 1 March 2018
Masters 25 Previews: Courser of Kruphix and Coalition Relic!
Courser of Kruphix. Swoon.
Courser of Kruphix was a centerpiece of Patrick's Pro Tour Journey Into Nyx-winning Abzan* deck. This three drop is already a fringe player in Modern. Our prediction is that it becomes even more popular.
Courser of Kruphix is of efficient size for its casting cost.
2/4 for three mana is deceptively great in-context. Courser of Krupix is too big to kill with a lone Lightning Bolt. In this podcast, Mike shares a story of being forced to run his fellow enchantment creature Eidolon of the Great Revel into an opposing Courser of Kruphix and blowing a Bolt to finish it off. But resistance to opposing removal isn't the only story told by this defining creature...
Courser of Kruphix is great with Bloodbraid Elf
First of all, Courser of Kruphix is the exact right casting cost to max out Bloodbraid Elf's Cascade ability. When you flip a Noble Hierarch, you get two cards -- essentially a Lotus Petal plus the Hierarch itself -- but when you flip a Courser of Kruphix, that Lotus Petal is upgraded to a Black Lotus. So great!
But that's not all... Courser of Krupix is good before Bloodbraid Elf, not just being flipped by Bloodbraid Elf. The ability to see the top card of your library can be useful when you play interactive cards. For example, Bloodbraid Elf decks often play cards like Path to Exile or Terminate. If the opponent doesn't have a creature on the battlefield, flipping one of those with cascade will result in a wasted trigger. Courser of Kruphix can help you aim your cascades a little bit better.
Courser of Kruphix is and "Better than All"
As a three drop with solid toughness, Courser of Kruphix is an efficient pre-Jace, the Mind Sculptor play. It can defend Jace well on the turn you tap out for it. But that's not all! Courser of Kruphix's ability to see the top card of your library (and play lands from it) is delicious when combined with Jace's Fateseal and Brainstorm abilities. You can fix your hand by putting a land on top with Jace, and then play it with Courser. Or you can dig deeper (with either) to get a fresh look (for either).
This card from Masters 25 will surely go up in popularity.
Also Revealed: Coalition Relic
With the ability to tap for any color of mana, Coalition Relic once held a special place as a five-color control enabler. It was also a solid accelerator, taking you from three to six in a single turn!
Patrick and Michael are cooler on this preview than Courser of Kruphix, though.
There are just too many cards people play in Modern that beat up on Coalition Relic (often with value): Kolaghan's Command, Abrupt Decay, and certainly Ancient Grudge! The Lantern deck's performance in Modern recently has jut put too much of a target on artifacts, at least artifacts of this casting cost.
Still, was sweet in its time, and may yet be sweet again if and when the format shifts.
Check out our Exclusive Masters 25 Previews Podcast here!
* Abzan before it was "Abzan" if you grok.
---
Thu, 11 January 2018
Chasing Sanctum of the Sun
Sanctum of the Sun is really -- really -- powerful
Azor's Gateway Transforms into Sanctum of the Sun
Azor's Gateway -- the front side of today's Legendary Land -- is itself a pretty good card. It is both cheaper than Jalum Tome, and cheaper to use (believe it or not Jalum Tome was once a Role Player-level Standard card).
Yes, it sucks that Azor's Gateway exiles cards instead of simply discarding them to the graveyard, but (and you'll probably figure this out in a couple of sentences) that would simply be too powerful once you've flipped the Legendary Artifact into Legendary Land.
Remember - zeroes are close to free, due to land cards.
Cut // Ribbons is Best Buddies with Sanctum of the Sun
When you flip Azor's Gateway into its final form, you gain five life and have an insane mana engine. Your expectation will almost never be less than an immediate burst of six mana of any color, no matter what hoops you had to jump through to get there.
Imagine you simply have the same life total as your opponent when Azor's Gateway flips...
Aren't they basically dead if you have Cut // Ribbons in your graveyard? If you have, say, twenty life (and the opponent has twenty life) you will go to twenty-five. You can immediately untap Azor's Gateway and tap its opposite number for twenty-five black mana, even if there are no other sources of black in your deck. This nets out to twenty-three life from Ribbons! Boom!
The Cut side of Cut // Ribbons has long been a Role Player-level option. It looks like this card -- which is highly serviceable as a fast reactive card -- may jump colossally in value now that getting it into the graveyard basically kills the opponent.
Remember a moment ago when we were lamenting the exile v. discard limitation on Azor's Gateway? Can you imagine how disastrous simple discarding would be given the incentive of getting Ribbons into your graveyard? This is already a great combination! They can't make it too easy, can they?
Cut // Ribbons acts like a two but is technically a four; that makes it fast enough to defend you front-side, while essentially ensuring victory later. Best. Buddies.
What About Untapping Sanctum of the Sun?
This Legendary Land is already pregnant with possibilities... But what if you can actually untap it?
In "Chasing Sanctum of the Sun" Patrick argues passionately for the power level of Zacama, Primal Calamity. This Elder Dinosaur might be the payoff that Ramp decks have been looking for since the rotation of the Eldrazi cards. While Zacama doesn't have a built-in durability, it can destroy many different kinds of permanents, as well as generate a massive life buffer. The fact that Zacama has CMC 9 is awesome with Azor's Gateway... I mean, how many nines do you think you can possibly play? It both drives diversity of casting cost for purposes of flipping and gives you an outlet to discard redundant uncastable giants.
---
Fri, 5 January 2018
Jadelight Ranger and More Rivals of Ixalan
Our further Rivals of Ixalan review begins with Jadelight Ranger
If there is one thing Mike is famous for, it's playing some goofball green three drops over the years.
Gnarled Mass is one such green creature; but at 3/3 for three mana -- and essentially no other capabilities it is a head scratcher that someone would be able to win with it. The secret, of course, is that Gnarled Mass was never "good" per se. But a 3/3 for three mana could slow down an opposing 2/2 Bushido.
Ditto on Borderland Ranger. And by "Borderland Ranger" we mean Civic Wayfinder. So deep was Mike's love of three mana creatures that could search up a land, when he won with U/R Splinter Twin, he did so with a Pilgrim's Eye in his main.
But what about the belle of this week's ball?
How does Jadelight Ranger compare?
Jadelight Ranger versus Gnarled Mass
Jadelight Ranger seems like a generally stronger card than Gnarled Mass.
Gnarled Mass was a Spirit -- which was good, but could also be a liability in Kamigawa Block -- but was basically always a 3/3 for three mana.
If you're going for size, Jadelight Ranger can be a 4/3 (2/1 with two +1/+1 counters) for the same casting cost. The superior size (sometimes) comes with two Scry triggers! So... Secelction as well as size.
Obvious point: If you want to have a large Jadelight Ranger, and you are lucky enough to "miss" on your first trigger, you can just leave the card on top, guaranteeing you will grow on the second trigger as well.
Jadelight Ranger versus Borderland Ranger
Borderland Ranger has a couple of advantages over Jadelight Ranger.
For one, 2G is easier to cast than 1GG... But not so much easier.
Borderland Ranger also offers true selection. If you have one Island in your library, you can go find it every single time rather than waiting for your White Knight. Jadelight Ranger lacks that level of precision.... lacks this certainty. But it makes up with sheer potential card advantage.
Just as Jadelight Ranger can be bigger than Gnarled Mass sometimes, it can produce more lands than Borderland Ranger sometimes, too! Instead of just one land, it can draw more than one. Compare to: Divination.
Jadelight Ranger versus Rogue Refiner
So sometimes Jadelight Ranger is a 4/3. If you have a Winding Constrictor in play, that might actually jump to, say, 6/5.
And sometimes, it stays 2/1 but draws two lands.
In both cases, you get to scry twice, which is powerful.
But in the middle? It is just a 3/2 that draws you one additional land.
You know what we call a 3/2 creature that produces one extra card? Rogue Refiner.
And while Jadelight Ranger is probably not "better" than Rogue Refiner (less control on size, never draws into a spell, doesn't make energy) even being in the same conversation with one of the best creatures in Standard is significant.
This Merfolk Scout is only the first card we discuss!
More Rivals of Ixalan than you can shake a stick at, right here.
---
Thu, 4 January 2018
Exclusive Preview - Dire Fleet Poisoner
Dire Fleet Poisoner is our exclusive Rivals of Ixalan preview!
Dire Fleet Poisoner is Incredibly Flexible
A 2/2 Deathtouch creature for only two mana, Dire Fleet Poisoner can play Terror in a pinch.
Much like Go for the Throat, Doom Blade, and the Alpha classic, this card can trade for most creatures at instant speed for just two mana.
Drop Dire Fleet Poisoner during combat and block... And you can trade with just about anything one-for-one. Even creatures that can sometimes dodge one-for-one removal (like Bristling Hydra) can't plead hexproof here... A block will make for a trade, no matter how big the attacker.
Of course, as a 2/2 creature, this Human Pirate can kill 1/x creatures (no matter how tough) and live to tell the tale.
Flash and Deathtouch, go!
Dire Fleet Poisoner's Brilliant Buff
Dire Fleet Poisoner can crash on curve... Imagine you play a first turn Daring Buccaneer. You attack with it and the opponent tosses a Shock at your 2/2.
This card can save your creature while forcing home additional damage.
It can save an attacking Hostage Taker from Abrade, for instance.
It can also help you into favorable trades. For instance, if you are attacking with Kari Zev and the opponent is forced to double block (say, due to menace), the ability to provide both a second point of power and deathtouch can make for an advantageous trade.
... And you get to keep the 2/2 deathtouch body!
Dire Fleet Poisoner is Fast and Flexible
Will there be B/R Pirates? Chances are, this card will help drive the creature choices.
How about B/U? Hostage Taker is a heck of a Pirate.
Want to know more? Check out the podcast!
---
Fri, 22 December 2017
Satisfying Vona's Hunger
Vona's Hunger continues the proud tradition of "Diabolic Edict with upside" for three mana
Vona's Hunger as Instant Edict
Diabolic Edict was the first.
It was like a Cruel Edict but better.
Over time we got a variety of three casting cost versions... Foul-Tongue Invocation, Tribute to Hunger, and Oath of Liliana are all three casting cost upgrades to the Edict model (whether instant or sorcery speed). All of them offered a little something extra -- whether life gain or more card advantage -- in exchange for a third mana.
Vona's Hunger can line up almost unprecedented card advantage provided you have the city's blessing.
And the rest of the time? More Edict action for group games ;)
New Keyword: "Ascend" on Vona's Hunger
This instant has a cool new keyword. If you control ten or more permanents, you get something called "the city's blessing" for the rest of the game. Presumably, you can have ten permanents the first time... But if you go below ten permanents upon casting a second Vona's Hunger, you'll still have the city's blessing.
Presumably there will be more cards featuring these new terms; whether you ascend the same way (having ten or more permanents) on all of them is still a mystery.
When would Vona's Hunger like the city's blessing?
It isn't difficult to imagine a time you might want Vona's Hunger on three. For example, any time the opponent is trucking in with a lone Bristling Hydra, you might want a removal card that can kill it no matter how big, no matter how hexproof.
Any time the opponent is protecting a key threat -- say an Electrostatic Pummeler - with Blossoming Defense backup, Vona's Hunger might be the card you want.
But what about the big version? Who can take advantage of it, and when might they want to?
We haven't seen tokens in a while, but the Anointed Procession decks are probably the most consistent at producing 10+ permanents. It's difficult to evaluate the "big" version of this card. It's kind of half a Wrath of God, but also asymmetrical (meaning it does not kill any of your creatures... Just half of the other guy's).
You know when tokens might really, really want Vona's Hunger?
The mirror.
More info here:
---
Thu, 7 December 2017
Meet the Rivals of Ixalan
Rivals of Ixalan Brings a New Vraska
Vraska, Scheming Gorgon
A new Vraska? Yes.
A very good Vraska? The Scheming Gorgon is going to have a tough time competing with the Relic Seeker in Standard.
Seemingly the only advantage Vraska, Scheming Gorgon has over Vraska, Relic Seeker is in being mono-black. Vraska Scheming Gorgon's best ability is her [-3] to destroy target creature…
This ability is woefully weaker than Vraska, Relic Seeker's more flexible equivalent… That also produces Treasure.
Vraska, Scheming Gorgon has a potentially powerful [-10] ultimate ability… At least until you think about it for a minute. While this ability can theoretically win the game, practically speaking, you already have to have a substantial advantage to cash in.
You need to have gained loyalty for several turns without losing all your creatures.
You need to have more creatures than the opponent has creatures AND creature removal.
But if you can fulfill these conditions? Sure. Win the game.
Vraska and Angrath: Are They Rivals of Ixalan?
Angrath, Minotaur Pirate

In opposition to Vraska is Angrath, a Minotaur Pirate.
While Angrath may not be the strongest Planeswalker in Standard, Mike thinks it is a straight-up upgrade relative to Vraska, Scheming Gorgon.
For one, Mike could at least imagine using the [+2] ability, and can imagine wanting to play this card to do so!
Say you are up against Mono-White Vampires or B/W Tokens. Wouldn't you appreciate a recurring way to deal one damage to everything and everyone on the other side of the table? While gaining loyalty?
Mike is pretty "sign me up" for this as a sideboard card, but Patrick not only reserves ultimate judgment for now… He says that if Mike likes this card, he'll probably LOVE the main set equivalent its existence implies.
Nitpick point: Angrath claims to be a Minotaur PIRATE (even says so in the name) but could not theoretically target itself with that [-3].
The Primal Command of Rivals of Ixalan?
One of the cool features of the beginner Planeswalker decks is the existence of a Tutor to go find a deck's centerpiece character.
Mike doesn't hate this one:

Angrath's Fury
Mike compares it to Primal Command.
Is hie crazy?
Both cards cost five. Both cards affect life total and do multiple things; Primal Command often attacked a land; Angrath's Fury basically always kills a creature.
Okay, okay: Crazy
Patrick and Mike also chat decks past and present, and visit a successful Standard deck… That eschews Longtusk Cub despite running Attune with Aether.
---
Fri, 24 November 2017
Tetzimoc, Primal Death and the Rivals of Ixalan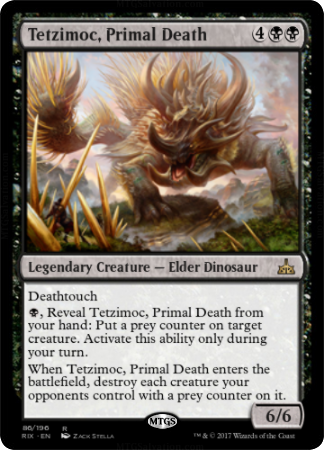 Tetzimoc, Primal Death is a Legendary Creature - Elder Dinosaur
"God I hope this isn't a Standard format where this isn't good."
-Patrick
Tetzimoc, Primal Death Invalidates "real" cards
This Legendary Creature - Elder Dinosaur almost doesn't seem real.
Will there be efficient ways to get rid of prey counters? If not, Tetzimoc is going to act as a Plague Wind -- a one-way Wrath of God -- quite often.
What is the low end of Tetzimoc's performance? Double Nekrataal? Just a couple of life points off of Noxious Gearhulk? It seems really powerful either way.
In any case, Tetzimoc leaves a large body with deathtouch on the battlefield. It provides not just a high potential for card advantage, but advances your board at the same time.
It is conceivable, unfortunately, that Tetzimoc will not be good. How could that be?
This creature is great against regular creatures, if even very good, efficient, or huge versions. It would be much less effective in a format based on Energy 187 creatures like Rogue Refiner, nothing but haste, or combo decks.
Tetzimoc is not the only Elder Dinosaur...
If you are unsure of the most broken thing you can possibly do with Ghalta, Primal Hunger, what about just starting on a Regisaur Alpha? That costs five mana and puts seven power in play. Seven down leaves Ghalta eminently cast-able.
Imagine this with haste!
On the one hand, Ghalta, Primal Hunger is an exceptional reason for Dinosaurs to finally graduate to Tier One in Standard.
But not for nothing... Decks based around the Primal Hunger are going to get their lunch eaten by decks based on the Primal Death, if you grok.
But Wait, There's More!
This week we hit all five currently spoiled Rivals of Ixalan cards, not just the Dinosaurs.
Ever wanted to learn about the nuances between personal Mana Flare and personal Howling Mine? Check out "Tetzimoc, Primal Death and the Rivals of Ixalan" right now!
---
Thu, 16 November 2017
Very Cryptic Command
Did you see this earlier this week?
If you did -- this podcast will be the realization of all you've been waiting for!
If you didn't... Why aren't you following the Top Level Podcast Instagram yet? Go ahead. We'll wait up.
Back?
It's time for our...
Exclusive Preview: Very Cryptic Command!
It's Kind of Like a Cryptic Command
The "Very" variety is reminiscent of the classic in many ways.
It is a Command (and in fact, a "Cryptic" one).
As such, it has several modes, and asks you to choose two of them.
And of course, there is the UUU1 in the top-right corner
But in terms of game play? This is a whole other instant!
Well that's one way to do it...
Isn't it weird that an Un-set card -- ostensibly built for fun rather than Spikes -- is primarily geared towards making:
Infinite mana, and
Infinite storm count
Isn't it?
Right?
If you have two copies of Gilded Lotus and two copies of this instant you can tap for UUUUUU, cast Very Cryptic Command to untap the artifacts and re-buy your other Very Cryptic Command.
Then you can do this all you want, over and over again.
Welcome to having as much mana as you want! Eventually, you can use one of the other modes to do anything else, move ahead (and presumably take advantage of your limitless mana and storm count).
Fun... For you, at least!
Our thoughts on this most Unstable of Unstable cards in "Very Cryptic Command"
---
Thu, 28 September 2017
Lessons from Pious Interdiction
What Can We Learn from Pious Interdiction?
Often competitive players will look at a card like Pious Interdiction -- which has what might be a desirable effect if at a hefty cost -- and discard it out of hand.
But when was the last time you asked yourself what drove that kind of thinking? Are there contexts where you would want a card like this? If so, when?
Mike -- winner of his Midnight Prerelease -- can certainly point to a time!
Pious Interdiction can be a heck of a Limited card
That's right! Pious Interdiction can certainly get it done in forty card decks!
... That's actually how Patrick and Mike got into the discussion this week! Mike was lucky enough to open four copies of Pious Interdiction, and they did such a great job of nullifying his opponents' key flyers or fat green creatures he was almost ready to sign up for Pious Interdiction in Constructed.
Almost.
The problem -- part of the problem anyway -- with Pious Interdiction is just the cost.
The cost is both the "right answer" and too simple of an answer, though. While this aura is great at interacting with threats like Sealed Deck where so many of an opponent's cards will be more expensive than in Standard, four mana can be a big ask in sixty card decks.
Patrick is quick to caution that general rules about how much things "should" cost for certain effects can be foolhardy. We must always be mindful of context.
Pious Interdiction v. the World
For the current Standard, at least, Pious Interdiction has plenty of context around it, helping to define is viability (or non-viability).
Cast Out also costs four mana, but has so much flexibility around Flash, Cycling, and the option to exile non-creature permanents. For that matter, Cast Out does a much better job, generally, of interacting with creatures! Cast Out isn't always better for four mana, as there are times you will want to gain two life... But it's usually better.
If you're really in the market for an overcosted Pacifism that gains life, might we suggest a Desert's Hold?
Desert's Hold doesn't let you get away with deck building free or anything... You have to build your deck with Deserts -- and you have to have Deserts either in play or in the graveyard to get the bonus -- but it both costs less mana and gains more life than Pious Interdiction. Yet Desert's Hold is far from a popular Constructed card.
Join Pro Tour Hall of Famer Patrick Chapin and Michael J Flores in this eye-opening theoretical discussion, plus more -- much more -- actual Constructed quality cards from Ixalan in this week's episode!
---
Fri, 22 September 2017
Just How Good are the Blasting Cannons?
Vance's Blasting Cannons: The Final Flip
Last week, when gushing over flip cards like Search for Azcanta, we hadn't yet had the opportunity to see the red member of the cycle.
Unlike a certain blue transformer for two, this card is a bit controversial. Where, if anywhere, would you want to play it? Would a red aggressive deck ever want to run it over either an indestructible god or a Rowdy Crew?
"Well," Mike points out, "at least the flip condition is a 'may'" ...
Outpost Siege v. Vance's Blasting Cannons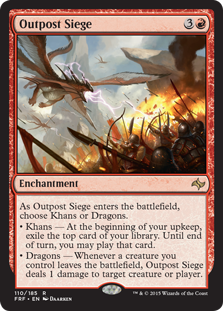 Is Outpost Siege where we set the bar?
The most obvious point of comparison for this new card is Outpost Siege.
For its part, Outpost Siege served every role from "main-deck four-of in R/W aggro" to "sideboard role player competing with its day's Chandra at the four". Regardless of how you want to slice it, Outpost Siege was a stronger card than Vance's Blasting Cannons (at least the front side).
To wit:
Outpost Siege had two different modes: Not only was it a potential source of incremental card advantage over time, the "Dragons" setting was a way to win.
Outpost Siege was not a Legendary permanent. You could have multiple copies in play! Mike probably still has nightmares about facing Sam Black with two Khans and a Dragons on camera
Outpost Siege allowed you to play both spells and lands as extra resources. Vance's Blasting Cannons is kinda sorta only 60% of an Outpost Siege (again, with half the options). So 30-33% on its face? How annoying would it be to reveal a land (that you can't play) and then not draw a land (when you need one)? Gross, right?
But the bar isn't whether this is better or worse than Outpost Siege in the abstract; the front-side is pretty much worse. The question is if it is good enough to play anyway.
And we can't answer that question without addressing...
Vance's Blasting Cannons // Spitfire Bastion
Is the payoff on Spitfire Bastion worth the work?
"Would you play a card that read "RR4. Enchantment. 2R, Tap: Deal three damage to target creature or player?"
-Patrick
Probably not?
While Mike wouldn't play such a conjectural card (probably), it is useful to think of the final flip as potentially three different cards:
The aforementioned 30-33% of an Outpost Siege: This card is a source of incremental card advantage that pays off only after you've untapped successfully with it in play. More than that, it really only pays off after multiple turns.
The conjectural six mana enchantment. This version flips immediately, gives you a potential mana boost (you can still, say, cast a Shock or Magma Spray), but will only offer the full value at very high mana / late in the game
Spitfire Bastion
Spitfire Bastion is a source of inevitability, not unlike fellow land Ramanup Ruins. Decks like U/R Control, for example, can't allow this to flip, because no matter how well they close out on creatures, they will likely lose the game three life points at a time.
Mike -- ever fearful of Kor Firewalker -- points out that as a colorless source of damage, Spitfire Bastion can kill the hell out of Protection from Red creatures.
So what do you think about this last transformer? The Top Level Podcast boys revisit some of the others and a whole mess of Ixalan cards in this week's episode.
This week's episode of the Top Level Podcast is brought to you by Mack Weldon. For 20% off your order, visit http://www.mackweldon.com and use the promo code toplevel
---
Fri, 15 September 2017
Flipping Out Over Search for Azcanta
This week MichaelJ is flipping out over flip cards! First among them? The Search for Azcanta!
Check Out Search for Azcanta:
"Oh hell yeah!"
-Patrick
We'll come out and say it to begin with: Search for Azcanta is probably undercosted. There have been effects like this in the past, but they didn't cost two mana.
The front side of this card offers powerful library manipulation. Sure. It sets up the top of your deck. But that's not all! Search for Azcanta not only pushes aside clunky or expensive spells, it sets up graveyard synergies!
This card is great with flashback, eternalize, or Renegade Rallier.
Subtly, the "flip" ability is a may, not a must. While you will usually want to be flipping it, there are times that Search for Azcanta will be better for you than Azcanta, the Sunken Ruin. Don't worry: You get to pick.
Search for Azcanta Becomes Azcanta, the Sunken Ruin
"... more powerful in play than Library of Alexandria..."
-Patrick
Two things on this one:
First of all, it's a kind of weird Rampant Growth. If you have Search for Azcanta on the battlefield and say four lands... When it flips, you will have five or six mana (depending on land drop). That, in and of itself, is a pretty big get for blue.
Of course, Azcanta, the Sunken Ruin is actually just awesome once you get it online. Getting a de facto Impulse every turn will put you way ahead in grinding matchups, and will threaten to bury the opponent in card advantage.
Further, this card is just begging for you to cheat! No, not "cheat" in the sense of getting banned from DCI sanctioned tournaments... Cheating the flip condition. While the front-side enchantment will get you to the point where it will flip eventually, there is no reason to wait around. Cards like Strategic Planning are screaming to help you flip to the legendary land.
Both sides of this card seem like they will be awesome in Approach of the Second Sun decks. Either side will help dig you to your second Approach.
But Wait! There's More!
While Search for Azcanta has our boys the most excited, there are tons of other flip cards worth talking about. We love Legions Landing, generally dislike Arguel's Blood Fast. But where and when will even that be played?
Gotta check out the podcast, to find out!
---
Thu, 7 September 2017
Exclusive Ixalan Preview: Lookout's Dispersal
In a special exclusive bonus podcast, Patrick and Michael go over their first impressions on Lookout's Dispersal, a new Pirates-themed instant from Ixalan:
---
Thu, 7 September 2017
It's All About the Dinosaurs
Regisaur Alpha is one of the premier Ixalan dinosaurs
What is up with this card anyway? Regisaur Alpha offers seven power over two bodies -- three of which have haste -- all for five mana!
How fast can we sign up?
Regisaur Alpha looks great! One of the few poor things about the dinosaur is that it makes Huatli, Warrior Poet look so bad.
Huatli, Warrior Poet spits out Dinosaurs
Regisaur Alpha and Huatli cost the same [total] amount of mana. Assume you're spitting out a 3/3 the first turn you control Huatli. Now, which would you rather have?
A 4/4 dinosaur lord who is making all of your other dinosaurs faster, or
A 3 loyalty Planeswalker who could easily die
Regisaur Alpha's 3/3 token is better than Huatli's 3/3 token, too... Just on basis of haste.
That said, Huatli, Warrior Poet is probably meant to be one of the centerpiece cards of the set. Not only is he a Planeswalker (and therefore theoretically automatically cool), they made not only another Planeswalker version of him, but a badass dinosaur tutor that can go find it.
Huatli might be meant for play in a dedicated Planeswalker deck. Think:
Three: Gideon of the Trials
Four: Chandra, Torch of Defiance
Five: Huatli, Warrior Poet
All three Planeswalkers protect themselves well. All three will contribute to expanding control of the battlefield itself. Gideon can both attack and defend. Chandra kills creatues outright. Huatli can make blocker after blocker or gain life turn after turn.
Gishath, Sun's Avatar is one busty dinosaur
Instead of looking at Gishath as a clunky eight mana creature, why not look at it as an eight mana Fireball?
Huh?
That's right! How much would you pay for a Fireball where x=7? You'd pay eight mana, right? Well Gishath costs eight, and does seven damage with haste... He's kind of an eight mana Fireball, therefore.
Everything else is gravy. The vigilence is going to be awesome... But it's awesome gravy. Next turn's attack? Gravy. This is not to say you should actually pay to get Gishath onto the battlefield... Just if you had to, it wouldn't be that bad of a deal.
There are even more dinosaurs discussed in this week's episode, which takes Ixalan from one green mana to the aforementioned eight drop... and more!
---
Fri, 1 September 2017
Ixalan!
Kick back, pop in your earbuds, and give a listen to our first look at Ixalan:
Ixalan Changes Planeswalker Rules
Jace, Cunning Castaway: Ixalan Planeswalker
Michael notes that Jace seems to have gotten ripped in the Gatewatch.
Patrick notes that Jace, Cunning Castaway boasts one of the fastest Planeswalker Ultimates ever. You might as well Ultimate when Jace's loyalty hits 5 BTW; while the token copies are not Legendary, Jace, Cunning Castaway itself is.
The new Planeswalker Uniqueness v. Legendary rule will change how Planeswalkers get played. Having more Jaces in play is cool and all (and this one actually does that for you) but the big winner has to be Gideon of the Trials.
People just didn't play Gideon of the Trials because they were already playing Gideon, Ally of Zendikar; now there is no disincentive. More importantly, having more than one kind of Gideon in play will give players greater protection for their Platinum Angel-like Ultimate.
Ixalan and the Treasure Theme
Captain Lannery Storm
Layered and flexible, the Captain is probably Mike's favorite card in Ixalan.
Use her treasure now! She is basically a 3/2 haste creature.
Use her treasure later! You can stockpile for a large attack, or save the mana to bust out Glorybringer on the quick!
Use her treasure for mana! What about not pumping the Captain, but just sacrificing her treasure to cast a Shock, Magma Spray... Or even a Fatal Push?
Exploring Ixalan
Tishana's Wayfinder
It's all the things Mike never should have loved...
Sometimes it's Borderland Ranger
Sometimes it's Gnarled Mass
Generally it's inconsistent and unpredictable
Sold!
Pro Tour Champion Patrick Chapin and Resident Genius Michael J. Flores talk all the Ixalan that's fit to discuss; spoiled cards, flavor and aesthetics; and of course brewing! Check out Top Level Podcast's first take on Ixalan right here, right now!
---
Fri, 28 July 2017
Getting to Know God-Pharaoh's Gift
God-Pharaoh's Gift is The Postmodern Debtors' Knell...
Compare God-Pharaoh's Gift to Debtors' Knell. Remember: Debtors' Knell was a breaker in both Ravnica Block Constructed and in the Standard of its era!
Both cards cost seven mana. However, the new version is a colorless artifact; consequently, it is an easier seven than Debtors' Knell to get into play.
Above and beyond Debtors' Knell, though, God-Pharaoh's Gift grants haste! Take that, opponent!
Another Home for Champion of Wits
Champion of Wits has been making and breaking all kinds of decks in its short -- yet already storied -- career. Champion of Wits is a key enabler of this artifact.
God-Pharaoh's Gift wants you to put creatures into your graveyard. After all, it is from the graveyard that the dead will rise (and hastily attack). Champion of Wits specializes in putting cards -- creatures or otherwise -- into the graveyard. It helps dig to your God-Pharaoh's Gift (or proxy for). A creature itself, when you return a Champion of Wits, it comes back as a 4/4 creature so you draw even more cards!
The synergies do not end with just fueling creatures.
You can discard God-Pharaoh's Gift itself to the graveyard. Why would you want to do that?
Champion of Wits costs three mana. The very next turn you can Refurbish the God-Pharaoh's Gift directly onto the battlefield! The card is the easiest possible seven mana. But how sweet is it when you play it for just four?
Redundancy, Incorporated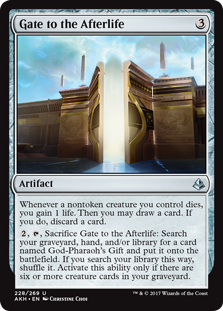 Another three mana facilitator to God-Pharaoh's Gift is Gate to the Afterlife.
I'd say drawing and discarding cards helps you dig to your key spell... But that's not even necessary here. Once you have six creatures in the graveyard (whether from looting, or discarding to Champion of Wits, chump blocking) you can just switch one artifact for the other.
Gross.
For more on this great strategy, more Champion of Wits, and lots and lots more Mono-Red in Standard, check out this week's podcast now!
---
Fri, 14 July 2017
Resilient Khenra: Bring on the Beatdown!
Resilient Khenra is one of several aggressive cards covered in this beatdown-oriented episode.
Hour of Devastation brings several aggressive options to Standard. We've mostly talked about powerhouse cards like Hour of Devastation [the card], or big ramp spells like Hour of Promise so far... But the new set can also turn a mean Jackal sideways!
Resilient Khenra: Greater than Grizzly Bears
To start, this card is a 2/2 creature for 1G... Any text on it is going to put it past the classic Grizzly Bears.
As it is, giving a creature +2/+2 one time is comparable to a 2/2 haste creature, according to Patrick.
The question is whether you can afford to play Resilient Khenra in a world that has optimized out Duskwatch Recruiter and Sylvan Advocate. We think... Maybe.
For one thing, Sylvan Advocate has largely lost on the presence of Fatal Push. Later in the game, when Sylvan Advocate is meant to get big, it still has a tiny two in the top-right... Making it a great target for Fatal Push.
Resilient Khenra doesn't have the same problem. It leaves a body, yes, but pushing the tempo with its 187 buff effect is the main reason you choose this card.
Resilient Khenra post-Adorned Pouncer
One of the things that makes this creature so attractive is its ability to synergize with Adorned Pouncer.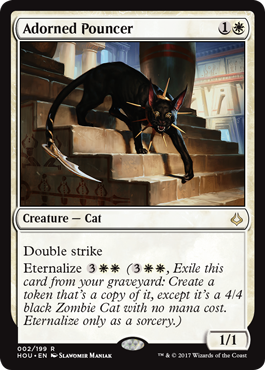 If you start on an Adorned Pouncer, and follow up with Resilient Khenra, you don't merely get +2/+2... You get to exploit the double strike on Adorned Pouncer. So for only two mana, you get four extra damage (and keep the Jackal Wizard body).
Later in the game, the two creatures' Eternalize abilities curve one into the next. Adorned Pouncer costs five to Eternalize, and Resilient Khenra costs six. In the late-game case, Resilient Khenra provides +4/+4 due to the token's superior size, so the multiplier is that much more dangerous.
Appeal // Authority in Tokens, or Anywhere
The G/W color combination isn't limited to Eternalize guys in Hour of Devastation. What about Appeal // Authority?
In a tokens deck specifically, Appeal can deal a huge amount of extra damage for only one mana, while Authority hearkens back to Alexander Hayne's Block Constructed PT win from a few years back.
Together, they may make a splash. Luckily, they're always together.
Give it all a listen:
---
Fri, 7 July 2017
Hour of Devastation is the Best of the Bunch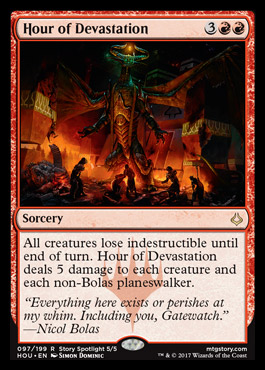 Hour of Devastation is the card red control decks have always wanted.
Hour of Devastation deals 5 damage to each creature...
Red has long had the ability to deal two to three points of damage to multiple creatures for about three mana. Examples include Standard Staples like Kozilek's Return, Radiant Flames, or Sweltering Suns.
But five damage?
Historically, red mages would have had to pay seven or more mana for a big sweep like this. Worse yet, in earlier eras, they would have to take five damage themselves! Earthquake, for example, only hit non-flying creatures.
From these perspectives, Hour of Devastation is really something special.
Blah blah blah... Each non-Bolas Planeswalker
One of the fantastic aspects of Hour of Devastation is how it can deal with Planeswalkers.
Forget about the fact that it can deal with Planeswalkers directly at all, the fail state of this card falls into a convenient place. What is the kind of deck where you would want Hour of Devastation? Something like Zombies, right? A deck where the opponent plays multiple creatures, that sometimes get big... The ability to deal five to all of them is quite attractive against Zombies.
But what about when you don't want a big creature sweeper? Oftentimes, the opposite number to Zombies will be a Control deck. Those decks will very often give you one or more Planeswalkers to kill, especially board control decks.
Hour of Devastation works great in Grixis
This set is very Grixis-oriented. There is a Grixis themed cycle of Gods, and of course the God Pharaoh is in Grixis colors.
Hour of Devastation (red) is highly complimentary to other key Grixis cards. For example, this card does five... And Torrential Gearhulk has six toughness. It's one thing for Torrential Gearhulk to live through the Hour... But what about being able to swing directly?
Consider:
Turn 6 - Flash out Torrential Gearhulk (to stabilize, stay alive, just get an advantage)
Turn 7 - Play a land; cast it leaving up UU. Get in there for five!
And more! Much more! in "Hour of Devastation is the Best of the Bunch":
---
Fri, 30 June 2017
Hour of Promise is Quite Promising
The Locst God may be on the art, but our bet is that Hour of Promise will be ushering in Ulamog, the Ceaseless Hunger.
Hour of Promise is no Explosive Vegetation
Mike initially misreads Hour of Devastation as an overcosted Explosive Vegetation. It's not a surprising mistake. Explosive Vegetation costs four, but Hour of Promise costs five. They both go and get two lands; Hour of Promise sometimes makes two zombies.
Oh wait... basic.
Sorry: basic
That is, unlike Explosive Vegetation, Hour of Promise can search up any lands, not just more Forests or whatever!
Example: Go and get two copies of Shrine of the Forsaken Gods
If you can cast Hour of Promise, the implication is that you have five lands in play. If you get two copies of Shrine of the Forsaken Gods, you'll then have seven lands in play, meaning you can tap for nine.
All you have to do is hit your land drop next turn to have ten mana for Ulamog, the Ceaseless Hunger!
Hour of Promise is More a Thalia's Lancers than an Explosive Vegetation
Mike loves to mark for 4/4 creatures for five mana that have a cool or card advantageous abilities.
Examples:
Indrik Stomphowler
Thalia's Lancers
Hour of Promise is like one of those, but possibly better. Why? Instead of one 4/4 creature, your payoff is two 2/2 creatures. Two 2/2s are sometimes more useful than just one 4/4, but Hour of Promise generates about the same amount of power and toughness.
The "Desert" Clause isn't that big a deal
All you need is one Desert in your first five lands and you'll be dripping in Zombie tokens!
Why? You can just go and get two other Deserts and put them on the battlefield. Now, armed with three Deserts in play, you will soon the be the owner of a pair of Zombie tokens.
The deck design implications are open to explore. Do you want to play lots of Deserts? That would increase your chances of having a Desert in play on turn five. Or, you might only play three total Deserts. Card selection aside, you will have a lot of specialty lands fighting for space in your mana base... You might not have room for too many Deserts.
Pro Tour Champion Patrick Chapin and Resident Genius Michael J. Flores cover many more Hour of Devastation cards in this great podcast. Two words: "horse tribal" ... Check it out now!
---
Fri, 23 June 2017
Doomfall is the Definition of Flexibility
Doomfall is an extremely flexible, potentially main-deck, card.
Meet the Cruel Edict
Doomfall costs one more mana than Cruel Edict, but even beyond its ability to act as a discard spell, there may be good reason to pay three instead of two.
Rather than merely destroying a creature (as Cruel Edict did), Doomfall exiles it. That is bad news for Scrapheap Scrounger decks! Any creatures that rely on durability or coming back from the dead might have problems with it (e.g. The Scorpion God)
Playing as Transgress the Mind
Again, we see a card that, at 2b, costs a little more than Transgress the Mind. Part of that is just a tax levied against the creature removal side of the spell (you can't very well have a functional reprint of Staple Transgress the Mind that also kills creatures).
But the reality is, Doomfall is not "just" a reprint of Transgress the Mind. It costs one additional mana, but on the other hand you can take anything, rather than only cards that conform to a particular mana profile. That might not feel like it's worth three mana in isolation... But you've always got the Edict opion!
Ultimately, it Can Get Everybody
This card lets you beat a combo deck with creature removal, or kill an attacker with your extra Duress.
---
Thu, 22 June 2017
The Scorpion God is Just the Beginning
To be honest The Scorpion God is actually near the end of the episode... Still great.
Buckle up for a full-on Hour of Devastation episode! Patrick and Michael hit on tons and tons of cards (and will be back with their own Hour of Devastation preview tomorrow).
The Defeat Cycle
The Defeat Cycle (Jace's Defeat, Gideon's Defeat, etc.) is a quintet of fast color hosers. Most will be Staple in Standard, with a couple of them likely growing up to be cross-format All-Stars (Liliana's Defeat especially).
Jace's Defeat - This card is basically Gainsay. You're unlikely to get the Scry 2 very often, but that's not a big deal... Gainsay has been Staple every time it has been available in Standard. Consequently, Jace's Defeat is going to be a great way to compress sideboard slots; it'll be nice having one card that can answer Torrential Gearhulk or Glimmer of Genius.
Gideon's Defeat - Mike loves this one, largely because he's been beaten up by Gideon, Ally of Zendikar so much the past year. This card will be great at slowing down everything from Toolcraft Exemplar to the newcomer Adorned Pouncer to Mike's hated Gideon.
Liliana's Defeat - Wow, what an All-Star (to be). Super mana efficient; more importantly, in Modern, this will be a Bump in the Night / Lava Spike that also kills Liliana of the Veil at the same time.
Chandra's Defeat - Will be bananas in largely the same way as Liliana's Defeat. Will be best buddies with Snapcaster Mage.
Nissa's Defeat - While this will be the "clear fifth place" Defeat, it will create a position of privilege for green creatures. Every other color's creatures are poised to be Defeat-ed. Not so green.
Nissa's Defeat creates a privileged position for green creatures and adds a three-mana Stone Rain back into Standard.
Adorned Pouncer and Eternalize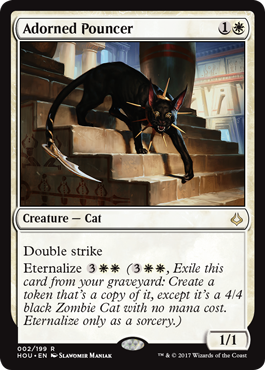 Adorned Pouncer is strictly superior to Fencing Ace
Fencing Ace was a good card. It was played as Staple in Jeskai buff decks, and at least a Role Player in Bant Hexproof.
Adorned Pouncer is everything Fencing Ace was... and Also a Cat. And also has Eternalize.
Would you pay five mana for just the 4/4 double striker? Patrick wouldn't. Mike would at least look at it. That the boys are even having this discussion should tell you how good Adorned Pouncer will be.
Thank goodness for Gideon's Defeat's exile clause! Magma Spray will continue to do work.
The Scorpion God
The Scorpion God is like three different engines.
"This God doesn't require worshippers."
-Patrick
If you just start with 6/5 for five mana... But with this level of resilience... It's at least worth a conversation. A 6/5 body for five mana isn't too bad; and if you can't kill it?
There are two other abilities, still.
The Scorpion God can mow down a ton of small creatures (and probably draw cards at the same time). It can also shoot at big creatures to get them small enough to tussle with and draw).
This summary doesn't do justice to "The Scorpion God is Just the Beginning" ... The only way to hear everything we're thinking about Hour of Devastation right now, you best give a listen!
---
Fri, 9 June 2017
The Real Cost of Bontu's Last Reckoning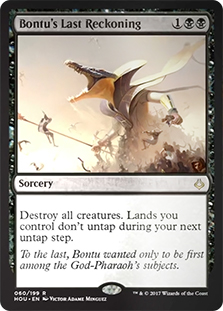 Bontu's Last Reckoning costs three mana. That's great! Isn't it?
What a difference a week makes!
... Depending on what continent you are on.
The Return of Spell Queller in Manila
The biggest disconnect with recent history IN THE WORLD took place at Grand Prix Manila. We saw the return of the U/W Flash deck... Now featuring Glory-Bound Initiate.
The U/W Flash archetype (and friends like Esper Vehicles) benefit somewhat by a decline in popularity of Mardu Vehicles... Our assessment is that the Heart of Kiran in Mardu Vehicles would run over the comparatively clunky U/W.
But U/W Flash is not about fighting Mardu. Aetherworks Marvel, on the other hand, is a perfect victim of Spell Queller. Basically, Dispel and Negate are the most common "cover" spells for Aetherworks Marvel at five and six mana, respectively... You can neither Negate nor Dispel a Spell Queller. On the other hand, Spell Queller's 2/3 body is perfect for putting Marvel on a clock.
Ulvenwald Hydra and Shrine of the Forsaken Gods
No surprise that Aetherworks Marvel took down a US Grand Prix this weekend past.
No surprise that Standard master Brad Nelson was at the winning deck's helm.
What's cool? What's different?
Brad used Ulvenwald Hydra to great effect in his build's sideboard... Kind of "the difference that makes the difference."
Basically, Ulvenwald Hydra was Brad's "Nissa's Renewwal" ... An expensive green creature, but not nearly as expensive as Ulmamog. Brad could use the Hydra to make a huge threat on its own, but also as an accelerator. If he got Shrine of the Forsaken Gods he would be one two mana closer to hard casting any Ulamogs stuck in his hand.
Dissenter's Deliverance is the Choice of Champions
'nuff said.
Bontu's Last Reckoning and Our First Look at Hour of Devastation
In addition to lots of decks from three Grand Prix across three continents we hit on the three now-known cards from Hour of Devastation. The most interesting topic for this section is probably around the cost of Bontu's Last Reckoning.
Ostensibly, this card costs three mana. That means that it has some synergy with Goblin Dark-Dwellers or certain Expertise cards. It would be a mistake to say that it is just a cheaper Damnation; the fact that it costs three is less of an advantage in most games (how big or dangerous are the creatures coming at you on turn three versus turn four). If you cast it later in the game, the mana restriction is actually pretty disadvantageous.
Net-net, though, we think it will be heavily played.
---
Fri, 28 April 2017
Anointed Procession Makes the Next Infinite Combo
It might not look it at first glance, but Anointed Procession is going to enable infinite everything.
Sensei's Diving Top - Banned in Legacy!
"Sensei's Divining Top gets no hat tip from me. There are very few cards -- probably zero in the history of Magic -- that have cost as many human lifetimes as Sensei's Divining Top."
-Patrick Chapin
Patrick and MichaelJ open on a tearful* goodbye to Sensei's Divining Top. While the Top has drawn some bad press due to eating up the clock in recent years, there is no denying its contribution to a number of impossibly inventive decks. Cards from Kodama's Reach to Shrapnel Blast to Counterbalance have all reached the top of the metagame.
Speaking of Banned Cards...
What will be obvious to you listening to this podcast is that the boys recorded "Anointed Procession Makes the Next Infinite Combo" before this week's last minute addendum to the Banned and Restricted list.
So yes, Patrick does a little Felidar Guardian + Liliana brewing... But there are still lots of other great nuggets in this episode (we think).
For instance:
Going Infinite with Anointed Procession
Anointed Procession + Eldrazi Displacer + Drowner of Hope is an infinite combo.
How does this work?
With Anointed Procession on the battlefield, Drowner of Hope will make four 1/1 tokens rather than just two.
It costs three total mana to activate Eldrazi Displacer; three mana will blink Drowner of Hope, putting the aforementioned four tokens into play. That means that you can net one token per cycle (again assuming Anointed Procession is there).
This combination gives you as many Icy Manipulators as you would like... Except they can also attack for infinite damage.
The advantage of this combination is that Eldrazi Displacer and Drowner of Hope are actually "good cards" rather than just combination pieces. After all, even if Anointed Procession is not part of your equation, Drowner of Hope is seven power across three bodies for "just" six mana.
Even without the Eldrazi, Anointed Procession is a surprisingly effective card.
How interested would you be in Nissa, Voice of Zendikar into this enchantment? Making two 0/1 Plant tokens per activation seems like a heck of a defense. How about good old Gideon, Ally of Zendikar and Anointed Procession at the same time? Did the best card of the previous format get even better?
We shall see!
Put another way, if your deck is full of token makers, Anointed Procession will increase the impact of one and all.
No, this podcast is not mostly about this cool new combo. There is also Patrick's argument that Zombies will be Tier One, Mike's continued love of cycling, and of course some misplaced metagaming around Felidar Guardian.
Give "Anointed Procession Makes the Next Infinite Combo" a listen now!
* Okay maybe not that tearful in Patrick's case.
---
Fri, 21 April 2017
If They Tap Out for Drake Haven… Kill 'em!
Drake Haven will be a defining card from Amonkhet
Drake Haven might be Mike's favorite card from Amonkhet...
.. Whatever that means.
Sure, it's Lightning Rift-like (or Astral Slide-like, if you prefer). It screams to collaborate with tons and tons of cyclers printed in the vary same set. Untap with Drake Haven in play, and you have a ready-made source of defense, card advantage, and damage all at once. Mike thinks that Drake Haven could be a centerpiece of the new Standard... After all, it can counter and overwhelm Gideon, is highly synergistic with your own sweepers, and can chase down many Planeswalkers in the air, (at least when you have a turn).
But almost by definition, many playing this card will give you a window to attack.
Turn Three Kills
Flameblade Adept + Noose Constrictor + Shadow of the Grave
There are multiple variations on this kill, and some variability based on play or draw. The simple scenario works like this:
Game Trail + Flameblade Adept
Attack for 1 (19), Swamp + Noose Constrictor
On your draw you have five cards in hand [on the play]. If you discard all of them but one, Noose Constrictor becomes six power, and your Flameblade Adept goes to five power; now use your last card (Shadow of the Grave) to re-buy the four cards you discarded. Discard them again and Noose Contrictor becomes 10 and Flameblade Adept goes to nine. Good thing you pinged for one last turn!
Build Your Own Baneslayer Angel
While maybe not the best against Drake Haven decks directly, White Weenie decks seems to be getting a boost from Amonkhet. Always Watching was always a powerful card to play with the little white men, but combined with the new exert mechanic? Nothing but undercosted, potentially advantageous, attackers!
Glory-Bound Initiate is a perfect option. It comes down on turn two (a turn before Always Watching) and can help you build your own Baneslayer Angel.
Glory-Bound Initiate can become 4/4 on its own, but may have to slow down. Enter Always Watching
Dozens of cards are explored in this podcast. Mike and Patrick can't wait to play Amonkhet!
---
Wed, 12 April 2017
Nissa, Steward of Elements will Get You for 10
Nissa, Steward of Elements is a rule breaking (or at least bending) new Planeswalker. Plus "Manglehorn is proof Lauer exists and he wants us to be happy"
---
Fri, 7 April 2017
Amonkhet Brings NEW PERSPECTIVES
New Perspectives, from Amhonkhet
MichaelJ and Patrick return for a special bonus episode! Top Level Podcast has an exclusive preview from Amonkhet.
When New Perspectives enters the battlefield, draw three cards.
New Perspectives starts more-or-less the best way a card can: By helping you draw three cards! In.
(Or, at least, we are interested in further exploration.)
Six mana is a bit steep for the ability to draw three cards, but Patrick claims that this card is actually a "draw four" ... One of the cards is just a zero mana Fluctuator.
Because New Perspectives is a permanent rather than a sorcery (compare to Tidings), you can pick it up or blink it (perhaps with Felidar Guardian) to draw more and more.
As long as you have seven or more cards in hand, you may pay 0 rather than pay cycling costs.
This second line is what puts the "new" in the name. We aren't just talking about a Fluctuator... This card is expensive but far more powerful.
For one, New Perspectives will handle colored mana in a cycling cost, not just discount a 2 to 0. It opens the door to some big opportunities. For instance, why not start with Archfiend of Ifnir on five, untap with the Demon still in play, and then run out New Perspectives? Having (or drawing into) just one or two cycling cards -- TAPPED OUT -- can totally swing the board.
This card represents -- we think -- a whole new way to play.
Check it out!
---
Thu, 6 April 2017
Gideon of the Trials and More Amonkhet
Gideon of the Trials from Amonkhet
Gideon of the Trials is a splashy new Planeswalker from Amonkhet. There are lots of things going on with this card that are interesting.
First of all, it is only three mana. Like Jace Beleren and Liliana of the Last Hope before it, Gideon is likely going to find a way into appropriately-colored decks, just because it is so cheap. Conveniently, all three of Gideon's abilities are meaningful and worthy of discussion.
[+1]: Until your next turn, prevent all damage target permanent would deal.
This is Mike's favorite ability on the card.
Gideon of the Trials can completely shut off threat-poor decks; it is in fact outstanding against one threat at a time.
In addition, the [+1] is, in a roundabout way, a source of card advantage. You can force the opponent to play multiple threats by neutralizing the first one. He can be stuck losing an extra card to Fumigate, only to be stuck again a threat-and-a-half later.
This ability is also great against Heart of Kiran. Not only can you shut it off damage-wise (no matter what mode it is in), the fact that Heart of Kiran is Legendary means that you effectively shut off all the copies that are stuck in the opponent's hand.
[0]: Until end of turn, Gideon of the Trials becomes a 4/4 Human Soldier creature with indestructible that's still a planeswalker. Prevent all damage that would be dealt to him this turn.
If Gideon of the Trials only featured the middle ability, it would be comparable to True-Name Nemesis... a 4/4 "basically unstoppable" 4/4 for only three mana (but doesn't play defense)? Pretty solid!
This is the most straightforward of Gideon's three abilities. It's basically always good any time you don't want to be using the [+1].
[0]: You get an emblem with "As long as you control a Gideon planeswalker, you can't lose the game and your opponents can't win the game."
Gideon's emblem is a little tricky. It basically is an emblem that makes present or future Gideons into Platinum Angels. This can be powerful -- For example you can lock out (or at least buy a turn from) certain combo decks. But most conventional decks that attack to beat you can attack Gideon instead. Not awful by any means, but not decisive generally, at least not in Standard.
All-in-all, Gideon of the Trials looks like the most powerful white card we've seen so far from Amonkhet.
There are lots of other cards discussed, as well, in this week's episode! Give it a listen:
//
Oh... And bonus episode tomorrow!
---