Thu, 1 March 2018
Breaking Branchwalker: New Technology in Standard!
Merfolk Branchwalker is great on two
Think you know what's going on in Standard? Mono-Red Beatdown, some vanilla Sultai with The Scarab God, maybe some B/U Control?
Have we got a GP for you...
Merfolk Branchwalker, Ajani Unyeilding, and Carnage Tyrant?
PT Champion Ari Lax just missed the Top 8 with his Naya Monsters deck. A surprising take on a relatively intuitive build, Ari opted to play Ajani Unyeilding, Cast Out, and Thopter Arrest as white splashes.
Merfolk Branchwalker teams up with multiple 2/x buddies to build towards ambitious mana.
Servant of the Conduit at the two - One taps for mana, one digs towards it
Jadelight Ranger - co-explore creatures as an explore creature to help build towards ambitious mana.
Lax's take played tons of cards that cost four mana or more between deck and sideboard, topping up with some powerful, game-winning, six drops.
I mean come on. Carnage Tyrant! Rawr.
The Khenra Technology: Merfolk Branchwalker in G/R Monsters
Tyler Schroeder won Grand Prix Memphis with a brand new take on Gruul creatures.
We've seen similar shells before. After all Merfolk Branchwalker and Jadelight Ranger make a lot of sense together. Twos and threes, these creatures attack, block, fix the top of your library, and generate card advantage.
By the same token, Rekindling Phoenix and Glorybringer represent a similar thematic duo. Great red flyers with built-in card advantage capabilities, these 4/x creatures represent the kind of high end payoff that you really want to get to with your green explorers.
So where is the innovation?
Adding Earthshaker Khenra and Resilient Khenra as a third pair creates a whole new dimension to the deck. Because "explore" creatures like Jadelight Ranger and Merfolk Branchwalker can put cards into the graveyard, they can imply future card advantage because you can play the respective Khenra cards out of the graveyard.
This is new technology!
Often when Merfolk Branchwalker flips a land, we call that card advantage; now if it flips a Khenra -- and puts it into the graveyard -- it is stockpiling future card advantage!
Will this become an industry standard way to play Standard?
Maybe?
Find out more in this week's podcast!
---
Fri, 23 February 2018
Half Hazoret the Fervent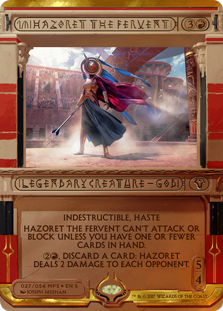 The Hazoret the Fervent Invocation
Hazoret the Fervent in Modern?
Tell ya what, Top Level Podcast fans: We're skipping Modern for the week. Patrick intends to "activate the [0] ability" ... Starting next week.
Were there multiple Modern events last weekend? Yes.
But the world is about to change, officially, and soon.
That Gruul Eldrazi deck? How do you think that is going to run once Bloodbraid Elf starts pumping out Eldrazi Obligator? Exactly.
So for now: Innovations in Standard!
Half Hazoret the Fervent Decks
The SCG win by Todd Stevens with Dimir Control may throw you off. And Ali Aintrazi's Four-color Mastermind's Acquisition in third place is certainly exciting. But make no mistake: Hazoret the Fervent is a fixture of something like half of the top performing players, whether Mardu Vehicles or Red Decks (including, I guess, Boros Path of Mettle decks).
Fear not! The control decks are aware, playing cards like Moment of Craving, Vraska's Contempt, or even Gift of Paradise to defend their life totals.
The Price of Hazoret the Fervent
Hazoret is a powerful threat. And not just in the mirror! (But particularly in the mirror.)
Generally, we think four Hazorets is mandatory. There are other powerful four drops in red, but Hazoret is often completely unstoppable. Further, redundant copies can always be tossed for two damage.
Hazoret doesn't come cheap, though: This God demands sacrifice! In deck building an otherwise ("take two"). Not only is it an expensive card (in more ways than one) but Hazoret generally implies playing with cheap set up cards. Bomat Courier is almost always on board. There are a smattering of other one drops, removal cards, and so on in every successful Hazoret deck... You need to drop your hand in order to get this card online.
Mardu has its own concerns. In a sense Mardu is "an homage" to Toolcraft Exemplar + Unlicensed Disintegration. Don't shave either down to three copies (ew). In fact some builds push redundancy with Inventor's Apprentice.
None of this makes the Mana any easier BTW.
More in the cast!
---
Fri, 2 February 2018
Gambling on Path of Mettle
Let's get something out of the way:
Path of Mettle is actually awesome!
Path of Mettle is almost effortless to play
When Path of Mettle enters the battlefield, it triggers a Simoon-like effect, dealing a point of damage to every creature that lacks first strike, double strike, vigilance, and / or haste.
The solution is simple: Just play creatures with one or more of these abilities, and the "Simoon" trigger will be one-sided; largely a Simoon for the same amount of mana.
We can consider the deck played by US National Champion Craig Krempels to the Top 8 of last week's Team Open as a model for this strategy, but many Red Deck creature shells can suffice.
All of Bomat Courier, Earthshaker Khenra, Ahn-Crop Crasher, Hazoret the Fervent, and Glorybringer (you know, just the creatures the old Ramunap Ruins deck played) start out with haste. This makes the first line on today's enchantment "free".
But flipping it is nearly free, also!
So long as you are playing such creatures, turning your Legendary Enchantment into a Legendary Land shouldn't be too tough.
When you flip Path of Mettle, you're doing it. You're really DOING IT
When the Path becomes Metzali, Tower of Triumph, "Triumph" may be closer than it initially seems. This land is super disruptive to many different kinds of opponents.
The "red" ability largely serves as a stand-in for the now-banned Ramunap Ruins.
The "white" ability has a broad range of applications, including (but not limited to) cutting of the ability for many control decks to win. Attacking with one creature? How about "randomly" putting that creature into the graveyard? The "white" ability can also ignore hexproof, so it is potentially a problem for the Hydras out of Energy variants.
Okay, sold! Um... So what's the gamble around Path of Mettle?
Why? The mana base of course!
Craig played a couple of Plains in his twenty-two land aggro deck. It was vital for him to play enough red (especially untapped) to be able to field some sixteen one drop creatures.
Will WotC print another Boros dual land? Will they just reprint one we already love?
---
Fri, 26 January 2018
No Room for Longtusk Cub
Longtusk Cub, unlike Attune with Aether and Rogue Refiner, was NOT banned last week. So why is it missing from Energy deck after Energy deck?
---
Thu, 18 January 2018
Rampaging, Ramunap, Rivals, and Rants
Lots of bans in Standard this week. But Rampaging Ferocidon?
Rampaging Ferocidon Banned in Standard
Of the four most recent bans, three are relatively understandable.
Attune with Aether - Perhaps the most obvious of the Standard bans, Attune with Aether is the quintessential one mana manipulation spell that is a little too good. There is ample precedent for cards like Ponder and Preordain being banned at the one. Why not Attune with Aether? Attune with Aether is essentially a Lay of the Land (a "good enough" card) with an Energy add-on.
Rogue Refiner - Rogue Refiner is just a cantrip. It's a 3/2 creature for only three mana that does two things. Unfortunately one of which is "draw a card". Rogue Refiner is probably a little too good, but it isn't clear it would or should have been banned if not for all the other Energy cards.
Ramunap Ruins - So it turns out that Temur Energy wasn't even the highest performing deck in Standard. Ramunap Red was! While Ramunap Red might have been challenged by Temur Energy, it was absolutely great at killing everyone who didn't buy into the "there are only two decks" Standard paradigm. Ramunap Ruins is the card that sets this deck apart. Getting rid of Ramunap Ruins makes room for other decks post-ban.
So these three make sense.
You might not have bet on Ramunap Ruins... But it makes sense.
Rampaging Ferocidon wasn't the best, or the second-best, or the eighth-best card in Mono-Red. In fact, many Mono-Red decks didn't even play four copies main deck!
The Brilliance of Banning Rampaging Ferocidon
While counter-intuitive, the Rampaging Ferocidon ban is wonderful in a certain light.
Forget for a moment about the Randy Buehler-era paradigm of banning only the broken cards. What about banning cards that make the format less fun?
The problem with Rampaging Ferocidon is that it makes it very -- very -- difficult to sideboard against Red Decks. It's nice to be able to side in life gain cards and have them work, right? But even cards like Regal Caracal become liabilities... It stinks to trigger Rampaging Ferocidon but not be able to cash in on lifelink.
And Rivals of Ixalan, Too!
While most of this podcast is a discussion of the recent bans (plus a master class in game design by Patrick), we would be remiss to leave out some of the new cards that, you know, came out last week.
What red creature might make a massive impact coming up?
A flyer that pre-empts Glorybringer and might even compete with Hazoret, the Fervent?
Check out "RRRR" to find out!
This episode is sponsored by ZipRecruiter. Top Level Podcast listeners can post jobs to ZipRecruiter for FREE at Ziprecruiter.com/TopLevel
---
Thu, 16 November 2017
Masterfully Metagaming Sand Strangler
Sand Strangler Graduates to Main Deck!
Stephen King said it.
William Faulkner said it first.
Kill. Your. Darlings.
Which darlings, you ask.
How about the automatic three-of (if not four-of) at the Ramunap Red four? Hazoret the Fervent.
Cut Hazoret? Are you crazy?
Hazoret the Fervent versus Whirler Virtuoso
As a red mage, have you ever faced off against Whirler Virtuoso? If you haven't, it sucks. It's just really hard to bust through, even though you have one of the best offensive threats in the format.
Now imagine -- assuming sufficient Desert power -- Sand Strangler against Whirler Virtuoso.
Smoosh, right? Smoosh.
When essentially half of the format is Energy decks, Sand Strangler over Hazoret main deck starts to make more sense.
Pro Tour Hall of Famer Ben Stark executed on exactly this plan, finishing in the finals of Grand Prix Atlanta with a new look at Ramunap Ruins.

For reference: Desert Red, by Ben Stark
Wait a minute! Don't I just suck in the mirror now?
While cutting Hazoret -- one of the most important cards in the mirror match -- certainly costs you percentage in the mirror, Ben counterbalanced with the duo of Sand Strangler and Glorybringer.
Remember: Sand Strangler and Glorybringer are two of the most frequently sided in cards in Red Deck mirrors.
So while you lose some Hazoret points, you get back some "free" sideboard creature points.
... And it's not like Ben's deck can't side in a bunch of Hazorets after boards.
But mathematically? There is more Energy than Red right now. Ben's metagaming was simply masterful.
New Decks Aplenty
Desert Red was cool, but it wasn't alone.
This week Patrick and Mike tackle such instant classics as:
Esper Approach of the Second Sun
U/G Electrostatic Pummeler (with four copies of Bristling Hydra, for Mike)
Grixis builds aplenty
Check out "Masterfully Metagaming Sand Strangler" and you too may just become a metagame master!
---
Fri, 10 November 2017
Energizing River's Rebuke
Meet River's Rebuke: Mirror-Breaker
Have you ever played the Temur Energy mirror match? And by "Temur" Energy we would include Four-color Energy and its cousins. The archetype is so good at brick walling itself.
Everyone has plenty of material. Attune with Aether, Rogue Refiner, and Planeswalkers can help develop resources. The Scarab God gives you something to do with your long-term land. It can bust through opposing defenses over time, and from multiple directions. Glorybringer -- especially in multiples -- combines evasion with card advantage. And Planeswalker-slaying!
But yet, Whirler Virtuoso is so good at keeping damage at bay!
How are you supposed to bust through?
May we suggest River's Rebuke?
River's Rebuke: Next Level Sideboarding
Here's the thing about River's Rebuke.
It's a sorcery.
Who sides in Negate against Temur Energy? You know, the deck with 21-25 creatures? Would you side in Negate? What do you plan to Negate? A giant Vehicle? You've already got Abrade for that.
Whatever Negate!
It sits in your sideboard.
Meanwhile, you and your opponent accumulate more and more material, brick walling one another until...
Somebody Casts River's Rebuke
Here's the other thing about River's Rebuke. It's one-sided. Many times when you cast it, the game will be over that turn. You know all that Whirler Virtuoso brick walling? Ain't no one home to defend. Even The Scarab God is going to fail in the face of River's Rebuke.
Two members of the Pro Tour Ixalan Top 8 -- Christian Hauk and Piotr Glogowski -- ran it last weekend.
Temur Wasn't Even the "Good" Energy Deck
Sultai Energy in the hands of former World Champion Seth Manfield reigned supreme. The trickiest of the Energy decks, Sultai has a two-card combo of Hostage Taker and Blossoming Defense that few decks want to tussle with.
Learn more about Temur, Sultai, and the entire PT Ixalan Top 8 in "Energizing River's Rebuke" now!
---
Fri, 3 November 2017
Approach of the Second Sun at Pro Tour Ixalan
Approach of the Second Sun
Patrick is coming to us straight from Pro Tour Ixalan this week! He played a new take on R/W Approach of the Second Sun with Sunbird's Invocation, but more mana and fewer expensive spells.
The Pro Tour is lousy with Temur Energy (and Four-color Energy, and Sultai Energy)... But that just gives it structure to attack! Patrick's approach to Approach seems thought-provoking now, and sounds like it will be influential moving forward. Most opponents have many "dead" cards in Game One. Imagine the B/U Control opponent who cycles through his entire deck with Search for Azcanta only to find... There is nothing to find.
Or the Energy deck (or any deck, really) that doesn't kill you fast enough... Can they stop you from playing your Approaches?
Well... Sometimes :)
---
Fri, 20 October 2017
How to Approach Sunbird's Invocation
Sunbird's Invocation was a "Perfect 10" at US Nationals
The Sunbird's Invocation Combo
Adam Bialkowski busted open Standard with a 10th-place finish at US Nationals last weekend. He used a R/W Board Control-slash-Combo deck utilizing this big red six and a certain favorite white seven...
Here's the simple explanation of this combination:
You play Sunbird's Invocation on six.
You untap and play Approach of the Second Sun on seven.
When you cast Approach of the Second Sun, the Invocation digs through the top of your library to check if there is an Approach of the Second Sun there; if there is, it will cast it for you.
Your first Approach of the Second Sun (which you cast from your hand, remember) checks to see if you cast another Approach this game... You did!
Ding!
This together, these two cards represent a turn seven insta-win combo.
Sunbird's Invocation Fail State
So you've invested six mana in a big red enchantment.
Miraculously, you've untapped, still alive.
However you don't have an Approach of the Second Sun...
What's a girl to do?
Chin up, Planeswalker! So you don't have a turn seven insta-win! That doesn't mean you don't have game...
Your Invocation plays a pretty good "personal Howling Mine" once you've untapped. Basically, your spells can potentially snowball into more and more spells. In the 10th place version, there are a ton of expensive cards -- tons of fives sixes and of course sevens -- that make its centerpiece enchantment really look good.
What's Wrong with Sunbird's Invocation?
If there is anything "wrong" with the Perfect 10, it might be all those expensive cards!
Adam certainly benefited from a (current?) (short-term?) gap in Mono-Red popularity. The archetype version only has one Magma Spray in the main deck, and no real way to develop its game plan against B/U Control in the early game. Further, it has a lot of expensive cards but no great way to ensure it hits all its land drops.
That isn't taking anything away from the innovation; just to say that there is still a lot of room for optimization.
A flaming owl wasn't the only hot Hot HOT deck to stand out at US Nationals. Check out "" now to learn more about Abzan Tokens, Mardu Vehicles, and more on the B/U Control v. U/W Control matchup in Standard!
---
Fri, 13 October 2017
The Best Decks in the Worlds
Longtusk Cub headlined one of the best decks in the Worlds
Worlds was awesome!
We saw an amazing overlap of one of the best players of all time wielding those top skills at exactly the right time, combined with great preparation and and even better 60/75.
But we get it.
You have questions...
Top Level Podcast is here to answer those questions this week! Questions like...
If The Scarab God is so good, why didn't Huey play it in his Temur Energy deck?
Is Commit // Memory an ace-level replacement for The Scarab God... Or basically just a boring old Utter End?
Is Longtusk Cub secretly just the best card in Standard?
Why should you play "Treasure Red" instead of regular old Ramunap Red?
When should you play any of the following, and in which order? Opt, Hieroglyphic Illumination, Glimmer of Genius
Will Huey be the first person to win Worlds, and then win Nationals the very next week?
Don't you fret, beloved listeners! The answers to these and other burning questions await in...
The Best Decks in the Worlds
---