Fri, 24 August 2018
Rekindling Phoenix and a Red Potpourri
From Rekindling Phoenix finding a new home in Grixis to Viashino Pyromancer in Wizards beatdown, Standard continues to evolve... and surprise us!
---
Fri, 17 August 2018
Wild About Wildgrowth Walker
Wildgrowth Walker contributed to one of our favorite decks of the week! Check out our take on Sultai Midrange + all the innovations of an evolving Standard!
---
Fri, 3 August 2018
Everything You Can Do With a Graveyard Marshal
Graveyard Marshal headlines an all-new Zombies deck. Will mono-black aggression be the dark horse at the upcoming Pro Tour? Standard continues to evolve...
---
Fri, 20 July 2018
Nicol Bolas, the Ravager Rules the Skies
Nicol Bolas, the Ravager rocked the Week 1 Classic! With 3 copies played in 3 different decks, Magic's biggest bad guy repped in multiple archetypes, too.
---
Fri, 8 June 2018
Should You Play Bomat Courier?
"Don't let the Top 8 fool you... [Pro Tour Dominaria] was actually far more dominated by R/B and Mono-Red than it looks."
-Patrick Chapin
There Were "Only" 23 Bomat Couriers in the Top 8
So the big story of Pro Tour Dominaria was the insane red-ness of the Top 8. With seven of the decks in the Top 8 being black-red or mono-red, the unambiguous card of the tournament was:
The Top 8 of Pro Tour Dominaria featured Twenty-eight Goblin Chainwhirlers
According to this article by Mike, the record for creatures (or for that matter enchantments) in a Top 8 is 28. So Goblin Chainwhirler ties the ceiling held by Sylvan Caryatid and Courser of Kruphix.
BTW - Patrick won that Pro Tour ;)
So here's the thing... Goblin Chainwhirler is often accompanied by Bomat Courier. In this Top 8 five of the seven Red Decks played both 1:1. The winning Red Aggro, though, ran only three copies of Bomat Courier. Finally, one more mid-range black-red take played zero.
The question remains: Do you side it out? For that matter, is it 100% correct to play Bomat Courier at all?
The Problem: Bomat Courier is No Good in the Mirror
Bomat Courier is a good card... It just has one toughness. In past red mirror matches, the little Construct represented an important source of long-term card advantage. However in a world ruled by Goblin Chainwhirler, it is just a one toughness creature that is out-classed by every other playable card in black-red or mono-red.
Typically, that means you should side out Bomat Courier in the mirror (provided you play it).
Llanowar Elves versus Bomat Courier
Wait a minute! If I should be siding out Bomat Courier, does that mean I should be siding out cards like Llanowar Elves?
No.
What's the difference?
Bomat Courier, as we said, is out-classed by every other card in an opposing Red Deck. Every card the opponent plays might be better, so it is pure liability. On balance basically nothing is better than Llanowar Elves.
Let me see if I've got this right: It's not just that Bomat Courier is one toughness... It's that it's one toughness and generally weak. While Llanowar Elves is also one toughness (ergo Goblin chow) gambling with it might pay off because it's so gosh darn powerful.
You've got it! Fast Llanowar Elves draws can lead to your best stuff, like a turn-two Dinosaur to hold the fort, or the jump to a Ravenous Chupacabra or Hour of Promise to put you ahead of the Red Deck.
Here's a different question... If so many people are going to be Red Decks, and I should side out Bomat Courier... Should I play it at all?
So... Should You Play Bomat Courier?
"It depends."
In a format like Unified Standard, where you will play against a maximum of 33% Red Aggro decks, Bomat Courier is probably a good inclusion.
In regular Standard... The clay isn't dry yet. Will more than 50% of your opponents be Red Aggro? Will 7/8? Or even more lopsided, as Patrick described? If you face an overwhelming number of Red Aggro opponents, it might make sense to eschew the card, or play it in the sideboard, as was done in a recent Grand Prix Top 4.
"Teferi Jokers" don't Play Bomat Courier
While Red Aggro variants are undoubtedly best, it's hard to deny the allure of Teferi, Hero of Dominaria. After all, he is in fact a hero. Here are some things you might want to consider if you're for some reason straying from Bomat Courier beatdown:
The top performing (Top 8) Teferi, Hero of Dominaria deck played only two copies. Neither Mike nor Patrick like that; it was essentially a Torrential Gearhulk / The Scarab God deck splashing white.
Speaking of splashing for Teferi, Yellow Hat did it with a blue-red control shell.
In the realm of "straight" U/W, Brad Nelson dialed it back to win with two copies of Approach of the Second Sun!
Conclusion: A lot of the top performers or top players angled their Control decks differently from the core, threat-light, versions from prior to the Pro Tour.
We go over LOTS of lists this week, some of which didn't even play Goblin Chainwhirler, let along Bomat Courier. Absorb it all here:
---
Thu, 31 May 2018
Standard Before Pro Tour Dominaria
With Pro Tour Dominaria coming up this weekend, find out where battle lines are drawn, what old tech might be back + a brand new archetype for Standard!
---
Fri, 25 May 2018
Focus on Teferi, Hero of Dominaria
Teferi, Hero of Dominaria has fast become a four-of Staple & preferred way to win for U/W decks in Standard. Learn the ins and outs of this planeswalker now
---
Fri, 18 May 2018
Goblin Chainwhirler Against the World!
Goblin Chainwhirler is the kind of card that can get Patrick Chapin to play Unlicensed Disintegration! Learn all about what makes Chainwhirler so good here.
---
Thu, 3 May 2018
Lyra Dawnbringer Debuts!

Lyra Dawnbringer was at least the second most successful Dominaria card of the set's first sanctioned weekend.
Lyra Dawnbringer and Llanowar Elves
The Legendary Angel wasn't the most successful Dominaria card to debut this past week. That honor would belong to Llanowar Elves... But in at least one MTGO 5-0 deck, Angel and Elf Druid worked hand in hand.
Lyra represents a powerful top end. Not only does this card pay you off for your commitment to cards like Merfolk Branchwalker (that can help dig you to five or more lands), but Llanowar Elves can get you to your powerful 5/5 ahead of schedule.
And what is better than Shalai, Voice of Penty followed by the Dawnbringer? In times past, tapping out for an awesome 5/5 creature might be good defense... But it can stink when the opponent removes it and crushes you with an attack. If you lead off with Shalai, Lyra will have hexproof. So not only will she not be going anywhere (unless the opponent removes your other Angel), but Shalai will crush in with lifelink. Par-tay.
Lyra Dawnbringer and Raff Capashen, Ship's Mage
Raff Capashen, Ship's Mage changes everything!
Leading off with this creature on turn four (presumably at the end of the opponent's turn, ideally when the coast is clear), you will be able to play cards like Lyra at instant speed!
Instant speed Walking Ballista?
Instant speed Teferi, Hero of Dominaria? It may seem counterintuitive to play a planeswalker on the opponent's turn, but the ability to guarantee it resolves may be worth one lost activation. If there is a card that will have zero trouble recouping the lost utility, it is the card-advantageous Teferi.
How about instant speed History of Benalia? How top notch is this potential move? You can make a token at instant speed (potentially blocking with it) and then still get the next 2/2 on your own next turn! This will feel very much like getting both Chapter One and Chapter Two immediately (though only one will be allowed to attack).
Lyra Dawnbringer, Sideboard Superstar
One of the cool things about Lyra is that she isn't even played main deck all the time! U/W decks in the market for creatures might play it main (or they might play only Torrential Gearhulk). But Approach of the Second Sun decks probably wouldn't. Neither would Orzhov Tokens or white Swarm decks.
You know what they all have in common?
2-3 copies of Lyra Dawnbringer coming in after sideboards.
Here.
To.
Stay.
Check out 106:49 on Lyra Dawnbringer now!
---
Fri, 13 April 2018
Warkite Marauder Breaks Out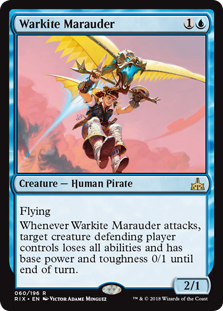 Warkite Marauder is a heck of a Magic Card
Playing Fair with Warkite Marauder
Let's start with the basics: Warkite Marauder is a pretty cool Magic: The Gathering Card. We've seen people play cards on the order of Welkin Tern -- a blue 2/1 flyer for two mana with a disadvantage -- in Standard Pro Tours.
Warkite Marauder is loads better than the best Vaporkin! It simply doesn't have the disadvantage. Meaning, Warkite Marauder can block whomever it wants.
But that's not all! As a 2/1 creature with flying, Warkite Marauder is not particularly resilient. It's cheap -- evasive maybe -- but also small. Basically anything will kill a Warkite Marauder in combat.
So, the ability to remove flying from a potential blocker is very useful. Get in there for two!
Who Plays Fair? God-Pharaoh's Gift
Here's the thing: A fair Warkite Marauder is pretty good. Better, in fact, than cards good players have played in recent years.
But no one is saying you should "play fair" with it. No sir!
The new style of U/R God-Pharaoh's Gift is basically a Red Aggro deck... But with a graveyard-combo twist. God-Pharaoh's Gift can correct the solo toughness of this Human Pirate, and haste enhances its combat trigger.
The U/R deck can act like Red Aggro (starting with Bomat Courier on turn one, but just happens to have a more explosive relentless end game.
The Real Value of Warkite Marauder
Good by itself.
Good with God-Pharaoh's Gift.
But the real value of this Human Pirate?
Teaming up with Walking Ballista and Fanatical Firebrand, Warkite Marauder can "build a Terminate" ... But it's better than that! This is a "Terminate" that can take care of The Scarab God!
Not only will Warkite Marauder pull The Scarab God's toughness down to one (where it will be easy prey for one direct damage)... But because The Scarab God will lose all abilities, it won't come back.
Boom!
Warkite Marauder is just one of dozens of cards discussed in this episode! Most of the time is actually devoted to Dominaria. Check it out!
---