Fri, 17 August 2018
Wild About Wildgrowth Walker
Wildgrowth Walker contributed to one of our favorite decks of the week! Check out our take on Sultai Midrange + all the innovations of an evolving Standard!
---
Thu, 9 August 2018
Palace Jailer Wins the Pro Tour!
Palace Jailer made two of the Top 4 Legacy decks at the Pro Tour... including the winning Death & Taxes! Find out what makes this card so special (and more)
---
Fri, 3 August 2018
Everything You Can Do With a Graveyard Marshal
Graveyard Marshal headlines an all-new Zombies deck. Will mono-black aggression be the dark horse at the upcoming Pro Tour? Standard continues to evolve...
---
Thu, 26 July 2018
Breaking Thunderbreak Regent in Modern
*THIS IS A RE-UPLOAD* ... Something went wrong with the original file. Hopefully this one is perfect :)
Thunderbreak Regent joins Glorybringer, Stormbreath Dragon, and Sarkhan, Fireblood in a powerful new strategy for Modern. Skred you!
---
Fri, 20 July 2018
Nicol Bolas, the Ravager Rules the Skies
Nicol Bolas, the Ravager rocked the Week 1 Classic! With 3 copies played in 3 different decks, Magic's biggest bad guy repped in multiple archetypes, too.
---
Thu, 12 July 2018
Giganotosaurus or Not to Giganotosaurus
Your puny little red men are no match for Giganotosaurus. It's a tough cast, though. Is there a legitimate reason to go GGGGG over Verdurous Gearhulk?
---
Thu, 5 July 2018
Gloreclaw, Terror of Qal Sisma v. Runic Armasaur
Goreclaw, Terror of Qal Sisma
When might you play Goreclaw, Terror of Qal Sisma?
Goreclaw, Terror of Qal Sisma is the king queen of Bears!
I know, I know... Goreclaw is not a 2/2 for 1G; but Bear it claims to be.
Okay, okay... Let's get past the Vorthos on this card. What might make you want to play it... Or not?
Three toughness.
In a world of where Lightning Strike and Abrade are played in the most popular deck, three toughness is a bit of a liability on a four casting cost creature; at least one that isn't doing something absolutely card advantageous on the way in.
Patrick speculates that the three toughness is a deliberate structural weakness in the card against red -- a weakness green doesn't usually have -- for other reasons.
"Have a little empathy."
Other reasons? Well we'd have to have a doozy of one to accept such a limitation. Maybe a better driving question would be...
WHY Would You play Goreclaw, Terror of Qal Sisma?
Easy: You want to get the drop on a seven-drop.
Goreclaw costs four. Presumably you hit your land drop the following turn. That's five. Alongside Goreclaw's two mana-breaking ability, you can hit something like the new Darigaaz the next turn!
Bam!
Seven!
Kind of need your three toughness four-drop to live for that to work out.
Michael is not necessarily convinced. Among other issues, the best five-power [green] creature in the format [by his estimation], Steel Leaf Champion, not only comes down before Goreclaw most of the time... Even when you draw your creatures in the right order, Goreclaw won't help you cast it.
Another new green monster maybe?
Fine, Fine... How About Runic Armasaur Then?
Runic Armasaur
Runic Armasaur has a lot of awesome things going for it.
Size-wise, this card is comparable to the ubiquitous Thrashing Brontodon. That's not a bad place to start. Runic Armasaur isn't quite big enough to stop Hazoret the Fervent, but five toughness is a big brick wall.
Runic Armasaur is punishing to fetchlands, so may have more impact in larger formats. In Standard, it will prove quite effective against Evolving Wilds.
But where Runic Armasaur will really shine? Walking Ballista! Bam! The best card in Aether Revolt is going to have a really tough time generating card advantage against this particular dinosaur.
Speaking of dinosaurs, If Runic Armosaur is good enough, it may just make Thunderherd Migration good enough. Thrashing Brontodon, Ghalta, Gigantosaurus... There may be just enough dinosaurs to hit critical mass of thunder lizards.
We shall quickly see.
To see more; or hear more, rather, including innovations in Senor StOmPy and Dimir Midrange, click the little play button:
---
Fri, 29 June 2018
Sarkhan, Fireblood Spits Flame!
Sarkhan, Fireblood is an exciting new Planeswalker from M19. Check out its new Dragon-centric synergies and card advantage options in this week's cast!
---
Fri, 22 June 2018
Is Resplendent Angel the Real Deal?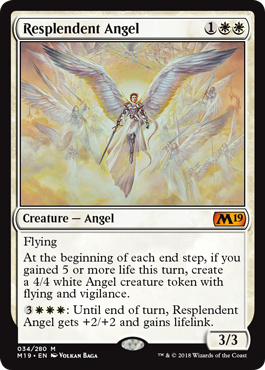 Resplendent Angel is just one of several strong flyers from Core Set 2019, revealed earlier this week.
Resplendent Angel
Effect of card: Flying. At the beginning of each end step, if you gained 5 or more life this turn, create a 4/4 white Angel creature token with flying and vigilance. 3WWW: Until end of turn, Resplendent Angel gets +2/+2 and gains lifelink.
Converted mana cost: 3
Type: Angel
Sets: M19
Game: Magic: The Gathering
Colors: White mana
Illustrators: Volkan Baga
Doesn't Resplendent Angel Just Get Killed by Abrade?
That's the problem, right?
As a 3/3 flyer for three mana, Resplendent Angel is a nice package for its cost. Its many other abilities imply that it should be able to take over the game by itself.
But with only three toughness, it is vulnerable to multiple cards in the most popular current Strategy... Not just Abrade but Lightning Strike will eliminate this creature.
While the Angel has the ability to buff itself offensively and gain lifelink... That doesn't cure three toughness versus instant speed removal. The same Abrades, the same Lightning Strikes, will be able to shoot it out of the sky in response.
They can't always get her, can they? And anyway, when she's good, she's got to be really good.
The Resplendent Angel Payoff
Bash!
Hit you for five!
Gain five!
High five!
Extra Serra Angel, yadda yadda yadda.
Is that the payoff?
It is certainly a payoff... But there is no reason to think so narrowly.
Resplendent Angel is pretty efficient: A 3/3 flying creature for three mana is a heck of a Gnarled Mass! But this is a card that can get better in the right context.
What about playing it with Shalai, Voice of Plenty and Lyra Dawnbringer? Giving this creature +1/+1 and lifelink off the bat puts it a long way towards the Serra Angel trigger.
But that's not all!
There are just a critical mass of life gain cantrips. You can cast Renewed Faith, gain six life, and get a 4/4. But M19 brings with it Revitalize. This card can combines both halves of Renewed Faith, but with a little less flexibility.
What we mean to say here is that at some point Crested Sunmare has got to good enough at some point, right? #horsetribal
Tons more M19 in this podcast, including scads more flyers; from Nicol Bolas to his fellow Elder Dragon Legends. Many of them look equally fantastic. Learn more in the cast.
---
Wed, 20 June 2018
Liliana's Contract is Our M19 Preview
Wizards sent us Liliana's Contract to reveal to you!
Liliana's Contract
Effect of card: When Liliana's Contract enters the battlefield, you draw four cards and you lose 4 life. At the beginning of your upkeep, if you control four or more Demons with different names, you win the game.
Converted mana cost: 5
Type: Enchantment
Sets: M19
Game: Magic: The Gathering
Colors: Black mana
Illustrators: Bastien L. Deharme
... you draw four cards...
So... Who's in it for drawing four cards?
At five mana for four cards, Liliana's Contract is priced similarly to Tidings. In its day, Tidings was a Standard Staple in Vore decks to a variety of control decks.
While the four life is potentially prohibitive (versus, you know, losing zero life) it's important to note people are paying four mana and two life to draw cards in black right this format.
For one more mana, Lilian's Contract represents a powerful upside.
Its being an enchantment is quite interesting; you can draw four into your Demons, it can sit around waiting for a win, or you can play it after you've already got your Demons.
This implies, of course, people will want to play for the Demons. Some might just want to draw four cards.
... four or more Demons...
Lilian's Contract is powerful and flexible. It can probably fuel a black control deck that happens to play Demons... Or you can play a dedicated Demon-combo deck.
There are multiple playable Demons in Standard. Ammit Eternal has already proved Top 8-capable; while Demonlord Belzenlok is the "big bad" of Dominaria. Lilian's Contract might be great randomly alongside a handful of already-good-enough Demons.
But you can also try a dedicated strategy!
With Arcane Adaptation, you can turn any creature into a Demon
With Arcane Adaptation in play, it will be much easier to produce four differently-named Demons. Every token, every random body, will get you that much closer to winning immediately with Liliana's Contract.
Thanks again to Wizards! See you back here tomorrow for our regularly scheduled episode.
---