Fri, 14 June 2019
Is it ALREADY Time to Ban Hogaak, Arisen Necropolis?
It JUST came out in Modern Horizons but... Hogaak, Arisen Necropolis is kind of already a problem. Learn how Hogaak might make Modern too fast in this ep!
---
Fri, 7 June 2019
Is Command the Dreadhorde the Biggest Big Spell in Standard?
Welcome to a Standard of big and powerful spells! Is Command the Dreadhorde the biggest thing people will play? Unbelievably, no.
---
Fri, 31 May 2019
Everything Great About Wrenn and Six
Wrenn and Six from Modern Horizons is outstanding! Not only is it great ON TURN 2 against opposing one drops, this Planeswalker is a personal Howling Mine!
---
Fri, 24 May 2019
Ice-Fang Coatl and More Modern Horizons
Check out the new toys from Modern Horizons! We talk about lots, but Ice-Fang Coatl, a cantrip Terminate crossed with Baleful Strix is one of our favorites.
---
Thu, 16 May 2019
Karn, the Great Creator Demolishes Modern
Karn, the Great Creator from War of the Spark has ALREADY put his silver-handed mark on Modern. Learn about the two-card combo redefining the format now!
---
Fri, 10 May 2019
Is Narset, Parter of Veils the Best Card in Standard?
How good is Narset, Parter of Veils in Standard? Where this War of the Spark Planeswalker kicks butt and takes names might just surprise you!
---
Fri, 3 May 2019
God-Eternal Kefnet is the Most Underrated Card in War of the Spark
God-Eternal Kefnet is the most underrated card in the set! Find out why Patrick thinks this card is a "10/10" and learn the secrets of its play pattern now!
---
Fri, 26 April 2019
Your Top 8 War of the Spark Questions… Answered!
*Update 7:37pm April 26, 2019*
*This file fills in a few missing minutes from the previous upload.*
Every card in War of the Spark has been revealed! Patrick and Michael brew and riff on many of YOUR burning questions around this powerful new set.
---
Fri, 26 April 2019
Your Top 8 War of the Spark Questions… Answered!
Every card in War of the Spark has been revealed! Patrick and Michael brew and riff on many of YOUR burning questions around this powerful new set.
---
Thu, 18 April 2019
Oath of Kaya is Pretty Horrible
Oath of Kaya is pretty horrible... For anyone who wants to play fair Magic! Plus more new cards that will define the revolutionize the upcoming formats!
---
Fri, 12 April 2019
The Most Exciting Feather, the Redeemed Combos
Don't sleep on Feather, the Redeemed. It is not only an efficient flyer, but with a little work Feather is an exceptional engine. Let's break it!
---
Fri, 5 April 2019
Chandra, Fire Artisan has a Hell of a Static Ability
Chandra, Fire Artisan is one of the best cards from War of the Spark! Her static ability is synergistic with her Ultimate; and she's a great Howling Mine!
---
Tue, 2 April 2019
Storrev, Devkarin Lich is our Exclusive War of the Spark Preview
Storrev, Devkarin Lich from War of the Spark is our exclusive preview! Find out what kind of Zombie Elf Wizard is half Juzam Djinn, and half Ophidian...
---
Fri, 29 March 2019
The Rise of Gruul Aggro
Gruul Aggro raised some eyebrows -- and a lot of different heads -- last week. Learn how it clears the skies... And often rules them!
---
Fri, 22 March 2019
Serra the Benevolent from Modern Horizons (and even more Modern)
Serra the Benevolent from Modern Horizons is anything but benevolent... For the opponent! Part Crusade, part Serra Angel, part Worship; all great!
---
Thu, 14 March 2019
Much Modern
From the return of Dredge to the most miserable card in Modern, Patrick and Michael discuss the emerging trends of this excellent format.
---
Fri, 8 March 2019
Izzet Phoenix in Modern... And Legacy?
Izzet Phoenix may be the best deck in Modern. But why isn't Arclight Phoenix the force in Legacy that it is in the other formats? Learn how that is changing
---
Fri, 1 March 2019
Top Decks from Mythic Championship Cleveland
Mythic Championship Cleveland is in the books! The top deck in the tournament wasn't too surprising, but the Standard format still has some spice!
---
Fri, 22 February 2019
Kraul Harpooner - Evolutions and Synergies
Kraul Harpooner is one of the most underrated cards in the current Standard. It can be a tempo-swinging game-winner on turn two; or steal the initiative against combo. Learn its secrets here!
---
Fri, 15 February 2019
Play More Thief of Sanity
Whether a powerhouse sideboard card for Wilderness Reclamation or coming down on turn two with Llanowar Elves, now is the time to play Thief of Sanity!
---
Fri, 8 February 2019
So Much Ravnica Allegiance Standard
Ravnica Allegiane Standard is in full swing! Check out the emerging adventures of Pteramander, Light Up the Stage, a resurgent Hostage Taker, and more!
---
Thu, 31 January 2019
Breaking Hydroid Krasis
Hydroid Krasis is the top Mythic Rare from Ravnica Allegiance so far. Learn where -- and more importantly how -- to play this mighty Jellyfish Hydra Beast.
---
Fri, 25 January 2019
Skewer the Critics (and other spectacular Spectacles)
Skewer the Critics & Light Up the Stage are making waves in both Standard and Modern decks... And the new set hasn't even been released yet! Find out why.
---
Fri, 18 January 2019
Wild About Wilderness Reclamation
Wilderness Reclamation is the scariest card in Ravnica Allegiance. It's better than a ton of historical Staples + great with... Just listen to the podcast!
---
Fri, 11 January 2019
The Beginning and End of Angel of Grace
Angel of Grace is the first card from Ravnica Allegiance by number. Find out why, ironically, the beginning will handily END so many games!
---
Fri, 4 January 2019
Exclusive Preview: Zhur-Taa Goblin
Zhur-Taa Goblin is our official Ravnica Allegiance Preview from WotC! Check out our take on this flexible new threat. Attack you for two (or three)!
---
Thu, 3 January 2019
Dovin, Grand Arbiter Headlines More Ravnica Allegiance
Dovin, Grand Arbiter leads off another look at Ravnica Allegiance. Get ready for Planeswalkers, Anthems, and enablers aplenty this week!
---
Fri, 28 December 2018
The Most Exciting Spoilers from Ravnica Allegiance
We discuss some of the most exciting spoilers from Ravnica Allegiance, including Bedevil, Absorb, the all-new mechanics, and more!
---
Fri, 21 December 2018
Growth Spiral and Our First Look at Ravnica Allegiance
Lots of Ravnica Allegiance spoilers this week! We go over "everything" (that was spoiled so far) but Growth Spiral is our fave. Find out why.
---
Fri, 14 December 2018
Everything You Could Ever Want to Know About Arclight Phoenix in Modern
Find out all the ways that Arclight Phoenix proves it is already one of the best creatures in Modern!
---
Fri, 7 December 2018
Detection Tower Makes the Difference
Detection Tower made quite a splash in Golgari this past weekend! Learn why this land is such a solid add for the Standard midrange deck... and beyond!
---
Fri, 30 November 2018
How to Kill a Carnage Tyrant
Carnage Tyrant may be the most important large threat in Standard. Learn how it's gone from a mirror-breaker to a insurance against Jeskai right here!
---
Fri, 23 November 2018
Niv-Mizzet, Parun in Jeskai Control
Adrian Sullivan played four copies of Niv-Mizzet, Parun in his Grand Prix-winning Jeskai deck. Learn how that transforms the archetype in this week's cast!
---
Tue, 20 November 2018
Exclusive UMA Preview: Sovereigns of Lost Alara
WotC gave us a free preview from Ultimate Masters! Patrick and Michael reminisce about the classic Spirit, Sovereigns of Lost Alara in this bonus episode!
---
Fri, 16 November 2018
The Three Styles of Boros Aggro
Boros Aggro took a whopping 6 of the Top 8 slots at PT Guilds of Ravnica. Is this deck just a flash in the pan, or will it be a pillar of the metagame?
---
Fri, 9 November 2018
Supreme Phantom - How is This a Real Magic Card?
Supreme Phantom is a great Magic card! It starts off with a respectable body for its cost, and adds two great abilities that help Bant Spirits rule Modern.
---
Fri, 2 November 2018
Watch Out for Tocatli Honor Guard
Tocatli Honor Guard just got a promotion. This 1/3 will be industry standard for Standard this weekend; if you're relying on Jadelight Ranger... watch out!
---
Thu, 25 October 2018
Will Tajic, Legion's Edge Take Over Modern?
Tons of Guilds of Ravnica cards are appearing in high performing Modern decks. But the question is: Will Tajic, Legion's Edge take over?
---
Fri, 19 October 2018
Golgari Runs the Tables
Golgari is the early king of the Guilds of Ravnica Standard format. Find out what makes the b-g deck so good in this new podcast!
---
Fri, 12 October 2018
Is Experimental Frenzy the New Necropotence?
Learn what makes Experimental Frenzy one of the most exciting new cards from Guilds of Ravnica!
---
Fri, 28 September 2018
Doom Whisperer: The Critics Agree!
Patrick and Michael agree in their enthusiasm about Doom Whisperer from Guilds of Ravnica. Great finisher here! Surrounded by many other great cards.
---
Fri, 21 September 2018
Some of Our Favorites from Guilds of Ravnica
Guilds of Ravnica continues to wow us! Patrick and Michael continue their takes on Guilds of Ravnica and its many new cards.
---
Fri, 14 September 2018
Crackling Drake is Our Official Guilds of Ravnica Preview
Wizards of the Coast gave us a cool new card from Guilds of Ravnica: Crackling Drake! Patrick Chapin & MIke Flores discuss the new set with Izzet flavor.
---
Thu, 13 September 2018
Get Ready for Assassin's Trophy
Assassin's Trophy is a flexible new tool from Guilds of Ravnica. It's undercosted, powerful, and will see play in all the main formats for years to come!
---
Fri, 7 September 2018
Ral, Izzet Viceroy (and lots more Izzet)
Ral, Izzet Viceroy headlines an Izzet-tacular first look at Guilds of Ravnica! What makes Sinister Sabotage great? Why might you play Firemind's Research?
---
Thu, 30 August 2018
Arcbound Ravager and Hardened Scales
It turns out Arcbound Ravager and Hardened Scales go together like peanut butter and chocolate. Learn about this new duo + all the latest Modern tech here!
---
Fri, 24 August 2018
Rekindling Phoenix and a Red Potpourri
From Rekindling Phoenix finding a new home in Grixis to Viashino Pyromancer in Wizards beatdown, Standard continues to evolve... and surprise us!
---
Fri, 17 August 2018
Wild About Wildgrowth Walker
Wildgrowth Walker contributed to one of our favorite decks of the week! Check out our take on Sultai Midrange + all the innovations of an evolving Standard!
---
Thu, 9 August 2018
Palace Jailer Wins the Pro Tour!
Palace Jailer made two of the Top 4 Legacy decks at the Pro Tour... including the winning Death & Taxes! Find out what makes this card so special (and more)
---
Fri, 3 August 2018
Everything You Can Do With a Graveyard Marshal
Graveyard Marshal headlines an all-new Zombies deck. Will mono-black aggression be the dark horse at the upcoming Pro Tour? Standard continues to evolve...
---
Thu, 26 July 2018
Breaking Thunderbreak Regent in Modern
*THIS IS A RE-UPLOAD* ... Something went wrong with the original file. Hopefully this one is perfect :)
Thunderbreak Regent joins Glorybringer, Stormbreath Dragon, and Sarkhan, Fireblood in a powerful new strategy for Modern. Skred you!
---
Fri, 20 July 2018
Nicol Bolas, the Ravager Rules the Skies
Nicol Bolas, the Ravager rocked the Week 1 Classic! With 3 copies played in 3 different decks, Magic's biggest bad guy repped in multiple archetypes, too.
---
Thu, 12 July 2018
Giganotosaurus or Not to Giganotosaurus
Your puny little red men are no match for Giganotosaurus. It's a tough cast, though. Is there a legitimate reason to go GGGGG over Verdurous Gearhulk?
---
Thu, 5 July 2018
Gloreclaw, Terror of Qal Sisma v. Runic Armasaur
Goreclaw, Terror of Qal Sisma
When might you play Goreclaw, Terror of Qal Sisma?
Goreclaw, Terror of Qal Sisma is the king queen of Bears!
I know, I know... Goreclaw is not a 2/2 for 1G; but Bear it claims to be.
Okay, okay... Let's get past the Vorthos on this card. What might make you want to play it... Or not?
Three toughness.
In a world of where Lightning Strike and Abrade are played in the most popular deck, three toughness is a bit of a liability on a four casting cost creature; at least one that isn't doing something absolutely card advantageous on the way in.
Patrick speculates that the three toughness is a deliberate structural weakness in the card against red -- a weakness green doesn't usually have -- for other reasons.
"Have a little empathy."
Other reasons? Well we'd have to have a doozy of one to accept such a limitation. Maybe a better driving question would be...
WHY Would You play Goreclaw, Terror of Qal Sisma?
Easy: You want to get the drop on a seven-drop.
Goreclaw costs four. Presumably you hit your land drop the following turn. That's five. Alongside Goreclaw's two mana-breaking ability, you can hit something like the new Darigaaz the next turn!
Bam!
Seven!
Kind of need your three toughness four-drop to live for that to work out.
Michael is not necessarily convinced. Among other issues, the best five-power [green] creature in the format [by his estimation], Steel Leaf Champion, not only comes down before Goreclaw most of the time... Even when you draw your creatures in the right order, Goreclaw won't help you cast it.
Another new green monster maybe?
Fine, Fine... How About Runic Armasaur Then?
Runic Armasaur
Runic Armasaur has a lot of awesome things going for it.
Size-wise, this card is comparable to the ubiquitous Thrashing Brontodon. That's not a bad place to start. Runic Armasaur isn't quite big enough to stop Hazoret the Fervent, but five toughness is a big brick wall.
Runic Armasaur is punishing to fetchlands, so may have more impact in larger formats. In Standard, it will prove quite effective against Evolving Wilds.
But where Runic Armasaur will really shine? Walking Ballista! Bam! The best card in Aether Revolt is going to have a really tough time generating card advantage against this particular dinosaur.
Speaking of dinosaurs, If Runic Armosaur is good enough, it may just make Thunderherd Migration good enough. Thrashing Brontodon, Ghalta, Gigantosaurus... There may be just enough dinosaurs to hit critical mass of thunder lizards.
We shall quickly see.
To see more; or hear more, rather, including innovations in Senor StOmPy and Dimir Midrange, click the little play button:
---
Fri, 29 June 2018
Sarkhan, Fireblood Spits Flame!
Sarkhan, Fireblood is an exciting new Planeswalker from M19. Check out its new Dragon-centric synergies and card advantage options in this week's cast!
---
Fri, 22 June 2018
Is Resplendent Angel the Real Deal?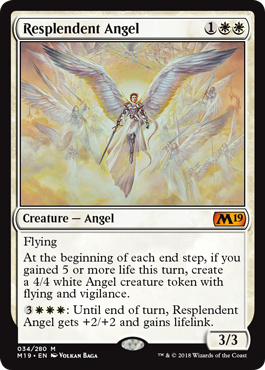 Resplendent Angel is just one of several strong flyers from Core Set 2019, revealed earlier this week.
Resplendent Angel
Effect of card: Flying. At the beginning of each end step, if you gained 5 or more life this turn, create a 4/4 white Angel creature token with flying and vigilance. 3WWW: Until end of turn, Resplendent Angel gets +2/+2 and gains lifelink.
Converted mana cost: 3
Type: Angel
Sets: M19
Game: Magic: The Gathering
Colors: White mana
Illustrators: Volkan Baga
Doesn't Resplendent Angel Just Get Killed by Abrade?
That's the problem, right?
As a 3/3 flyer for three mana, Resplendent Angel is a nice package for its cost. Its many other abilities imply that it should be able to take over the game by itself.
But with only three toughness, it is vulnerable to multiple cards in the most popular current Strategy... Not just Abrade but Lightning Strike will eliminate this creature.
While the Angel has the ability to buff itself offensively and gain lifelink... That doesn't cure three toughness versus instant speed removal. The same Abrades, the same Lightning Strikes, will be able to shoot it out of the sky in response.
They can't always get her, can they? And anyway, when she's good, she's got to be really good.
The Resplendent Angel Payoff
Bash!
Hit you for five!
Gain five!
High five!
Extra Serra Angel, yadda yadda yadda.
Is that the payoff?
It is certainly a payoff... But there is no reason to think so narrowly.
Resplendent Angel is pretty efficient: A 3/3 flying creature for three mana is a heck of a Gnarled Mass! But this is a card that can get better in the right context.
What about playing it with Shalai, Voice of Plenty and Lyra Dawnbringer? Giving this creature +1/+1 and lifelink off the bat puts it a long way towards the Serra Angel trigger.
But that's not all!
There are just a critical mass of life gain cantrips. You can cast Renewed Faith, gain six life, and get a 4/4. But M19 brings with it Revitalize. This card can combines both halves of Renewed Faith, but with a little less flexibility.
What we mean to say here is that at some point Crested Sunmare has got to good enough at some point, right? #horsetribal
Tons more M19 in this podcast, including scads more flyers; from Nicol Bolas to his fellow Elder Dragon Legends. Many of them look equally fantastic. Learn more in the cast.
---
Wed, 20 June 2018
Liliana's Contract is Our M19 Preview
Wizards sent us Liliana's Contract to reveal to you!
Liliana's Contract
Effect of card: When Liliana's Contract enters the battlefield, you draw four cards and you lose 4 life. At the beginning of your upkeep, if you control four or more Demons with different names, you win the game.
Converted mana cost: 5
Type: Enchantment
Sets: M19
Game: Magic: The Gathering
Colors: Black mana
Illustrators: Bastien L. Deharme
... you draw four cards...
So... Who's in it for drawing four cards?
At five mana for four cards, Liliana's Contract is priced similarly to Tidings. In its day, Tidings was a Standard Staple in Vore decks to a variety of control decks.
While the four life is potentially prohibitive (versus, you know, losing zero life) it's important to note people are paying four mana and two life to draw cards in black right this format.
For one more mana, Lilian's Contract represents a powerful upside.
Its being an enchantment is quite interesting; you can draw four into your Demons, it can sit around waiting for a win, or you can play it after you've already got your Demons.
This implies, of course, people will want to play for the Demons. Some might just want to draw four cards.
... four or more Demons...
Lilian's Contract is powerful and flexible. It can probably fuel a black control deck that happens to play Demons... Or you can play a dedicated Demon-combo deck.
There are multiple playable Demons in Standard. Ammit Eternal has already proved Top 8-capable; while Demonlord Belzenlok is the "big bad" of Dominaria. Lilian's Contract might be great randomly alongside a handful of already-good-enough Demons.
But you can also try a dedicated strategy!
With Arcane Adaptation, you can turn any creature into a Demon
With Arcane Adaptation in play, it will be much easier to produce four differently-named Demons. Every token, every random body, will get you that much closer to winning immediately with Liliana's Contract.
Thanks again to Wizards! See you back here tomorrow for our regularly scheduled episode.
---
Fri, 15 June 2018
Militia Bugler and Vivien Reid
We're already seeing new cards from Core Set 2019! Two of the most promising are the Militia Bugler and Planeswalker Vivien Reid.
Where Would You Put Militia Bugler?
Militia Bugler is a source of card advantage that is somewhat restrictive on your deck design.
Mike puts Militia Bugler on "Gonti for yourself" ... He's not wrong. Not that wrong anyway.
Like Gonti, Lord of Luxury, Militia Bugler is a 2/3 creature with an ability once it hits the battlefield. In Gonti's case it is Deathtouch and in the Bugler's case Vigilance. Both of them generate card advantage by looking at the top of someone's library; theirs in Gonti's case, your own in the Bugler's.
Militia Bugler has the benefit of costing three mana rather than four; but comes with a meaningful deck design price: If you're going to get paid off by Militia Bugler, you will have to have a certain number of [other] creatures with a maximum of two printed power.
If you've built your deck appropriately, Militia Bugler plays in the range of Sea Gate Oracle or Court Hussar -- both contributing creatures in their respective Standard formats.
Perhaps most importantly for Standard, Militia Bugler can grab you the zero-printed-power powerhouse, Walking Ballista!
Is Vivien Reid "the green Teferi"?

Vivien Reid will be a key Role Player in Standard, if not quite "the Green Teferi".
"I'm not in it for the emblem."
-Mike
Like Teferi, Hero of Dominaria, Vivien Reid is a five mana planeswalker.
Both draw extra cards with their first abilities; both blow up things (with some measure of limitation) with their second abilities. Your mileage will vary substantially with their respective limit breaks, though.
"Even when it lines up right, it's worse than Teferi every step of the way."
-Patrick
Mike's initial love for this card comes from its very obvious superiority over the already-played Crushing Canopy. Sure, Vivien Reid costs two more mana than Crushing Canopy, but the [-3] ability is wildly better! Not only can you potentially keep a draw-engine planeswalker, you gain the ability to destroy artifacts.
This thing is a fantastic answer to Lyra Dawnbringer, right?
Coming back to the card advantage ability, Patrick points out the [+1] is quite a bit better than just drawing a card. You can Impulse for a land if you need it, and otherwise, you're probably digging for Brontodon, Chupacabra, or The Scarab God.
Basically, Patrick likes Bugler best among the new cards; and Mike likes Vivien Reid best. But there are lots of great cards revealed from Core Set 2019. We go over lots more of them.
---
Fri, 8 June 2018
Should You Play Bomat Courier?
"Don't let the Top 8 fool you... [Pro Tour Dominaria] was actually far more dominated by R/B and Mono-Red than it looks."
-Patrick Chapin
There Were "Only" 23 Bomat Couriers in the Top 8
So the big story of Pro Tour Dominaria was the insane red-ness of the Top 8. With seven of the decks in the Top 8 being black-red or mono-red, the unambiguous card of the tournament was:
The Top 8 of Pro Tour Dominaria featured Twenty-eight Goblin Chainwhirlers
According to this article by Mike, the record for creatures (or for that matter enchantments) in a Top 8 is 28. So Goblin Chainwhirler ties the ceiling held by Sylvan Caryatid and Courser of Kruphix.
BTW - Patrick won that Pro Tour ;)
So here's the thing... Goblin Chainwhirler is often accompanied by Bomat Courier. In this Top 8 five of the seven Red Decks played both 1:1. The winning Red Aggro, though, ran only three copies of Bomat Courier. Finally, one more mid-range black-red take played zero.
The question remains: Do you side it out? For that matter, is it 100% correct to play Bomat Courier at all?
The Problem: Bomat Courier is No Good in the Mirror
Bomat Courier is a good card... It just has one toughness. In past red mirror matches, the little Construct represented an important source of long-term card advantage. However in a world ruled by Goblin Chainwhirler, it is just a one toughness creature that is out-classed by every other playable card in black-red or mono-red.
Typically, that means you should side out Bomat Courier in the mirror (provided you play it).
Llanowar Elves versus Bomat Courier
Wait a minute! If I should be siding out Bomat Courier, does that mean I should be siding out cards like Llanowar Elves?
No.
What's the difference?
Bomat Courier, as we said, is out-classed by every other card in an opposing Red Deck. Every card the opponent plays might be better, so it is pure liability. On balance basically nothing is better than Llanowar Elves.
Let me see if I've got this right: It's not just that Bomat Courier is one toughness... It's that it's one toughness and generally weak. While Llanowar Elves is also one toughness (ergo Goblin chow) gambling with it might pay off because it's so gosh darn powerful.
You've got it! Fast Llanowar Elves draws can lead to your best stuff, like a turn-two Dinosaur to hold the fort, or the jump to a Ravenous Chupacabra or Hour of Promise to put you ahead of the Red Deck.
Here's a different question... If so many people are going to be Red Decks, and I should side out Bomat Courier... Should I play it at all?
So... Should You Play Bomat Courier?
"It depends."
In a format like Unified Standard, where you will play against a maximum of 33% Red Aggro decks, Bomat Courier is probably a good inclusion.
In regular Standard... The clay isn't dry yet. Will more than 50% of your opponents be Red Aggro? Will 7/8? Or even more lopsided, as Patrick described? If you face an overwhelming number of Red Aggro opponents, it might make sense to eschew the card, or play it in the sideboard, as was done in a recent Grand Prix Top 4.
"Teferi Jokers" don't Play Bomat Courier
While Red Aggro variants are undoubtedly best, it's hard to deny the allure of Teferi, Hero of Dominaria. After all, he is in fact a hero. Here are some things you might want to consider if you're for some reason straying from Bomat Courier beatdown:
The top performing (Top 8) Teferi, Hero of Dominaria deck played only two copies. Neither Mike nor Patrick like that; it was essentially a Torrential Gearhulk / The Scarab God deck splashing white.
Speaking of splashing for Teferi, Yellow Hat did it with a blue-red control shell.
In the realm of "straight" U/W, Brad Nelson dialed it back to win with two copies of Approach of the Second Sun!
Conclusion: A lot of the top performers or top players angled their Control decks differently from the core, threat-light, versions from prior to the Pro Tour.
We go over LOTS of lists this week, some of which didn't even play Goblin Chainwhirler, let along Bomat Courier. Absorb it all here:
---
Thu, 31 May 2018
Standard Before Pro Tour Dominaria
With Pro Tour Dominaria coming up this weekend, find out where battle lines are drawn, what old tech might be back + a brand new archetype for Standard!
---
Fri, 25 May 2018
Focus on Teferi, Hero of Dominaria
Teferi, Hero of Dominaria has fast become a four-of Staple & preferred way to win for U/W decks in Standard. Learn the ins and outs of this planeswalker now
---
Fri, 18 May 2018
Goblin Chainwhirler Against the World!
Goblin Chainwhirler is the kind of card that can get Patrick Chapin to play Unlicensed Disintegration! Learn all about what makes Chainwhirler so good here.
---
Thu, 10 May 2018
How History of Benalia is Lingering Souls
This is History of Benalia:
History of Benalia
History of Benalia is a three mana Saga.
A Saga is a sorcery-speed enchantment.
It produces two power on the first turn you play it. Then, when you reach Chapter II of the Saga, it produces an additional two power. Consequently -- and not to be too obvious -- but that is four power across multiple bodies for three total mana.
Thanks to Chapter III's "Knights you control get +2/+1 until end of turn[,]" with only the two Knights, you can attack for eight on the card's third turn in play! Because of this, History of Benalia can both burst forward offensively and slow the opponent down with multiple blockers defensively.
This is Lingering Souls:
Lingering Souls
Lingering Souls is a card of extraordinary power. It was banned in its original Block Constructed format, and has contributed to any number of decks across multiple formats. Not Block of course, but other formats. Jon Finkel played it to his umpteenth Pro Tour Top 8 in an Esper Delver deck. It has contributed to everything from a white splash in Jund to a colorful wink in Eldrazi Modern decks.
Like History of Benalia, Lingering Souls produces two power for your initial three mana investment. To get the next two power, you need to invest an additional two mana (and in another color).
Certainly, Lingering Souls has some considerable upside relative to History of Benalia. You get more bodies. Those bodies in fact fly. You can get all four on on turn if you have five mana available... But that's the crux of it; with History of Benalia, you never need to pay the additional two mana!
This is Raff Capashen, Ship's Mage:
Raff Capashen, Ship's Mage
Raff Capashen, Ship's Mage really likes Historic cards.
"Saga" is a Historic type; consequently, Raff likes History of Benalia.
One of the many synergies that you can exploit thanks to Dominaria's heavily Historic themes is to play History of Benalia during times that you couldn't normally play an enchantment or other sorcery-speed card (e.g. Lingering Souls).
History of Benalia has already started showing up in a variety of decks. It is going to be a great card in Historic-themed decks, white swarm decks (or B/W Tokens decks), and will be a consideration for everything from G/W Aggro to U/W Control.
Someone should write a song about how good this card is.
But for now, please settle for this podcast.
---
Thu, 3 May 2018
Lyra Dawnbringer Debuts!

Lyra Dawnbringer was at least the second most successful Dominaria card of the set's first sanctioned weekend.
Lyra Dawnbringer and Llanowar Elves
The Legendary Angel wasn't the most successful Dominaria card to debut this past week. That honor would belong to Llanowar Elves... But in at least one MTGO 5-0 deck, Angel and Elf Druid worked hand in hand.
Lyra represents a powerful top end. Not only does this card pay you off for your commitment to cards like Merfolk Branchwalker (that can help dig you to five or more lands), but Llanowar Elves can get you to your powerful 5/5 ahead of schedule.
And what is better than Shalai, Voice of Penty followed by the Dawnbringer? In times past, tapping out for an awesome 5/5 creature might be good defense... But it can stink when the opponent removes it and crushes you with an attack. If you lead off with Shalai, Lyra will have hexproof. So not only will she not be going anywhere (unless the opponent removes your other Angel), but Shalai will crush in with lifelink. Par-tay.
Lyra Dawnbringer and Raff Capashen, Ship's Mage
Raff Capashen, Ship's Mage changes everything!
Leading off with this creature on turn four (presumably at the end of the opponent's turn, ideally when the coast is clear), you will be able to play cards like Lyra at instant speed!
Instant speed Walking Ballista?
Instant speed Teferi, Hero of Dominaria? It may seem counterintuitive to play a planeswalker on the opponent's turn, but the ability to guarantee it resolves may be worth one lost activation. If there is a card that will have zero trouble recouping the lost utility, it is the card-advantageous Teferi.
How about instant speed History of Benalia? How top notch is this potential move? You can make a token at instant speed (potentially blocking with it) and then still get the next 2/2 on your own next turn! This will feel very much like getting both Chapter One and Chapter Two immediately (though only one will be allowed to attack).
Lyra Dawnbringer, Sideboard Superstar
One of the cool things about Lyra is that she isn't even played main deck all the time! U/W decks in the market for creatures might play it main (or they might play only Torrential Gearhulk). But Approach of the Second Sun decks probably wouldn't. Neither would Orzhov Tokens or white Swarm decks.
You know what they all have in common?
2-3 copies of Lyra Dawnbringer coming in after sideboards.
Here.
To.
Stay.
Check out 106:49 on Lyra Dawnbringer now!
---
Thu, 26 April 2018
Mastering Lich's Mastery
Will Lich's Mastery be THE ONLY viable strategy in Standard?
This card is poised to completely warp Standard! It is a draw engine of unprecedented power. Imagine for a moment you were playing a big format and ran Lich's Mastery alongside Nourishing Shoal... The ability to draw cards with little to no incremental mana investment (after the initial six mana investment, of course) is unprecedented!
Yawgmoth's Will limits access to your graveyard.
Yawgmoth's Agenda locks you down to one spell per turn
This Legendary Enchantment has no such limitations.
Lich's Mastery + Gideon of the Trials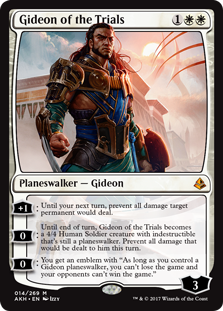 White is a natural pair to Lich's Mastery in Standard. Renewed Faith is one of the most obvious best buddies. It cycles to help you hit land drops early. Later on, you can draw six -- count 'em six -- extra cards for just one card!
Fumigate is also an awesome addition. The ability to gain one life per creature killed takes on new meaning when each of those creatures represents even more card advantage.
But what about Gideon of the Trials?
Is there a particular synergy with this Planeswalker that can also prevent you from losing the game? Yes!
Not only does Gideon rumble (giving your combo-control deck a way to win) but it can protect you from losing the game by losing your Lich's Mastery. Further, it gives you a redundant synergy with Glorious End.
Any two of the three -- Lich's Mastery, Gideon of the Trials, and Glorious End -- are great together!
Lich's Mastery + Glorious End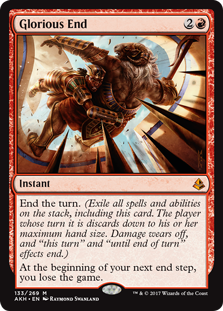 Glorious End + Gideon of the Trials was a combo that never quite hit in Standard. Is it awesome? Probably... But it never quite hit.
What happens when you add a third leg to the stool?
What happens when that third leg has hexproof?
Glorious End is just awesome with Lich's Mastery. Can you just Time Walk your opponent with Lich's Mastery in play? Sure. You can also Fog them, Counterspell them, and generally laugh at them from behind your Legendary Enchantment while they expend resources.
But did you ever think about this?
Cast Glorious End on their Turn Five. Maybe on their upkeep?
Untap and play the Lich's Mastery in your hand!
Cool, right?
What if you don't have a Lich's Mastery in your hand... yet? The planned End-Mastery play is a big game, but what might be even more fun is the desperate Glorious End-into-praying-to-draw-Lich's-Mastery. All part of the range.
All Kinds of Lich's Mastery Decks
In this episode of Top Level Podcast, Pro Tour Champion Patrick Chapin and Resident Genius Michael J. Flores discuss all manner of builds around and including this seductive six drop.
Black-White, Mardu, and even straight black takes are on the table.
Gifted Aetherborn? Creatureless? A couple of big guys? A ton of lifelinking Knights? Give this one a listen and figure out how you want your BBB3 to go in the coming months.
---
Fri, 20 April 2018
Racing with Tempest Djinn
Tempest Djinn is one of blue's signature cards from Dominaria
Tempest Djinn is Much Stronger Than Serendib Efreet (in the right deck)

Despite its initial appearance, Serendib Efreet was a blue card.
A good place to think about this most respected of Djinn is the Revised misprint, Serendib Efreet. Serendib Efreet was a 3/4 flying creature for U2 (blue, despite the card frame)... With a drawback!
Serendib Efreet saw play in a variety of decks, and fast multicolored aggressive mages would often dip into blue to play it. Again, despite the self-inflicted damage.
Dominaria's Djinn is much harder to cast, sure. That is a lot of blue pips in the top-right!
But, the payoff is also much greater. In a deck with, say, twenty-five Islands, Tempest Djinn's floor is a Serendib Efreet with no drawback. Each and every incremental Island will make it a faster and faster racer.
Tempest Djinn is Like the World's Greatest Rishadan Airship (in the right deck)
Unlike Rishadan Airship, Tempest Djinn can block
In its era, Rishadan Airship was one of the most important creatures played in the Blue Skies archetype.
Rishadan Airship was not great in very many other decks; it could not block consistently, and even when it could block, it would probably die. But offense-wise? Blue Skies was one of the best decks in Masques Block Constructed + was a favorite of some of the best Hall of Famers in Standard.
Tempest Djinn is like a more flexible Rishadan Airship. Again assuming an Islands-heavy (if not Islands-only) mana base, Tempest Djinn presents the same offense as Rishadan Airship -- at least -- but can also block. Not only that: It can block and often survive!
This flexibility is one of the most important aspects of Tempest Djinn. You can tap out for it on turn three, Skies-style to race... Or you can tap out for it on turn three to block a Red Deck's 3/2 attackers.
Or -- get this -- you can tap out for Tempest Djinn, block... And then back over itself (and generally for four damage).
Tempest Djinn will Redefine Blue in Standard
Patrick made a deck.
Mike is wild about it.
Check out how our intrepid duo thinks Tempest Djinn will be played in Standard right here!
---
Fri, 13 April 2018
Warkite Marauder Breaks Out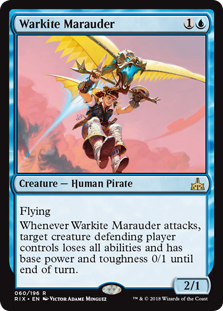 Warkite Marauder is a heck of a Magic Card
Playing Fair with Warkite Marauder
Let's start with the basics: Warkite Marauder is a pretty cool Magic: The Gathering Card. We've seen people play cards on the order of Welkin Tern -- a blue 2/1 flyer for two mana with a disadvantage -- in Standard Pro Tours.
Warkite Marauder is loads better than the best Vaporkin! It simply doesn't have the disadvantage. Meaning, Warkite Marauder can block whomever it wants.
But that's not all! As a 2/1 creature with flying, Warkite Marauder is not particularly resilient. It's cheap -- evasive maybe -- but also small. Basically anything will kill a Warkite Marauder in combat.
So, the ability to remove flying from a potential blocker is very useful. Get in there for two!
Who Plays Fair? God-Pharaoh's Gift
Here's the thing: A fair Warkite Marauder is pretty good. Better, in fact, than cards good players have played in recent years.
But no one is saying you should "play fair" with it. No sir!
The new style of U/R God-Pharaoh's Gift is basically a Red Aggro deck... But with a graveyard-combo twist. God-Pharaoh's Gift can correct the solo toughness of this Human Pirate, and haste enhances its combat trigger.
The U/R deck can act like Red Aggro (starting with Bomat Courier on turn one, but just happens to have a more explosive relentless end game.
The Real Value of Warkite Marauder
Good by itself.
Good with God-Pharaoh's Gift.
But the real value of this Human Pirate?
Teaming up with Walking Ballista and Fanatical Firebrand, Warkite Marauder can "build a Terminate" ... But it's better than that! This is a "Terminate" that can take care of The Scarab God!
Not only will Warkite Marauder pull The Scarab God's toughness down to one (where it will be easy prey for one direct damage)... But because The Scarab God will lose all abilities, it won't come back.
Boom!
Warkite Marauder is just one of dozens of cards discussed in this episode! Most of the time is actually devoted to Dominaria. Check it out!
---
Thu, 5 April 2018
Leading off with Shalai, Voice of Plenty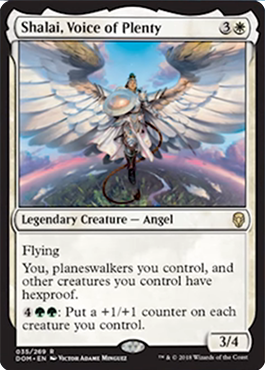 Shalai, Voice of Plenty is a 3/4 Flyer
A 3/4 flyer for four mana is probably not good enough on its own.
That said, there have been highly successful 3/4 flyers -- Angels even -- in the not-so-distant past. All it takes is one good ability and that 3/4 flyer can jump all the way to Staple.
To wit, Restoration Angel:
Restoration Angel
Like Shalai, Restoration Angel was a 3/4 flying Angel for only four mana. It ended up dominating Standard thanks to synergy with Thragtusk. Restoration Angel was also great at sliding into the Red Zone thanks to end of turn Flash, after a control deck had tapped for main-phase sweepers.
While Restoration Angel was mostly a Standard card (again due to its extraordinary synergy with Thragtusk), it has seen play in larger formats like Modern, often playing with Kitchen Finks or Flickerwisp.
Shalai, Voice of Plenty Turns off Shock
"You, planeswalkers you control, and other creatures you control have hexproof."
Remember what we said a second ago about just one good ability?
Well Shalai, Voice of Plenty has more than one! Mike focuses on this ability (while Patrick largely focuses on the other). There are many implications to giving not only you but basically everything else on your side of the table hexproof, but one of the coolest is that it turns off Shock.
Or in Modern, it turns off Lightning Bolt.
You can't be the target of the Shock. None of your other creatures can be the target of the Shock. In fact, the Shock can basically only target Shalai. That means, until the bad guys have a second Shock, that first Shock isn't going to be very shocking at all.
What's more, given Shalai's second ability, you can pull it out of even double Shock range with one green activation.
Shalai, Voice of Plenty in Modern
Shalai's "Hexproof" ability is powerful in Modern.
Because Modern has cards like Aether Vial and especially Chord of Calling, the ability to drop Shalai at instant speed adds a powerful dimension.
Current G/W decks, for instance, can slot in [at least one copy of] Shalai as a silver bullet. You can respond to, say, twenty copies of Grapeshot, spoiling the opponent's combo finish.
Even more interestingly, though, Shalai can fill the role of Ezuri, Renegade Leader or Walking Ballista. Shalai is much, much, better than Walking Ballista as a Chord of Calling target, as the latter is generally an inappropriate target.
Walking Ballista
G/W decks that can generate "infinite" mana will often use Walking Ballista as an endgame finisher. They make a ton of mana, and can kill however. Shuri might be an alternative. Infinite power from multiple creatures, rather than infinite one-point pings, might be slightly inferior (you need some attackers, you need them to be able to get through, you need a combat phase)... But if you are already playing 1-4 copies of Shuri for the hexproof ability, gaining Chord of Calling efficiency while saving a card slot or two might make sense.
Shalai, Voice of Plenty in Standard
Without a doubt, Shalai, Voice of Plenty is going to shine in Standard.
The one-two (rather four-five) punch with Lyra Dawnbringer is just too sweet.
If you untap with Shalai, you can follow up with Lyra and swing for four. Four lifelink (not just three damage) while leaving a plausible defender.
In some cases just tapping out for an awesome Angel might make sense... But it can still die. In this case, Lyra Dawnbringer will gain hexproof. So good luck getting through a flying, first strike, lifelink, and hexproof defender. Lyra will gobble up Glorybringer without even a scratch. It's not like you can kill it with conventional removal.
"4GG: Put a +1/+1 counter on each creature you control."
It is at least arguable that Shalai's third ability will be even more potent in Standard than Modern (infinite possibilities notwithstanding). This ability is highly comparable to Gavony Township.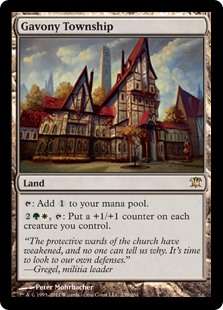 Gavony Township
The deck where you play Shalai is likely going to be G/W. You might have some late-game Llanowar Elves. This ability turns Elves into killers.
But it also turns killers into more vicious killers. Just pulling Shalai and Lyra into the 6+ toughness range is going to be yuge. (They themselves will be yuge.) Shalai might not give itself hexproof, but massive toughness simply means it's tough to kill.
This week's podcast clocks in at nearly an hour and a half.
Shalai, Voice of Plenty is just the first Dominaria card we discuss.
Check it:
---
Thu, 29 March 2018
Dominaria's Danitha Capashen, Paragon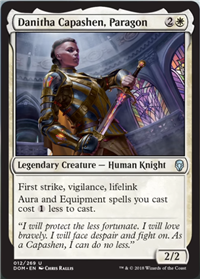 I think you'd be surprised by how much is going on with Danitha Capashen, Paragon.
Danitha Capashen, Pearled Unicorn

Pearled Unicorn? Creatures have gotten better in the last twenty-five years, it seems.
So... a 2/2 creature for three mana? Pearled Unicorn much?
Why would we even want to talk about Danitha? Isn't she just a 2/2 for three mana?
While few players are excited by the prospect of a 2/2 creature for three mana, there is some precedent. Mike, for example, really loves a Borderland Ranger!
But let's assume you're not searching your library for a basic land... Is it possible that you can stick enough additional abilities onto a 2/2 creature for three mana that someone would want to play it?
That is the challenge of Danitha Capashen.
First Strike is only okay, but first strike and lifelink make Danitha a surprisingly potent combat creature. Vigilence and lifelink together make her defensively solid.
But wait! There's more...
Danitha Capashen, Paragon is surprisingly resilient
How is a 2/2 creature resilient?
Is there a hexproof line we somehow missed?
Danitha Capashen, Paragon is contextually resilient. We've already seen Seal Away, a white enchantment that hits tapped creatures. Well due to vigilance, Danitha doesn't tap.
But what about this?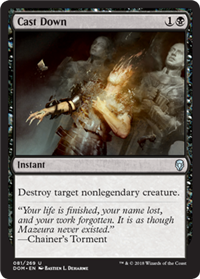 Cast Down destroys nonlegendary creatures.
Danitha is Legendary!
Basically, we have a situation where two of the most popular point removal cards in Standard will simply not be able to target Danitha Capashen, Paragon. Is she invincible? No. But you don't pay a single mana for this additional ability of resilience.
Danitha Capashen, Engine
We have no idea what "Aura and Equipment spells you cast cost 1 less to cast" will actually mean.
But we've seen the card Goblin Warchief.
Cost reduction abilities like this can be format-defining.
Topics Other than Danitha Capashen, Paragon
There are many. Many!
But the most important is probably the sick new Legacy deck that Patrick brews, live. Will it be the hot new strategy? Sure sounds like a consistent turn-three kill to us.
Check it out!
---
Fri, 23 March 2018
Knight of Grace and more Dominating Dominaria
Knight of Grace is a great example of Dominaria's "Time Spiral" Theme
Dominaria: It's Like Time Spiral Junior
One of the things Patrick and Michael like about Dominaria so far is how it pleasantly references what we love about Magic's past. Cards like Llanowar Elves and Gaea's Blessing aside, Dominaria calls up our favorite worlds, from Benalia to Phyrexia, to tell the set's story.
It's not just reprints. It's not just references. Dominaria also updates some favorites! There may be no better example than Knight of Grace.
Knight of Grace: White Knight 2018
White Knight and Black Knight were two of the most iconic creatures in early Magic.
Not only were they each hyper-efficient, they were each "first" ... Each Block would add a variation. Order of the Ebon Hand; Order of Leitbur. Order of the White Shield... All the way, eventually, to Knight of Meadowgrain and even more recent updates.
The most recent? Knight of Grace and its opposite number, Knight of Malice.
What's going on with Knight of Grace?
First Strike - Beacuse these guys typically have first strike
Hexproof from Black - Was Protection from Black too powerful?
The Buff - This ability has some good texture!
The buff ability here works a couple of ways. If this were way back in 1996, enough players might have black creatures that the +1/+0 might be meaningful.
But you can cheat this ability on yourself, if you're a little mindful.
A B/W creature deck can already enjoy the buff.
But what about off-color cards that you can play without increasing the number of colors...
Orzhov Guildmage - This creature can be cast with only white mana, but counts as a black permanent.
Batterskull - The token is black.
Zombies, various - Both black zombie tokens and white zombie tokens (for Knight of Malice) are readily available in Standard. Again, you might not have to add another color (but get the benefit of another color)
There are more, of course.
To find out more, and which, download the podcast!
---
Thu, 15 March 2018
Dropping by on Dominaria
In Dominaria, Wizards Matter
Here are the first ten Modern Staples -- of the top of our heads -- that happen to be Wizards:
Burrenton Forge-Tender
Cursecatcher
Delver of Secrets
Grim Lavamancer
Baral, Chief of Compliance
Jace, Vryn's Prodigy
Meddling Mage
Snapcaster Mage
Magus of the Moon
Master of Etherium
There are more! Tons more! Those are just the first few we thought of.
Why does this matter? The Dominaria set has a number of cards whose performance improves if you have a wizard on the battlefield. Examples: Wizard's Retort and Wizard's Lightning
Wizard's Retort
1UU
Instant
This spell costs 1 less to cast if you control a Wizard.
Counter target spell.
Put another way, Wizard's Retort is a Cancel… But a Counterspell if you have a wizard on the battlefield.
Longtime listeners probably remember that Mike had some success with another card that was Counterspell if he had a particular creature type: Silumgar's Scorn. With creatures as good as Grim Lavamancer and Snapcaster Mage being wizards, there may just be ample opportunity to cash in on Wizard's Lightning
in Modern.
Wizard's Lightning
2R
Instant
This spell costs 2 less to cast if you control a Wizard.
Wizard's Lightning deals 3 damage to any target.
There is already precedent to playing three damage burn spells that sometimes cost one and sometimes cost three in both Modern and Legacy. Rift Bolt much?
Being three converted mana cost is actually an advantage sometimes; Chalice of the Void anyone? Grim Lavamancer is already a wizard you might play in either format's Burn deck!
Mike, at the least, would much rather run one or two copies of this card than, say, Shard Volley.
Dominaria brings us a new Baneslayer Angel
Lyra Dawnbringer
3WW
Legendary Creature - Angel
Flying, first strike, lifelink
Other Angels you control get +1/+1 and have lifelink.
Is this card better than the [multiple] Pro Tour-winning Baneslayer Angel?
Patrick points out that giving other Angels +1/+1 -- and lifelink -- is way better, generally speaking, than protection from demons and dragons. Having a Lyra Dawnbringer in play with a Baneslayer Angel is much better than having two Baneslayer Angels, at least.
Further...
"Lyra Dawnbringer was born to kick it with Mutavault."
-Patrick Chapin
In Dominaria, It's Actually Pretty Easy to be Green
"You know me so well."
-Mike
What was Mike talking about? Oldies -- and goodies -- Gaea's Blessing and Llanowar Elves are two of the reprints that the Resident Genius has his eyes on. To wit:
Gaea's Blessing - According to onetime Lead Developer Brian Schneider, "There's no reason you should need any other way to win."
Llanowar Elves - Patrick thinks this will bring Brian Kibler -- finally -- back onto the Pro Tour. Mike imagines it will be the best card in Standard!
… And that's just the first third of this podcast!
Sagas, Legendary Sorceries, and rules changes await! Check it out now:
---
Fri, 9 March 2018
Manamorphose at the MOCS
Does Manamorphose go in every deck? Apparently it at least goes in Burn now!
Manamorphose in Every Deck?
We've kind of nudged and nudged and winked and winked about it.
One Hall of Famer plays three Manamorphose in a deck that doesn't usually play it; another Pro Tour Champion runs a singleton. Together they get it right.
Manamorphose has been Staple essentially since its printing. There is almost no better card in Storm combo. Not only does it dig in that deck like a blue card, with Goblin Electromancer on the battlefield, Manamorphose even nets mana!
But in Burn?
The Implications of Manamorphose in the Red Deck
Josh Utter-Leyton brought Manamorphose to Modern Burn for perhaps the first time!
To make room for this Innovation, Wrapter went down to one copy of Eidolon of the Great Revel, cut all the Skullcracks, and... Added Bedlam Reveler!
The Innovations are not all intuitive (so we'll rattle through them). First of all, with Manamophose but not fringe garbage like Shard Volley, Josh will just draw his Lightning Bolts and Lightning Helixes more often than other Red Decks. That's a given. He is also better set up to grind with those Bedlam Revelers (in-part powered by the Manamorphoses). But colors matter more now!
While Mike has won with Stomping Ground Red Decks, he's been on R/W since Inspiring Vantage was printed. While he can "get" someone playing Stomping Ground, playing it for [only] three sideboard Destructive Revelries makes little sense. Here, Wrapter splashes for both Destructive Revelry and Ancient Grudge... And can hit green with no Stomping Ground on the battlefield. Surprise!
Kor Firewalker makes great sense in this build. The WW isn't too hard to hit for Red Decks, but it's particularly easy when you can turn GG, RR, or GR into WW.
The Eidolon of the Great Revel cut might hurt on its face, but Eidolon is kind of bad in a deck chaining multiple spells with Manamorphose. Not intuitive, maybe, but internally consistent.
Tips and Tricks that have nothing to do with Manamorphose
Nissa, Vastwood Seer + Path to Exile - Path to Exile is always interesting in a pinch (respond to fizzle their removal and Thaw up a land). It's even more interesting if you have Nissa, Vastwood Seer in play. If the opponent shoots at your Rhox War Monk, say; you can play the Path to Exile trick and flip your Nissa! Ditto if they try to kill your Nissa (you can respond by Path-ing someone else)
Legacy! Jim Davis put together a trifecta of Portent, Predict, and Terminus to make up for the lack of Sensei's Divining Top - Jim's U/W Miracles deck can set up a Terminus with Portent, or mess up the opponent's draw (while drawing tons extra). Portent + Predict being an oldie-but-goodie.
Legacy! What can you get with one Crop Rotation? If you're playing one Crop Rotation in Elves, you can grab a singleton Cavern of Souls to crush blue, or increase the redundancy of your Cradles.
Is Burn Even Good? Manamorphose or No?
Uh, Bogles just won [again].
This time with 4x Leyline of Sanctity MAIN DECK.
Discuss.
I guess listen to the podcast first!
---
Thu, 1 March 2018
Breaking Branchwalker: New Technology in Standard!
Merfolk Branchwalker is great on two
Think you know what's going on in Standard? Mono-Red Beatdown, some vanilla Sultai with The Scarab God, maybe some B/U Control?
Have we got a GP for you...
Merfolk Branchwalker, Ajani Unyeilding, and Carnage Tyrant?
PT Champion Ari Lax just missed the Top 8 with his Naya Monsters deck. A surprising take on a relatively intuitive build, Ari opted to play Ajani Unyeilding, Cast Out, and Thopter Arrest as white splashes.
Merfolk Branchwalker teams up with multiple 2/x buddies to build towards ambitious mana.
Servant of the Conduit at the two - One taps for mana, one digs towards it
Jadelight Ranger - co-explore creatures as an explore creature to help build towards ambitious mana.
Lax's take played tons of cards that cost four mana or more between deck and sideboard, topping up with some powerful, game-winning, six drops.
I mean come on. Carnage Tyrant! Rawr.
The Khenra Technology: Merfolk Branchwalker in G/R Monsters
Tyler Schroeder won Grand Prix Memphis with a brand new take on Gruul creatures.
We've seen similar shells before. After all Merfolk Branchwalker and Jadelight Ranger make a lot of sense together. Twos and threes, these creatures attack, block, fix the top of your library, and generate card advantage.
By the same token, Rekindling Phoenix and Glorybringer represent a similar thematic duo. Great red flyers with built-in card advantage capabilities, these 4/x creatures represent the kind of high end payoff that you really want to get to with your green explorers.
So where is the innovation?
Adding Earthshaker Khenra and Resilient Khenra as a third pair creates a whole new dimension to the deck. Because "explore" creatures like Jadelight Ranger and Merfolk Branchwalker can put cards into the graveyard, they can imply future card advantage because you can play the respective Khenra cards out of the graveyard.
This is new technology!
Often when Merfolk Branchwalker flips a land, we call that card advantage; now if it flips a Khenra -- and puts it into the graveyard -- it is stockpiling future card advantage!
Will this become an industry standard way to play Standard?
Maybe?
Find out more in this week's podcast!
---
Thu, 1 March 2018
Masters 25 Previews: Courser of Kruphix and Coalition Relic!
Courser of Kruphix. Swoon.
Courser of Kruphix was a centerpiece of Patrick's Pro Tour Journey Into Nyx-winning Abzan* deck. This three drop is already a fringe player in Modern. Our prediction is that it becomes even more popular.
Courser of Kruphix is of efficient size for its casting cost.
2/4 for three mana is deceptively great in-context. Courser of Krupix is too big to kill with a lone Lightning Bolt. In this podcast, Mike shares a story of being forced to run his fellow enchantment creature Eidolon of the Great Revel into an opposing Courser of Kruphix and blowing a Bolt to finish it off. But resistance to opposing removal isn't the only story told by this defining creature...
Courser of Kruphix is great with Bloodbraid Elf
First of all, Courser of Kruphix is the exact right casting cost to max out Bloodbraid Elf's Cascade ability. When you flip a Noble Hierarch, you get two cards -- essentially a Lotus Petal plus the Hierarch itself -- but when you flip a Courser of Kruphix, that Lotus Petal is upgraded to a Black Lotus. So great!
But that's not all... Courser of Krupix is good before Bloodbraid Elf, not just being flipped by Bloodbraid Elf. The ability to see the top card of your library can be useful when you play interactive cards. For example, Bloodbraid Elf decks often play cards like Path to Exile or Terminate. If the opponent doesn't have a creature on the battlefield, flipping one of those with cascade will result in a wasted trigger. Courser of Kruphix can help you aim your cascades a little bit better.
Courser of Kruphix is and "Better than All"
As a three drop with solid toughness, Courser of Kruphix is an efficient pre-Jace, the Mind Sculptor play. It can defend Jace well on the turn you tap out for it. But that's not all! Courser of Kruphix's ability to see the top card of your library (and play lands from it) is delicious when combined with Jace's Fateseal and Brainstorm abilities. You can fix your hand by putting a land on top with Jace, and then play it with Courser. Or you can dig deeper (with either) to get a fresh look (for either).
This card from Masters 25 will surely go up in popularity.
Also Revealed: Coalition Relic
With the ability to tap for any color of mana, Coalition Relic once held a special place as a five-color control enabler. It was also a solid accelerator, taking you from three to six in a single turn!
Patrick and Michael are cooler on this preview than Courser of Kruphix, though.
There are just too many cards people play in Modern that beat up on Coalition Relic (often with value): Kolaghan's Command, Abrupt Decay, and certainly Ancient Grudge! The Lantern deck's performance in Modern recently has jut put too much of a target on artifacts, at least artifacts of this casting cost.
Still, was sweet in its time, and may yet be sweet again if and when the format shifts.
Check out our Exclusive Masters 25 Previews Podcast here!
* Abzan before it was "Abzan" if you grok.
---
Fri, 23 February 2018
Half Hazoret the Fervent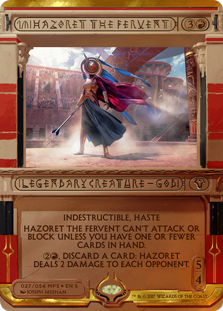 The Hazoret the Fervent Invocation
Hazoret the Fervent in Modern?
Tell ya what, Top Level Podcast fans: We're skipping Modern for the week. Patrick intends to "activate the [0] ability" ... Starting next week.
Were there multiple Modern events last weekend? Yes.
But the world is about to change, officially, and soon.
That Gruul Eldrazi deck? How do you think that is going to run once Bloodbraid Elf starts pumping out Eldrazi Obligator? Exactly.
So for now: Innovations in Standard!
Half Hazoret the Fervent Decks
The SCG win by Todd Stevens with Dimir Control may throw you off. And Ali Aintrazi's Four-color Mastermind's Acquisition in third place is certainly exciting. But make no mistake: Hazoret the Fervent is a fixture of something like half of the top performing players, whether Mardu Vehicles or Red Decks (including, I guess, Boros Path of Mettle decks).
Fear not! The control decks are aware, playing cards like Moment of Craving, Vraska's Contempt, or even Gift of Paradise to defend their life totals.
The Price of Hazoret the Fervent
Hazoret is a powerful threat. And not just in the mirror! (But particularly in the mirror.)
Generally, we think four Hazorets is mandatory. There are other powerful four drops in red, but Hazoret is often completely unstoppable. Further, redundant copies can always be tossed for two damage.
Hazoret doesn't come cheap, though: This God demands sacrifice! In deck building an otherwise ("take two"). Not only is it an expensive card (in more ways than one) but Hazoret generally implies playing with cheap set up cards. Bomat Courier is almost always on board. There are a smattering of other one drops, removal cards, and so on in every successful Hazoret deck... You need to drop your hand in order to get this card online.
Mardu has its own concerns. In a sense Mardu is "an homage" to Toolcraft Exemplar + Unlicensed Disintegration. Don't shave either down to three copies (ew). In fact some builds push redundancy with Inventor's Apprentice.
None of this makes the Mana any easier BTW.
More in the cast!
---
Fri, 16 February 2018
Bloodbraid Elf versus... Bogles?
Bloodbraid Elf also broke out of its ban this week; but first... Bogles!
Dan Ward piloted Bogles to the Grand Prix Toronto trophy last week. Bogles!
Dan Ward is one of the strongest deck designers in the world. He first hit our radar with that innovative Kari Zev's Expertise combo deck at SCG Regionals about a year ago. That deck was so awesome (or at least awesomely angled), WotC R&D banned almost immediately.
Moving formats over to Standard, Dan produced a legitimate contender archetype in U/W Approach of the Second Sun. Yes that U/W Approach of the Second Sun.
And while Dan can't claim to be the first person to suit up a Hexproof creature, he never let up on his trademark innovations. Like...
Leyline of Sanctity in Bogles
Dan played three copies of Leyline of Sanctity in his main deck. This may seem like an odd choice for the strategy... If it isn't in your opening hand, Leyline of Sanctity will just clog your grip later. Further, Leyline of Sanctity provides little or no offensive value to this attack-oriented deck. Why might Dan have played it?
He's playing a Hexproof deck: With 4 copies of Slippery Bogle and 4 copies of Gladecover Scout, Ward is clearly heavy on the Hexproof plan. His creatures are largely free and clear to wear powerful buff Auras, but they're not quite immortal. Do you know what suited up Hexproof guys hate? Edict effects. Do you know that one of the best Edict effects is also one of Modern's Staple three-drops? Leyline of Sanctity can defend you from Liliana of the Veil.
Lantern just won the Pro Tour: While it doesn't defend you from Pyxis of Pandemonium or Ghoulcaller's Bell, Leyline of Sanctity turns off not only Codex Shredder but the Lantern decks' many hand destruction sorceries.
It makes racing difficult: Dan was able to overcome Jon Stern's Burn deck in the Toronto finals. Leyline of Sanctity is pretty decent against Burn decks, turning off all the Lava Spikes and taking the edge off of most of the rest of the burn cards. Can Searing Blaze suddenly target Slippery Bogle?
All in all, a pretty cool three-of.
Bogles in Context
Them's fightin' words, am I right?
Fighting words or not, Dan might have a point. His version, with Leyline of Sanctity, actually cuts off two of Jace, the Mind Sculptor's abilities. They can't Fateseal or Ultimate you without answering the Leyline. Plus, unless they are on Damnation or Supreme Verdict, fast, huge, Hexproof guys can be hard to race.
Further, if you're planning to use Bloodbraid Elf to grab Lightning Bolt or other spot removal... That plan isn't so good against Bogles. Plus, with a couple of buff auras, most of Dan's cards will be able to tussle with a 3/2 and walk away, easily.
Grab the popcorn!
Because if Champion-Bogles remains good enough, it will soon clash with Jace, the Mind Sculptor and Bloodbraid Elf in Modern!
---
Wed, 14 February 2018
Jace, the Mind Sculptor Unban
Jace, the Mind Sculptor is about to make its Modern debut
Jace, the Mind Sculptor Banned?
Not any more!
Earlier this week, some pretty big news broke that has instantaneously flipped Modern from Patrick's least favorite format to most favorite format! We were too excited to keep our reactions bottled up until Thursday. Don't worry, this is an EXTRA episode: We'll be back Thursday ;)
When in doubt, use Jace, the Mind Sculptor to Brainstorm
Jace has never been legal in Modern before. For many format aficionados, this will be the first time they have Jace in front of them at a Modern table. With so many abilities to choose from... Which one should they pick?
Noted Jace, the Mind Sculptor master (and Magic: The Gathering Pro Tour Hall of Famer) Patrick Chapin says that, in the dark, it should be the Brainstorm ability. That isn't going to be true all the time -- Jace both has a ton of abilities and Modern is a diverse format after all -- but it's a good place to start.
Why might you want to use the [+2] "Fateseal" ability instead? Usually it will be because the opponent has some kind of red spells to attack Jace. You know, like Lightning Bolt.
Speaking of which...
Is Blightning Good against Jace, the Mind Sculptor?
Not surprisingly, Patrick and Mike reminisce about some of their old Jace Standard decks. Patrick attempts to recuse himself, being both a Grixis-lover and a Jace-lover. Mike is happy to jump in, being a Jace-Grixis fan himself.
Mike's favorite take on Jace in Standard was alongside Blighting. He cites the ability to attack Jace as well as the opponent's hand.
Patrick points out that -- especially at the same casting cost -- Kolaghan's Command is probably a better choice. It is arguable that Kolaghan's Command + Lightning Bolt is actually a better anti-Jace plan than Blightning. "Blightning is too tempo-negative."
The Kolaghan's Command argument is strong. Not only is it an instant, you can set up Snapcaster Mage and lace together multiple cards to deal sufficient damage.
New Jace, the Mind Sculptor Decks
Mike himself -- longtime Modern devotee of Lava Spike -- is threatening to switch allegiances to Team Jace.
Our intrepid pair do tons of brewing in this episode. For example, a pretty sweet-sounding Bant deck list from Patrick featuring Spell Queller inspired by Wrapter's "Counter-Cat" from way back when.
What about Courser of Kruphix with Jace?
Courser is a great three; Jace is the best four (better than all, we have it on good account)
Courser has awesome toughness, so can defend Jace well
Together these cards build life and card advantage; and can affect the top cards of your library, further strengthening both sources of card advantage!
What deck idea does Mike not like? No Oath of Nissa / Oath of Ajani ...
When you're playing with Jace and Liliana, your cards are just better than theirs; he doesn't like the idea of messing with your mana when you can just play more consistently.
Also, thumbs down to "Jace in Merfolk". Because, Merfolk.
More, many more, ideas in this special episode!
---
Fri, 9 February 2018
Young Pyromancer at Pro Tour Rivals of Ixalan
Young Pyromancer posted Top 8 in two different strategies
Young Pyromancer Goes Wide in Blue-Red
Just as there are a variety of viable Young Pyromancer decks, there are a variety of viable blue-red decks in Modern. The one that made Top 4 of Pro Tour Rivals of Ixalan was a flexible build by Pascal Vieren.
Vieren's deck played several creatures... Four copies of Snapcaster Mage, three copies of Thing in the Ice, and of course three Pyromancers. All of those creatures excel with instants and sorceries. Snapcaster Mage gives you card advantage with them. Thing in the Ice flips into a huge monster when set up by them. And our Human Shaman can build an army while doing something else.
Vieren's deck can win multiple ways. Thing in the Ice clears all the blockers and presents a threat by itself; while the Pyromancer can push a lead once you've already got it. Lightning Bolt is one of the most efficient tempo plays you can make. Of course Cryptic Command can both answer threats and tap all the blockers in one move.
Young Pyromancer Goes Even Wider in Mardu Control
Gerry Thompson -- already a PT Champion and friend to the 'cast -- put up another Top 8, this time with a Mardu Pyromancer build.
It takes a singular kind of deck designer to figure out to play one copy of Manamorphose... But in Gerry's deck, it doesn't just power up the Pyromancer, it gives you white mana for Lingering Souls! Cool little card in support of the Human Shaman.
The advantages in Gerry's deck all build on one another. Cheap instants and sorceries like Inquisition of Kozilek fuel not just the Pyromancer, but put fodder into the graveyard for Bedlam Reveler. More important is Kolaghan's Command... Not only is it even more redundant discard, the ability to re-buy a creature is always nice; but what about when the creature is a card advantage engine?
All That and the Kitchen Sink
There was more, much much more, to the Pro Tour Rivals of Ixalan Top 8 than a 2/1 for 1R.
We leave no deck un-discussed!
No, not even that one.
Check it all out now!
---
Fri, 2 February 2018
Gambling on Path of Mettle
Let's get something out of the way:
Path of Mettle is actually awesome!
Path of Mettle is almost effortless to play
When Path of Mettle enters the battlefield, it triggers a Simoon-like effect, dealing a point of damage to every creature that lacks first strike, double strike, vigilance, and / or haste.
The solution is simple: Just play creatures with one or more of these abilities, and the "Simoon" trigger will be one-sided; largely a Simoon for the same amount of mana.
We can consider the deck played by US National Champion Craig Krempels to the Top 8 of last week's Team Open as a model for this strategy, but many Red Deck creature shells can suffice.
All of Bomat Courier, Earthshaker Khenra, Ahn-Crop Crasher, Hazoret the Fervent, and Glorybringer (you know, just the creatures the old Ramunap Ruins deck played) start out with haste. This makes the first line on today's enchantment "free".
But flipping it is nearly free, also!
So long as you are playing such creatures, turning your Legendary Enchantment into a Legendary Land shouldn't be too tough.
When you flip Path of Mettle, you're doing it. You're really DOING IT
When the Path becomes Metzali, Tower of Triumph, "Triumph" may be closer than it initially seems. This land is super disruptive to many different kinds of opponents.
The "red" ability largely serves as a stand-in for the now-banned Ramunap Ruins.
The "white" ability has a broad range of applications, including (but not limited to) cutting of the ability for many control decks to win. Attacking with one creature? How about "randomly" putting that creature into the graveyard? The "white" ability can also ignore hexproof, so it is potentially a problem for the Hydras out of Energy variants.
Okay, sold! Um... So what's the gamble around Path of Mettle?
Why? The mana base of course!
Craig played a couple of Plains in his twenty-two land aggro deck. It was vital for him to play enough red (especially untapped) to be able to field some sixteen one drop creatures.
Will WotC print another Boros dual land? Will they just reprint one we already love?
---
Fri, 26 January 2018
No Room for Longtusk Cub
Longtusk Cub, unlike Attune with Aether and Rogue Refiner, was NOT banned last week. So why is it missing from Energy deck after Energy deck?
---
Thu, 18 January 2018
Rampaging, Ramunap, Rivals, and Rants
Lots of bans in Standard this week. But Rampaging Ferocidon?
Rampaging Ferocidon Banned in Standard
Of the four most recent bans, three are relatively understandable.
Attune with Aether - Perhaps the most obvious of the Standard bans, Attune with Aether is the quintessential one mana manipulation spell that is a little too good. There is ample precedent for cards like Ponder and Preordain being banned at the one. Why not Attune with Aether? Attune with Aether is essentially a Lay of the Land (a "good enough" card) with an Energy add-on.
Rogue Refiner - Rogue Refiner is just a cantrip. It's a 3/2 creature for only three mana that does two things. Unfortunately one of which is "draw a card". Rogue Refiner is probably a little too good, but it isn't clear it would or should have been banned if not for all the other Energy cards.
Ramunap Ruins - So it turns out that Temur Energy wasn't even the highest performing deck in Standard. Ramunap Red was! While Ramunap Red might have been challenged by Temur Energy, it was absolutely great at killing everyone who didn't buy into the "there are only two decks" Standard paradigm. Ramunap Ruins is the card that sets this deck apart. Getting rid of Ramunap Ruins makes room for other decks post-ban.
So these three make sense.
You might not have bet on Ramunap Ruins... But it makes sense.
Rampaging Ferocidon wasn't the best, or the second-best, or the eighth-best card in Mono-Red. In fact, many Mono-Red decks didn't even play four copies main deck!
The Brilliance of Banning Rampaging Ferocidon
While counter-intuitive, the Rampaging Ferocidon ban is wonderful in a certain light.
Forget for a moment about the Randy Buehler-era paradigm of banning only the broken cards. What about banning cards that make the format less fun?
The problem with Rampaging Ferocidon is that it makes it very -- very -- difficult to sideboard against Red Decks. It's nice to be able to side in life gain cards and have them work, right? But even cards like Regal Caracal become liabilities... It stinks to trigger Rampaging Ferocidon but not be able to cash in on lifelink.
And Rivals of Ixalan, Too!
While most of this podcast is a discussion of the recent bans (plus a master class in game design by Patrick), we would be remiss to leave out some of the new cards that, you know, came out last week.
What red creature might make a massive impact coming up?
A flyer that pre-empts Glorybringer and might even compete with Hazoret, the Fervent?
Check out "RRRR" to find out!
This episode is sponsored by ZipRecruiter. Top Level Podcast listeners can post jobs to ZipRecruiter for FREE at Ziprecruiter.com/TopLevel
---
Thu, 11 January 2018
Chasing Sanctum of the Sun
Sanctum of the Sun is really -- really -- powerful
Azor's Gateway Transforms into Sanctum of the Sun
Azor's Gateway -- the front side of today's Legendary Land -- is itself a pretty good card. It is both cheaper than Jalum Tome, and cheaper to use (believe it or not Jalum Tome was once a Role Player-level Standard card).
Yes, it sucks that Azor's Gateway exiles cards instead of simply discarding them to the graveyard, but (and you'll probably figure this out in a couple of sentences) that would simply be too powerful once you've flipped the Legendary Artifact into Legendary Land.
Remember - zeroes are close to free, due to land cards.
Cut // Ribbons is Best Buddies with Sanctum of the Sun
When you flip Azor's Gateway into its final form, you gain five life and have an insane mana engine. Your expectation will almost never be less than an immediate burst of six mana of any color, no matter what hoops you had to jump through to get there.
Imagine you simply have the same life total as your opponent when Azor's Gateway flips...
Aren't they basically dead if you have Cut // Ribbons in your graveyard? If you have, say, twenty life (and the opponent has twenty life) you will go to twenty-five. You can immediately untap Azor's Gateway and tap its opposite number for twenty-five black mana, even if there are no other sources of black in your deck. This nets out to twenty-three life from Ribbons! Boom!
The Cut side of Cut // Ribbons has long been a Role Player-level option. It looks like this card -- which is highly serviceable as a fast reactive card -- may jump colossally in value now that getting it into the graveyard basically kills the opponent.
Remember a moment ago when we were lamenting the exile v. discard limitation on Azor's Gateway? Can you imagine how disastrous simple discarding would be given the incentive of getting Ribbons into your graveyard? This is already a great combination! They can't make it too easy, can they?
Cut // Ribbons acts like a two but is technically a four; that makes it fast enough to defend you front-side, while essentially ensuring victory later. Best. Buddies.
What About Untapping Sanctum of the Sun?
This Legendary Land is already pregnant with possibilities... But what if you can actually untap it?
In "Chasing Sanctum of the Sun" Patrick argues passionately for the power level of Zacama, Primal Calamity. This Elder Dinosaur might be the payoff that Ramp decks have been looking for since the rotation of the Eldrazi cards. While Zacama doesn't have a built-in durability, it can destroy many different kinds of permanents, as well as generate a massive life buffer. The fact that Zacama has CMC 9 is awesome with Azor's Gateway... I mean, how many nines do you think you can possibly play? It both drives diversity of casting cost for purposes of flipping and gives you an outlet to discard redundant uncastable giants.
---
Fri, 5 January 2018
Jadelight Ranger and More Rivals of Ixalan
Our further Rivals of Ixalan review begins with Jadelight Ranger
If there is one thing Mike is famous for, it's playing some goofball green three drops over the years.
Gnarled Mass is one such green creature; but at 3/3 for three mana -- and essentially no other capabilities it is a head scratcher that someone would be able to win with it. The secret, of course, is that Gnarled Mass was never "good" per se. But a 3/3 for three mana could slow down an opposing 2/2 Bushido.
Ditto on Borderland Ranger. And by "Borderland Ranger" we mean Civic Wayfinder. So deep was Mike's love of three mana creatures that could search up a land, when he won with U/R Splinter Twin, he did so with a Pilgrim's Eye in his main.
But what about the belle of this week's ball?
How does Jadelight Ranger compare?
Jadelight Ranger versus Gnarled Mass
Jadelight Ranger seems like a generally stronger card than Gnarled Mass.
Gnarled Mass was a Spirit -- which was good, but could also be a liability in Kamigawa Block -- but was basically always a 3/3 for three mana.
If you're going for size, Jadelight Ranger can be a 4/3 (2/1 with two +1/+1 counters) for the same casting cost. The superior size (sometimes) comes with two Scry triggers! So... Secelction as well as size.
Obvious point: If you want to have a large Jadelight Ranger, and you are lucky enough to "miss" on your first trigger, you can just leave the card on top, guaranteeing you will grow on the second trigger as well.
Jadelight Ranger versus Borderland Ranger
Borderland Ranger has a couple of advantages over Jadelight Ranger.
For one, 2G is easier to cast than 1GG... But not so much easier.
Borderland Ranger also offers true selection. If you have one Island in your library, you can go find it every single time rather than waiting for your White Knight. Jadelight Ranger lacks that level of precision.... lacks this certainty. But it makes up with sheer potential card advantage.
Just as Jadelight Ranger can be bigger than Gnarled Mass sometimes, it can produce more lands than Borderland Ranger sometimes, too! Instead of just one land, it can draw more than one. Compare to: Divination.
Jadelight Ranger versus Rogue Refiner
So sometimes Jadelight Ranger is a 4/3. If you have a Winding Constrictor in play, that might actually jump to, say, 6/5.
And sometimes, it stays 2/1 but draws two lands.
In both cases, you get to scry twice, which is powerful.
But in the middle? It is just a 3/2 that draws you one additional land.
You know what we call a 3/2 creature that produces one extra card? Rogue Refiner.
And while Jadelight Ranger is probably not "better" than Rogue Refiner (less control on size, never draws into a spell, doesn't make energy) even being in the same conversation with one of the best creatures in Standard is significant.
This Merfolk Scout is only the first card we discuss!
More Rivals of Ixalan than you can shake a stick at, right here.
---
Thu, 4 January 2018
Exclusive Preview - Dire Fleet Poisoner
Dire Fleet Poisoner is our exclusive Rivals of Ixalan preview!
Dire Fleet Poisoner is Incredibly Flexible
A 2/2 Deathtouch creature for only two mana, Dire Fleet Poisoner can play Terror in a pinch.
Much like Go for the Throat, Doom Blade, and the Alpha classic, this card can trade for most creatures at instant speed for just two mana.
Drop Dire Fleet Poisoner during combat and block... And you can trade with just about anything one-for-one. Even creatures that can sometimes dodge one-for-one removal (like Bristling Hydra) can't plead hexproof here... A block will make for a trade, no matter how big the attacker.
Of course, as a 2/2 creature, this Human Pirate can kill 1/x creatures (no matter how tough) and live to tell the tale.
Flash and Deathtouch, go!
Dire Fleet Poisoner's Brilliant Buff
Dire Fleet Poisoner can crash on curve... Imagine you play a first turn Daring Buccaneer. You attack with it and the opponent tosses a Shock at your 2/2.
This card can save your creature while forcing home additional damage.
It can save an attacking Hostage Taker from Abrade, for instance.
It can also help you into favorable trades. For instance, if you are attacking with Kari Zev and the opponent is forced to double block (say, due to menace), the ability to provide both a second point of power and deathtouch can make for an advantageous trade.
... And you get to keep the 2/2 deathtouch body!
Dire Fleet Poisoner is Fast and Flexible
Will there be B/R Pirates? Chances are, this card will help drive the creature choices.
How about B/U? Hostage Taker is a heck of a Pirate.
Want to know more? Check out the podcast!
---
Fri, 29 December 2017
Top Legacy Podcast
Brainstorm is the most popular spell in Legacy
Legacy will return to the Pro Tour in 2018
For the first time in a decade, Legacy will return, as a format, to the Pro Tour.
This time, it will represent 1/3 of the formats in the upcoming Team events (alongside Standard and Modern). With 2017 winding down, Patrick and Michael thought it a great time to showcase the most popular cards and strategies of the Legacy format.
Legacy and "the Brainstorm Experience"
As stated above, Brainstorm is the most popular spell in Legacy. Part of that is that, unlike some other formats, you can actually play four copies of Brainstorm!
If you are in the market for a Brainstorm, there are many similar options. Ponder is the second most popular spell, for instance. Unlike Brainstorm, Ponder allows you to shuffle your library without an additional card.
That said, Brainstorm has a couple of things going for it beyond some of the competition. Most importantly is Brainstorm's synergy with fetchlands. Instead of just fixing your next draw, Brainstorm can actually correct your draw! Rip a creature removal spell against a combo deck? Brainstorm can potentially fix your hand by shuffling away the errant removal spell.
If you're super into Brainstorm, beyond even the first four copies, you can select from Preordain, Serum Visions, Thought Scour, and many more.
Legacy is the Home to Very -- Very -- Cheap Spells
Brainstorm - Brainstorm, the most popular spell in Legacy, not only costs a single blue mana, it potentially digs you to additional lands.
Ponder - Whatever we just said about Brainstorm's casting cost goes for Ponder early game as well.
Force of Will - While Force of Will claims to be five mana, it is in fact played for zero mana more than half the time.
Deathrite Shaman - The most popular creature in Legacy costs only one mana (whether it is black or green); further, Deathrite Shaman is itself a mana source.
Surgical Extraction -
Swords to Plowshares - Swords to Plowshares has not ceased costing a single white mana since Alpha.
Flusterstorm - Flusterstorm is a powerful, largely Legacy-centric permission spell. Part Force Spike, generally much better than a Spell Pierce, Flusterstorm boasts the best of both cards... The single blue mana in their collective top-right corners.
Gitaxian Probe - <
Similar to Surgical Extraction, Gitaxian Probe is super cheap at only one Phyrexian blue mana... And like Surgical Extraction, Gitaxian Probe will be played for even less than one mana -- zero -- a high percentage of the time. This will especially be true in combo decks looking to drive through their libraries and / or play multiple spells in a single turn.
Snapcaster Mage - The second-most popular creature in Legacy is a bit of an oddball. The only two casting cost card in the Legacy Top 10, Snapcaster Mage nonetheless lets you re-cast one of the other super cheap / hyper efficient spells on this list.
Daze - Like Snapcaster Mage, Daze has 1U in its upper right; unlike Snapcaster Mage, you will very rarely pay any actual mana to play it. Not only that, playing Daze on your own turn will sometimes set you up to re-play the same land, untapped.
The extraordinarily low casting costs of this format's spells depict many fast, hyper-efficient early game, decks; some of which play fewer than 20 lands due to their low curves and ability to see more than one card per turn.
Where will Patrick and Michael Start in Legacy?
You can probably guess.
But they still tell you.
To find out, check out this week's podcast right here!
---
Fri, 22 December 2017
Satisfying Vona's Hunger
Vona's Hunger continues the proud tradition of "Diabolic Edict with upside" for three mana
Vona's Hunger as Instant Edict
Diabolic Edict was the first.
It was like a Cruel Edict but better.
Over time we got a variety of three casting cost versions... Foul-Tongue Invocation, Tribute to Hunger, and Oath of Liliana are all three casting cost upgrades to the Edict model (whether instant or sorcery speed). All of them offered a little something extra -- whether life gain or more card advantage -- in exchange for a third mana.
Vona's Hunger can line up almost unprecedented card advantage provided you have the city's blessing.
And the rest of the time? More Edict action for group games ;)
New Keyword: "Ascend" on Vona's Hunger
This instant has a cool new keyword. If you control ten or more permanents, you get something called "the city's blessing" for the rest of the game. Presumably, you can have ten permanents the first time... But if you go below ten permanents upon casting a second Vona's Hunger, you'll still have the city's blessing.
Presumably there will be more cards featuring these new terms; whether you ascend the same way (having ten or more permanents) on all of them is still a mystery.
When would Vona's Hunger like the city's blessing?
It isn't difficult to imagine a time you might want Vona's Hunger on three. For example, any time the opponent is trucking in with a lone Bristling Hydra, you might want a removal card that can kill it no matter how big, no matter how hexproof.
Any time the opponent is protecting a key threat -- say an Electrostatic Pummeler - with Blossoming Defense backup, Vona's Hunger might be the card you want.
But what about the big version? Who can take advantage of it, and when might they want to?
We haven't seen tokens in a while, but the Anointed Procession decks are probably the most consistent at producing 10+ permanents. It's difficult to evaluate the "big" version of this card. It's kind of half a Wrath of God, but also asymmetrical (meaning it does not kill any of your creatures... Just half of the other guy's).
You know when tokens might really, really want Vona's Hunger?
The mirror.
More info here:
---
Fri, 15 December 2017
The NEW Modern Rundown
There are no Thundermaw Hellkites in this Modern episode. Even fewer Stormbreath Dragons.
... But there could have been.
It's Modern! Don't Blink
Modern is a great format! It's waaaaay different from other formats, though. One way we know that is that we have such a hard time predicting what will be good from one week to the next.
What decks do you prepare for?
Affinity?
Humans?
Storm?
Jeskai?
... and when you say "Jeskai" what exactly do you mean? Is it Geist of Saint Traft, Spell Queller decks, the new Search for Azcanta stuff... Or are you talking about warping in an Emrakul, the Aeons Torn?
Yet another look at Jeskai: Jeskai Breach, by Patrick Tierney
Who is to say?
Who is to say you're not up against Thundermaw Hellkite this week?
I mean, it just so happens that this week the right answer was "giant green things" (whether Primeval Titan or Tron-based colorless bombs), but we think you take our meaning.
Don't Forget the Graveyard! Black Resurgence in Modern
Patrick recently commented that the graveyard may be a place to angle for an advantage in this wide and wonderful format.
Was he predicting the future?
Despite weeks and weeks of Humans and Storm, the graveyard came back in a big way at Grand Prix Oklahoma City. Dredge and Living End almost can't be more different (despite being two different graveyard-centric creature decks). These two very different decks both kicked butt, took names, and claimed Pro Tour invitations last weekend:
Don't Blink! Dredge, and Living End from OKC
What Week is it Again? Modern Cuteness Hotness
A few weeks ago we started talking about the new / now-seminal Humans deck based on a critical mass of Unclaimed Territories. But what if, rather than pushing "Human" with our Cavern of Souls, we just play four copies of Sliver Hive?
Instead of the bobbing and weaving of Meddling Mage and Kitesail Freebooter, we may just see mono-offense.
To Wit: Slivers, by Chris Warren
These decks barely scratch the surface of this week's Modern Rundown. Get ready for multiple Tron styles, double-combo Collected Company decks, and our intrepid duo completely ruining a perfectly wonderful Orzhov Zombies deck.
---
Thu, 7 December 2017
Meet the Rivals of Ixalan
Rivals of Ixalan Brings a New Vraska
Vraska, Scheming Gorgon
A new Vraska? Yes.
A very good Vraska? The Scheming Gorgon is going to have a tough time competing with the Relic Seeker in Standard.
Seemingly the only advantage Vraska, Scheming Gorgon has over Vraska, Relic Seeker is in being mono-black. Vraska Scheming Gorgon's best ability is her [-3] to destroy target creature…
This ability is woefully weaker than Vraska, Relic Seeker's more flexible equivalent… That also produces Treasure.
Vraska, Scheming Gorgon has a potentially powerful [-10] ultimate ability… At least until you think about it for a minute. While this ability can theoretically win the game, practically speaking, you already have to have a substantial advantage to cash in.
You need to have gained loyalty for several turns without losing all your creatures.
You need to have more creatures than the opponent has creatures AND creature removal.
But if you can fulfill these conditions? Sure. Win the game.
Vraska and Angrath: Are They Rivals of Ixalan?
Angrath, Minotaur Pirate

In opposition to Vraska is Angrath, a Minotaur Pirate.
While Angrath may not be the strongest Planeswalker in Standard, Mike thinks it is a straight-up upgrade relative to Vraska, Scheming Gorgon.
For one, Mike could at least imagine using the [+2] ability, and can imagine wanting to play this card to do so!
Say you are up against Mono-White Vampires or B/W Tokens. Wouldn't you appreciate a recurring way to deal one damage to everything and everyone on the other side of the table? While gaining loyalty?
Mike is pretty "sign me up" for this as a sideboard card, but Patrick not only reserves ultimate judgment for now… He says that if Mike likes this card, he'll probably LOVE the main set equivalent its existence implies.
Nitpick point: Angrath claims to be a Minotaur PIRATE (even says so in the name) but could not theoretically target itself with that [-3].
The Primal Command of Rivals of Ixalan?
One of the cool features of the beginner Planeswalker decks is the existence of a Tutor to go find a deck's centerpiece character.
Mike doesn't hate this one:

Angrath's Fury
Mike compares it to Primal Command.
Is hie crazy?
Both cards cost five. Both cards affect life total and do multiple things; Primal Command often attacked a land; Angrath's Fury basically always kills a creature.
Okay, okay: Crazy
Patrick and Mike also chat decks past and present, and visit a successful Standard deck… That eschews Longtusk Cub despite running Attune with Aether.
---
Thu, 30 November 2017
Cryptic Command is Good in All of the Spots
Every card in your deck has purpose some of the time; Cryptic Command is the card that is the best, the most.
Welcome Back to Modern, Cryptic Command!
One of the most successful [new-ish] decks in Modern is Jeskai Control.
This archetype, featuring Search for Azcanta from Ixalan has reinvigorated pure control in the format.
Seminal to this strategy is the power of Search for Azcanta to flip into Azcanta, the Sunken Ruin. In its mana-mode, this card implies the availability of four mana. You can leave up four, and threaten Cryptic Command. If you don't have to use the Cryptic Command, you have four lands to go find it.
Former US National Champion Ali Aintrazi played a version at a recent StarCityGames event, moving up to Nahiri, the Harbinger and Torrential Gearhulk as his late game heavy-handed threats.
Nahiri is particularly exciting in this archetype. She can discard cards to help flip Search for Azcanta, and will dig you to a big Torrential Gearhulk.
Also decks WITHOUT Cryptic Command
In the spirit of gearing Mike up for the upcoming #SCGInvi in Roanoke, Virigina, our intrepid duo goes over all kinds of decks beyond the soaring Jeskai Control...
Storm Combo - ever thought about playing Runed Halo on "Gifts Ungiven"?
Humans - now featuring "colorless" spells like Dismember!
Grixis Death's Shadow - including all the one-ofs, spice, and strategies
Jund - with Hazoret the Fervent!
(and lots more)
When do you play FOUR copies of Cryptic Command?
Whenever it's right!
... and half the time, when it's not ;)
Check out this meditation on Modern now!
---
Fri, 24 November 2017
Tetzimoc, Primal Death and the Rivals of Ixalan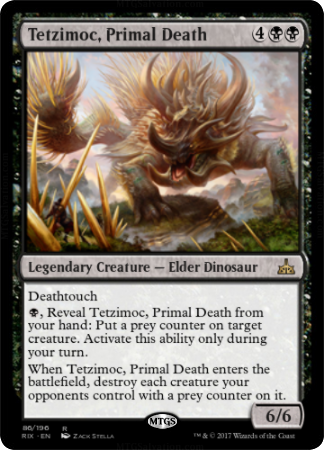 Tetzimoc, Primal Death is a Legendary Creature - Elder Dinosaur
"God I hope this isn't a Standard format where this isn't good."
-Patrick
Tetzimoc, Primal Death Invalidates "real" cards
This Legendary Creature - Elder Dinosaur almost doesn't seem real.
Will there be efficient ways to get rid of prey counters? If not, Tetzimoc is going to act as a Plague Wind -- a one-way Wrath of God -- quite often.
What is the low end of Tetzimoc's performance? Double Nekrataal? Just a couple of life points off of Noxious Gearhulk? It seems really powerful either way.
In any case, Tetzimoc leaves a large body with deathtouch on the battlefield. It provides not just a high potential for card advantage, but advances your board at the same time.
It is conceivable, unfortunately, that Tetzimoc will not be good. How could that be?
This creature is great against regular creatures, if even very good, efficient, or huge versions. It would be much less effective in a format based on Energy 187 creatures like Rogue Refiner, nothing but haste, or combo decks.
Tetzimoc is not the only Elder Dinosaur...
If you are unsure of the most broken thing you can possibly do with Ghalta, Primal Hunger, what about just starting on a Regisaur Alpha? That costs five mana and puts seven power in play. Seven down leaves Ghalta eminently cast-able.
Imagine this with haste!
On the one hand, Ghalta, Primal Hunger is an exceptional reason for Dinosaurs to finally graduate to Tier One in Standard.
But not for nothing... Decks based around the Primal Hunger are going to get their lunch eaten by decks based on the Primal Death, if you grok.
But Wait, There's More!
This week we hit all five currently spoiled Rivals of Ixalan cards, not just the Dinosaurs.
Ever wanted to learn about the nuances between personal Mana Flare and personal Howling Mine? Check out "Tetzimoc, Primal Death and the Rivals of Ixalan" right now!
---
Thu, 16 November 2017
Very Cryptic Command
Did you see this earlier this week?
If you did -- this podcast will be the realization of all you've been waiting for!
If you didn't... Why aren't you following the Top Level Podcast Instagram yet? Go ahead. We'll wait up.
Back?
It's time for our...
Exclusive Preview: Very Cryptic Command!
It's Kind of Like a Cryptic Command
The "Very" variety is reminiscent of the classic in many ways.
It is a Command (and in fact, a "Cryptic" one).
As such, it has several modes, and asks you to choose two of them.
And of course, there is the UUU1 in the top-right corner
But in terms of game play? This is a whole other instant!
Well that's one way to do it...
Isn't it weird that an Un-set card -- ostensibly built for fun rather than Spikes -- is primarily geared towards making:
Infinite mana, and
Infinite storm count
Isn't it?
Right?
If you have two copies of Gilded Lotus and two copies of this instant you can tap for UUUUUU, cast Very Cryptic Command to untap the artifacts and re-buy your other Very Cryptic Command.
Then you can do this all you want, over and over again.
Welcome to having as much mana as you want! Eventually, you can use one of the other modes to do anything else, move ahead (and presumably take advantage of your limitless mana and storm count).
Fun... For you, at least!
Our thoughts on this most Unstable of Unstable cards in "Very Cryptic Command"
---
Thu, 16 November 2017
Masterfully Metagaming Sand Strangler
Sand Strangler Graduates to Main Deck!
Stephen King said it.
William Faulkner said it first.
Kill. Your. Darlings.
Which darlings, you ask.
How about the automatic three-of (if not four-of) at the Ramunap Red four? Hazoret the Fervent.
Cut Hazoret? Are you crazy?
Hazoret the Fervent versus Whirler Virtuoso
As a red mage, have you ever faced off against Whirler Virtuoso? If you haven't, it sucks. It's just really hard to bust through, even though you have one of the best offensive threats in the format.
Now imagine -- assuming sufficient Desert power -- Sand Strangler against Whirler Virtuoso.
Smoosh, right? Smoosh.
When essentially half of the format is Energy decks, Sand Strangler over Hazoret main deck starts to make more sense.
Pro Tour Hall of Famer Ben Stark executed on exactly this plan, finishing in the finals of Grand Prix Atlanta with a new look at Ramunap Ruins.

For reference: Desert Red, by Ben Stark
Wait a minute! Don't I just suck in the mirror now?
While cutting Hazoret -- one of the most important cards in the mirror match -- certainly costs you percentage in the mirror, Ben counterbalanced with the duo of Sand Strangler and Glorybringer.
Remember: Sand Strangler and Glorybringer are two of the most frequently sided in cards in Red Deck mirrors.
So while you lose some Hazoret points, you get back some "free" sideboard creature points.
... And it's not like Ben's deck can't side in a bunch of Hazorets after boards.
But mathematically? There is more Energy than Red right now. Ben's metagaming was simply masterful.
New Decks Aplenty
Desert Red was cool, but it wasn't alone.
This week Patrick and Mike tackle such instant classics as:
Esper Approach of the Second Sun
U/G Electrostatic Pummeler (with four copies of Bristling Hydra, for Mike)
Grixis builds aplenty
Check out "Masterfully Metagaming Sand Strangler" and you too may just become a metagame master!
---
Fri, 10 November 2017
Energizing River's Rebuke
Meet River's Rebuke: Mirror-Breaker
Have you ever played the Temur Energy mirror match? And by "Temur" Energy we would include Four-color Energy and its cousins. The archetype is so good at brick walling itself.
Everyone has plenty of material. Attune with Aether, Rogue Refiner, and Planeswalkers can help develop resources. The Scarab God gives you something to do with your long-term land. It can bust through opposing defenses over time, and from multiple directions. Glorybringer -- especially in multiples -- combines evasion with card advantage. And Planeswalker-slaying!
But yet, Whirler Virtuoso is so good at keeping damage at bay!
How are you supposed to bust through?
May we suggest River's Rebuke?
River's Rebuke: Next Level Sideboarding
Here's the thing about River's Rebuke.
It's a sorcery.
Who sides in Negate against Temur Energy? You know, the deck with 21-25 creatures? Would you side in Negate? What do you plan to Negate? A giant Vehicle? You've already got Abrade for that.
Whatever Negate!
It sits in your sideboard.
Meanwhile, you and your opponent accumulate more and more material, brick walling one another until...
Somebody Casts River's Rebuke
Here's the other thing about River's Rebuke. It's one-sided. Many times when you cast it, the game will be over that turn. You know all that Whirler Virtuoso brick walling? Ain't no one home to defend. Even The Scarab God is going to fail in the face of River's Rebuke.
Two members of the Pro Tour Ixalan Top 8 -- Christian Hauk and Piotr Glogowski -- ran it last weekend.
Temur Wasn't Even the "Good" Energy Deck
Sultai Energy in the hands of former World Champion Seth Manfield reigned supreme. The trickiest of the Energy decks, Sultai has a two-card combo of Hostage Taker and Blossoming Defense that few decks want to tussle with.
Learn more about Temur, Sultai, and the entire PT Ixalan Top 8 in "Energizing River's Rebuke" now!
---
Fri, 3 November 2017
Approach of the Second Sun at Pro Tour Ixalan
Approach of the Second Sun
Patrick is coming to us straight from Pro Tour Ixalan this week! He played a new take on R/W Approach of the Second Sun with Sunbird's Invocation, but more mana and fewer expensive spells.
The Pro Tour is lousy with Temur Energy (and Four-color Energy, and Sultai Energy)... But that just gives it structure to attack! Patrick's approach to Approach seems thought-provoking now, and sounds like it will be influential moving forward. Most opponents have many "dead" cards in Game One. Imagine the B/U Control opponent who cycles through his entire deck with Search for Azcanta only to find... There is nothing to find.
Or the Energy deck (or any deck, really) that doesn't kill you fast enough... Can they stop you from playing your Approaches?
Well... Sometimes :)
---
Fri, 27 October 2017
The Rise of Ixalan in Modern
Modern remains one of the freshest, most dynamic, Magic formats. One of the big reasons? Ixalan in Modern is driving new combinations, and even new archetypes!
Modern Manipulation: Opt
The funny thing about Opt is that it is barely playable at all in Standard... But it is awesome in Modern!
The secret is that the efficacy of cards -- in particular library manipulation cards -- is inversely proportional to their casting costs in larger formats. Opt helps make combo decks like Storm more consistent. It also helps keep them going once they start to go off...
And of course? Being a one mana instant is one of the best things you can be.
And Opt is.
For reference: U/R Gifts Storm, by Scott Simmons
Modern Mana: Unclaimed Territory
It's not that Unclaimed Territory is so great (though it's pretty good)... It's the critical mass this land represents when combined with Ancient Ziggurat and Cavern of Souls.
Collins Mullin absolutely destroyed last weekend's Open with a Humans deck with only 4 Aether Vials -- deck or sideboard -- as his only non-creature spells.
Mullen could cast any Human he wanted. All these lands that can tap for any color, put together, let him consistently play Noble Hierarch at the one, [fellow Ixalan Staple] Kitesail Freebooter come two, and Mantis Rider on three mana. Mantis Rider!
That's G, B1, and URW!
For reference: Humans, by Collins Mullen
Modern Merfolk: Deeproot Waters
Ixalan gives Merfolk players some actual new Merfok. However their sideboard enchantment may be more interesting, and seems much, much more powerful.
Deeproot Waters is quite like an Oketra's Monument... With tons of upside.
It's not just that you can make a 1/1 like the white artifact; because Merfolk is full of Lords -- Lord of Atlantis, Master of the Pearl Trident, and Merrow Reejerey -- so it is probably a safe bet your enchantment will spit out 2/2 or 3/3 Merfolk.
For reference: U/G Merfolk, by Jeremy Bertarioni
These ideas are just scratching the surface of Ixalan in Modern. Settle the Wreckage, Field of Ruin, and Merfolk Branchwalker all performed last week, and in different decks!
Learn more about Ixalan in Modern here!
---
Fri, 20 October 2017
How to Approach Sunbird's Invocation
Sunbird's Invocation was a "Perfect 10" at US Nationals
The Sunbird's Invocation Combo
Adam Bialkowski busted open Standard with a 10th-place finish at US Nationals last weekend. He used a R/W Board Control-slash-Combo deck utilizing this big red six and a certain favorite white seven...
Here's the simple explanation of this combination:
You play Sunbird's Invocation on six.
You untap and play Approach of the Second Sun on seven.
When you cast Approach of the Second Sun, the Invocation digs through the top of your library to check if there is an Approach of the Second Sun there; if there is, it will cast it for you.
Your first Approach of the Second Sun (which you cast from your hand, remember) checks to see if you cast another Approach this game... You did!
Ding!
This together, these two cards represent a turn seven insta-win combo.
Sunbird's Invocation Fail State
So you've invested six mana in a big red enchantment.
Miraculously, you've untapped, still alive.
However you don't have an Approach of the Second Sun...
What's a girl to do?
Chin up, Planeswalker! So you don't have a turn seven insta-win! That doesn't mean you don't have game...
Your Invocation plays a pretty good "personal Howling Mine" once you've untapped. Basically, your spells can potentially snowball into more and more spells. In the 10th place version, there are a ton of expensive cards -- tons of fives sixes and of course sevens -- that make its centerpiece enchantment really look good.
What's Wrong with Sunbird's Invocation?
If there is anything "wrong" with the Perfect 10, it might be all those expensive cards!
Adam certainly benefited from a (current?) (short-term?) gap in Mono-Red popularity. The archetype version only has one Magma Spray in the main deck, and no real way to develop its game plan against B/U Control in the early game. Further, it has a lot of expensive cards but no great way to ensure it hits all its land drops.
That isn't taking anything away from the innovation; just to say that there is still a lot of room for optimization.
A flaming owl wasn't the only hot Hot HOT deck to stand out at US Nationals. Check out "" now to learn more about Abzan Tokens, Mardu Vehicles, and more on the B/U Control v. U/W Control matchup in Standard!
---
Fri, 13 October 2017
The Best Decks in the Worlds
Longtusk Cub headlined one of the best decks in the Worlds
Worlds was awesome!
We saw an amazing overlap of one of the best players of all time wielding those top skills at exactly the right time, combined with great preparation and and even better 60/75.
But we get it.
You have questions...
Top Level Podcast is here to answer those questions this week! Questions like...
If The Scarab God is so good, why didn't Huey play it in his Temur Energy deck?
Is Commit // Memory an ace-level replacement for The Scarab God... Or basically just a boring old Utter End?
Is Longtusk Cub secretly just the best card in Standard?
Why should you play "Treasure Red" instead of regular old Ramunap Red?
When should you play any of the following, and in which order? Opt, Hieroglyphic Illumination, Glimmer of Genius
Will Huey be the first person to win Worlds, and then win Nationals the very next week?
Don't you fret, beloved listeners! The answers to these and other burning questions await in...
The Best Decks in the Worlds
---
Fri, 6 October 2017
The Deadliest Uses for Hostage Taker
Some cards are just better than the others. Hostage Taker is already one of the best.
Actually... Make that Better than the Best
Brainstorm. Fact or Fiction. Oath of Druids.
Vampiric Tutor. Hermit Druid. Upheaval.
The Top 8 of Pro Tour Houston 2003 sounds like the love child of the Banned and Restricted List and a general rundown of the best spells from almost any format. But the best card of the era? Believe it or not?
Faceless Butcher.
Faceless Butcher!
Weird, right?
A four-of in Mono-Black Reanimator and a key bullet in The Rock's sideboard, Faceless Butcher was a cast-able answer to everything from a mid-range All-Star like Spiritmonger to a combo-riffic 20/20 Cognivore.
Hostage Taker is like Faceless Butcher... But way, way, better. It has the same basic ability, but offers the opportunity for a three-for-one upgrade (rather than just two-for-one).
Five Mana: The New "Splinter Twin" Combo
How are you supposed to deal with The Scarab God? A Fatal Push? Ask it to Walk the Plank? Stockpile a bunch of energy and hit it with Harnessed Lightning?
None of those seem like very good solutions to The Scarab God.
What about removing it from game?
Hostage Taker seems like a great way to deal with The Scarab God... Only that 2/3 body isn't exactly durable. Every Abrade and Lightning Strike (plus like half the Fatal Pushes) will kill it.
... Unless you make it hexproof or something. So that's why, Sultai!
Hostage Taker + Blossoming Defense is like peanut butter and chocolate.
When you put Hostage Taker and Blossoming Defense together, you can -- for sake of argument -- exile the opponent's The Scarab God (which you would probably have to do to win, anyway)... And catch your breath for one mana. All you need to do is get the untap and that The Scarab God can be yours! You will be the unbeatable mage!
A great solution to a certain supposedly "indestructible" red God, Hostage Taker is nevertheless quite vulnerable to a Red Deck's many point removal spells. Blossoming Defense is equally useful here while you bide your time for the untap.
Hostage Taker: Taking Hostages Here, There, Everywhere
Sultai ruled the day at the first Standard Open of the season... But who knows just how far the long shadow of Hostage Taker may loom? God Pharaoh's Gift decks seem to be leaning towards the black and blue of Esper. There might be an honest to god Pirates deck hiding in the metagame. Poor dinosaurs! It's gotta suck to have such great creatures... Only to have to deal with them yourself when The Scarab God and Hostage Taker are across the table.
More on Hostage Taker's meteoric rise (and the rest of the opening weekend of Ixalan Standard) right here:
---
Thu, 28 September 2017
Lessons from Pious Interdiction
What Can We Learn from Pious Interdiction?
Often competitive players will look at a card like Pious Interdiction -- which has what might be a desirable effect if at a hefty cost -- and discard it out of hand.
But when was the last time you asked yourself what drove that kind of thinking? Are there contexts where you would want a card like this? If so, when?
Mike -- winner of his Midnight Prerelease -- can certainly point to a time!
Pious Interdiction can be a heck of a Limited card
That's right! Pious Interdiction can certainly get it done in forty card decks!
... That's actually how Patrick and Mike got into the discussion this week! Mike was lucky enough to open four copies of Pious Interdiction, and they did such a great job of nullifying his opponents' key flyers or fat green creatures he was almost ready to sign up for Pious Interdiction in Constructed.
Almost.
The problem -- part of the problem anyway -- with Pious Interdiction is just the cost.
The cost is both the "right answer" and too simple of an answer, though. While this aura is great at interacting with threats like Sealed Deck where so many of an opponent's cards will be more expensive than in Standard, four mana can be a big ask in sixty card decks.
Patrick is quick to caution that general rules about how much things "should" cost for certain effects can be foolhardy. We must always be mindful of context.
Pious Interdiction v. the World
For the current Standard, at least, Pious Interdiction has plenty of context around it, helping to define is viability (or non-viability).
Cast Out also costs four mana, but has so much flexibility around Flash, Cycling, and the option to exile non-creature permanents. For that matter, Cast Out does a much better job, generally, of interacting with creatures! Cast Out isn't always better for four mana, as there are times you will want to gain two life... But it's usually better.
If you're really in the market for an overcosted Pacifism that gains life, might we suggest a Desert's Hold?
Desert's Hold doesn't let you get away with deck building free or anything... You have to build your deck with Deserts -- and you have to have Deserts either in play or in the graveyard to get the bonus -- but it both costs less mana and gains more life than Pious Interdiction. Yet Desert's Hold is far from a popular Constructed card.
Join Pro Tour Hall of Famer Patrick Chapin and Michael J Flores in this eye-opening theoretical discussion, plus more -- much more -- actual Constructed quality cards from Ixalan in this week's episode!
---
Fri, 22 September 2017
Just How Good are the Blasting Cannons?
Vance's Blasting Cannons: The Final Flip
Last week, when gushing over flip cards like Search for Azcanta, we hadn't yet had the opportunity to see the red member of the cycle.
Unlike a certain blue transformer for two, this card is a bit controversial. Where, if anywhere, would you want to play it? Would a red aggressive deck ever want to run it over either an indestructible god or a Rowdy Crew?
"Well," Mike points out, "at least the flip condition is a 'may'" ...
Outpost Siege v. Vance's Blasting Cannons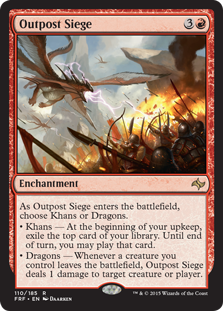 Is Outpost Siege where we set the bar?
The most obvious point of comparison for this new card is Outpost Siege.
For its part, Outpost Siege served every role from "main-deck four-of in R/W aggro" to "sideboard role player competing with its day's Chandra at the four". Regardless of how you want to slice it, Outpost Siege was a stronger card than Vance's Blasting Cannons (at least the front side).
To wit:
Outpost Siege had two different modes: Not only was it a potential source of incremental card advantage over time, the "Dragons" setting was a way to win.
Outpost Siege was not a Legendary permanent. You could have multiple copies in play! Mike probably still has nightmares about facing Sam Black with two Khans and a Dragons on camera
Outpost Siege allowed you to play both spells and lands as extra resources. Vance's Blasting Cannons is kinda sorta only 60% of an Outpost Siege (again, with half the options). So 30-33% on its face? How annoying would it be to reveal a land (that you can't play) and then not draw a land (when you need one)? Gross, right?
But the bar isn't whether this is better or worse than Outpost Siege in the abstract; the front-side is pretty much worse. The question is if it is good enough to play anyway.
And we can't answer that question without addressing...
Vance's Blasting Cannons // Spitfire Bastion
Is the payoff on Spitfire Bastion worth the work?
"Would you play a card that read "RR4. Enchantment. 2R, Tap: Deal three damage to target creature or player?"
-Patrick
Probably not?
While Mike wouldn't play such a conjectural card (probably), it is useful to think of the final flip as potentially three different cards:
The aforementioned 30-33% of an Outpost Siege: This card is a source of incremental card advantage that pays off only after you've untapped successfully with it in play. More than that, it really only pays off after multiple turns.
The conjectural six mana enchantment. This version flips immediately, gives you a potential mana boost (you can still, say, cast a Shock or Magma Spray), but will only offer the full value at very high mana / late in the game
Spitfire Bastion
Spitfire Bastion is a source of inevitability, not unlike fellow land Ramanup Ruins. Decks like U/R Control, for example, can't allow this to flip, because no matter how well they close out on creatures, they will likely lose the game three life points at a time.
Mike -- ever fearful of Kor Firewalker -- points out that as a colorless source of damage, Spitfire Bastion can kill the hell out of Protection from Red creatures.
So what do you think about this last transformer? The Top Level Podcast boys revisit some of the others and a whole mess of Ixalan cards in this week's episode.
This week's episode of the Top Level Podcast is brought to you by Mack Weldon. For 20% off your order, visit http://www.mackweldon.com and use the promo code toplevel
---