Thu, 17 August 2017
Hunka Hunka Burning Rage
Mike can't stand Shrine of Burning Rage in Modern :(
You'd think Mike would be happy about a Burn deck winning Grand Prix Birmingham... But he just can't wrap his head around Shrine of Burning Rage replacing Eidolon of the Great Revel at the two. To Mike, Eidolon of the Great Revel is simply one of the strongest cards in Modern; by contrast...
Shrine of Burning Rage is a poor mid-game topdeck.
The New Phyrexia artifact is only good against "fair" decks... Many of which play Kolaghan's Command
A five-mana commitment that does nothing in and of itself is a recipe for getting run over by Tarmogoyfs.
Patrick does little to turn his opinion around.
Burn deck aside: Scalding Tarn
Mike hates Arid Mesa in Modern Burn decks. While many lands are functionally identical for mono-Mountains fetching (Bloodstained Mire and Wooded Foothills have essentially the same text here), Arid Mesa is most likely to tip the opponent off.
It doesn't come up super often, but if you pass your first turn with the fetch in play, you tend to want the opponent to fetch for an untapped shock land; they are least likely to do this against Arid Mesa.
Mike therefore likes Scalding Tarn in a 4/4/4 split.
Patrick points out a four-fetch distribution has some merit.
The two wax on the difference between the two of them playing a first-turn Scalding Tarn. It doesn't matter which red fetch Michael plays... The jig is up before he ever breaks it. Patrick, though, is a longtime Grixis mage. He would get even more value from turn one Scalding Tarn when playing Burn than most!
Poor Mike :(
More and More Modern
With three big Modern tournaments across three continents to work from, Pro Tour Hall of Famer Patrick Chapin and Resident Genius Michael J. Flores have much to discuss. Everything from Storm to TitanShift is up for discussion. Check it out now!
---
Fri, 11 August 2017
Everybody Hates Earthshaker Khenra

Sorry, Earthshaker Khenra. Your window may have already closed :(
Well... Maybe
Sylvan Advocate Hates Earthshaker Khenra
On the way to yet another Grand Prix Top 8, Standard superstar Brad Nelson time traveled and re-innovated the B/G Winding Constrictor deck last weekend, bringing back Sylvan Advocate over Grim Flayer or Longtusk Cub at the two.
Sylvan Advocate? What is this? 2016?
Grim Flayer is great. Longtusk Cub is great. Even Glint-Sleeve Siphoner can be pretty effective. You know what's even better? Three toughness.
Sylvan Advocate comes down as a 2/3 (forget about its size in the future)... Meaning that it can withstand a Shock on turn two, unlike the other B/G two drop options. As a 2/3, it also pwns tiny 2/1 Earthshaker Khenra.
And at 4/5? It chomp Chomp CHOMPS even a 4/4 Earthshaker Khenra later in the game!
Approach of the Second Sun Hates Earthshaker Khenra
Mike's sidekick over at the Ancestral Recall Podcast, Roman Fusco made another Star City Games Classic Top 8 last weekend... This time with an innovative U/W Approach of the Second Sun deck designed by Roman's frequent collaborator (and Regional Finals victim) Dan Ward.
This U/W deck is truly creature-less (and for purposes of Torrential Gearhulk, artifact-less). That completely blanks Earthshaker Khenra teammate Abrade. While haste is helpful across many of the Mono-Red deck's creatures, the ability to prevent blocking also takes up relevant space on the text box. Against no creatures? No additional value.
But the thing that really, really hates the Red Deck?

Unsummon!
The old school instant has an amazing superpower against Mono-Red. If the opponent has one card in hand only, you can Unsummon another creature (putting a second card in the opponent's hand) to blank an attack by Hazoret the Fervent. And of course, if you Unsummon the 4/4 backside on an Earthshaker Khenra, that will be that.
This should surprise no one, though: Approach of the Second Suns decks hate Earthshaker Khenra.
Grasp of Darkness Hates Earthshaker Khenra
Grasp of Darkness really, really hates Hazoret the Fervent... But will settle for murdering a hasty Jackal Warrior, let's be honest.
Grasp's new teammate Gifted Aetherborn, though... 2/3 over 2/1 again, etc. etc. And if the Red Deck needs to spend its second turn pointing an Abrade at Gifted Aetherborn? It won't even have time to drop Earthshaker Khenra on curve.
To find out what other cards and decks are creating a hostile Standard environment for our poor Jackal Warrior, check out this week's episode!
---
Fri, 4 August 2017
How 'bout Them Ramunap Ruins?
Ramunap Ruins may be the most important new card from Hour of Devastation.
Earthsaker Khenra? Yeah! That's a great creature, we'll grant you... But it's still just a creature. Ramunap Ruins can't be countered and gives players a resource to lean against instead of flooding out.
This land enters the battlefield untapped. It essentially has the superpoower of tapping for both red and colorless; it can support Eldrazi Obligator (or Reality Smasher), not just a purely red creature rush.
Ramunap Ruins finishes off control players. The idea of locking down Standard with counterspell control decks will be a thing of the past. Eight life? Ten life? What life do you think it is safe to stabilize? As long as it has enough Deserts, Ramunap Ruins will work to close out games. This will make for a really tough metagame for U/R Control.
Ramunap Ruins can enjoy a critical mass of haste. This is the true golden age of Red Decks. This might be the most important card on the list, but being able to tap it on turn one for a Bomat Courier; then turn two for an Earthshaker Khenra; then maybe dip into a Lathnu Hellion on turn three is an embarassment of (hasty) riches.
It is not good enough, however to drive Arborback Stomper to playability.
Give this week's episode a listen now:
---
Fri, 28 July 2017
Getting to Know God-Pharaoh's Gift
God-Pharaoh's Gift is The Postmodern Debtors' Knell...
Compare God-Pharaoh's Gift to Debtors' Knell. Remember: Debtors' Knell was a breaker in both Ravnica Block Constructed and in the Standard of its era!
Both cards cost seven mana. However, the new version is a colorless artifact; consequently, it is an easier seven than Debtors' Knell to get into play.
Above and beyond Debtors' Knell, though, God-Pharaoh's Gift grants haste! Take that, opponent!
Another Home for Champion of Wits
Champion of Wits has been making and breaking all kinds of decks in its short -- yet already storied -- career. Champion of Wits is a key enabler of this artifact.
God-Pharaoh's Gift wants you to put creatures into your graveyard. After all, it is from the graveyard that the dead will rise (and hastily attack). Champion of Wits specializes in putting cards -- creatures or otherwise -- into the graveyard. It helps dig to your God-Pharaoh's Gift (or proxy for). A creature itself, when you return a Champion of Wits, it comes back as a 4/4 creature so you draw even more cards!
The synergies do not end with just fueling creatures.
You can discard God-Pharaoh's Gift itself to the graveyard. Why would you want to do that?
Champion of Wits costs three mana. The very next turn you can Refurbish the God-Pharaoh's Gift directly onto the battlefield! The card is the easiest possible seven mana. But how sweet is it when you play it for just four?
Redundancy, Incorporated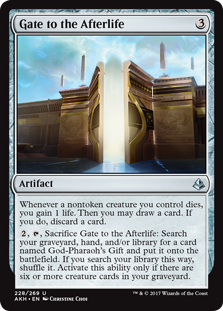 Another three mana facilitator to God-Pharaoh's Gift is Gate to the Afterlife.
I'd say drawing and discarding cards helps you dig to your key spell... But that's not even necessary here. Once you have six creatures in the graveyard (whether from looting, or discarding to Champion of Wits, chump blocking) you can just switch one artifact for the other.
Gross.
For more on this great strategy, more Champion of Wits, and lots and lots more Mono-Red in Standard, check out this week's podcast now!
---
Fri, 21 July 2017
Nicol Bolas, God-Pharaoh is Already Getting Around
Nicol Bolas, God-Pharaoh is already exceeding expectations
So how are we going to play Nicol Bolas, God-Pharaoh? There are so So SO many ways!
Nicol Bolas, God-Pharaoh in a Planeswalker Control Deck
Michael Hamilton opened up the new season with a win. Nicol Bolas, God-Pharaoh made a one-of appearance in his [otherwise] Jeskai Control deck.
A dedicated Planeswalker control deck with lots of cards that can interact with the opponent's threats is a great home for Nicol Bolas. It's a redundancy on your other permanents, can borrow against the architecture of the rest of your deck, and ultimately just presents an even more powerful threat than the rest of your deck.
Bolas Beatdown
You can play an Energy Aggro deck, complete with Longtusk Cub and Bristling Hydra... And just finish with Bolas.
This use of the card just requires you to deal thirteen damage in the first seven turns. Pretty trivial, right? You can just play the big Planeswalker for seven, to deal seven. Not only is Nicol Bolas the best "Demonfire" we've had in years (especially given the seven-for-seven mana cost)... If for some reason something went wrong, you would still have a Planeswalker to help over the next few turns.
An Energy deck is actually particularly great for this... Because Energy is somewhat spotty to come by, you might find yourself stranded with Nicol Bolas in hand, but not the mana to cast it. The Aether Hubs of the Energy strategy go a long way in ensuring the solo black (or whatever is needed) is available, versus being stranded as a colorless.
Meanwhile...
With Bolas at both extremes of the metagame, there remains a wide number of decks, from Mono-Red StOmPy to U/R Prowess Burn. This podcast covers them all most:
---
Fri, 14 July 2017
Resilient Khenra: Bring on the Beatdown!
Resilient Khenra is one of several aggressive cards covered in this beatdown-oriented episode.
Hour of Devastation brings several aggressive options to Standard. We've mostly talked about powerhouse cards like Hour of Devastation [the card], or big ramp spells like Hour of Promise so far... But the new set can also turn a mean Jackal sideways!
Resilient Khenra: Greater than Grizzly Bears
To start, this card is a 2/2 creature for 1G... Any text on it is going to put it past the classic Grizzly Bears.
As it is, giving a creature +2/+2 one time is comparable to a 2/2 haste creature, according to Patrick.
The question is whether you can afford to play Resilient Khenra in a world that has optimized out Duskwatch Recruiter and Sylvan Advocate. We think... Maybe.
For one thing, Sylvan Advocate has largely lost on the presence of Fatal Push. Later in the game, when Sylvan Advocate is meant to get big, it still has a tiny two in the top-right... Making it a great target for Fatal Push.
Resilient Khenra doesn't have the same problem. It leaves a body, yes, but pushing the tempo with its 187 buff effect is the main reason you choose this card.
Resilient Khenra post-Adorned Pouncer
One of the things that makes this creature so attractive is its ability to synergize with Adorned Pouncer.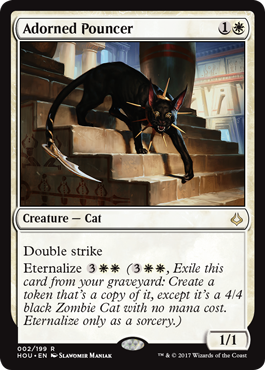 If you start on an Adorned Pouncer, and follow up with Resilient Khenra, you don't merely get +2/+2... You get to exploit the double strike on Adorned Pouncer. So for only two mana, you get four extra damage (and keep the Jackal Wizard body).
Later in the game, the two creatures' Eternalize abilities curve one into the next. Adorned Pouncer costs five to Eternalize, and Resilient Khenra costs six. In the late-game case, Resilient Khenra provides +4/+4 due to the token's superior size, so the multiplier is that much more dangerous.
Appeal // Authority in Tokens, or Anywhere
The G/W color combination isn't limited to Eternalize guys in Hour of Devastation. What about Appeal // Authority?
In a tokens deck specifically, Appeal can deal a huge amount of extra damage for only one mana, while Authority hearkens back to Alexander Hayne's Block Constructed PT win from a few years back.
Together, they may make a splash. Luckily, they're always together.
Give it all a listen:
---
Fri, 7 July 2017
Hour of Devastation is the Best of the Bunch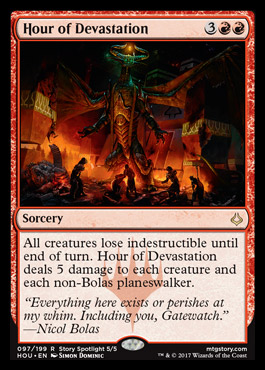 Hour of Devastation is the card red control decks have always wanted.
Hour of Devastation deals 5 damage to each creature...
Red has long had the ability to deal two to three points of damage to multiple creatures for about three mana. Examples include Standard Staples like Kozilek's Return, Radiant Flames, or Sweltering Suns.
But five damage?
Historically, red mages would have had to pay seven or more mana for a big sweep like this. Worse yet, in earlier eras, they would have to take five damage themselves! Earthquake, for example, only hit non-flying creatures.
From these perspectives, Hour of Devastation is really something special.
Blah blah blah... Each non-Bolas Planeswalker
One of the fantastic aspects of Hour of Devastation is how it can deal with Planeswalkers.
Forget about the fact that it can deal with Planeswalkers directly at all, the fail state of this card falls into a convenient place. What is the kind of deck where you would want Hour of Devastation? Something like Zombies, right? A deck where the opponent plays multiple creatures, that sometimes get big... The ability to deal five to all of them is quite attractive against Zombies.
But what about when you don't want a big creature sweeper? Oftentimes, the opposite number to Zombies will be a Control deck. Those decks will very often give you one or more Planeswalkers to kill, especially board control decks.
Hour of Devastation works great in Grixis
This set is very Grixis-oriented. There is a Grixis themed cycle of Gods, and of course the God Pharaoh is in Grixis colors.
Hour of Devastation (red) is highly complimentary to other key Grixis cards. For example, this card does five... And Torrential Gearhulk has six toughness. It's one thing for Torrential Gearhulk to live through the Hour... But what about being able to swing directly?
Consider:
Turn 6 - Flash out Torrential Gearhulk (to stabilize, stay alive, just get an advantage)
Turn 7 - Play a land; cast it leaving up UU. Get in there for five!
And more! Much more! in "Hour of Devastation is the Best of the Bunch":
---
Fri, 30 June 2017
Hour of Promise is Quite Promising
The Locst God may be on the art, but our bet is that Hour of Promise will be ushering in Ulamog, the Ceaseless Hunger.
Hour of Promise is no Explosive Vegetation
Mike initially misreads Hour of Devastation as an overcosted Explosive Vegetation. It's not a surprising mistake. Explosive Vegetation costs four, but Hour of Promise costs five. They both go and get two lands; Hour of Promise sometimes makes two zombies.
Oh wait... basic.
Sorry: basic
That is, unlike Explosive Vegetation, Hour of Promise can search up any lands, not just more Forests or whatever!
Example: Go and get two copies of Shrine of the Forsaken Gods
If you can cast Hour of Promise, the implication is that you have five lands in play. If you get two copies of Shrine of the Forsaken Gods, you'll then have seven lands in play, meaning you can tap for nine.
All you have to do is hit your land drop next turn to have ten mana for Ulamog, the Ceaseless Hunger!
Hour of Promise is More a Thalia's Lancers than an Explosive Vegetation
Mike loves to mark for 4/4 creatures for five mana that have a cool or card advantageous abilities.
Examples:
Indrik Stomphowler
Thalia's Lancers
Hour of Promise is like one of those, but possibly better. Why? Instead of one 4/4 creature, your payoff is two 2/2 creatures. Two 2/2s are sometimes more useful than just one 4/4, but Hour of Promise generates about the same amount of power and toughness.
The "Desert" Clause isn't that big a deal
All you need is one Desert in your first five lands and you'll be dripping in Zombie tokens!
Why? You can just go and get two other Deserts and put them on the battlefield. Now, armed with three Deserts in play, you will soon the be the owner of a pair of Zombie tokens.
The deck design implications are open to explore. Do you want to play lots of Deserts? That would increase your chances of having a Desert in play on turn five. Or, you might only play three total Deserts. Card selection aside, you will have a lot of specialty lands fighting for space in your mana base... You might not have room for too many Deserts.
Pro Tour Champion Patrick Chapin and Resident Genius Michael J. Flores cover many more Hour of Devastation cards in this great podcast. Two words: "horse tribal" ... Check it out now!
---
Fri, 23 June 2017
Doomfall is the Definition of Flexibility
Doomfall is an extremely flexible, potentially main-deck, card.
Meet the Cruel Edict
Doomfall costs one more mana than Cruel Edict, but even beyond its ability to act as a discard spell, there may be good reason to pay three instead of two.
Rather than merely destroying a creature (as Cruel Edict did), Doomfall exiles it. That is bad news for Scrapheap Scrounger decks! Any creatures that rely on durability or coming back from the dead might have problems with it (e.g. The Scorpion God)
Playing as Transgress the Mind
Again, we see a card that, at 2b, costs a little more than Transgress the Mind. Part of that is just a tax levied against the creature removal side of the spell (you can't very well have a functional reprint of Staple Transgress the Mind that also kills creatures).
But the reality is, Doomfall is not "just" a reprint of Transgress the Mind. It costs one additional mana, but on the other hand you can take anything, rather than only cards that conform to a particular mana profile. That might not feel like it's worth three mana in isolation... But you've always got the Edict opion!
Ultimately, it Can Get Everybody
This card lets you beat a combo deck with creature removal, or kill an attacker with your extra Duress.
---
Thu, 22 June 2017
The Scorpion God is Just the Beginning
To be honest The Scorpion God is actually near the end of the episode... Still great.
Buckle up for a full-on Hour of Devastation episode! Patrick and Michael hit on tons and tons of cards (and will be back with their own Hour of Devastation preview tomorrow).
The Defeat Cycle
The Defeat Cycle (Jace's Defeat, Gideon's Defeat, etc.) is a quintet of fast color hosers. Most will be Staple in Standard, with a couple of them likely growing up to be cross-format All-Stars (Liliana's Defeat especially).
Jace's Defeat - This card is basically Gainsay. You're unlikely to get the Scry 2 very often, but that's not a big deal... Gainsay has been Staple every time it has been available in Standard. Consequently, Jace's Defeat is going to be a great way to compress sideboard slots; it'll be nice having one card that can answer Torrential Gearhulk or Glimmer of Genius.
Gideon's Defeat - Mike loves this one, largely because he's been beaten up by Gideon, Ally of Zendikar so much the past year. This card will be great at slowing down everything from Toolcraft Exemplar to the newcomer Adorned Pouncer to Mike's hated Gideon.
Liliana's Defeat - Wow, what an All-Star (to be). Super mana efficient; more importantly, in Modern, this will be a Bump in the Night / Lava Spike that also kills Liliana of the Veil at the same time.
Chandra's Defeat - Will be bananas in largely the same way as Liliana's Defeat. Will be best buddies with Snapcaster Mage.
Nissa's Defeat - While this will be the "clear fifth place" Defeat, it will create a position of privilege for green creatures. Every other color's creatures are poised to be Defeat-ed. Not so green.
Nissa's Defeat creates a privileged position for green creatures and adds a three-mana Stone Rain back into Standard.
Adorned Pouncer and Eternalize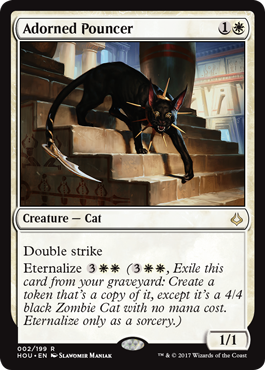 Adorned Pouncer is strictly superior to Fencing Ace
Fencing Ace was a good card. It was played as Staple in Jeskai buff decks, and at least a Role Player in Bant Hexproof.
Adorned Pouncer is everything Fencing Ace was... and Also a Cat. And also has Eternalize.
Would you pay five mana for just the 4/4 double striker? Patrick wouldn't. Mike would at least look at it. That the boys are even having this discussion should tell you how good Adorned Pouncer will be.
Thank goodness for Gideon's Defeat's exile clause! Magma Spray will continue to do work.
The Scorpion God
The Scorpion God is like three different engines.
"This God doesn't require worshippers."
-Patrick
If you just start with 6/5 for five mana... But with this level of resilience... It's at least worth a conversation. A 6/5 body for five mana isn't too bad; and if you can't kill it?
There are two other abilities, still.
The Scorpion God can mow down a ton of small creatures (and probably draw cards at the same time). It can also shoot at big creatures to get them small enough to tussle with and draw).
This summary doesn't do justice to "The Scorpion God is Just the Beginning" ... The only way to hear everything we're thinking about Hour of Devastation right now, you best give a listen!
---