Fri, 15 September 2017
Flipping Out Over Search for Azcanta
This week MichaelJ is flipping out over flip cards! First among them? The Search for Azcanta!
Check Out Search for Azcanta:
"Oh hell yeah!"
-Patrick
We'll come out and say it to begin with: Search for Azcanta is probably undercosted. There have been effects like this in the past, but they didn't cost two mana.
The front side of this card offers powerful library manipulation. Sure. It sets up the top of your deck. But that's not all! Search for Azcanta not only pushes aside clunky or expensive spells, it sets up graveyard synergies!
This card is great with flashback, eternalize, or Renegade Rallier.
Subtly, the "flip" ability is a may, not a must. While you will usually want to be flipping it, there are times that Search for Azcanta will be better for you than Azcanta, the Sunken Ruin. Don't worry: You get to pick.
Search for Azcanta Becomes Azcanta, the Sunken Ruin
"... more powerful in play than Library of Alexandria..."
-Patrick
Two things on this one:
First of all, it's a kind of weird Rampant Growth. If you have Search for Azcanta on the battlefield and say four lands... When it flips, you will have five or six mana (depending on land drop). That, in and of itself, is a pretty big get for blue.
Of course, Azcanta, the Sunken Ruin is actually just awesome once you get it online. Getting a de facto Impulse every turn will put you way ahead in grinding matchups, and will threaten to bury the opponent in card advantage.
Further, this card is just begging for you to cheat! No, not "cheat" in the sense of getting banned from DCI sanctioned tournaments... Cheating the flip condition. While the front-side enchantment will get you to the point where it will flip eventually, there is no reason to wait around. Cards like Strategic Planning are screaming to help you flip to the legendary land.
Both sides of this card seem like they will be awesome in Approach of the Second Sun decks. Either side will help dig you to your second Approach.
But Wait! There's More!
While Search for Azcanta has our boys the most excited, there are tons of other flip cards worth talking about. We love Legions Landing, generally dislike Arguel's Blood Fast. But where and when will even that be played?
Gotta check out the podcast, to find out!
---
Thu, 7 September 2017
Exclusive Ixalan Preview: Lookout's Dispersal
In a special exclusive bonus podcast, Patrick and Michael go over their first impressions on Lookout's Dispersal, a new Pirates-themed instant from Ixalan:
---
Thu, 7 September 2017
It's All About the Dinosaurs
Regisaur Alpha is one of the premier Ixalan dinosaurs
What is up with this card anyway? Regisaur Alpha offers seven power over two bodies -- three of which have haste -- all for five mana!
How fast can we sign up?
Regisaur Alpha looks great! One of the few poor things about the dinosaur is that it makes Huatli, Warrior Poet look so bad.
Huatli, Warrior Poet spits out Dinosaurs
Regisaur Alpha and Huatli cost the same [total] amount of mana. Assume you're spitting out a 3/3 the first turn you control Huatli. Now, which would you rather have?
A 4/4 dinosaur lord who is making all of your other dinosaurs faster, or
A 3 loyalty Planeswalker who could easily die
Regisaur Alpha's 3/3 token is better than Huatli's 3/3 token, too... Just on basis of haste.
That said, Huatli, Warrior Poet is probably meant to be one of the centerpiece cards of the set. Not only is he a Planeswalker (and therefore theoretically automatically cool), they made not only another Planeswalker version of him, but a badass dinosaur tutor that can go find it.
Huatli might be meant for play in a dedicated Planeswalker deck. Think:
Three: Gideon of the Trials
Four: Chandra, Torch of Defiance
Five: Huatli, Warrior Poet
All three Planeswalkers protect themselves well. All three will contribute to expanding control of the battlefield itself. Gideon can both attack and defend. Chandra kills creatues outright. Huatli can make blocker after blocker or gain life turn after turn.
Gishath, Sun's Avatar is one busty dinosaur
Instead of looking at Gishath as a clunky eight mana creature, why not look at it as an eight mana Fireball?
Huh?
That's right! How much would you pay for a Fireball where x=7? You'd pay eight mana, right? Well Gishath costs eight, and does seven damage with haste... He's kind of an eight mana Fireball, therefore.
Everything else is gravy. The vigilence is going to be awesome... But it's awesome gravy. Next turn's attack? Gravy. This is not to say you should actually pay to get Gishath onto the battlefield... Just if you had to, it wouldn't be that bad of a deal.
There are even more dinosaurs discussed in this week's episode, which takes Ixalan from one green mana to the aforementioned eight drop... and more!
---
Fri, 1 September 2017
Ixalan!
Kick back, pop in your earbuds, and give a listen to our first look at Ixalan:
Ixalan Changes Planeswalker Rules
Jace, Cunning Castaway: Ixalan Planeswalker
Michael notes that Jace seems to have gotten ripped in the Gatewatch.
Patrick notes that Jace, Cunning Castaway boasts one of the fastest Planeswalker Ultimates ever. You might as well Ultimate when Jace's loyalty hits 5 BTW; while the token copies are not Legendary, Jace, Cunning Castaway itself is.
The new Planeswalker Uniqueness v. Legendary rule will change how Planeswalkers get played. Having more Jaces in play is cool and all (and this one actually does that for you) but the big winner has to be Gideon of the Trials.
People just didn't play Gideon of the Trials because they were already playing Gideon, Ally of Zendikar; now there is no disincentive. More importantly, having more than one kind of Gideon in play will give players greater protection for their Platinum Angel-like Ultimate.
Ixalan and the Treasure Theme
Captain Lannery Storm
Layered and flexible, the Captain is probably Mike's favorite card in Ixalan.
Use her treasure now! She is basically a 3/2 haste creature.
Use her treasure later! You can stockpile for a large attack, or save the mana to bust out Glorybringer on the quick!
Use her treasure for mana! What about not pumping the Captain, but just sacrificing her treasure to cast a Shock, Magma Spray... Or even a Fatal Push?
Exploring Ixalan
Tishana's Wayfinder
It's all the things Mike never should have loved...
Sometimes it's Borderland Ranger
Sometimes it's Gnarled Mass
Generally it's inconsistent and unpredictable
Sold!
Pro Tour Champion Patrick Chapin and Resident Genius Michael J. Flores talk all the Ixalan that's fit to discuss; spoiled cards, flavor and aesthetics; and of course brewing! Check out Top Level Podcast's first take on Ixalan right here, right now!
---
Fri, 28 July 2017
Getting to Know God-Pharaoh's Gift
God-Pharaoh's Gift is The Postmodern Debtors' Knell...
Compare God-Pharaoh's Gift to Debtors' Knell. Remember: Debtors' Knell was a breaker in both Ravnica Block Constructed and in the Standard of its era!
Both cards cost seven mana. However, the new version is a colorless artifact; consequently, it is an easier seven than Debtors' Knell to get into play.
Above and beyond Debtors' Knell, though, God-Pharaoh's Gift grants haste! Take that, opponent!
Another Home for Champion of Wits
Champion of Wits has been making and breaking all kinds of decks in its short -- yet already storied -- career. Champion of Wits is a key enabler of this artifact.
God-Pharaoh's Gift wants you to put creatures into your graveyard. After all, it is from the graveyard that the dead will rise (and hastily attack). Champion of Wits specializes in putting cards -- creatures or otherwise -- into the graveyard. It helps dig to your God-Pharaoh's Gift (or proxy for). A creature itself, when you return a Champion of Wits, it comes back as a 4/4 creature so you draw even more cards!
The synergies do not end with just fueling creatures.
You can discard God-Pharaoh's Gift itself to the graveyard. Why would you want to do that?
Champion of Wits costs three mana. The very next turn you can Refurbish the God-Pharaoh's Gift directly onto the battlefield! The card is the easiest possible seven mana. But how sweet is it when you play it for just four?
Redundancy, Incorporated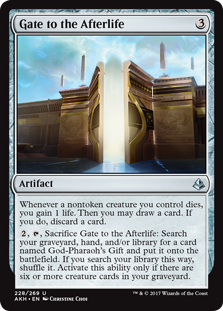 Another three mana facilitator to God-Pharaoh's Gift is Gate to the Afterlife.
I'd say drawing and discarding cards helps you dig to your key spell... But that's not even necessary here. Once you have six creatures in the graveyard (whether from looting, or discarding to Champion of Wits, chump blocking) you can just switch one artifact for the other.
Gross.
For more on this great strategy, more Champion of Wits, and lots and lots more Mono-Red in Standard, check out this week's podcast now!
---
Fri, 14 July 2017
Resilient Khenra: Bring on the Beatdown!
Resilient Khenra is one of several aggressive cards covered in this beatdown-oriented episode.
Hour of Devastation brings several aggressive options to Standard. We've mostly talked about powerhouse cards like Hour of Devastation [the card], or big ramp spells like Hour of Promise so far... But the new set can also turn a mean Jackal sideways!
Resilient Khenra: Greater than Grizzly Bears
To start, this card is a 2/2 creature for 1G... Any text on it is going to put it past the classic Grizzly Bears.
As it is, giving a creature +2/+2 one time is comparable to a 2/2 haste creature, according to Patrick.
The question is whether you can afford to play Resilient Khenra in a world that has optimized out Duskwatch Recruiter and Sylvan Advocate. We think... Maybe.
For one thing, Sylvan Advocate has largely lost on the presence of Fatal Push. Later in the game, when Sylvan Advocate is meant to get big, it still has a tiny two in the top-right... Making it a great target for Fatal Push.
Resilient Khenra doesn't have the same problem. It leaves a body, yes, but pushing the tempo with its 187 buff effect is the main reason you choose this card.
Resilient Khenra post-Adorned Pouncer
One of the things that makes this creature so attractive is its ability to synergize with Adorned Pouncer.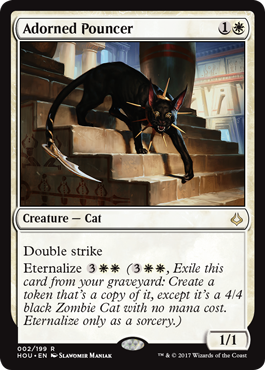 If you start on an Adorned Pouncer, and follow up with Resilient Khenra, you don't merely get +2/+2... You get to exploit the double strike on Adorned Pouncer. So for only two mana, you get four extra damage (and keep the Jackal Wizard body).
Later in the game, the two creatures' Eternalize abilities curve one into the next. Adorned Pouncer costs five to Eternalize, and Resilient Khenra costs six. In the late-game case, Resilient Khenra provides +4/+4 due to the token's superior size, so the multiplier is that much more dangerous.
Appeal // Authority in Tokens, or Anywhere
The G/W color combination isn't limited to Eternalize guys in Hour of Devastation. What about Appeal // Authority?
In a tokens deck specifically, Appeal can deal a huge amount of extra damage for only one mana, while Authority hearkens back to Alexander Hayne's Block Constructed PT win from a few years back.
Together, they may make a splash. Luckily, they're always together.
Give it all a listen:
---
Fri, 7 July 2017
Hour of Devastation is the Best of the Bunch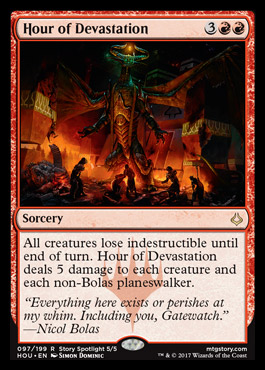 Hour of Devastation is the card red control decks have always wanted.
Hour of Devastation deals 5 damage to each creature...
Red has long had the ability to deal two to three points of damage to multiple creatures for about three mana. Examples include Standard Staples like Kozilek's Return, Radiant Flames, or Sweltering Suns.
But five damage?
Historically, red mages would have had to pay seven or more mana for a big sweep like this. Worse yet, in earlier eras, they would have to take five damage themselves! Earthquake, for example, only hit non-flying creatures.
From these perspectives, Hour of Devastation is really something special.
Blah blah blah... Each non-Bolas Planeswalker
One of the fantastic aspects of Hour of Devastation is how it can deal with Planeswalkers.
Forget about the fact that it can deal with Planeswalkers directly at all, the fail state of this card falls into a convenient place. What is the kind of deck where you would want Hour of Devastation? Something like Zombies, right? A deck where the opponent plays multiple creatures, that sometimes get big... The ability to deal five to all of them is quite attractive against Zombies.
But what about when you don't want a big creature sweeper? Oftentimes, the opposite number to Zombies will be a Control deck. Those decks will very often give you one or more Planeswalkers to kill, especially board control decks.
Hour of Devastation works great in Grixis
This set is very Grixis-oriented. There is a Grixis themed cycle of Gods, and of course the God Pharaoh is in Grixis colors.
Hour of Devastation (red) is highly complimentary to other key Grixis cards. For example, this card does five... And Torrential Gearhulk has six toughness. It's one thing for Torrential Gearhulk to live through the Hour... But what about being able to swing directly?
Consider:
Turn 6 - Flash out Torrential Gearhulk (to stabilize, stay alive, just get an advantage)
Turn 7 - Play a land; cast it leaving up UU. Get in there for five!
And more! Much more! in "Hour of Devastation is the Best of the Bunch":
---
Fri, 30 June 2017
Hour of Promise is Quite Promising
The Locst God may be on the art, but our bet is that Hour of Promise will be ushering in Ulamog, the Ceaseless Hunger.
Hour of Promise is no Explosive Vegetation
Mike initially misreads Hour of Devastation as an overcosted Explosive Vegetation. It's not a surprising mistake. Explosive Vegetation costs four, but Hour of Promise costs five. They both go and get two lands; Hour of Promise sometimes makes two zombies.
Oh wait... basic.
Sorry: basic
That is, unlike Explosive Vegetation, Hour of Promise can search up any lands, not just more Forests or whatever!
Example: Go and get two copies of Shrine of the Forsaken Gods
If you can cast Hour of Promise, the implication is that you have five lands in play. If you get two copies of Shrine of the Forsaken Gods, you'll then have seven lands in play, meaning you can tap for nine.
All you have to do is hit your land drop next turn to have ten mana for Ulamog, the Ceaseless Hunger!
Hour of Promise is More a Thalia's Lancers than an Explosive Vegetation
Mike loves to mark for 4/4 creatures for five mana that have a cool or card advantageous abilities.
Examples:
Indrik Stomphowler
Thalia's Lancers
Hour of Promise is like one of those, but possibly better. Why? Instead of one 4/4 creature, your payoff is two 2/2 creatures. Two 2/2s are sometimes more useful than just one 4/4, but Hour of Promise generates about the same amount of power and toughness.
The "Desert" Clause isn't that big a deal
All you need is one Desert in your first five lands and you'll be dripping in Zombie tokens!
Why? You can just go and get two other Deserts and put them on the battlefield. Now, armed with three Deserts in play, you will soon the be the owner of a pair of Zombie tokens.
The deck design implications are open to explore. Do you want to play lots of Deserts? That would increase your chances of having a Desert in play on turn five. Or, you might only play three total Deserts. Card selection aside, you will have a lot of specialty lands fighting for space in your mana base... You might not have room for too many Deserts.
Pro Tour Champion Patrick Chapin and Resident Genius Michael J. Flores cover many more Hour of Devastation cards in this great podcast. Two words: "horse tribal" ... Check it out now!
---
Fri, 23 June 2017
Doomfall is the Definition of Flexibility
Doomfall is an extremely flexible, potentially main-deck, card.
Meet the Cruel Edict
Doomfall costs one more mana than Cruel Edict, but even beyond its ability to act as a discard spell, there may be good reason to pay three instead of two.
Rather than merely destroying a creature (as Cruel Edict did), Doomfall exiles it. That is bad news for Scrapheap Scrounger decks! Any creatures that rely on durability or coming back from the dead might have problems with it (e.g. The Scorpion God)
Playing as Transgress the Mind
Again, we see a card that, at 2b, costs a little more than Transgress the Mind. Part of that is just a tax levied against the creature removal side of the spell (you can't very well have a functional reprint of Staple Transgress the Mind that also kills creatures).
But the reality is, Doomfall is not "just" a reprint of Transgress the Mind. It costs one additional mana, but on the other hand you can take anything, rather than only cards that conform to a particular mana profile. That might not feel like it's worth three mana in isolation... But you've always got the Edict opion!
Ultimately, it Can Get Everybody
This card lets you beat a combo deck with creature removal, or kill an attacker with your extra Duress.
---
Thu, 22 June 2017
The Scorpion God is Just the Beginning
To be honest The Scorpion God is actually near the end of the episode... Still great.
Buckle up for a full-on Hour of Devastation episode! Patrick and Michael hit on tons and tons of cards (and will be back with their own Hour of Devastation preview tomorrow).
The Defeat Cycle
The Defeat Cycle (Jace's Defeat, Gideon's Defeat, etc.) is a quintet of fast color hosers. Most will be Staple in Standard, with a couple of them likely growing up to be cross-format All-Stars (Liliana's Defeat especially).
Jace's Defeat - This card is basically Gainsay. You're unlikely to get the Scry 2 very often, but that's not a big deal... Gainsay has been Staple every time it has been available in Standard. Consequently, Jace's Defeat is going to be a great way to compress sideboard slots; it'll be nice having one card that can answer Torrential Gearhulk or Glimmer of Genius.
Gideon's Defeat - Mike loves this one, largely because he's been beaten up by Gideon, Ally of Zendikar so much the past year. This card will be great at slowing down everything from Toolcraft Exemplar to the newcomer Adorned Pouncer to Mike's hated Gideon.
Liliana's Defeat - Wow, what an All-Star (to be). Super mana efficient; more importantly, in Modern, this will be a Bump in the Night / Lava Spike that also kills Liliana of the Veil at the same time.
Chandra's Defeat - Will be bananas in largely the same way as Liliana's Defeat. Will be best buddies with Snapcaster Mage.
Nissa's Defeat - While this will be the "clear fifth place" Defeat, it will create a position of privilege for green creatures. Every other color's creatures are poised to be Defeat-ed. Not so green.
Nissa's Defeat creates a privileged position for green creatures and adds a three-mana Stone Rain back into Standard.
Adorned Pouncer and Eternalize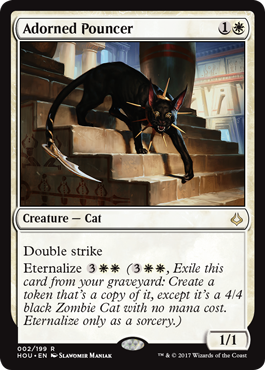 Adorned Pouncer is strictly superior to Fencing Ace
Fencing Ace was a good card. It was played as Staple in Jeskai buff decks, and at least a Role Player in Bant Hexproof.
Adorned Pouncer is everything Fencing Ace was... and Also a Cat. And also has Eternalize.
Would you pay five mana for just the 4/4 double striker? Patrick wouldn't. Mike would at least look at it. That the boys are even having this discussion should tell you how good Adorned Pouncer will be.
Thank goodness for Gideon's Defeat's exile clause! Magma Spray will continue to do work.
The Scorpion God
The Scorpion God is like three different engines.
"This God doesn't require worshippers."
-Patrick
If you just start with 6/5 for five mana... But with this level of resilience... It's at least worth a conversation. A 6/5 body for five mana isn't too bad; and if you can't kill it?
There are two other abilities, still.
The Scorpion God can mow down a ton of small creatures (and probably draw cards at the same time). It can also shoot at big creatures to get them small enough to tussle with and draw).
This summary doesn't do justice to "The Scorpion God is Just the Beginning" ... The only way to hear everything we're thinking about Hour of Devastation right now, you best give a listen!
---